This post may contain affiliate links, which means that I may receive a commission if you make a purchase using these links.
Looking for eco friendly pet products for your furry friends? These sustainable toys, beds, and other pet goods are made to last, and with earth-friendly materials.
According to the Pet Sustainability Coalition, the pet industry in North America creates more than 300 million pounds of flexible plastic packaging each year. And that is just packaging alone!
It's a hard pill to swallow, but the 163 million dog and cat owners in the U.S. produce a lot of waste in the name of their furry friends.
Personally, I find that pet products are often an overlooked area when friends and family are overhauling their lives to be more sustainable. In my opinion, this is a major oversight, as pet products are often rapidly replaced and go straight to landfill (just think of how quickly your pet's favorite toy get destroyed!)
But, it doesn't have to be this way! More and more, there are pet companies coming onto the market with sustainability, ethics, and durability as part of their core values. Read on for some of my favorite eco friendly pet products.
Hi, I'm Leslie!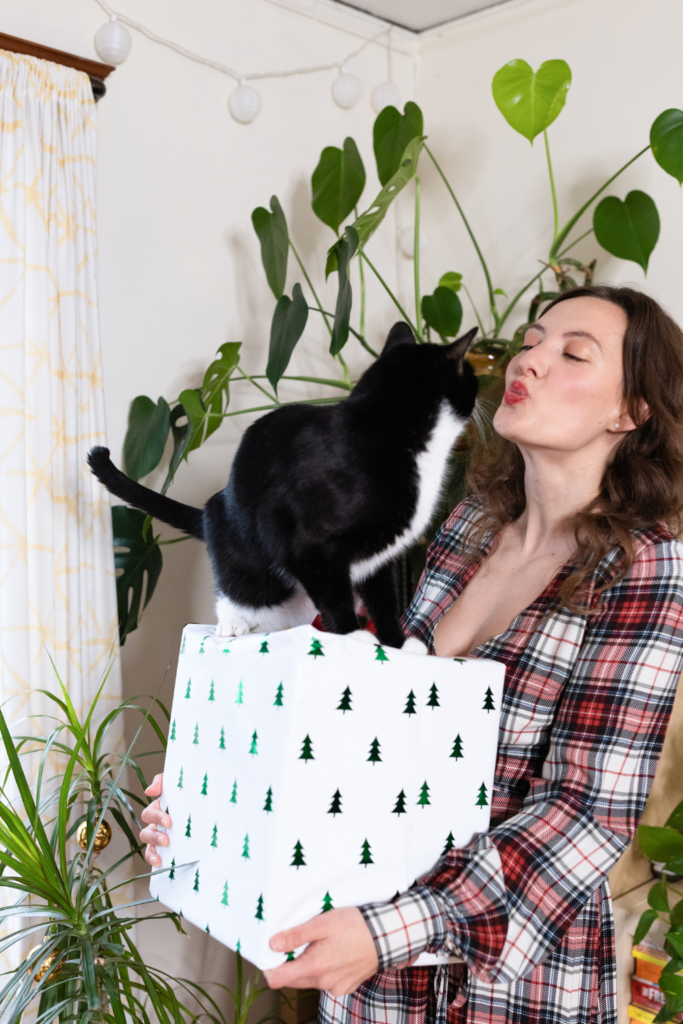 My name is Leslie, and I'm the founder of PunkMed! On my blog, I and my team share info, experiences, and recommendations in the area of sustainability, urban homesteading, and occasionally, taking care of our pets! Our goal is to help you make informed choices about the products your bring into your home–making sure they align with your values!
In today's post, I'm sharing my favorite eco friendly pet products. These recommendations come from my many years as a pet owner myself! I have two cats (Tuna and Hugo!) that love their recycled cat beds and eco friendly cat nip toys.
Let's get into it!
This post is all about eco friendly pet products.
Best Eco Friendly Pet Products
This is the most special pet bed your furry friend will ever sleep in! It honestly could double as home decor. Handwoven by artisans in Ghana, this all natural pet bed is made of pure elephant grass and dyed with organic dyes.
Okay, do they make this sweater in human? Because, it's actually really cute. Plus, this heathered turtleneck sweater is made with 60% minimum post-consumer recycled polyester from recycled water bottles. Let this more eco-conscious sweater keep your pet friends warm this winter!
---
Eco Friendly Pet Products for Dogs
Hand made by artisans in India, this adorable bandana just happens to be crafted with 100% GOTS Certified Organic Cotton. The company is woman-owned and completely fair trade. The bandanas come in small, medium, and large.
I'm such a huge fan of bar soap because it completely skips the plastic packaging! It makes sense to use bar soap to pamper your dog as well. This natural, anti-itch shampoo soothes dry skin using the very best ingredients, like Manuka oil.
This eco-friendly dog harness from Pawtitas is made using recycled bottles collected from the ocean. Coming in four sizes, it's suitable for all life stages and in sizes to fit a variety of breeds. Plus, this harness features an adjustable design so you can easily get the paw-fect fit.
Is this a dog bed, or a super chic floor pillow?! These handcrafted dog beds are ethically hand woven by artisans in India using a traditional weaving technique. The bed is stuffed with eco-friendly PlanetFill® filler, which is made from 100% post-consumer recycled plastic bottles.
This is a new spin on a classic dog bed! No one would even suspect it's made of recycled materials! Plus, it's ultra-soft for some serious dog snoozing.
This is not your typical dog treat. Vital Essentials treats are single ingredient, so you know exactly what you are feeding your furry friend–no fillers, grains, and other additives. These treats contain only the vital nutrients to keep your dog looking and feeling their best!
---
Eco Friendly Pet Products for Cats
Cat caves give your feline friend a safe place to escape for some R&R. Luckily, these cat caves are hand made with 100% New Zealand wool, which is soft, comfortable, and keeps your pet warm in the winter and cool in the summer. Plus, this company only uses vegetable dyes, so these beds are non-toxic and non-allergenic.
Having issues with your kitty scratching up your furniture? (I've been there.) Give them a suitable alternative like this eco-friendly cardboard cat scratcher. The Original Scratch Lounge is the first 3-sided cat scratcher that your cat can use as both a scratch post and a place to lounge, sleep and nest. Plus, when your cat is done with this scratcher it can be recycled!
Our cats LOVE these refillable hemp mouse catnip toys. Truly, we've had them for years and they have not gotten sick of them. The beauty of these toys is that the all-natural hemp fabric pouch can be continually refilled with loose catnip to keep your cats coming back. I promise this will be the longest lived cat toy you have in your collection!
This innovative cat bed is made from 100% recycled ultra-soft fibers that work as an insulator, to absorb and hold heat, keeping your kitty warm and cuddly all year round. Handcrafted in the US, these cat beds are made from scraps from the textile industry. Nothing goes to waste!
These all-natural feline treats are a favorite in my household. These bite-sized snacks contain fish oil as a natural source of omega-3 fatty acids, and ground flaxseed. They're made with natural ingredients, plus added vitamins, minerals, and other nutrients, and without artificial flavors, artificial preservatives, or fillers.
This post was all about eco friendly pet products.
---
Other posts you may like: