This post may contain affiliate links, which means that I may receive a commission if you make a purchase using these links.
There is a huge overlap in the people who love camping and the people who care about sustainability. Unfortunately, so little of the traditional camping advice is given with sustainability in mind.
Single-use, plastic cutlery, individually packaged food items, toxic waterproof rain jackets–these are all items that are routinely recommended for a camping trip yet might cause an eco-minded camping buff to turn up their nose.
It's not just the long-term effects of consumer waste we must consider (even when camping and presumably appreciating Mother Nature), but the short-term consequences of spoiling the last of our protected natural areas.
Not-so-fun-fact: that plastic fork you accidentally left at the campground will take over 20 years to decompose.
Instead, use this eco-friendly gift guide to shop for the camper in your life who has dedicated themselves to not only spending time in nature, but actively protecting it for generations to come.
North Face Recycled Sleeping Bags
The North Face Eco line of sleeping bags are made entirely from recycled materials, but they didn't skimp on functionality. I have the Eco Trail Down 0 sleeping bag, which is meant to be comfortable at temperatures as low as zero degrees, but they have a full line of different temperate-rated bags. If you don't love down, you can go with a fully synthetic sleeping bag. All are wide enough to allow for some wiggle room, but will fold up nicely in a pack.
VAUDE Tour 5 M – Self Inflating Sleeping Pad
Vaude is a German outdoor company that is unmatched in their commitment to sustainable manufacturing. Vaude has been a carbon neutral company since 2012 through solar, LED and carbon offset initiatives. Their line of sleeping pads are lightweight while maintaining comfort, allowing you to get a good night's rest even on the most rocky terrain. Many of their sleeping mats also are lightweight enough for the trail.
The North Face Eco Trail 2-Person Camping Tent
Rest easy knowing this eco-friendly tent is made from entirely recycled materials. The vaulted ceiling gives the tent a roomy feel for two people. The included rain fly will keep you dry, while the innovative high-low ventilation system will keep you cool on warmer nights.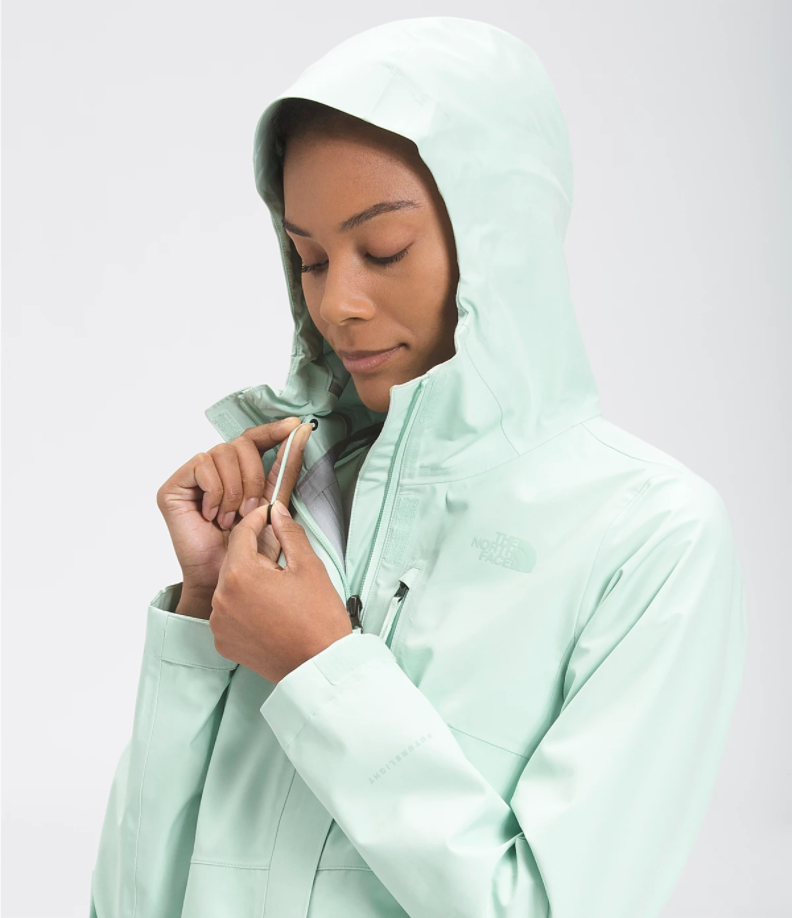 Toxin-Free The North Face Futurelight Rain Jacket
Most waterproof materials are made through the use of per- and polyfluoroalkyl chemicals (PFASs), which can cause trouble during the manufacturing process when manufacturing runoff enters the ecosystem–particularly the water supply. Exposure to PFASs has been associated with all kinds of health issues, from breast cancer to immune system damage. Not great! The North Face has been a pioneering brand in the production of outdoor equipment that skips the perfluorinated chemicals to achieve their waterproofing.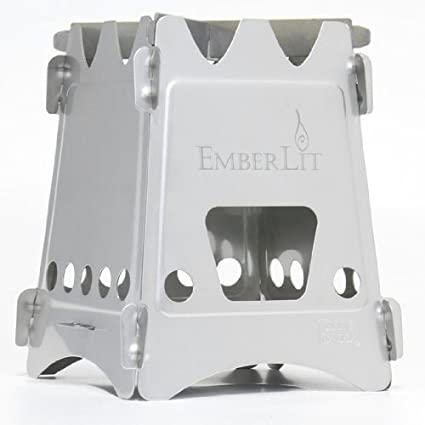 Emberlit Stainless Steel Backpacking Stove
This innovative backpacking stove allows you to skip packing the cumbersome fuel and use what's available from Mother Nature as kindling. To use the backpacking stove, create a mini fire with some twigs and sticks underneath your pot and have a fully cooked meal within minutes. Plus, the Emberlight Stove is fully collapsible and will not take up any more room in your backpack.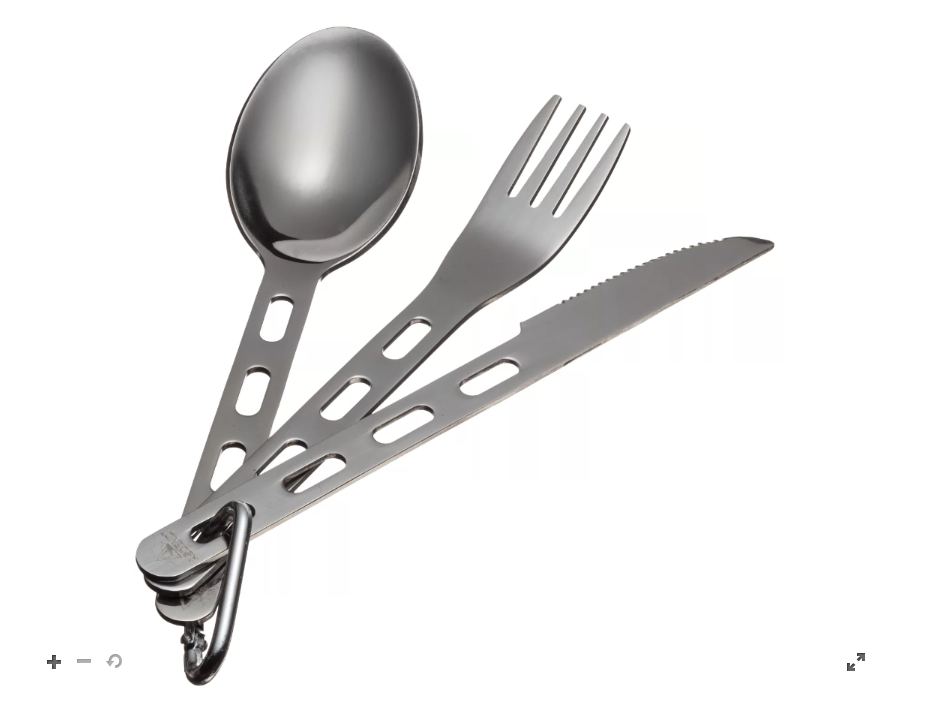 Skip the plastic cutlery and keep your fork, knife and spoon on you at all times at the campsite with this portable set. Made from lightweight stainless steel, this cutlery set is completely washable and will last a lifetime. This cutlery set will ensure you truly 'leave no trace' the next time you're dining in the great outdoors.
Great for the kitchen and the campsite, Beeswrap Natural Food Wraps mean you can skip the plastic packaging when packing food for a camping trip. Homemade granola bars? Cured meats? Dessert? They can all be stored safely for travel in these mess-free wraps that are lined with all-natural beeswax. Secure your snacks in a Beeswrap and throw them in your backpack for hikes!
Premade single-use meals are not sustainable and, perhaps more importantly, not tasty. Learning to cook at the campsite (whether that be on a grill or over an open flame) is an important skill for any camper. This book of 100 easy camp meals will ensure you never go hungry on the trail.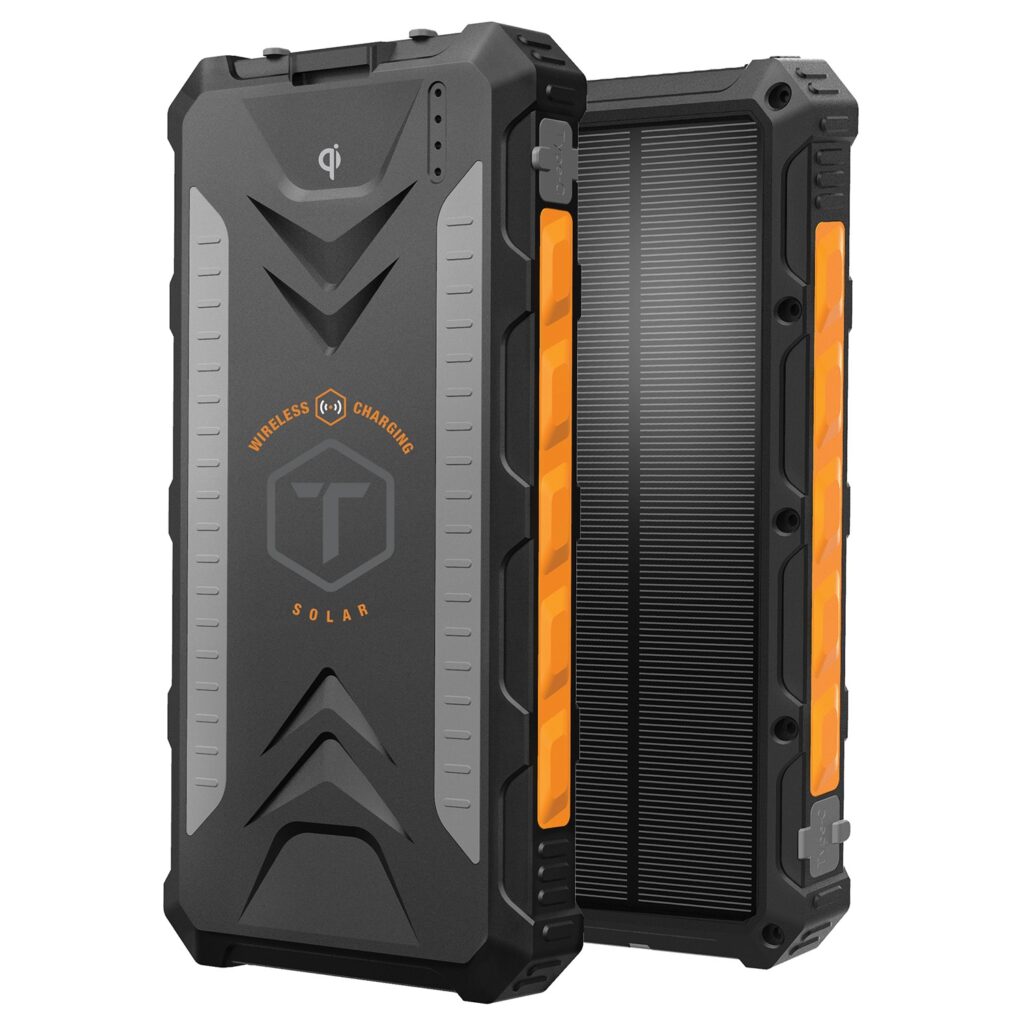 Most of us go out into nature to escape the demands of modern technology, but we also need Google Maps to get us home from the campsite. Ensure your phone stays charged until the end of the trail with ToughTested® ROC Waterproof 10,000mAh Solar Wireless Charger. This solar charger provides up to four full charges from its power bank and comes with a 280mA solar charger as backup.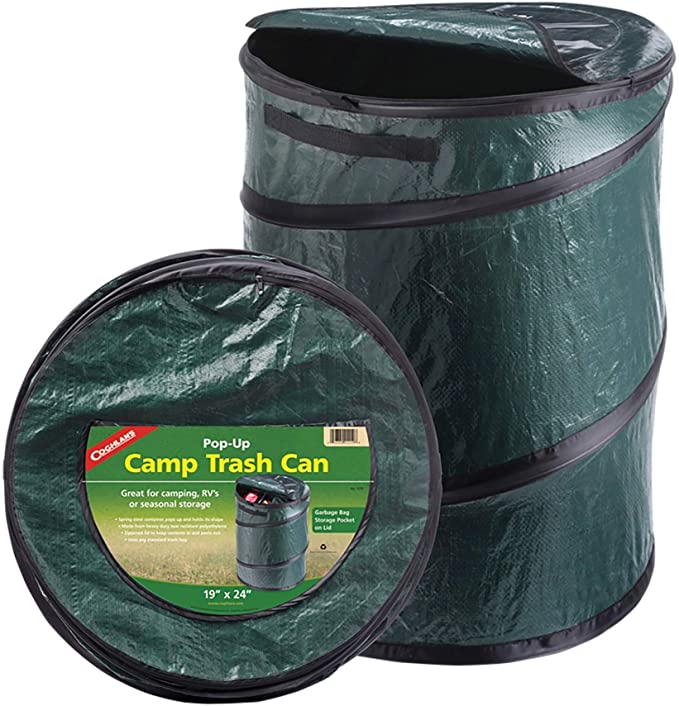 This handy pop-up recycle bin ensures you'll never accidentally leave behind trash at the campsite again (and the wildlife thanks you!) The bin folds flats for easy storage and won't take up any space in your car on the way out into the great outdoors.
Want more sustainable goodies?
Buying eco-friendly camping gear is one way to ensure our fragile natural resources are protected long after you leave the campsite.

For more sustainable product ideas for your home, check out these 12 Tips for a More Sustainable Bathroom.