This post may contain affiliate links, which means that I may receive a commission if you make a purchase using these links.
What if I told you there was a tropical-tasting fruit growing in the temperate forests of eastern North America and even as far north as Canada?
Let me introduce you to Asimina triloba, commonly known as the pawpaw.
Native to North America, this hefty green fruit grows on palmy, deciduous trees. You may be able to identify a pawpaw by its characteristic big leaves, which grow in triads (AKA, "tri-lobed," hence the scientific name triloba).
The fruit is best enjoyed tree-ripened and very soft, when the texture is almost custard-like. The flesh is pale yellow, dotted with dark, stone-like seeds.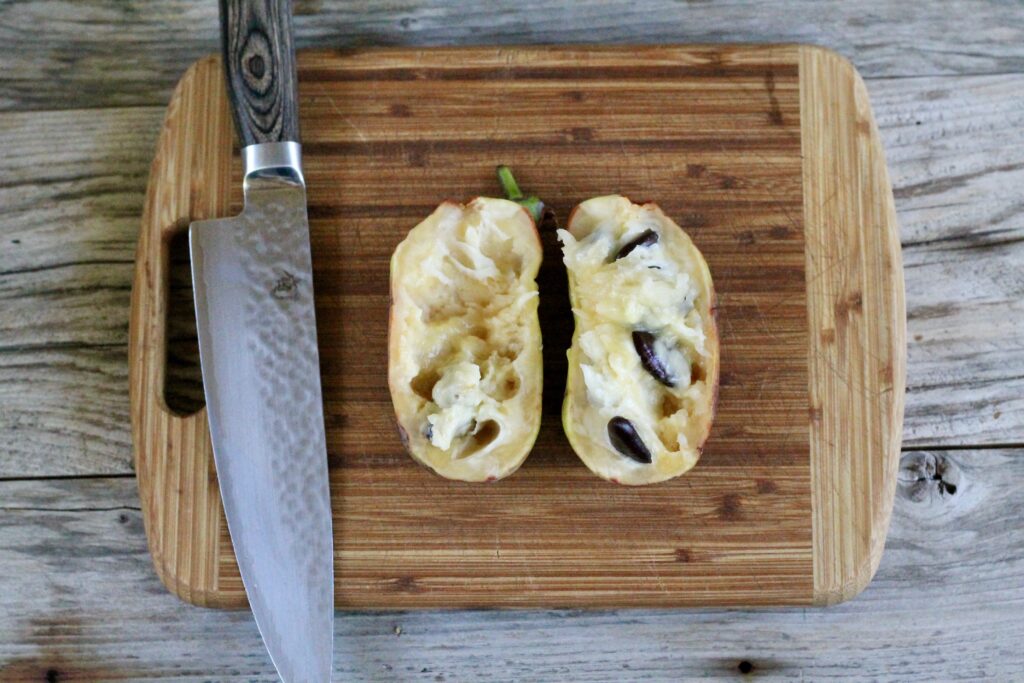 Despite the similar-sounding name, the pawpaw is not related to the papaya. It is possible English-speaking settlers named the fruit pawpaw after the papaya, due to their similar outward appearance.
Inside, however, the flavor is a more complex cross between a banana and a mango. After the initial tropical hit, there is a hint of floral—even a bready yeastiness.
These unique fruits were once a more common part of the American culinary lexicon. Thomas Jefferson, George Washington and Lewis And Clarke all snacked on pawpaws.
Pawpaws' rapid ripening time makes them a bane to commercialization. Like most plants you won't find at the grocery store, pawpaws have been largely forgotten about. Of course, the loss of forest to agriculture and industry have also made foraging for these fruits (and in general) more challenging.
The good news is, you may have the chance to find one yourself if you live in the Eastern United States and Canada. (East being a relative term—the Midwest is a hot spot for pawpaws!) If you are unable to forage your own pawpaws, growers are popping up around the country. Try buying the fruit or its processed pulp online with the specialty food store Earthy Delights.
I encourage you to try this delicious native fruit.
Watch me try a pawpaw for the first time below:
Recipe: Gluten Free Pawpaw Quick Bread
3-4 ripe pawpaws, seeds removed
4 large eggs room temp
2 tsp pure vanilla extract
1/4 cup coconut oil melted
2 cups blanched almond flour
1/2 cup tapioca flour
1 tsp baking soda
1/2 tsp baking powder
1 tsp cinnamon
1/4 tsp fine grain sea salt
Instructions
Whisk together all dry ingredients and set aside. Preheat your oven to 350 degrees F and line a medium loaf pan with parchment paper.
In a large bowl, whisk together the eggs and mashed pawpaw pulp, then vanilla and coconut oil until well combined.
Gently stir the dry mixture into the wet just until moistened and no visible flour remains. Do not overmix!
Transfer batter to prepared loaf pan and bake in the preheated oven for 50-60 minutes until deep golden brown and toothpick inserted into the center of the loaf comes out clean. Allow to cool completely in the loaf pan. Slice and serve. Enjoy!