This post may contain affiliate links, which means that I may receive a commission if you make a purchase using these links.
Honestly, there is a lot that could be improved about the modern bridal shower.
What is meant to be a day celebrating the bride is often boring, stuffy and not so eco-friendly. (So much waste! So many balloons!)
Let's face it, at the modern bridal shower you're usually just watching the soon-to-be-bride open gifts for hours. Snooze.
Why Host a Sustainable Bridal Shower?
Eco-friendly bridal showers tend to be more fun.
Why? Because they remove a lot of the fluff.
When you ditch the played-out games and stuffy tablescapes for something that is truly a reflection of the bride, you often end up with an event that is better for the environment and more meaningful for everyone involved.
The Art of Gathering Sustainably
As Priya Parker says in her book The Art of Gathering, all gatherings must have a purpose, and one that is "specific, unique, and disputable."
If the purpose of the bridal shower is to celebrate the bride as an individual before she is inextricably linked to another forever, then make sure the shower reflects that and not outdated expectations around what a bridal shower is supposed to be.
You definitely don't have to model a bridal shower after every other shower you've been to in your life.
If you got a crunchy-granola bride that cares about planet Earth, read on for ideas to incorporate into a super fun, eco-friendly bridal shower. It might just be the best party you've ever been to.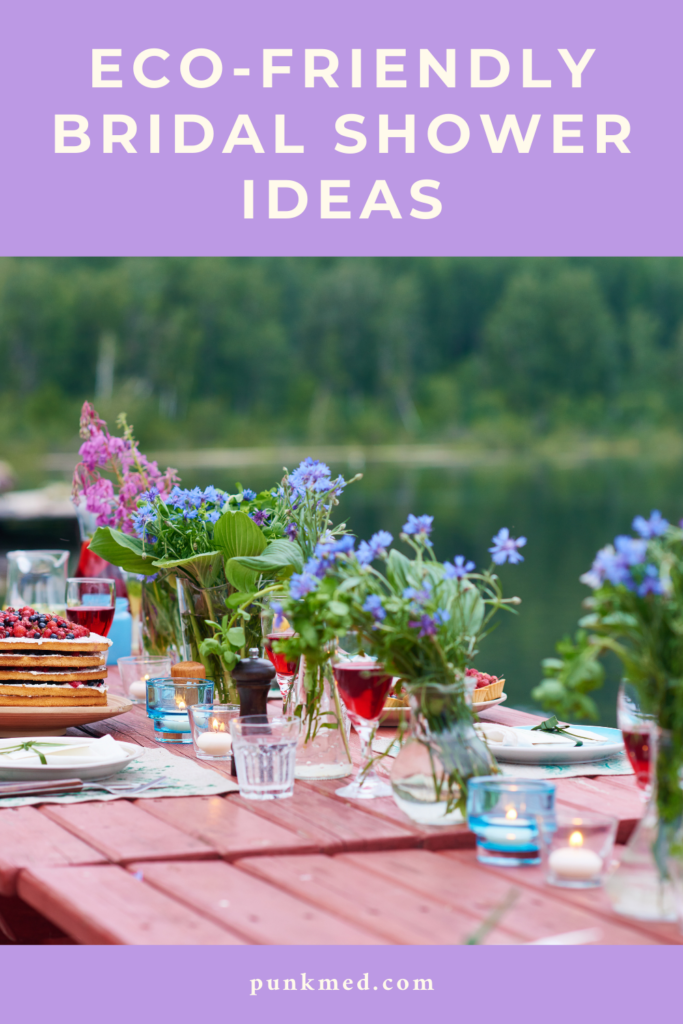 11+ Ideas for a More Eco-Friendly Bridal Shower
Host outdoors
Renting out a restaurant or indoor event space can be expensive and costly to the environment. Save on energy and reduce your shower's carbon footprint by hosting outside. Plus, the great outdoors is always prettier than the fanciest indoor space. The options are endless: try a garden party, a backyard buffet, or poolside soiree. Use Peerspace to look up unique outdoor spaces to rent in a city or town near you or just get creative in your own backyard.

Paperless or recycled invites

Snail mail is fun, but consider skipping the paper invites for the bridal shower. (Maybe prioritize paper invites for the actual wedding!) In lieu of paper invites, Greenvelope offers the full snail mail experience, but with extras you can only get digitally, like Google maps directions, calendar invites, and links right to the gift registry. If you're set on paper invites, recycled paper is your next most sustainable option. The Knot and Paper Culture offer recycled options.
Rent!
Rent decorations or other items you'll need for the bridal shower only (i.e. single-use!). Want a big, beautiful wicker peacock chair for your bride-to-be to sit in at center stage? Rent it! Want a backdrop or greenery wall for photos? RENT! Don't be the person who swears they'll use those decorations again one day while they sit in your garage, or worse–end up in a landfill.
Zero-waste decorations
According to the Green Bride Guide, the average wedding produces 400 pounds of garbage. Let's nip that in the bud starting with the bridal shower. Decorations are a major offender when it comes to waste, as many party decorations are single-use. Instead, try decorating with items that can be reused after the party or decorate with sustainable materials that biodegrade (like dried flowers). Or try other friendly party decoration options like biodegradable streamers or fabric bunting banners.
Skip the balloons
Balloons may look innocent, but they are actually a major source of pollution, particularly to our world's oceans. Even worse, balloons actually pose a threat to marine life. Whales, dolphins and sea turtles can ingest or be strangled by balloons and ribbons. Also, balloons take awhile to decompose–anywhere from four months to six years. Don't trash the ocean and consider tissue pom poms or paper lanterns for eco-friendly bridal shower decorations instead.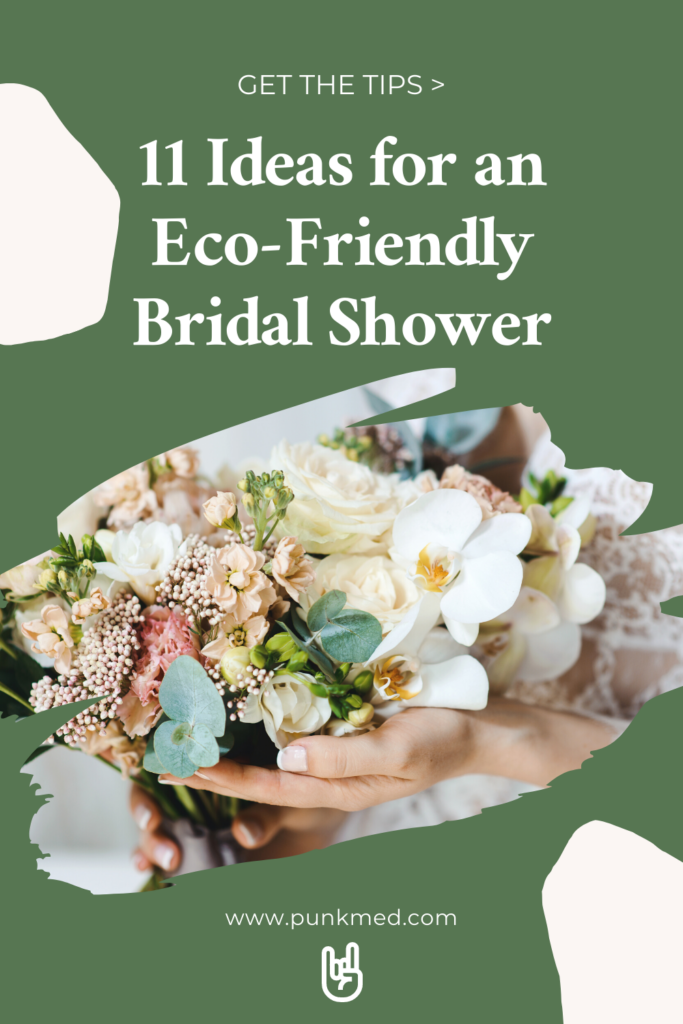 Locally sourced flowers
Cut flowers are beautiful for a bridal shower, but are they sustainable? While they certainly are natural, flowers may not actually be the most sustainable decoration choice if they are shipped from far away (), packaged in plastic, and sprayed with pesticides. The most sustainable choice for flowers is to shop locally, like at your local farmer's market, or even cut some flowers yourself! If you do not have local flowers available to you, consider US-grown flower delivery companies like Bouqs for your eco-friendly bridal shower.

Serve buffet or family-style
When you're hosting a sustainable bridal shower, one of the major goals is to reduce the amount of plastic. Think about the food you are serving and how much plastic packaging it's going to take to arrive at your shower safely. Instead of offering individually wrapped sandwiches and cupcakes, can you serve buffet or family style?
Eco-friendly tablescape
Another major offender when it comes to party waste is plastic, single-use tableware. The most sustainable option is to go with real ceramic, porcelain or glass dishware that can be washed and reused. Don't worry if you don't have enough plates to serve 40+ people, tableware and cloth can be rented too! If you want to go with single-use, opt for more sustainable options like biodegradable tableware made from sugar cane. A more classy option would be Meri Meri's eco party line, which offers pastel scalloped plates made from bamboo.
Sustainable party games
Too often at bridal showers you get the paper printable games left on the table that get thrown in the trash after the party. In lieu of paper games, get creative with games that involve your bride-to-be and the guests more interactively. For example, can the guests write down a memory they had with the bride on a scrap of paper and have the bride guess who it is based on the description? This requires some skillful MCing, but it is worth it in the end and makes for a better and more personalized experience for everyone.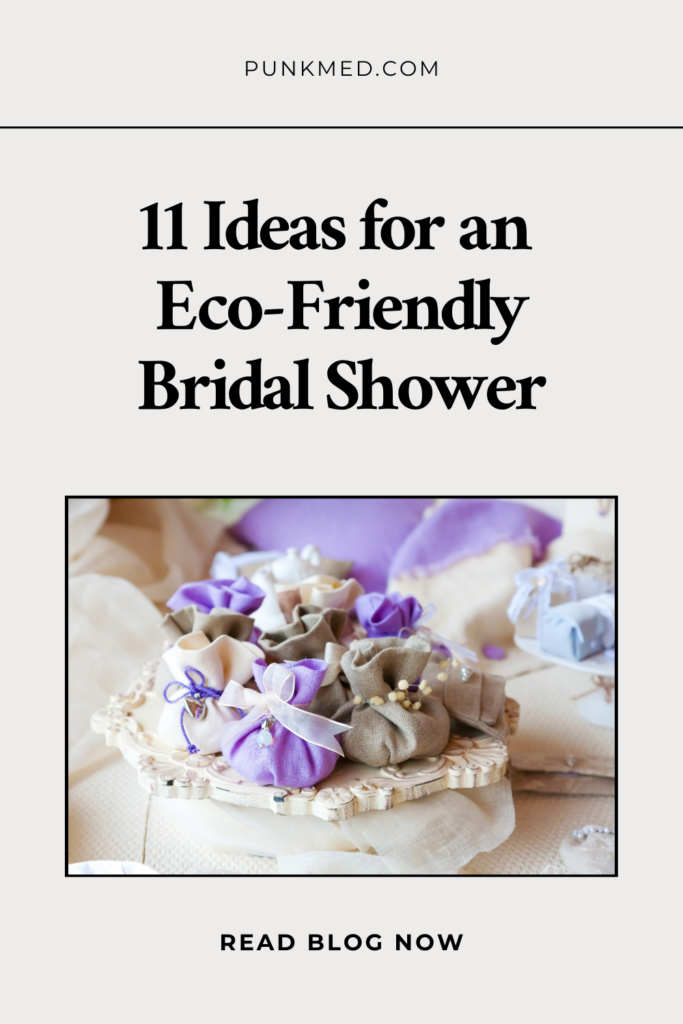 Plastic-free favors
Sustainable bridal shower favors are plastic-free and zero waste. Options include handmade soap, potted plants, or custom seed packets.
Get creative with gift wrapping
Wrapping paper creates millions of tons of waste, and there is evidence that at least half of it ends up in landfills. Skip the wrapping paper at your bridal shower if you can. Include a request in the invite that guests bring their gifts unwrapped. Or embrace the Japanese tradition of furoshiki, or cloth wrapping paper. I like the company Unwrp for beautiful fabric wrap options.