This post may contain affiliate links, which means that I may receive a commission if you make a purchase using these links.
Looking for sustainable luggage to invest in before your next big trip? These sustainable luggage brands create eco-friendly gear for the conscious traveler.
Today on my blog, I'm sharing my top picks for sustainable luggage brands on the market.
This post comes out of my own personal research on the heels of my trip to the South of France, where my cheap, plastic luggage luggage was literally falling apart at the seams. At one point, my bag burst open on a busy subway, leaving me scrambling to collect my underwear as strangers looked on! Not fun!
Anyway, I came home knowing I needed to replace my current luggage with something made with durable, eco-friendly materials.
Luckily, in my research, I found multiple options for sustainable luggage that fit a range of budgets! I knew I had to share my findings with my readers. Note, however, that products that are made to last will often have a higher price point overall.
Before I share my favorite sustainable luggage brands, here are a few tips to consider when shopping sustainable luggage:
When shopping for eco-friendly luggage, you will come across brands that use vegan leather. I don't consider most vegan leather sustainable. This is because most vegan leather is made from polyurethane, AKA plastic, and just NOT better for the planet. However, I understand that comfort around using animal products varies, and many of the brands below use at least some plastics (most are recycled.) There are alternative vegan leathers that are truly eco-frendly, like these bags made from plants.
When buying luggage, I find it's best to invest in an entire set from one single brand. This means buying a checked bag, carry on, and packing accessories all from the same brand. That way, you know the products work well together for maximum ease while you travel.
Hi, I'm Leslie!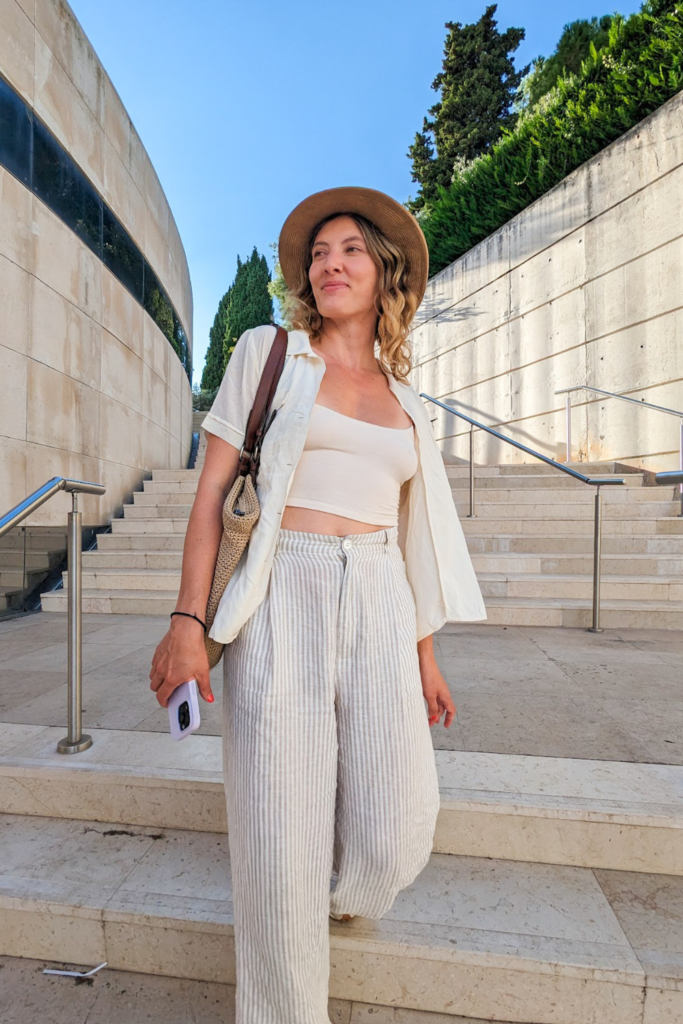 My name is Leslie, and I'm the founder of PunkMed! On my blog, I and my team share my info, experiences, and recommendations in the area of sustainability, non-toxic products, and natural living. Our goal is to make it less overwhelming for you to live a fun and sustainable life!
In today's post, I'm sharing my top picks for sustainable luggage. These ideas come from my years of experience in sustainable travel, and more recently, my luggage experience during my two-week road trip in the South of France!
Alright, let's get into it!
This post is all about sustainable luggage.
#1 Sustainable Luggage – Paravel
I'm super excited about the luxury sustainable luxury brand Paravel. This brand is playing at a pretty advanced level when it comes to prioritizing eco-friendly materials; all of their products use upcycled materials in some way, including nylon and canvas made from recycled plastic bottles. For those who feel weird about real leather, Paravel uses a unique vegan leather (which I typically don't consider necessarily eco-friendly) made from recycled materials.
Also, the entire business has been climate neutral since 2020. Per the company, "we offset all of the emissions from sourcing, assembly, shipping, and delivery and include the estimated carbon emissions of [your] first plane trip."
---
#2 Sustainable Luggage Brands – Monos
With colors like "purple icing" and "banana pudding," it sounds more like Monos is selling tasty treats rather than sustainable luggage.
It's almost too good to be true that a company offering such on-trend colors also be sustainable, but believe it! Monos is a climate neutral company, is committed to producing products that last, and donates 1% of profits to verified non-profit organizations that are dedicated to preserving and restoring the natural world.
---
#3 Eco Friendly Luggage – Hedgren
Hedgren specializes in bags of all types, not just luggage. Seriously, from cross-body to tote–they have it all!
Luckily for us, they also have a sustainably-made line that includes luggage and utilizes fabric made from recycled plastic bottles. This special type of polyester uses 20 plastic bottles to create a square yard of fabric.
---
#4 Eco Friendly Luggage Brands – July
I always make sure to consider longevity when assessing a product for sustainability. After all, if you need to continually replace a product, it's not very sustainable, and adding to our every-growing landfills.
July is committed to making sustainable luggage that lasts a lifetime, and they mean that literally: all July luggage comes with a guaranteed limited lifetime warranty. july's innovative design features scratch-free coating and aluminum bumpers for added protection.
---
#5 Eco Friendly Luggage Sets – Away
I'll be honest, I primarily know Away as being one of the premier Internet darling brands a couple years back. I hadn't check in on them lately, and it sounds like they are making some significant changes with regards to their business practices, including using 100% recyclable packaging and increasing the portion of recycled content in many of their luggage components.
I do like that they make an entire line of aluminum luggage for those that want to avoid plastic altogether.
---
#6 Sustainable Luggage – State
State describes itself as "the family bag company," and they are unique among this list for making travel gear for both kids and adults.
Many of their products use a significant portion of recycled materials. However, more impressive to me, is that they have a separate "pre-loved" shop where you can purchase items secondhand at reduced prices and resell products you might not get enough use out of. We love options that keep products of of landfills!
---
#7 Sustainable Luggage Brands – Solgaard
Okay, I'm really excited about this sustainable luggage brand for a couple of reasons! First, their luggage is made from unique materials mage from ocean-bound plastics.
Second, they partner with organizations like Sungai Watch, which works to keep plastics out of the mangroves of Bali. Solgaard estimates that 1.1M pounds of plastic have been diverted from our oceans with their current plastic removal partnerships.
Finally, they have a unique product called the "Carry On Closet," which is their patented built-in shelving system, now available in two sizes and two collections.
---
#8 Eco Friendly Luggage – Samsonite
Like several of the brands on this list, Samsonite offers a line of more sustainable luggage made with recycled plastic bottles.
What's more exciting, Samsonite is able to repair any accidental damage or wear and tear to your Samsonite luggage at their repair centers. They have more than 200 repair centers in 65 countries worldwide. The ability to repair products when they are damaged is a major key to longevity, and therefore, sustainability!
---
#9 Eco Friendly Luggage Brands – BRIC'S MILANO
To be honest, I did not know anything about this brand before researching eco-friendly luggage on the market, but I liked what I found! BRIC'S MILANO is a sustainable brand in the sheer craftsmanship and attention to detail.
This is definitely and luxury product, and not one for vegans! BRIC'S MILANO uses vegetable tanned leather, which is the most ecological and environmentally friendly way to tan leather.
---
#10 Sustainable Packing Cubes – Quince
As a bonus, I wanted to include these eco-friendly packing cubes from Quince, crafted from durable, water-resistant twill made from recycled water bottles.
They have a whole packing cube system that features a space-saving design so you can pack more and stay organized. Each packing cube can be compressed by up to 60%, so you never have to worry about overpacking again!
---
This post was all about sustainable luggage.
---
What to Read Next: