This post may contain affiliate links, which means that I may receive a commission if you make a purchase using these links.
Denim fashion is back in a big way, and designers are getting more and more creative with the material. Luckily, denim trends are very thrift-able. This sustainable fashion photoshoot highlights the best in denim with all thrifted denim pieces.
With the return of the bell-bottom, the low-rise jean, and boxier silhouettes (ahem, does anyone else remember JNCOs or am I just old?), denim has been at the forefront of today's most talked-about trends.
Luckily for us, these trends in denim can easily be thrifted! Skip shopping and the big chain store, and save the planet while likely saving some dollars, too.
This denim fashion photoshoot aims to give you some inspiration for your next thrift trip.
This post is all about denim fashion.
Denim Fashion Inspiration
For this thrifted denim photoshoot, my stylist and I were inspired by what we were seeing on the runway at the time.
The runway denim looks were extremely bold: demin head-to-toe, denim in unusual places (hello denim hats and outwear?) and plenty of baggier, boxier, boyish silhouettes.
Seriously, the baggier the better. One thing about me is, though, I love a wide leg jean.
We tried to incorporate inspiration from some of these runway looks into our denim fashion shoot!
Denim Fashion Photoshoot – Location
For this photoshoot, we wanted to play up the raw feel of denim with stark, industrial scenery.
I immediately thought this was the perfect time to do my own take on the parking garage photoshoots I had been seeing on Instagram lately.
For variety in lighting, we shot on the top level of the garage (it was very windy) and inside.
Notably, the parking garage we chose happened to be nearby my old stomping grounds and alma mater, Northeastern University campus.
Luckily for us, the University had just built a beautiful rust pedestrian walkway over the train tracks that traverse the campus.
I thought the orange tones of the rust bridge would contrast perfectly with the blue denim, and I was correct! This was my favorite location of the shoot.
Working with Thrifted Denim in a Photoshoot
One thing to know up front about working thrifted items into a photoshoot (or into your wardrobe) is to get familiar with your local tailor. (Or learn how to alter your own clothes!)
Often the piece of your dreams is one alteration away from being perfect (or a few!)
For example, the vintage denim Tommy Hilfiger dress featured in this photoshoot (see below) was quite a bit longer when I bought it from the thrift store. It was a whole lot of dress.
Luckily, my stylist also has some sewing skills, so we were able to shorten the dress to more of a mini-skirt length, which also modernized it.
Give yourself some time to carefully shop while thrifting and consider allowing extra time for alterations as needed.
Denim Fashion Photoshoot – Team and Styling
Model: Leslie Fowle (Me! Follow me on Instagram here for more sustainable fashion shoots.)
Stylist and Creative Direction: Alexandra Howley
Photographer: Caroline the Photographer
Location: Northeastern University, Boston, MA
Clothing:
Borrowed from stylist, details below
Thrifted Denim Fashion Photoshoot – Photos
Sustainable Denim Look #1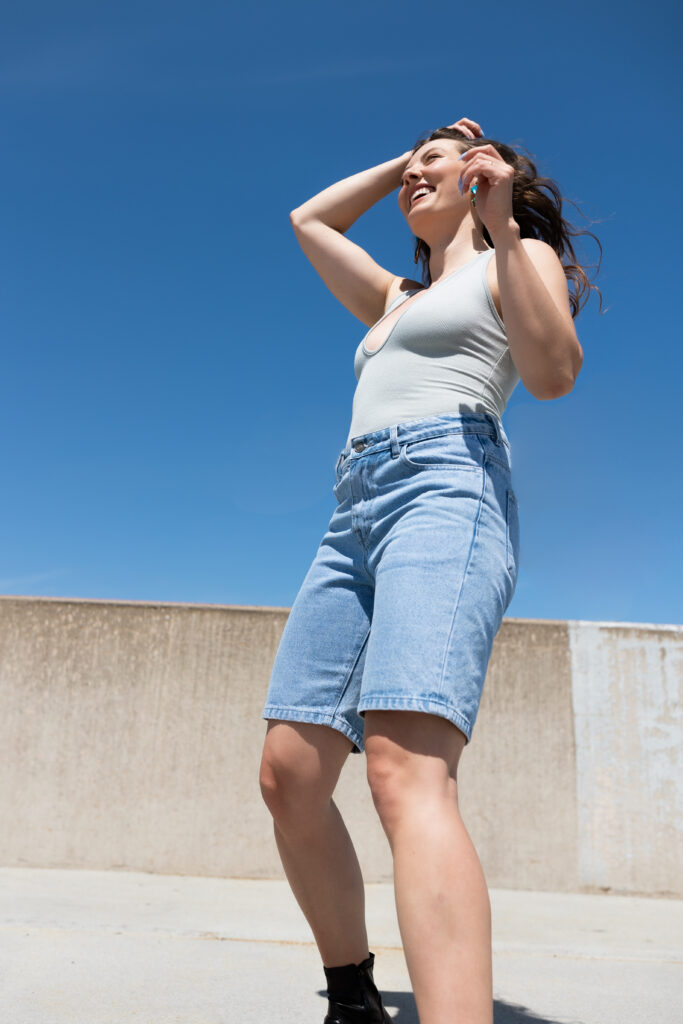 These shorts were thrifted from the Buffalo Exchange men's section. We were going for a baggier look! They didn't end up being that loose on me, though.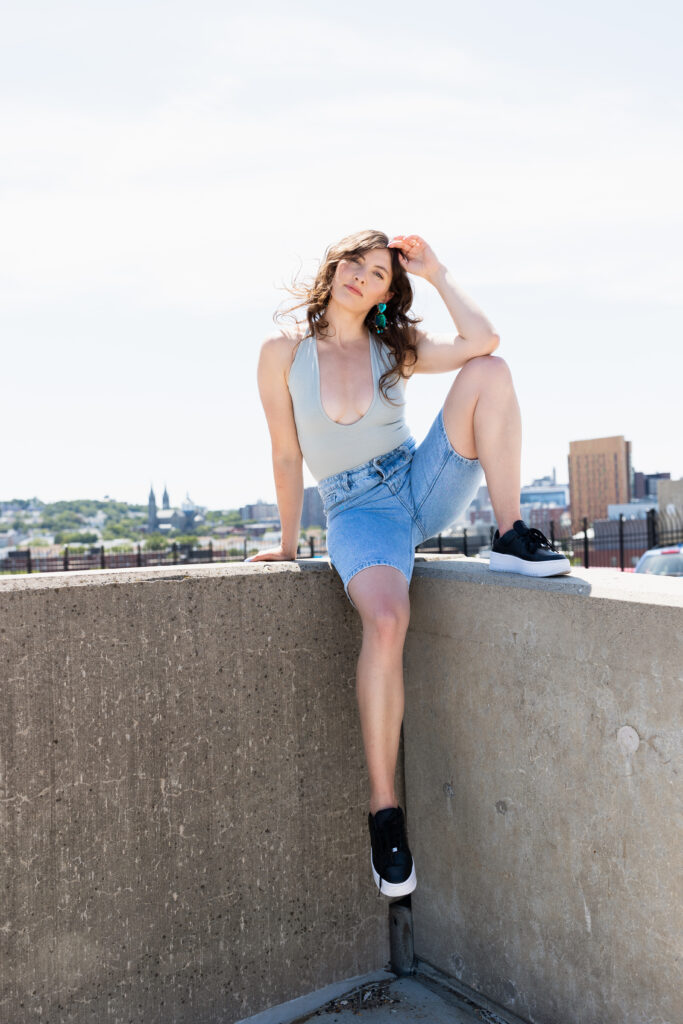 My number one posing tip is to create triangle shapes with your body. See the triangles between my arm, head, and torso? These are pleasing to the eye.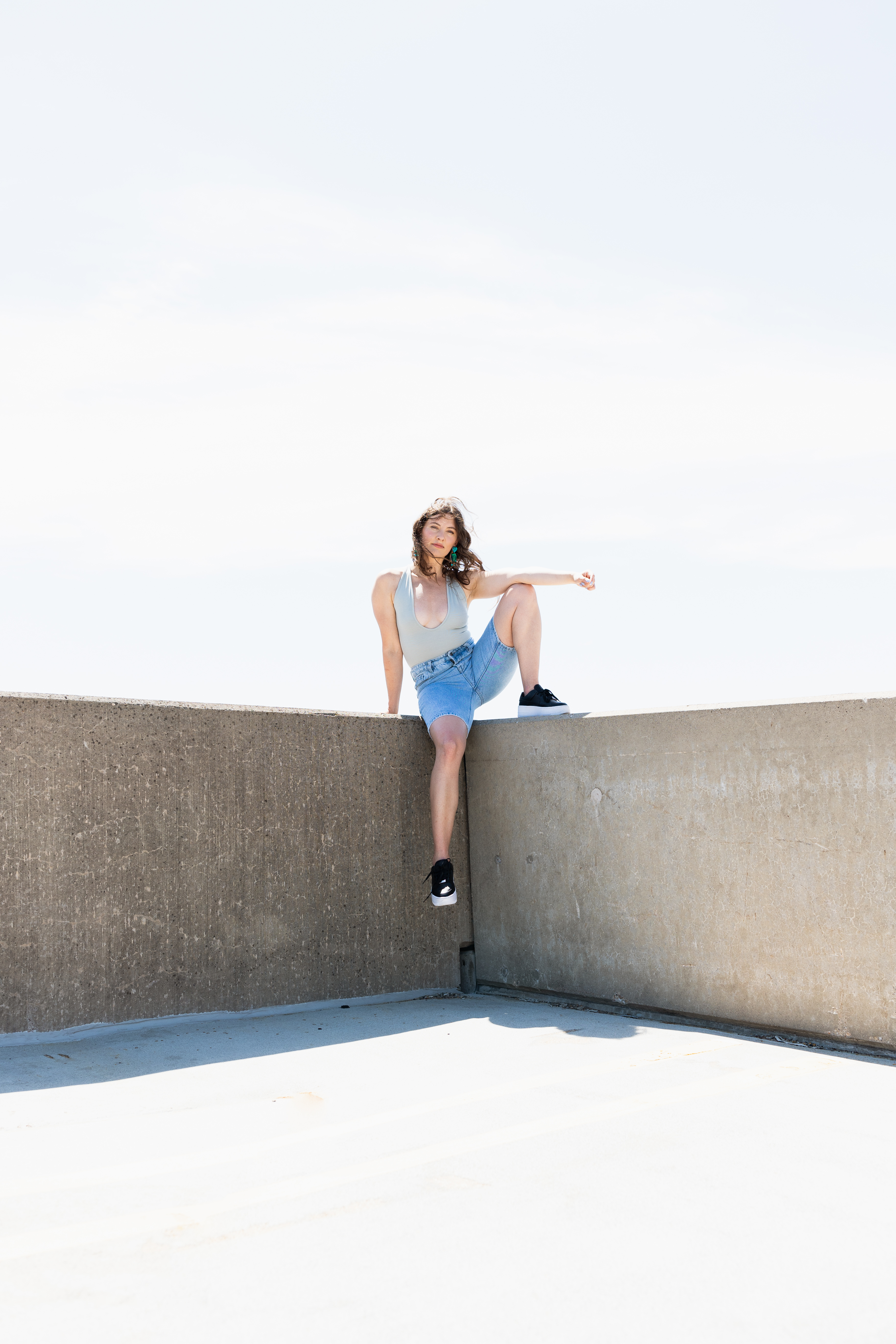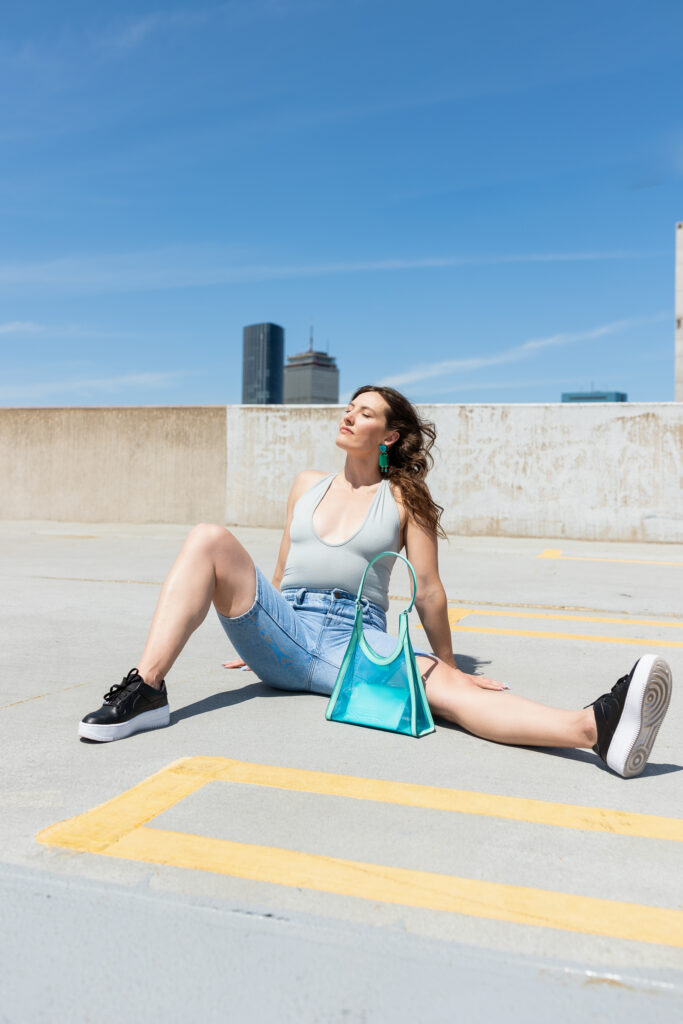 Here we incorporated an adorable bag rented from Rent the Runway. Shooting in full sun means a lot of pictures with closed eyes.
Look #1 Details
Shorts: Buffalo Exchange
Tank: Joan Brown
Sneakers: Nike
Earrings: Pakera Pakera
Bag: Rent the Runway
Thrifted Denim Look #2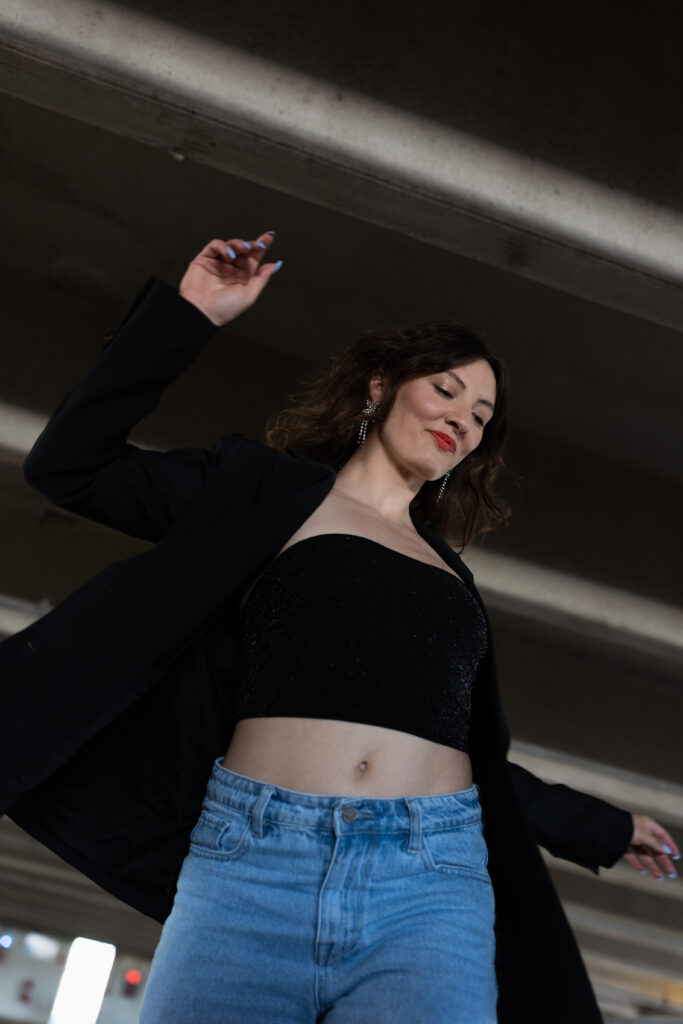 For this look we moved out from the sun and inside the parking garage. I'm wearing the same men's jean shorts, but have added a tube top and black blazer.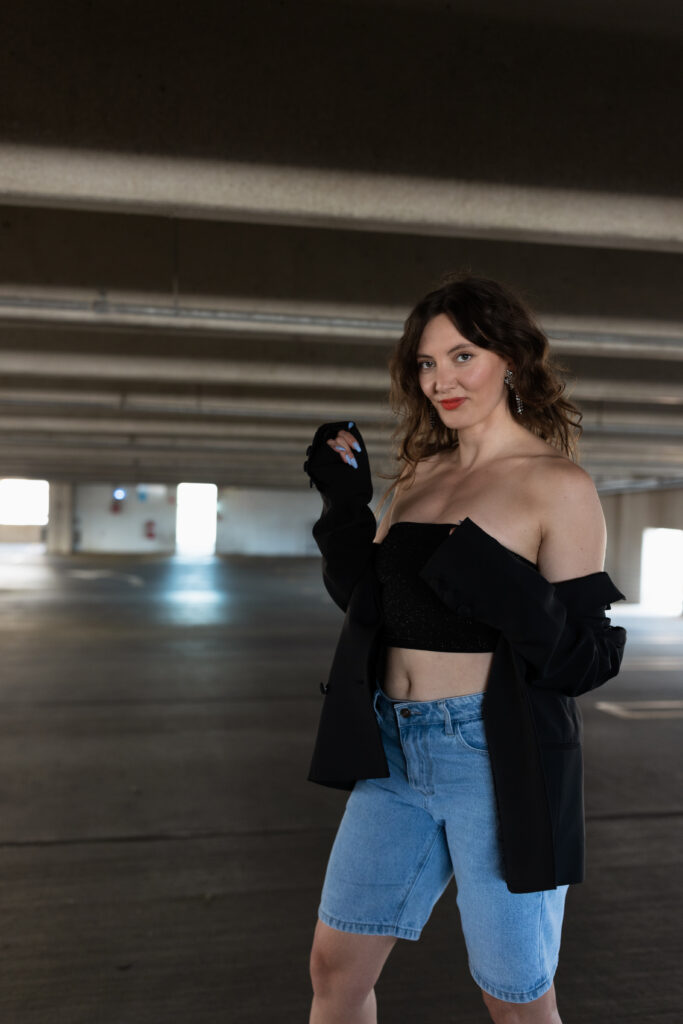 I love pairing more formal pieces like a blazer with dressed down denim. Don't be afraid to show some skin!
Look #2 Details
Shorts: Buffalo Exchange
Blazer: Frame
Tube top: Buffalo Exchange
Earrings: Jennifer Behr
Denim Fashion Editorial Look #3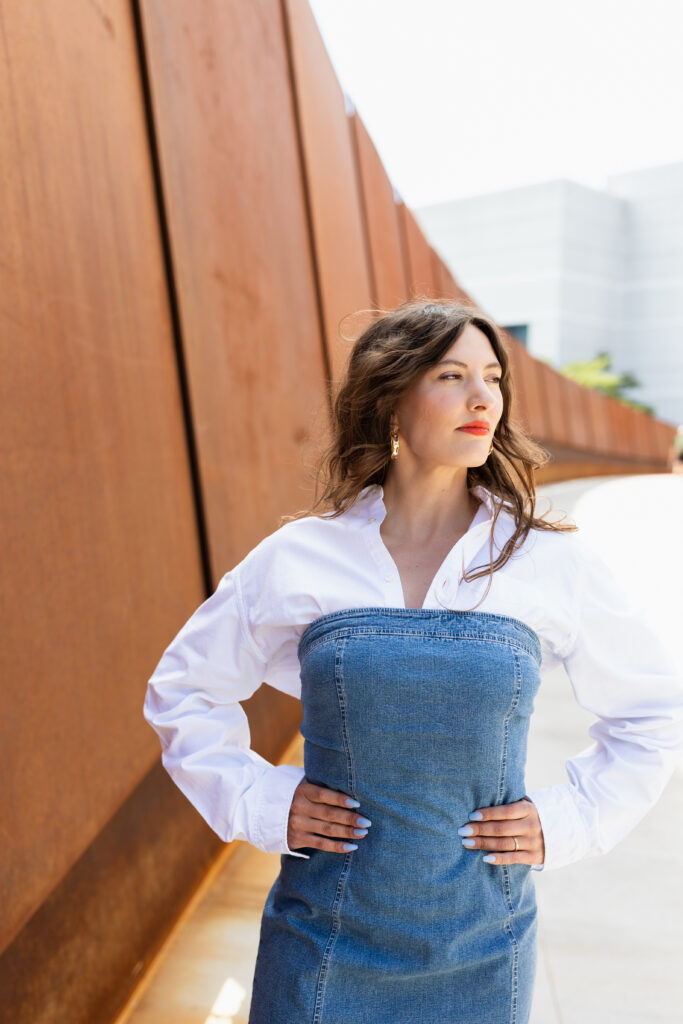 For these next two looks we moved to this beautiful pedestrian walkway that contrasted nicely with the denim.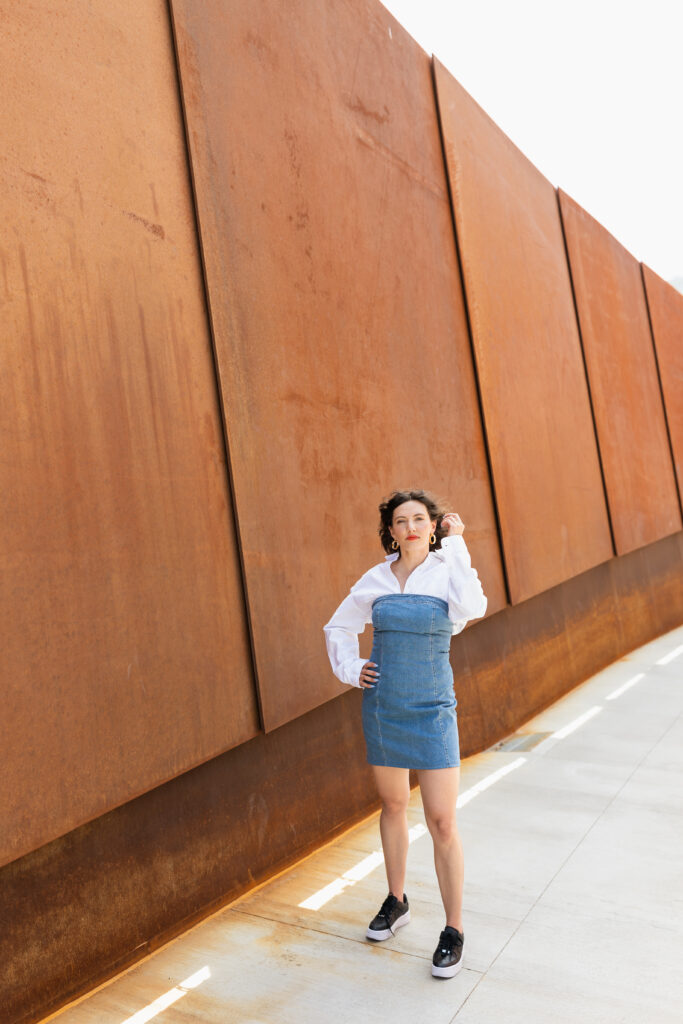 My stylist and I had to significantly shorten this thrifted Tommy Hilfiger dress to make it work with this look.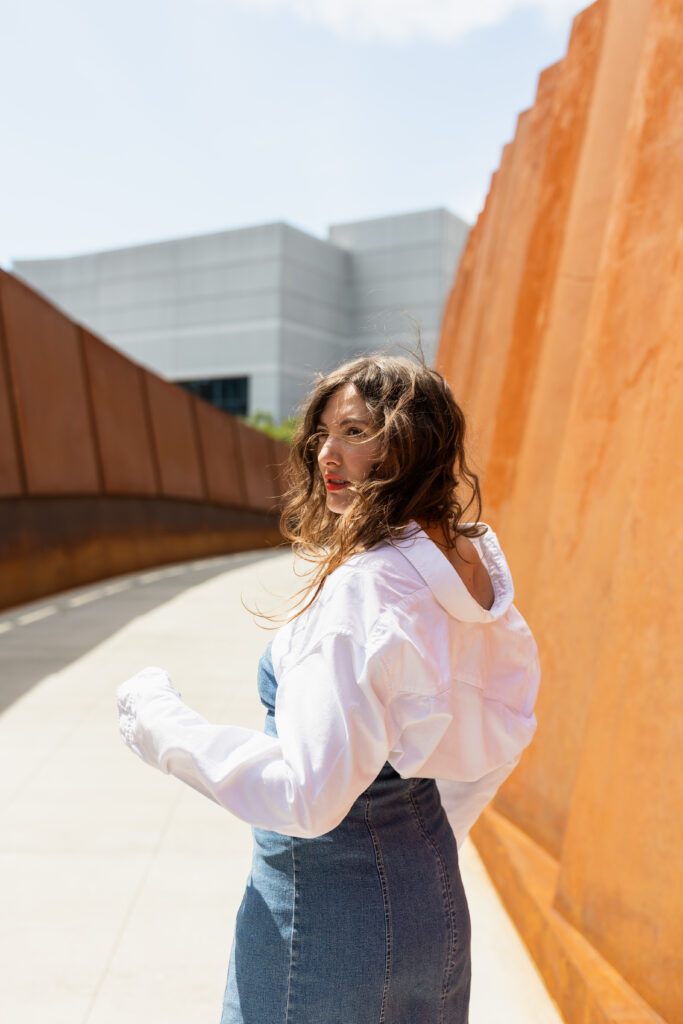 I'm obsessed with this look. It was my stylist's idea to layer a more structured button-up top underneath the denim mini dress.
Look #3 Details
Dress: Boomerangs/Tommy Hilfiger
Top: Gap
Sneakers: Nike
Denim Trends Look #4
Denim on denim is very on-trend. This bag was rented from Rent the Runway.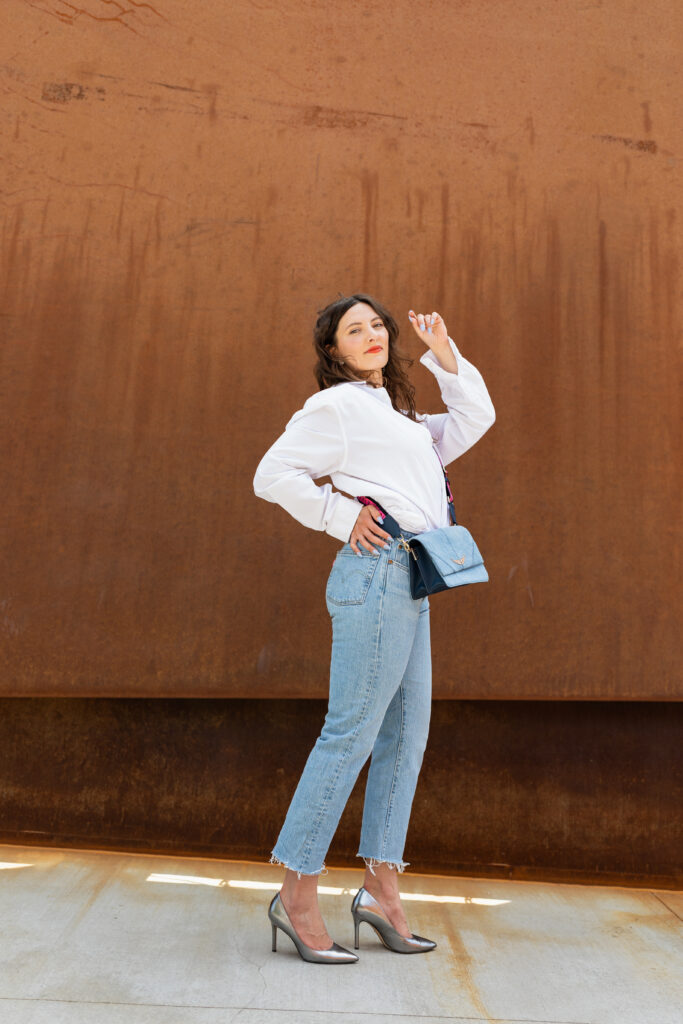 Look #4 Details
Jeans: Buffalo Exchange/Levis
Top: Gap
Bag: Rent the Runway
Heels: Sam Edelman

Try Rent the Runway Today
So, I mentioned the clothing rental subscription a few times in the post, as I rented a few pieces featured in this shoot!
Interested in trying out Rent the Runway? If you use my link (right here) you'll get $30 off your first month. (I'll get $30 off too so it's a win-win!)
This post was all about denim fashion.
---
Other posts you may like: