Looking for eco friendly Halloween decor ideas? Get inspired by these spooky setups that aren't so scary for the planet.
Want to know a truly scary statistic? According to Lisa Morton (author of Trick or Treat) in her interview with Marketplace, the average trick-or-treater will generate a pound of waste on Halloween night.
This doesn't even consider the plastic Halloween decorations and single-use party supplies that inevitably end up in a landfill!
I love decorating for Halloween as much as the next girl, but I knew there had to be a better way to celebrate for the spookiest of holidays.
That's why I searched the internet high and low for the best eco friendly Halloween decor inspiration. I'm sharing those Halloween decor ideas I got from my friends with you today on the blog!
Top Tips for Eco Friendly Halloween Decorations
As you go through these sustainable Halloween decoration ideas, there are a few tips I'd like to share up front to help you when planning your own decorating:
Shop vintage and thrift. As you'll see in the inspiration images from my internet friends below, there are probably plenty of Halloween decorating options at your local thrift or vintage store! Often, these are the coolest pieces that you'll be proud to display every year! Yes, this post contains links to retail stores, but I encourage folks to see if they can find the item thrifted first!
Avoid the outdoor cobwebs, as wildlife can get trapped! This is a hot tip I got from one of my gardener friends that I like to share far and wide, because I don't think many people think about the implications of this popular outdoor Halloween decoration. You know that fake cobweb material folks use to decorate outside their homes and shrubbery? I advise against using it, as birds and other critters can get entangled in the webbing!
Find pieces you'll reuse year after year. As always my mantra is: reduce, reuse, recycle. Don't just hit the Halloween aisle of your favorite big box store every year. Think about creative ways you can reuse your favorite Halloween pieces each year, even if it means just slightly rearranging them so you don't get bored!
Hello, I'm Leslie
Boo! My name is Leslie, and I'm the founder of PunkMed! On my blog, I and my team share my info, experiences, and recommendations in the area of sustainability, urban homesteading, and eco friendly entertaining. Our goal is to make it less overwhelming for you to live a fun and sustainable life!
In today's post, I'm sharing my favorite eco friendly Halloween decor ideas. These ideas come from the process of planning my own Halloween parties, and from hearing from many other Halloween enthusiasts about their decorating tips for their favorite spooky holiday!
Let's get into it!
This post is all about eco friendly Halloween decor.
#1 Eco Friendly Halloween Decor: Paranormal Portraits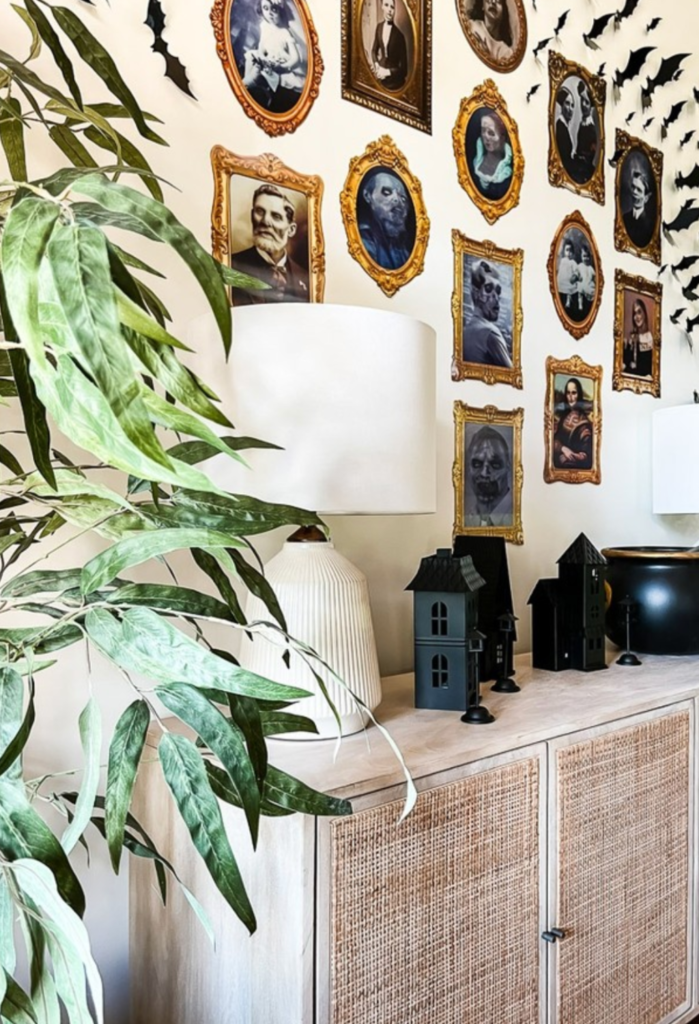 Wow, I'm obsessed with these paranomal portraits from @.tasha.kaleidoscope. Tasha bought these ghost portrait wall decorations on Amazon, but you could easily recreate this look if you already have a gallery wall–just swap out some of the pictures for something a little more spooky!
Get the Look:
#2 Eco Friendly Halloween Decorations: Outdoor Halloween Decor
This Halloween decor idea from @.blancobungalow is such a great example of what you can do with your entryway! Not gonna lie, these giant spiders kind of truly creep me out!
Plus, I like that these fake cobwebs are wide and not the kind that could trap and entangle birds and other wildlife!
Get the Look:
#3 Sustainable Halloween Decor: Fall Bar Cart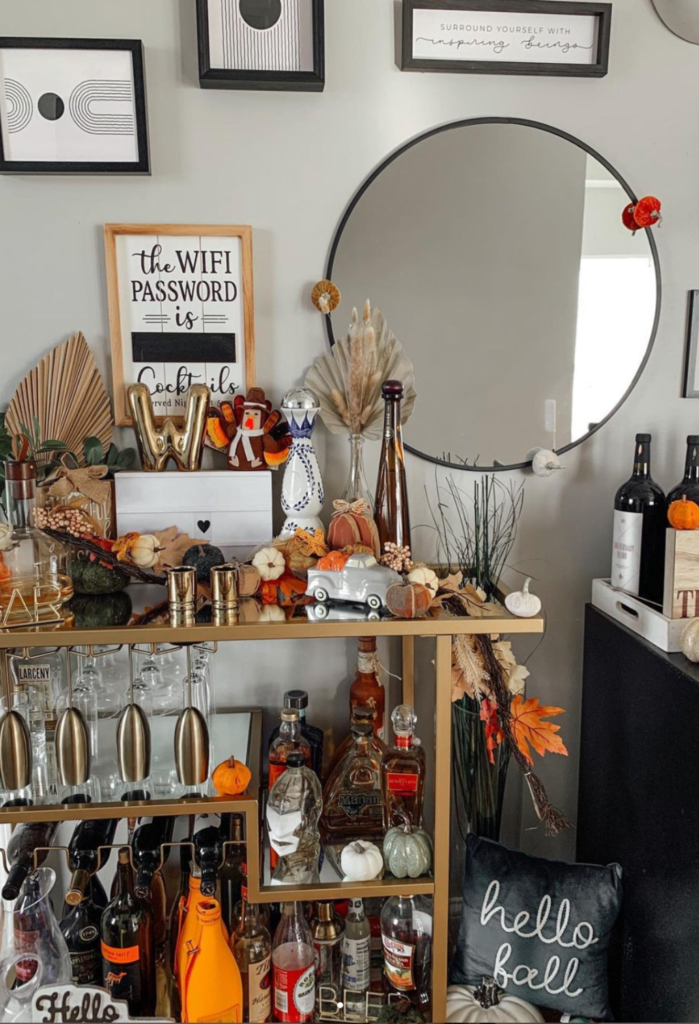 OMG, I love this fall-inspired bar cart from @.mac.en.moda_. This is such a great example of how your Halloween decorations don't have to be super specific to the holiday, but instead can celebrate the season more generally. That way, you get much more use out of your decorations!
Get the Look:
#4 Sustainable Halloween Decorations: Spooky Fireplace
@.826farmhouse shows how adding a few DIY Halloween decorations can allow us to celebrate the holiday while keeping decorations in line with our specific style. I love the idea of a DIY cinnamon broom!
From @.1826farmhouse: "This keeping room fireplace is always the perfect backdrop for my Halloween decor. I added the spiders, 🕷️ crows, and witches 🧙🏼‍♀️ broom 🧹 this year. I made the broom 🧹 out of a branch that fell in my daughter's yard and a couple of cinnamon brooms from @dollargeneral. The rope came from @dollartree a few years ago. The whole project cost under $20. I'm happy with the results and it makes the room smell amazing."
Get the Look:
#5 Eco Friendly Halloween Decor Ideas: Stoop Decorations
@.mydarlingpassport shows off this stoop she found while exploring Salem, MA! I live nearby Salem, and love getting Halloween decor inspiration from the town that has embraced its witchy history during my travels.
Get the Look:
#6 Eco Friendly Halloween Decor: Minimalist Halloween
@.simplymicheleb reminds us that decorating for Halloween doesn't mean you have to go over the top. Even minimalists will love this simple mantle Halloween decor idea. Just add bats and a few pumpkins in a neutral color!
Get the Look:
#7 Eco Friendly Halloween Decorations: Spooky Window
I love the idea of decorating for Halloween by putting a spooky book on display!
From @.thecaseverde: "Through the years, I've learned that you don't need to spend tons of money and buy one million mini pumpkins to get into the spooky spirit.
Pairing a statement piece like this little ghost from @dollartree with subtle pieces that fit naturally into your home, like this Halloween book, can really go a long way. Stay tuned to see what else I brew up in here 🧙🏼‍♀️ Anyone else love Halloween??"
Get the Look:
#8 Sustainable Halloween Decor: Ghastly Shelves
Shelves are a great place to spruce up for the Halloween season. @.marcelinehome adds a few spooky picture frames and a few pumpkins, and viola!
Get the Look:
#9 Sustainable Halloween Decoration: DIY Monster Fireplace
Wow, I love this DIY monster fireplace idea from @.4theloveoftoys. If I had kids, I would definitely try this! Just make some teeth and eyes from construction paper and use removable mounting putty to adhere to the surfaces of your fireplace.
Get the Look:
#10 Eco Friendly Halloween Decorations: Thrifted Decorations
@.deandaneluzzi remind us that there are so many good Halloween decor finds at your local thrift store!
From: @.deandaneluzzi: "Years ago I stumbled into one of my favorite thrift stores in Chicago on a random September day. It just so happened to be the day they were putting out their Halloween decorations from storage they received all year from donations. To say I scored would be an understatement. Up to that point I never really bought seasonal decor because I figured I was young and going to be doing a lot of moving around so I didn't see the point. After that day though, I was hooked on creating my own collection I'll have for years to come 🧡"
This post was all about eco friendly Halloween decor.
---
What to Read Next!
Did you enjoy going through all of these Halloween decor ideas? I'm so glad! Below, I've shared a few of my other holiday-themed posts, I think you'll love!