This post may contain affiliate links, which means that I may receive a commission if you make a purchase using these links.
Today on my blog, I'm sharing over 14 eco-friendly gift baskets for Christmas that make excellent gifts. Here at PunkMed, we believe in giving thoughtful and ethically made gifts that your recipient will be delighted to open! In 2022, we've seen a rise in the popularity of gift baskets, so we knew it was time to write a post with the very best eco-friendly gift baskets we could find!
This blog post is all about eco-friendly gift baskets for Christmas
Hello there! I'm Leslie
My name is Leslie, and I'm the founder of PunkMed! On my blog, I and my team share my info, experiences, and recommendations in the area of sustainability (including sustainable celebrations!), urban homesteading, and outdoor living. Our goal is to make it less overwhelming for you to live an adventurous and sustainable life!
In today's post, I'm sharing some cute eco-friendly gift baskets. To be 100% upfront, I have not personally tried all of the products on this list. That would be an overwhelming amount of gift baskets, after all! Instead, I and the PunkMed team have done our very best to research and present you with the most eco-friendly options.
FYI: Most eco-friendly gift baskets actually come in boxes, not baskets! If you really love a basket, we recommend snagging an ethically made option from our friends at MadeTrade, or cleaning one from your local thrift store!
Let's get into it!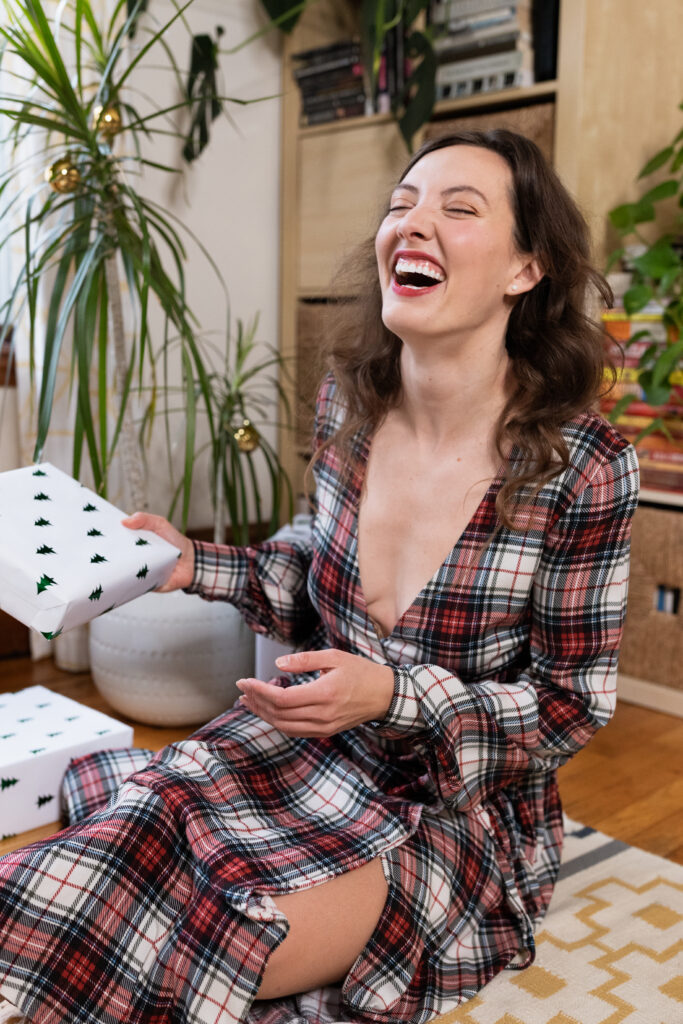 Eco-Friendly Gift Baskets for Christmas:
At PunkMed, we like to share with you, our reader, what type of information we look for when creating a gift guide.
For this gift guide, we looked for information on:
Where the gift basket is put together (location), as well as what types of wrapping paper and materials are used to put the gift basket together
The items within the gift basket, specifically the ethical or sustainable practices used to make them
Other sustainable or eco-friendly efforts on behalf of the brand
While we can't (and don't!) back up what each brand shares (that would be a whole investigation), we do try to do our best and due diligence!
Eco-friendly gift baskets make a great sustainable corporate gift, as well as a great gift for the people on your list that are tough to shop for!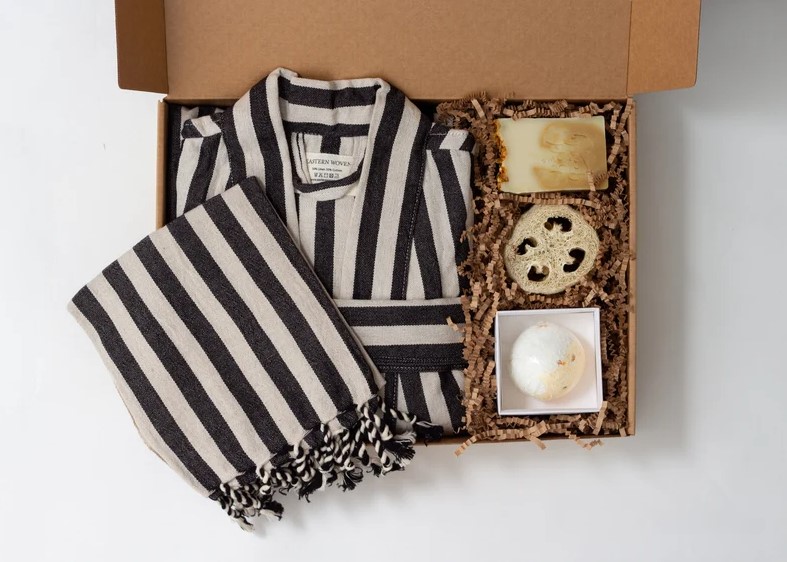 First up on our list of eco-friendly gift baskets, we had to start with this eco-friendly gift basket from Eastern Woven–as we are just OBSESSED with the aesthetic of this gift box.
This gift basket is the perfect Christmas gift, containing a cozy organic cotton robe, matching towel and various bath accouterments (we love the natural loofah sponge!) for the spa lover in your life. With the robe available in up to an XXL, we wouldn't mind getting this gift under the tree! (Hint hint!)
Shop this eco-friendly gift basket here!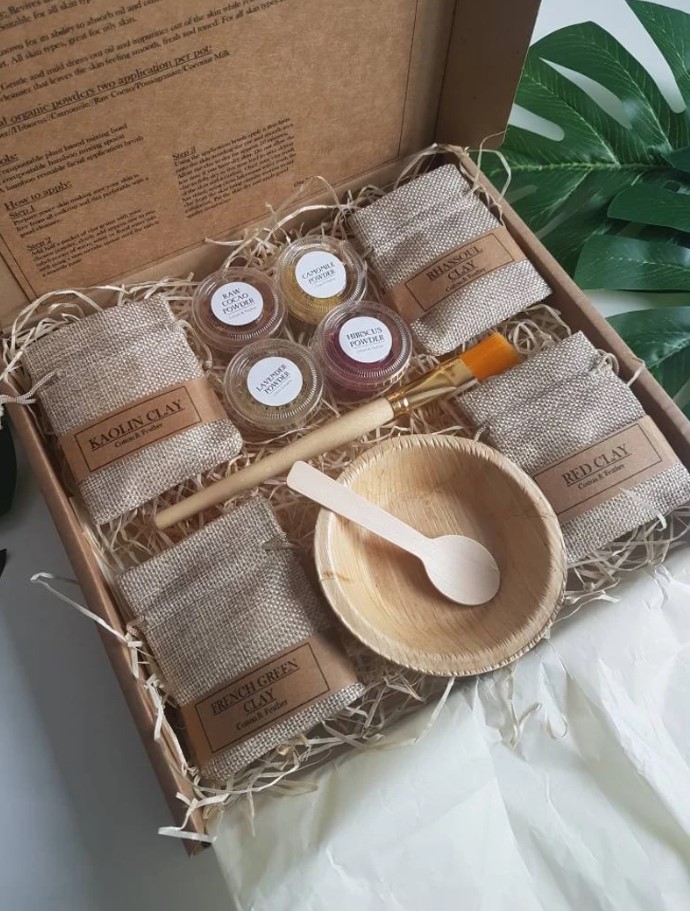 Shopping for people who love skincare can be a bit intimidating (we wrote a whole blog post on it!), so I was so excited when this kit came across my path!
This Luxury Clay Mask Kit from Cotton and Feather encourages the recipient to play (who doesn't love a little face paint), while also targeting different areas of their face with a different mask. Called "multi-masking," your skincare lover will adore this thoughtful gift, and I bet they'll love "nerding out" reading all about the products.
From the brand: "All our powders are ground in-house and are completely natural, pure and smell delicious, packed full of vitamins antioxidants and anti aging properties, a real treat for the skin."
Snag this eco-friendly gift basket here!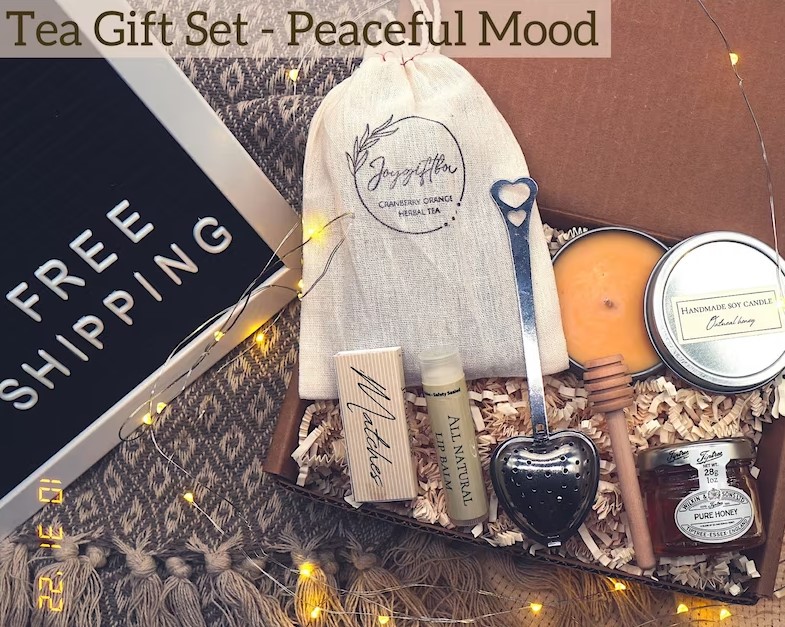 It's time to talk about eco-friendly gifts for tea lovers! While many a tea lover adores getting a new sophisticated (or sassy!) mug, there really is only so much kitchen cabinet space to go around!
For this reason, an eco-friendly gift basket–stocked full of goodies–can be a great gift for your tea lover.
I landed on this organic tea gift basket from Joy Gift Box, as the maker has paired a specific tea with a candle scent–how cozy!!
Shop this eco-friendly gift basket for Christmas here!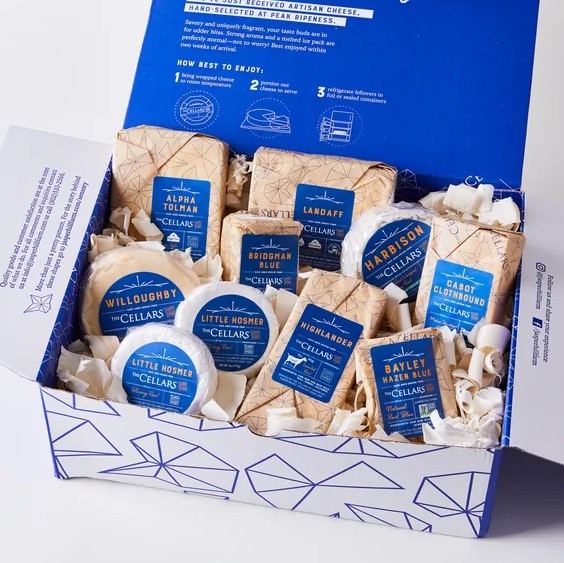 This is the second time we've written about this Jasper Hill Farm Cheese Tasting Box, and the PunkMed team and I are NOT sorry! Not one bit!
The beautiful packaging combined with yummy cheese makes this an excellent gift for the cheese lover on your list. (And if *you* are the cheese lover you're shopping for, we won't tell a single soul!)
From 52 Foods: "Everything inside 'em comes straight from Jasper Hill Farm in Greensboro, Vermont, where—get this—there's a 22,000-square-foot, seven-vaulted cellar for aging cheddars and blues."
Snag this eco-friendly gift basket for Christmas here!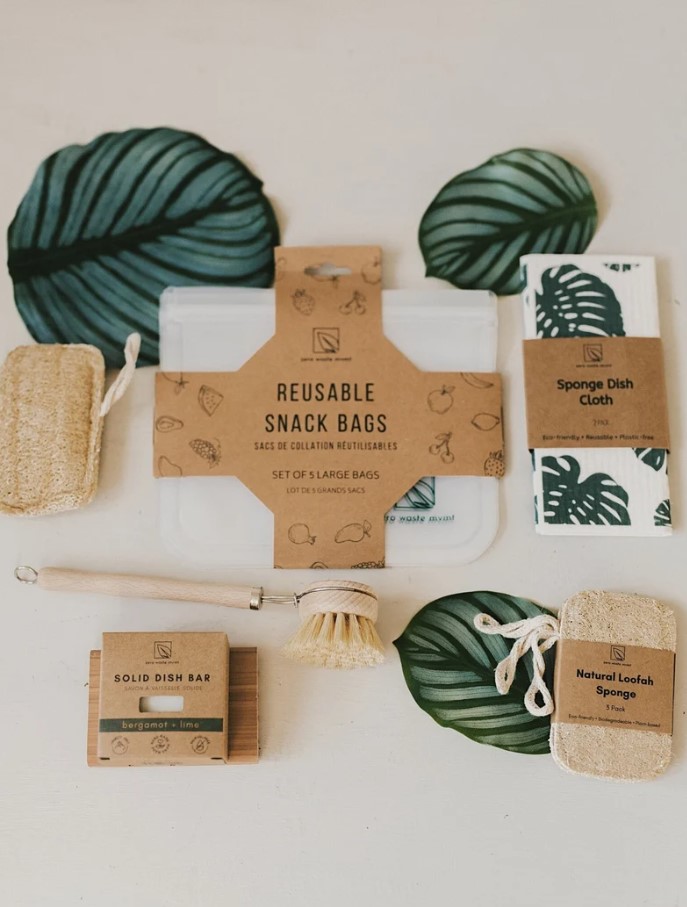 Next up on our list of eco-friendly gift basket ideas, we have a great gift basket for a young couple, high school senior or other folks who are starting a new phase of life (and may want kitchen basics)!
This eco-friendly gift basket from ZERO WASTE MVMT contains a few super helpful products for eco-friendly folks who care about the planet, but aren't sure where to start their plastic-free journey.
This gift basket contains:
3 Pack Natural Loofah Sponge
5x Reusable Snack Bags
1x Wooden Dish Brush
1x Solid Dish Bar
1x Cedar Soap Tray
2 Pack Eco Dish Cloth
As with all eco-friendly gifts, you want to be sure your recipient is truly interested in "going green"! Giving a gift like this can come across as a bit, well, judgmental if the recipient hasn't expressed interest!
Shop this eco-friendly gift basket here!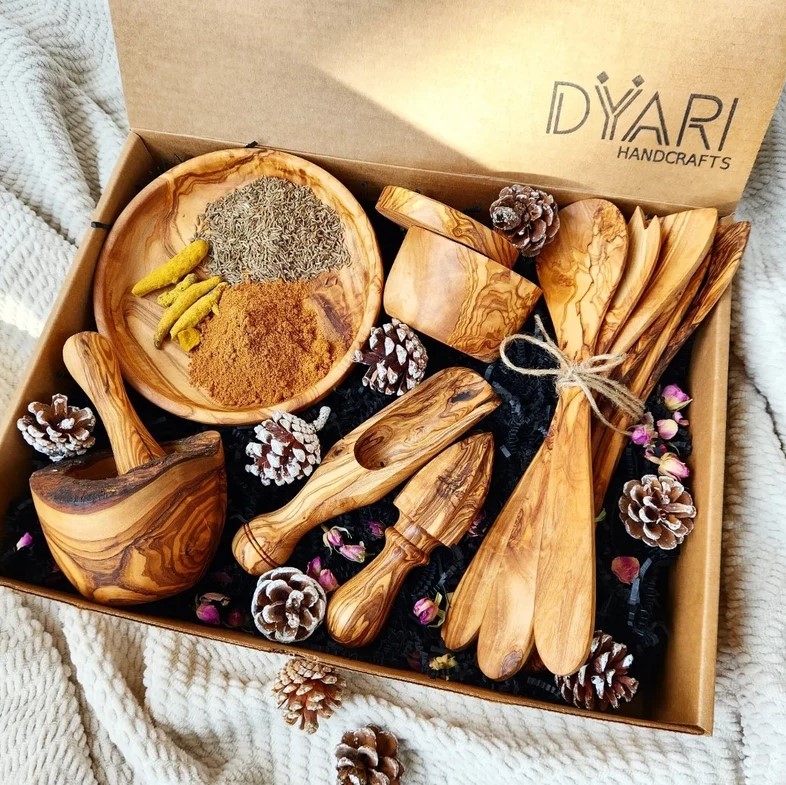 Of course I could NEVER put together a gift guide with eco-friendly gift baskets for Christmas, without talking about gifts for the chef in your life!
I love working in the kitchen (especially making sourdough bread), and half of the fun of baking and cooking is trying out new tools and gadgets.
This eco-friendly gift basket from DYARI Handicrafts is perfect for the person who loves to cook, featuring an assortment of carved tools for the kitchen.
This set comes with:
– Olive Wood 6 Utensils Set (Salad Set, Spatula, Spatula with holes, Corner Spoon, Risotto Spoon)
– Olive Wood Salt Keeper
– Olive Wood Scoop
– Olive Wood Juicer / Reamer
– Olive Wood Plate / Bowl
– Olive Wood Rustic Mortar & Pestle
– Fresh Spices (Whole Cumin, whole Tumeric, Ground Ras el-Hanout) 20 grams each.
DYARI handicrafts didn't have much info on their sustainability practices, so we encourage you to reach out via a message to inquire about their practices.
Shop this eco-friendly gift basket for Christmas here!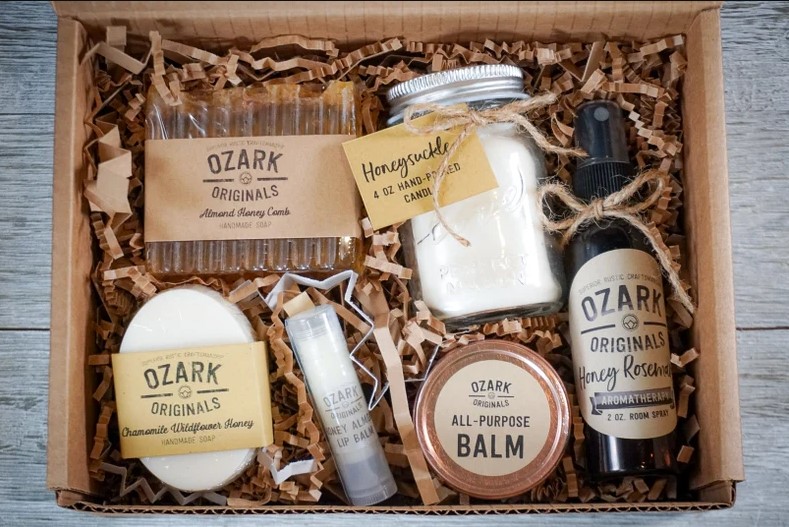 Does your eco-warrior love to watch documentaries about bees, or plant their summer kitchen with bee-friendly plants?
If so, then you simply must check out this Honey Bee Box Set from Ozarks Originals Store!
This gift set for Christmas includes:
Honeysuckle Candle (4 oz.)
Honey Almond Lip Balm
Almond Honey Comb Soap
Chamomile Wildflower Honey Soap
Almond Honey All Purpose Balm (1 oz.)
Honey Rosemary Aromatherapy Spray (2 oz.)
We also appreciate how transparent the brand is! Here's what they had to say about their eco-friendly practices: "We create all of our Honey based products with local ingredients from the Ozarks and we give back with every sale. A percentage of each Honey Bee Gift Set is donated to the Honeybee Conservancy, a 501(c)(3) non-profit organization that works to help bees, while increasing access to organic, sustainable food in under-served communities. At Ozark Originals we're passionate about bee conservation, sustainability, local food, education and giving back."
Shop this eco-friendly gift basket here!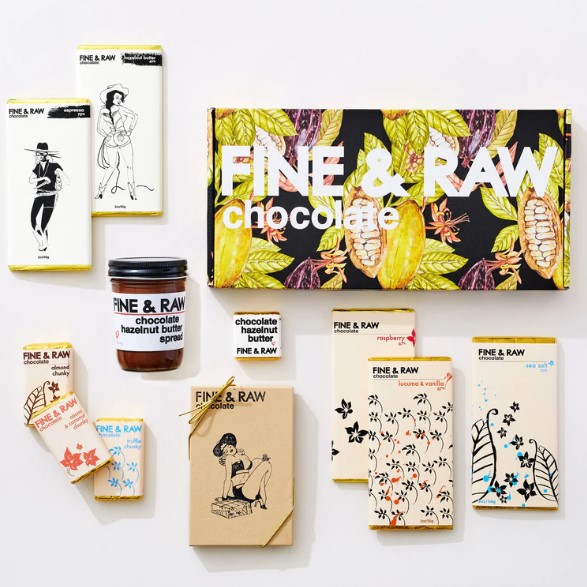 Everyone has a Chocolate Lover on their list, but you want to be sure to give chocolates that show thoughtfulness–not a rushed gift you snagged at the grocery store!
Fine and Raw is known for creating delicious chocolates with fun and cheeky packaging, using clean ingredients and also offering a "Melt-Free Guarantee." They also share a good amount of info on their labor practices on their website ("Our cacao farmers in Ghana and Ecuador are paid higher than fair trade wages").
Shop their eco-friendly gift baskets for Christmas here!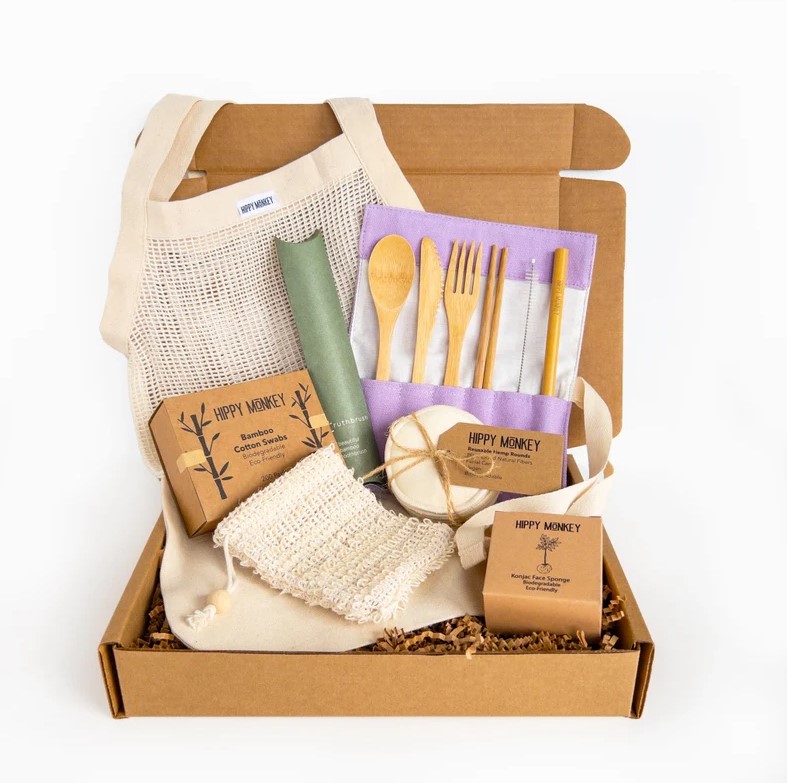 Ok, yes, we've already linked a Zero Waste Kitchen gift set, but we just couldn't help ourselves! This is such a great gift for someone who just moved into their own place or is planning on doing so in 2023!
This Zero Waste Starter Kit from Hippy Monkey is super rad, and they'll even gift wrap this eco-friendly gift basket for you, if you order in time!
There are different sizes of boxes you can order (super budget friendly), with a ton of sustainability information available on the product page (you do have to scroll a bit to find it)!
Shop this eco-friendly gift basket for Christmas here!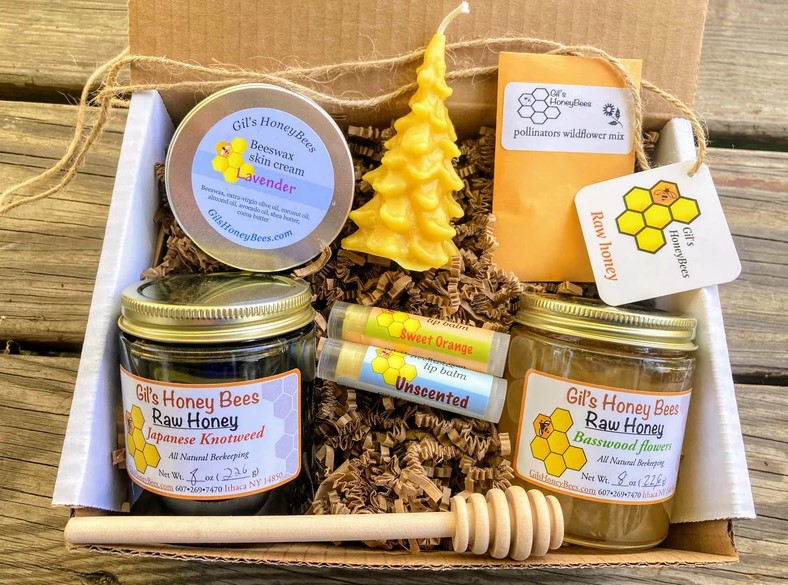 This next eco-friendly gift basket is perfect for your sustainable love who loves bees – and the honey they make!
This Christmas gift basket comes from Gils Honey Bees, a company based in New York state!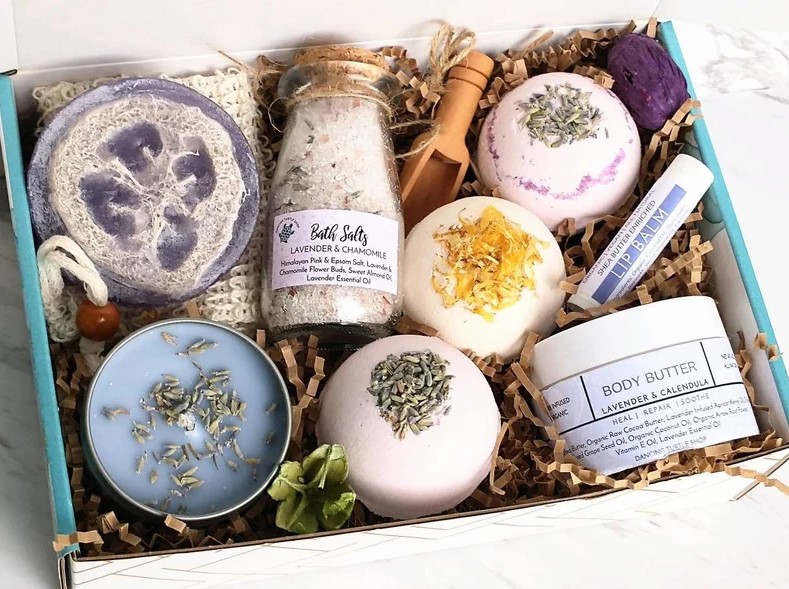 The smell of lavender can be so relaxing, and I wanted to be sure to include a beautiful lavender gift set in this Christmas gift guide.
This Organic Lavender Set from Dancing Turtle Shop caught my eye, both for its beautiful packaging and presentation as well as the products inside. I truly love giving a gift that makes the recipient say, "Wow!" upon opening it, I think that this eco-friendly gift basket is just the ticket.
Shop this eco-friendly gift basket here!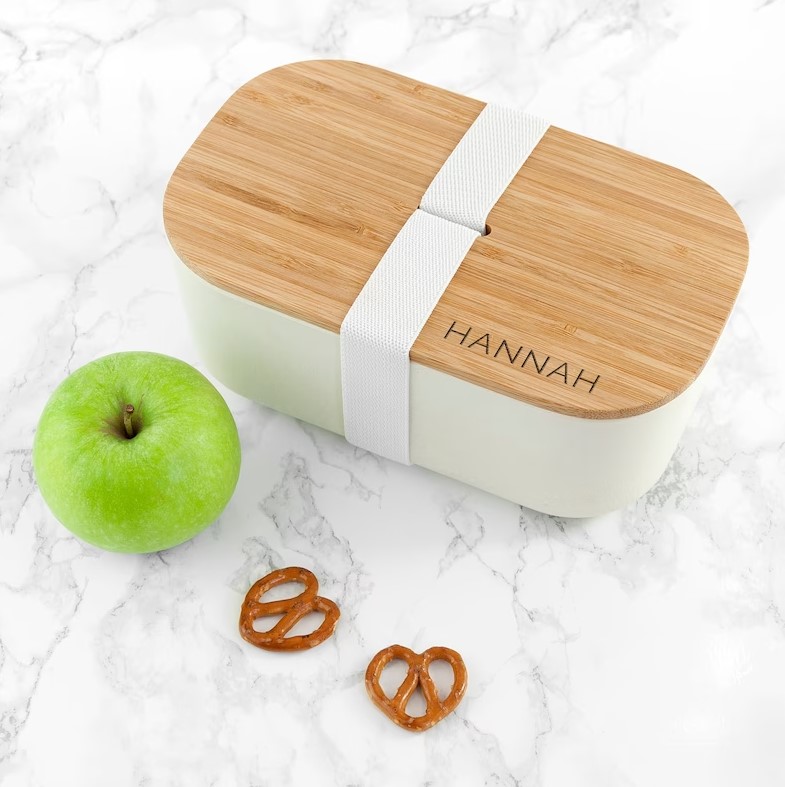 One of the challenges of giving a gift basket for Christmas is that sometimes the basket itself becomes clutter!
For this reason, I wanted to include a DIY option and gift idea for my readers, featuring this personalized bamboo lunchbox from Treat Republic.
You can customize a bamboo lunchbox for your recipient, and put in some of their favorite goodies and treats inside! (If you need ideas on small sustainable gifts, PunkMed would be happy to help!)
This eco-friendly DIY will be sure to be a hit, combining sustainable wrapping efforts, personalization, and of course, the recipient's favorite treats!
Shop this DIY eco-friendly gift basket here!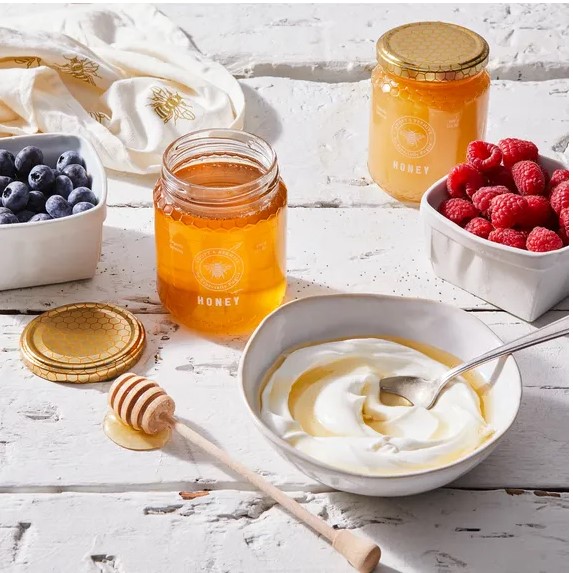 You've probably seen advertisements to adopt some sort of large sea mammal, but have you seen this gift set from Especially Puglia to adopt… a beehive?!
"This set supports small-scale family farmers in Puglia who are using sustainable and organic methods. All of their farms use permaculture techniques, with bees that help pollinate their olive trees and other crops—and provide delicious honey as a bonus. The lucky recipient of this set gets two jars of golden goodness from a farm Especially Puglia selects, a wooden dipper, a bee tea towel, plus a certificate of adoption. How sweet!"
This is a lovely and thoughtful gift for those who want to make their gift giving count for a little bit more this holiday season!
Snag this eco-friendly gift basket for Christmas here!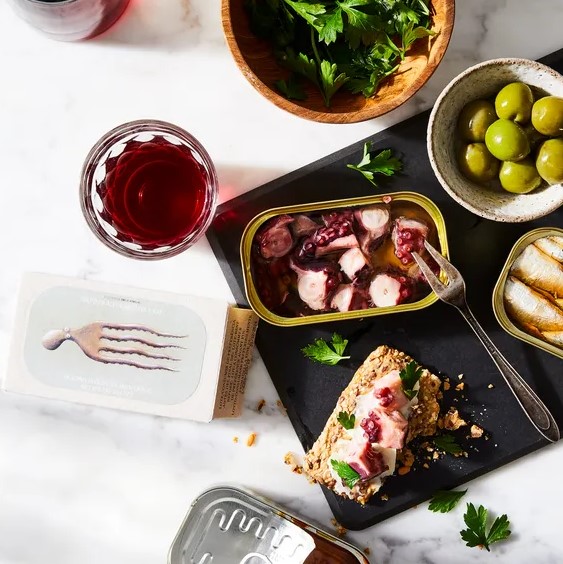 Do you have someone on your Christmas list who is known for being adventurous and trying new things? Trying to figure out what to give them?
For the person who has tried just about everything, this gorgeous gourmet tinned fish set will provide a good amount of delight on Christmas day. "This gift set comes with a sampling of canned seafood from Portugal-based José Gourmet, all sustainably harvested and served up with world-class flavors."
Shop this unique and eco-friendly gift basket for Christmas here!
---
This blog post was all about eco-friendly gift baskets for Christmas
Read these eco-friendly gift guides next:
Looking for more helpful eco-friendly gift guides? Below, I've shared a number of posts on eco-friendly and sustainable gift ideas:
Join me on Pinterest
Pinterest is a great platform for finding eco-friendly gifts! Join me on Pinterest here, to get all of my gift guides and sustainable living tips.