Looking for a gift for the earthy-crunchy person in your life? These are our favorite gifts for environmentalists that are sure to meet their standards for sustainability.
Have a crunchy-granola person in your life with a birthday coming up? Or perhaps you need to get a secret Santa gift for the person in your office who is alway railing against the plastic forks in the break room? (Hello, it's me!)
These gifts are eco-friendly AND super fun to gift and receive.
Of course, the most sustainable option would be to gift an experience or other non-material item, but some occasions just call for a physical gifts.
Luckily, these gifts will actually help your recipient meet their sustainability goals.
This post is all about gifts for environmentalists.
Hello, I'm Leslie
My name is Leslie, and I'm the founder of PunkMed! On my blog, I and my team share my info, experiences, and recommendations in the area of sustainability, urban homesteading, and outdoor living. Our goal is to make it less overwhelming for you to live a fun and sustainable life!
In today's post, I'm sharing gift ideas for environmentalists. Shopping for a loved one can be a bit stressful, and I hope that my guide helps you choose a thoughtful and fun gift for the hippie person your life. To be 100% upfront (that would be a lot of stuff), I have not personally tried all of the products on this list. I've noted which products I've tried and loved, and which products are next on my "to try" list.
Let's get into it!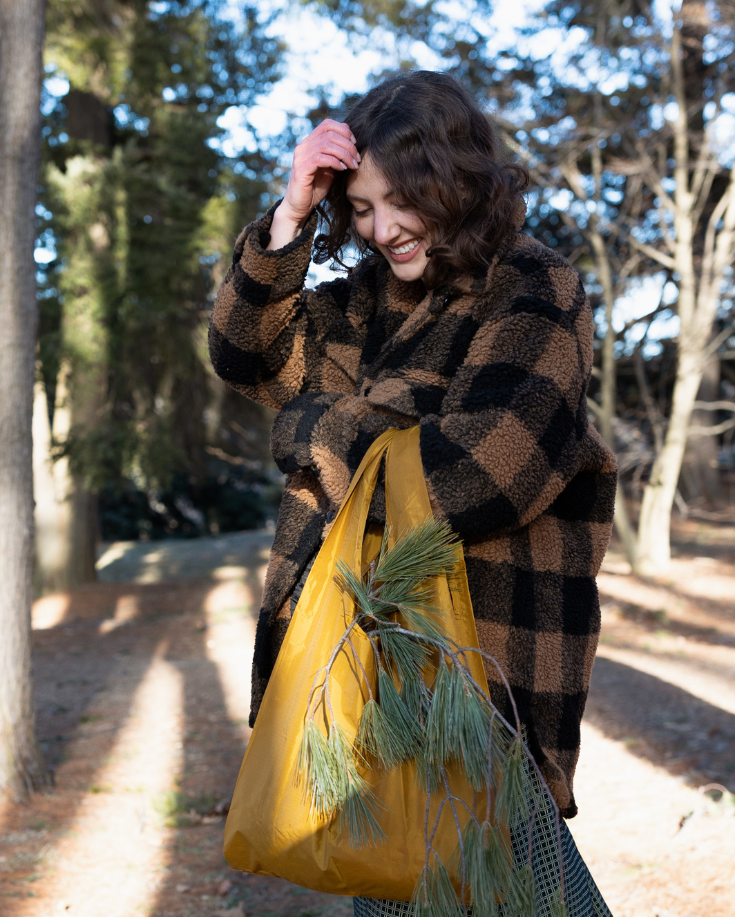 Best Gifts for Environmentalists
If you're looking for a small sustainable gift that keeps on giving, we love this reusable cutlery.
By providing people with sustainable solutions and practical alternatives to plastic waste, this reusable cutlery brand hopes to make single-use cutlery a thing of the past.
Made from bamboo, give these reusable bamboo utensils as a fun and sustainable gift for the environmentalist in your life.
This environmentally friendly gift is a fresh take on food storage.
These uniquely designed reusable beeswax wraps eliminate single-use plastic and keep food fresh. Your environmentalist friends can use this gift for prepping meals, storing leftovers in the kitchen, and packing lunches and snacks on the go.
This is a sustainable, accessible, thoughtful gift for holidays, housewarmings, dinner parties, and potlucks.
Is your environmentalist friend always reminding people to recycle? Maybe they want to let their socks do the talking.
These socks have a compressive stitch that helps increase circulation and reduce swelling and a tighter fit to reduce friction at pressure points.
These crew socks are made from 90% recycled plastic bottles, meaning they feel not only good on your feet but also feel good to the earth. This is one of the best gifts for environmentalists who know the impact clothing can have on landfills on our planet!
Are your environmentalist friends looking for their next easy-grow project?
Gift them this organic mushroom grow kit as a unique, sustainable gift! These mushrooms are not genetically modified and can be tossed in with salads, grilled with kabobs, or more!
Environmentalists love a sustainable solution that allows food to grow year-round through all seasons. This mushroom grows kit acts as a built-in greenhouse where you can continue to harvest mushrooms all year.
Are you looking for a fun new summer project?
This kombucha starter kit will impress your favorite environmentalist friends! Folks can create delicious kombucha tea from the comfort of your home with various flavors.
Kombucha SCOBYs (which stands for symbiotic culture of bacteria and yeast) are self-sustaining, meaning a healthy SCOBY with proper care can produce kombucha every week. So if you have a kombucha lover in your life, this is a great sustainable gift to share this summer!
If you have a friend looking to start a kitchen herb garden, why not give them this reusable cilantro garden jar?
Modern Sprout specializes in creating sustainable hydroponic solutions making this garden jar easy to maintain, start and care for.
This is an excellent gift for environmentalists who may not have the greenest thumb or want to explore growing their own food!
Never have to throw away plastic deodorant sticks again with this refillable deodorant set.
This deodorant kit comes with a refillable metal deodorant tube and vegan coconut jasmine deodorant stick refill. Every time you run out, just order another refill for the tube. No plastic waste!
In addition, it's clinically proven to protect against odor for up to 48 hours.
We love this countertop compost keeper if you're still looking for good gift ideas for environmental activists.
The compost keeper has a one-gallon attractive satin finish stainless steel receptacle with a thick and sturdy stainless steel handle. It's designed to keep odor to a minimum, be easily accessible in the kitchen, and makes a great addition to any sustainable kitchen.
Your environmentally friendly pal can store peelings, egg shells, coffee grounds, table scraps, clippings, and other vegetables. These remains can then be later transferred to a garden composter.
This indoor organic starter kit is a fabulous gift for an environmentalist friend hoping to grow their own herbs!
This sustainable gift includes Italian Large Leaf Basil, Coriander Cilantro (slow bolt), Pleione Parsley, Broad Leaf Sage, and Thyme.
The best part of this sustainable gift is that the entire kit is certified USDA organic. These pots and starter kits are fully sustainable and organic, making them safe for the whole family to enjoy.
If you're looking for a good gift for the hiker in your family, this steel tumbler is excellent!
This sustainable and reusable tumbler is perfect for everything from morning coffee to post-workout smoothies. It's designed for on-the-go sipping.
The three-position lid with reusable straw makes it easy to transition from iced beverages to piping-hot brews.
This USB rechargeable lighter is THE most incredible thing we've seen in a while.
Thanks to its electric superpowers, it'll give you up to 300 uses on a single charge from your USB port, without a lick of butane, so you don't have to fuss with messy and harmful liquids.
This lighter is a fantastic gift idea for environmentalists; this lighter is 100% flame-free, making it safe to store and pack for camping trips.
This microgreens planter is easy to maintain for the aspiring green thumb environmentalist friend in your life.
Easily grow sprouts for salads, smoothies and other culinary applications from the comfort of your kitchen. Luckily for newbies, this microgreen kit is easy to understand and start.
Regardless of your environmentalist friend's level of expertise, this starter kit is a great gift!
This beautiful monstera leaf necklace may be an ideal gift for the environmentalist in your life.
Available in different styles, these handmade necklaces are sculpted in wax and cast by a small business in Portland, Oregon.
Support a sustainable business by gifting this necklace to your environmentalist friend!
The colors in this upcycled blanket recall warm days spent at the seaside. Luckily, it's big enough for a 2 – 4 person picnic and rolls up for easy transport.
These vibrant, modern blankets are handwoven in Mexico using upcycled yarn from the garment industry.
The upcycled fabric lessens the clothing industry's environmental impact on landfills worldwide, making this the perfect sustainable gift for environmentalists.
Is your environmentalist friend struggling to find sustainable solutions for personal hygiene products?
We recommend the Leaf shave plastic-free razor because it's plastic free! Designed to last, with sustainability in mind, this razor is an excellent gift for the environmentalist friend in your life.
It's truly designed for anybody, shaving anywhere from head to toe. The Leaf's multi-blade design is engineered to be gentle, adjustable, and efficient. In addition, the pivoting head maintains the correct blade angle, making it easy to use.
Bath products often contain glitter and plastic beads that never break down once they're down the drain. That's why we recommend gifting these Epsom salt bath bombs that have been infused with organic scents instead.
Inspired by the relaxing bathing ritual, our multi-botanical CBD bath soak is formulated to renew your body and mind. The mineral-rich Epsom salts are infused with the tension-relieving benefits of organically-grown kava, lavender, calendula, ginger, and hemp.
This calming CBD bath salt blend delivers a symphony of botanicals to nourish skin, encourage circulation, relieve discomfort, and leave your friends feeling refreshed and revitalized. Give these bath bombs to the environmental activist in your life!
This recycled jewelry makes a great alternative to modern earrings designed from harmful materials and plastics for the sustainably-minded environmentalist.
With pearls that have been ethically cultivated from China and nickel-free materials, these handcrafted earrings are a great sustainable alternative to gift to the environmentalist in your life.
Did you know Vitamix can help you convert food scraps into fertilizer?
This food cycler makes an excellent gift for sustainably-minded environmentalist friends. Food scraps can be converted to fertilizer in a few hours, and this Vitamix has up to 2L of storage.
This kitchen appliance will help cut down food waste by 90%, allowing your environmentalist friends to reduce their overall food and kitchen waste on a daily basis.
The Compressive essentials from Girlfriend Collective are crafted using recycled, sustainable materials, meaning your environmentalist friends can work out and feel good not only about taking care of their body but also about the clothes they're wearing!
The Classic Bundle includes Compressive Legging, Compressive Bra, Compressive Short, Classic Thong, and a pair of Girlfriend Quarter Crew Socks.
Dyed using eco-friendly dyes, Girlfriend Collective takes its environmental impact as a brand seriously, and you can be sure your environmental activist friends will appreciate this thoughtful gift!
What's the big deal with bidets?
Toilet paper is a leading cause of deforestation, and bidets help restore forests by providing a clean and sustainable alternative to miles of toilet paper going to waste in the bathroom. Tushy proudly helps save up to 1 million trees with one installation.
This 3.0 design is an excellent gift for environmentalists because it now has a slimmer design, easier installation, and improved nozzle spraying for a much cleaner feeling with a lot less installation hassle.
This recycled leather tote bag is an ideal gift for the designer brand environmentalist friend in your life or your sustainably-minded friend who is looking to splurge on an eco-friendly present.
Based in Copenhagen, Ganni was founded in 2009 by husband-and-wife team Ditte Reffstrup and Nicolaj Reffstrup.
By choosing this upcycled leather tote bag, environmentalists are supporting recycled fashion and reducing the number of materials sent to landfills around the planet. What a great sustainable gift!
This upcycled denim is an excellent solution for your environmental activist friends who may need a new smock or apron.
Upcycling is a unique philosophy and design principle that, by definition, reuses discarded fabric or material to create a product of a higher quality or value than the original.
Perfect for those cooler days that call for an easy layer to transform outfits in a stylish and novel way. This smock is a great sustainable gift idea for an environmentalist!
---
This post was all about gifts for environmentalists.
Read these gift guides next:
Looking for more helpful eco-friendly gifts? Below, I've shared a number of posts I've written on gifts for girlfriends, moms and women:
Join Me on Pinterest
Pinterest is a great platform for planning gifts and finding new eco-friendly products! Join me on Pinterest here, to get all of my gift guides and sustainable tips.