This post may contain affiliate links, which means that I may receive a commission if you make a purchase using these links.
Looking for consumable gift ideas for that eco-friendly person in your life? Or, perhaps you are looking to consume less but still want to participate in the annual ritual of holiday gift giving. Look no further, because these are the best consumable gifts.
Americans produce 25% more waste per week in the time between Thanksgiving and New Years. Of course, much of this waste is associated with the gift giving around the holidays.
There is so much pressure around gift giving, many people giving in by gifting the cheap, plastic gift as a gesture to show they at least tried. (Think the terrible gift the boss gets all the employees every year that ends up in the trash!)
Now, I don't want to suggest that we gift up the ritual of gift giving around this time entirely (or any time of year!) What's the fun in that?! (Also, my love language happens to be gift giving, so this would be a difficult for me personally!)
Instead, I am gently suggesting choosing gifts that have less of an impact on the planet.
What is a consumable gift?
One way to reduce waste when gift giving is to choose consumable gifts. These are gifts that will be eaten, drank, burned, or otherwise used up and therefore not end up in a landfill.
Read on for the best consumable gift ideas!
This post is all about consumable gift ideas.
Hello, I'm Leslie
My name is Leslie, and I'm the founder of PunkMed! On my blog, I and my team share my info, experiences, and recommendations in the area of sustainability, urban homesteading, and outdoor living. Our goal is to make it less overwhelming for you to live a fun and sustainable life!
In today's post, I'm sharing consumable gift ideas. To be 100% upfront, I have not personally tried all of the products on this list YET (that would be way too much!) I've noted which products I've tried and loved, and which products are next on my "To Try" list.
Let's get into it!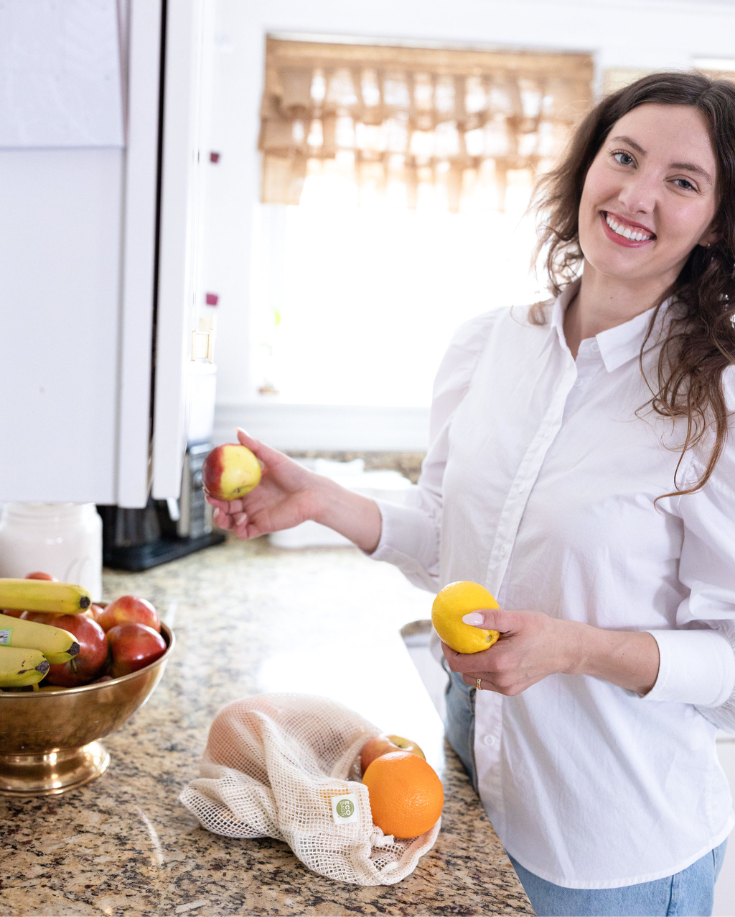 This post was all about consumable gift ideas.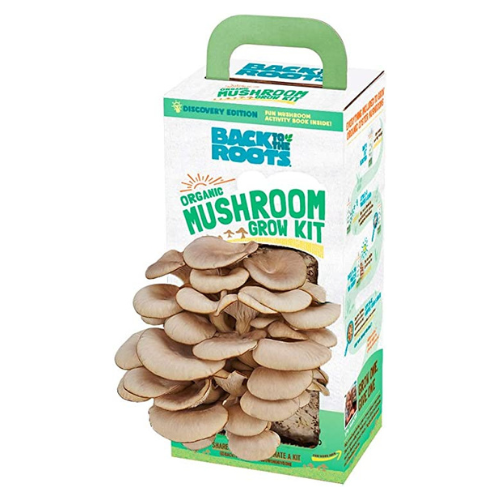 First up on our list of consumable gift ideas is this organic mushroom growing kit. This kit is a wonderful addition to any fungi lovers' kitchen counter and grows rapidly.
The Back to the Roots Mushroom Growing Kit is completely organic and not genetically modified. The oyster mushrooms work well in stir frys, kebabs, quiches and many of your favorite dishes.
Just place the box near a window with indirect light, mist twice a day, and you'll see delicious, beautiful mushrooms growing within a week. This kit means you won't have to worry about access to fresh foods when the weather turns cold, making this one of the best consumable gift ideas!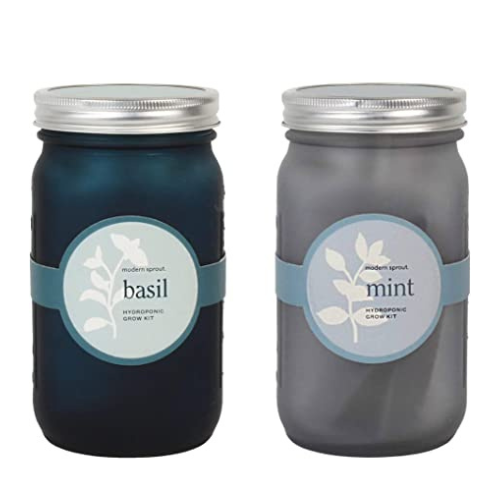 This consumable gift ideas guide wouldn't be complete without this must-have for aspiring gardeners who may not have the time or space to grow their own food.
The self-watering herb kits feature vintage-inspired mason jars outfitted with passive hydroponic systems known as wicking, which brings water and nutrients up to the plant's roots.
This indoor planter comes equipped with everything you need to start growing, just add water and set in a sunny window. This kit comes with organic cilantro seeds, colored quart mason jar, stainless steel net pot, recycled glass growing medium, coco pith disk, polypro wick, plant food, and instruction manual.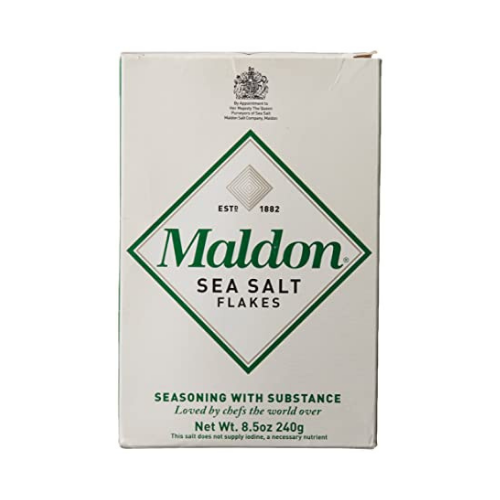 Next up is one of our favorite luxury consumable gifts. Maldon salt is a prestigious and unique product known for its flavor and quality and sought after by the health-conscious and gourmets alike.
Since 1882, Maldon salt has been made using the same traditional artisan methods with no additives.
These consumable soft crunchy sea salt flakes have a fresh intensity and clean taste containing the perfect balance of natural minerals to enhance any dish.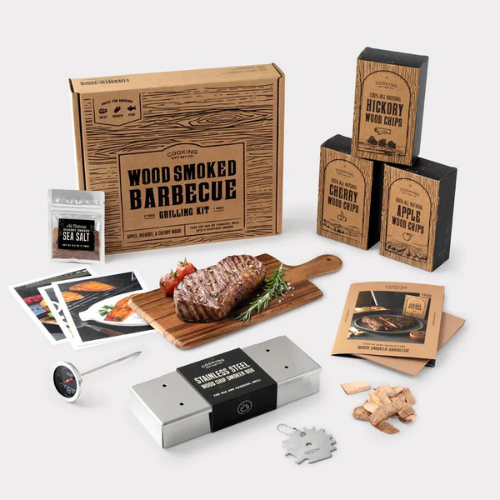 Next up on our list is one of the best consumable gift ideas for the person in your life who takes barbeque seriously.
This easy-to-follow kit teaches individuals to finetune their smoking blend for flawless flavors in meats and veggies, making great consumable gift ideas for grill masters!
Just add a gas or charcoal grill, some food, and some guests and you have yourself an elevated backyard BBQ!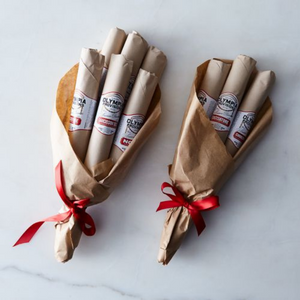 Looking for luxury consumable gift ideas but can't quite find the perfect fit? Forget a bouquet of flowers, how about a salami bouquet?
This is incredibly delicious gourmet salami, delivered straight to a loved one's door all wrapped up in a festive, ribbon-tied arrangement. You can choose from a three- or six-sausage arrangement perfect for any occasion.
This salami bouquet is guaranteed to bring a smile to anyone's face as one of the best unique consumable gift ideas in this gift guide!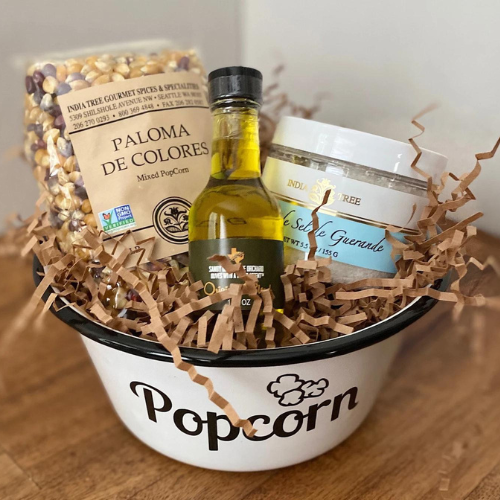 Are you shopping for a movie fan or maybe just someone known to Netflix and chill? This is one of our favorite consumable gift ideas for a luxurious night in.
This popcorn gift set includes gourmet mixed popcorn from India Tree, olive oil products from Sandy Oaks Olive Orchard in south Texas, and a selection of unique salts.
Why not treat someone special to this delicious elevated popcorn for their next movie night?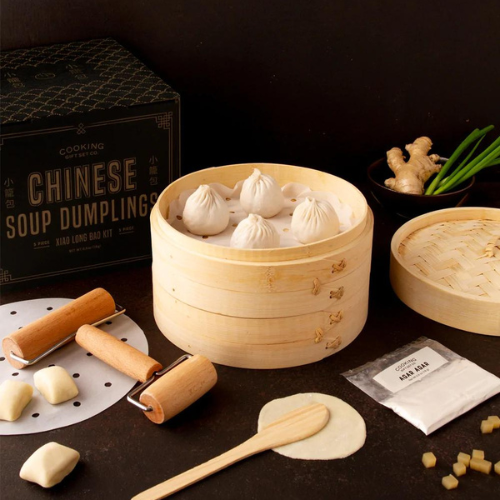 Traditionally called xiao long bao (pronounced shau-long-bow in Mandarin), these tiny purses of hot, savory soup are a comforting balm to the soul.
Made from paper-thin dough and your favorite filling, this specialty kit delivers all the tools you need to make mouthwatering dumplings at home including a bamboo steamer basket and a simple instructional guide for our first time soup dumpling eaters.
This consumable gift idea also makes a great date night activity as it is something you can do together in person or on a virtual date.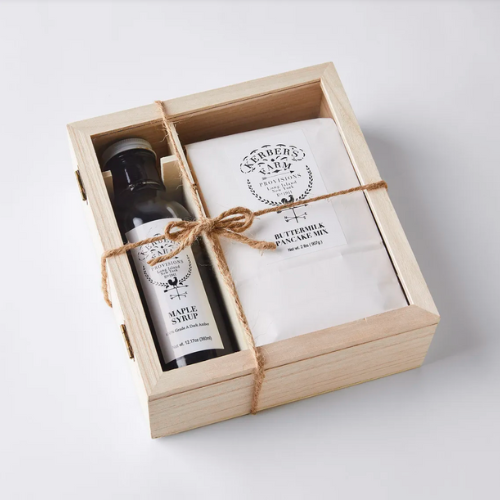 Shopping for a breakfast lover in your life? Check out these Kerber's Farm buttermilk pancake gift boxes!
This lovely box has a bag of buttermilk pancake mix tucked inside (it makes six fluffy pancakes) plus a bottle of Grade A, dark amber Vermont maple syrup for drizzling on top.
Both come courtesy of a New York farm that's been turning out tasty treats since 1941. Give it as a gift, then be sure to invite yourself over for breakfast.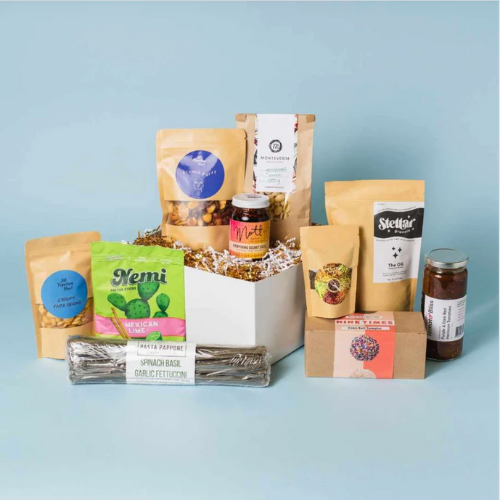 Supporting women-owned businesses should be a no-brainer, which is why we love this giftable collection of food items by women-owned organizations!
This package features local food from some of the most gifted female culinary leaders. From snacks to sauces to pantry staples, this basket has everything you need to start eating like royalty!
Enjoy delicacies like Cutting Masala Chai, Crispy Fava Beans and Spinach Basil Garlic Fettuccine and many more luxurious snacks as well!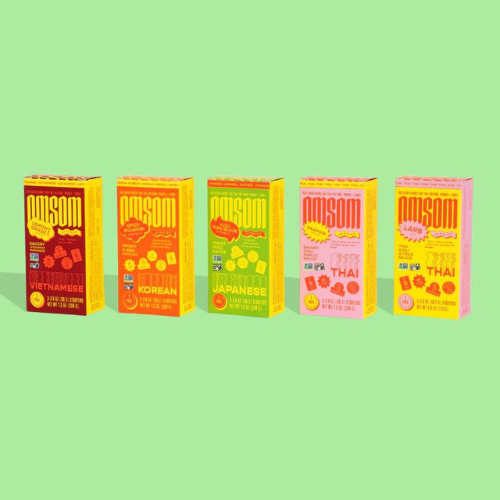 Next up on our list of consumable gift ideas are these meal starter kits that are sure to make their mouth water. TheOmsom bestseller set comes complete with fifteen total meal starters that highlight Asian cuisine, which translates to at least 35 delicious meals.
This tasty set includes: Vietnamese Lemongrass BBQ, Thai Larb, Japanese Yuzu Misoyaki, Korean Spicy Bulgogi and Thai Krapow.
Use these meal starter kits to cook everything from chicken to salmon.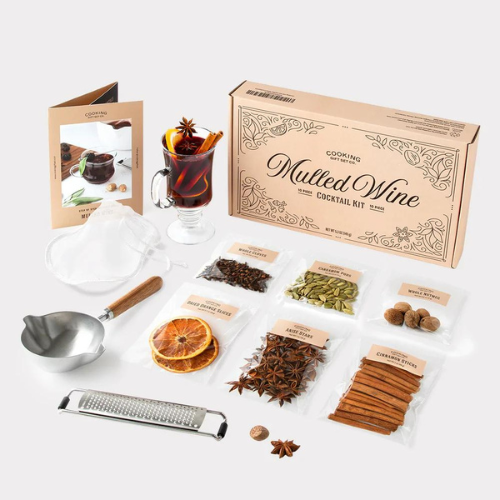 We've been talking a lot about food, so instead here is one of our favorite consumable gifts that aren't food: this mulled wine cocktail kit.
We hereby nominate hot wine as the best winter beverage. Just ask the Europeans and their tradition of cozying up with spice-infused booze.
This mulled wine kit comes with the tools and mulled wine spices to infuse at least eight bottles of red wine, white wine, or cider.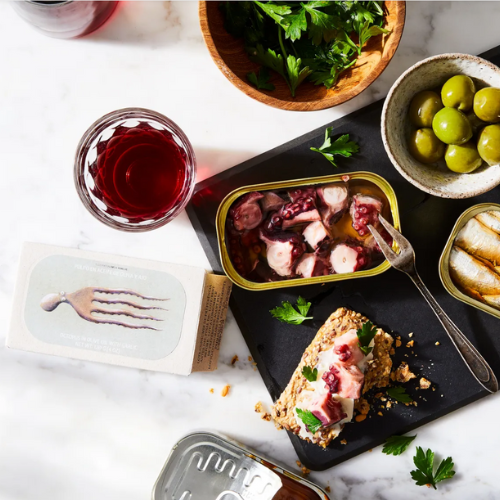 It was a lucky day when the tides brought in Portugal-based José Gourmet tinned seafood products to the internet. This is one of our favorite consumable gifts for the adventurous seafood-lover.
With sustainable practices and game-changing flavors, they're not your average canned fare. Featuring delicate sardines in a smoky sauce so good you'll want to put it right on pasta for dinner tonight, we're pretty certain we'll never go back to regular ol' tuna again.
Each can is lovingly packaged and labeled (with designs by artist Luis Mendonça we're pretty tempted to put on display) so you can have fresh seafood on hand at all times, right in your pantry.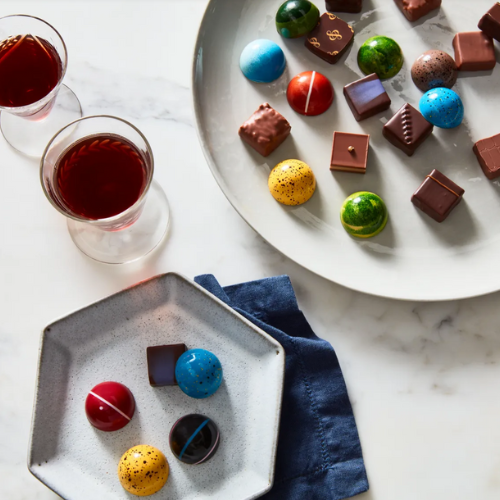 We'd like to humbly suggest these andSons chocolatiers boxes as the best consumable gift ideas for lovers and friends!
Inside each box, you'll find a beautiful mix of old-world craftsmanship and artistic invention. Every hand-painted molded chocolate is made in Los Angeles using A+ ingredients—think: ethically sourced Valrhona cacao, no artificial nonsense in sight.
Pick the box that suits your fancy. Whatever you snag, you'll be getting a medley of European-style ganaches and pralines (with flavors like Basil Lime and Striped Gianduja), plus a rainbow of bold, hand-painted confections (Pop Rock Praline, Speculoos Cookie…the list goes on).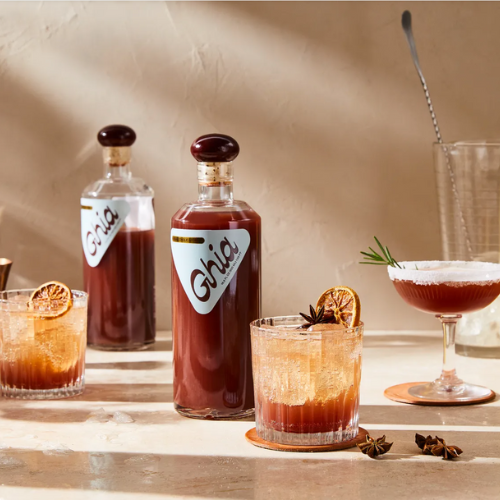 Looking for a consumable gift that isn't food for the sober baddie in your life? Check out this non-alcoholic spirit set from Ghia.
Ghia just so happens to be alcohol-free (yep, no booze in this bottle). And let's talk about that flavor: There's a whole slew of herbs, extracts, and botanicals inside, giving it a delightfully earthy, floral, and vibrant taste, plus an overall soothing effect.
This stuff's best spritzed or whirled into your drink of choice. Just grab your prettiest vintage-inspired etched cocktail glasses and whip up a batch of these super easy cheesy, spicy crackers and you're halfway to the happiest hour in town.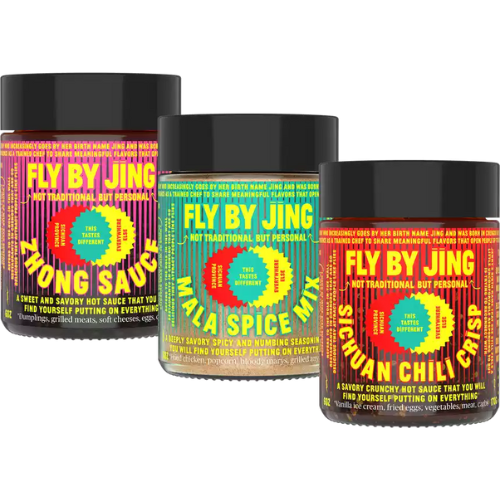 Are you looking for the ultimate Sichuan spice mix for a friend who loves spice? This Triple Threat gift set from Fly by Jing is one of our favorite consumable gift ideas for spicy food fans!
This set is made up of three stellar Sichuan spice mixes, including Sichuan Chili Crisp, Zhong Sauce, and Mala Spice Mix.
These spice mixes are a staple of many Asian recipes, as well as a delicious way to add flavor and depth to your favorite everyday dishes.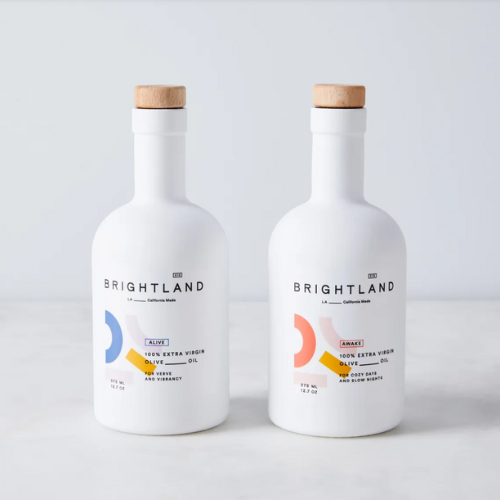 You'd be hard-pressed to find a more lovingly-crafted—or strikingly-packaged—olive oil. It's consciously produced in California using heirloom olives that are harvested right on-site (of course it's 100% extra-virgin).
Each EVOO comes in a glass bottle that's been UV-powder coated to protect its precious contents from damaging light.
This also means you can display it for all to admire on your countertop. Next stop: the best-dressed salads on the block.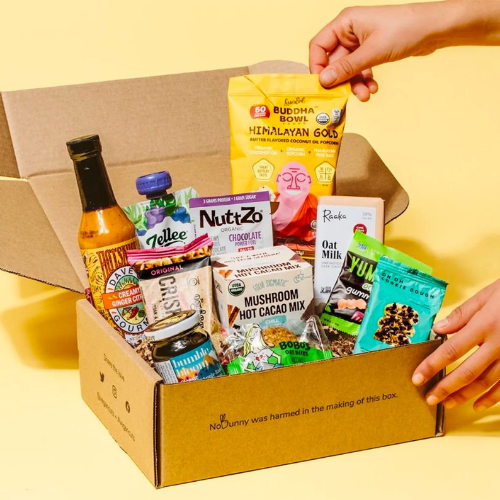 Shopping for the vegan foodie in your life? This oversized gift box is the perfect way to discover the best in vegan snacks, whether you're a long-time vegan or just vegan-curious.
These delicious, better-for-you snacks have been carefully selected to surprise and delight even the pickiest of taste buds. Vegan snacks can involve treks to many different grocery stores, so a gift box helps newbies dip their toes into the pool of vegan delights with ease!
This box includes free shipping to the US, which is just one more perk of sharing yummy vegan treats with friends near or far.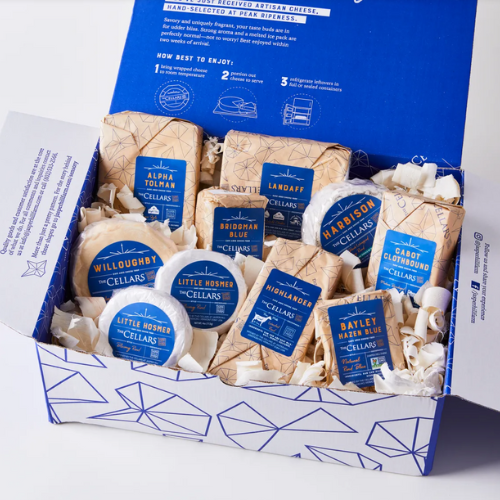 These tasting boxes had us at "cheese," and then we found out there was even more to love. It's not a gift guide for consumable gift ideas without gourmet cheese!
Everything inside 'em comes straight from Jasper Hill Farm in Greensboro, Vermont, where there's a 22,000-square-foot, seven-vaulted cellar for aging cheddars and blues. Each cheese is made with top-notch milk from a single herd of cows, too (either Jasper Hill's or one at a nearby creamery).
Looking for some perfect pairings to round out your cheese board? This gift box has got you covered there too. The Diversion bundle doles out three winning fromages and four mini jars of jam, so you can add your pick of crackers, nuts, and fruit. And if you want the whole kit and kaboodle? Spring for The Full Spread, which comes with five cheesy favorites, plus a wow-worthy lineup of pickles, crackers, nuts, and spreads, all crafted in small batches by Vermont-based artisans.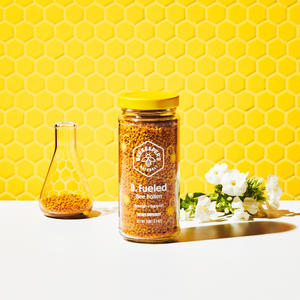 All of Beekeeper's Naturals products come from small-scale, remote apiaries primarily across Canada and the US, as well as exotic regions around the world such as the Brazilian rainforest.
Beekeeper's Naturals include important ingredients such as bee pollen, bee propolis (a source of prebiotics and antioxidants) as well as Vitamin D, and many more raw ingredients designed to fuel your body.
Beekeeper's Naturals works with apiary partners to ensure that all their bee products are sustainably-sourced and of the highest quality. Rest assured that Beekeeper's Naturals products always put the health of the bees first.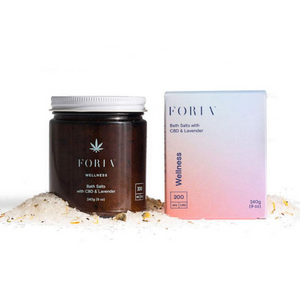 Inspired by the relaxing ritual of bathing, this multi-botanical CBD bath soak is formulated to renew you in body and mind. If relaxation is top of mind for consumable gift ideas that aren't food, these bath salts are the way to go!
The mineral-rich Epsom salts are infused with the tension-relieving benefits of organically-grown kava, lavender, calendula, ginger, and hemp.
This calming CBD bath salt blend delivers a symphony of botanicals to nourish skin, encourage circulation, relieve discomfort, and leave you feeling revitalized.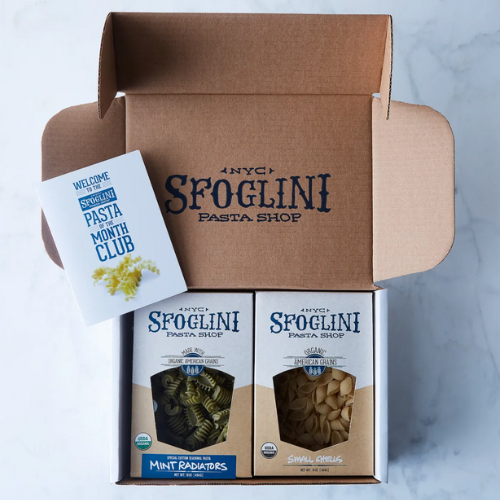 Sfoglini's 100% organic Brooklyn-made small-batch pastas gives grocery store boxes a run for their money with unique flavors made from locally-sourced ingredients. This is one of our favorite consumable gift ideas because PASTA, duh.
If you're like us, the week isn't complete without at least one or two hearty pasta meals, so Sfoglini's pasta subscription keeps our pantry stocked and our cooking interesting. Each month for three to six months, you'll get one box of their signature pasta and one box of a seasonal variety.
You might get fennel in October, chili pepper in August, or ramp in May (just add olive oil and a sprinkle of cheese for instant gratification)—you'll have to wait and see! You'll also get recipes and pairing suggestions from a well-known chef in each shipment. It's the perfect gift for that fusilli fiend in your life.
Read these eco-friendly gift guides next:
Looking for more gifts for eco-minded people? Below, I've shared a number of posts I've written on gifts for the earthy-crunchy person in your life:
Join Me on Pinterest
Pinterest is a great platform for planning gifts and finding new sustainable products! Join me on Pinterest here, to get all of my gift guides and sustainable tips.