Looking for ethical Christmas gifts this year and don't know where to start? We have you covered with this comprehensive gift guide for everyone on your list.
We talk a lot about sustainability on this blog, and often make recommendations for more sustainable products. However, we don't always talk about the related concept of ethical products.
You may assume that 'ethical' and 'sustainable' mean about the same thing with regards to consumer goods.
They are related terms, and ideally you are shopping for products that are both ethical and sustainable.
However, ethical products have some important distinctions.
This post is all about ethical Christmas gifts.
Ethical vs. Sustainable
Ethically-made goods are those that consider the people that make those goods.
An item may be considered ethical if the artisans or workers who made it are paid a living wage, work in decent conditions, have access to loans for their small businesses, etc.
On the other hand, sustainability refers more to the raw materials and manufacturing processes used to make those goods, and whether those practices can be maintained long-term without posing a threat to the environment.
Of course, ethics and sustainability are interrelated.
For example, it is both ethical and sustainable to move away from the use of toxic dyes in the textile industry. Workers are protected from harmful exposures and the surrounding environment is spared from toxic byproducts.
Ethical Christmas Gifts
ONE432's artisans use traditional techniques to create the modern version of the ancient South Asian jutti, a fully symmetrical shoe with no left and no right and molds to any foot.
These are perfect slippers for the gift recipient who works from home in their slippers, but still wants to be comfortable and stylish.
So cute for work or play! Jenni Earle's 100% cotton bandanas are made by hand in the Carolinas using natural dyes and USA-grown cotton. This woman-owned business pays a fair living wage to all their employees and makers.
Who doesn't low-key need an underwear refresh around this time?
Unlike many competitors in the undergarment space, Knickey underwear is fair-trade certified and made with organic cotton. Overhaul your partner's underwear drawer this Christmas with the starter set.
These beautiful glasses are perfect for entertaining or just a few fingers of whiskey after a long day.
Handblown in small artisan shops in Spain, Newly also uses only 100% recycled glass. The company also pays living wages to all the artisans who craft their stunning home goods.
Girlfriend Collective is known for their recycled athleisure, including their leggings, bras and sweats, but these socks are the perfect little gift for the person in your life that care about recycling.
Plus, they are made from recycled water bottles.
For the dog-lover in your life, this ethically-made and colorful dog collar is sure to impress.
Handmade in Texas, this collar (you can buy the matching leash too!) is made via an all biodegradable, vegetable-tanning process. Plus, the woman-owned company that makes them pays their small staff of makers a competitive wage.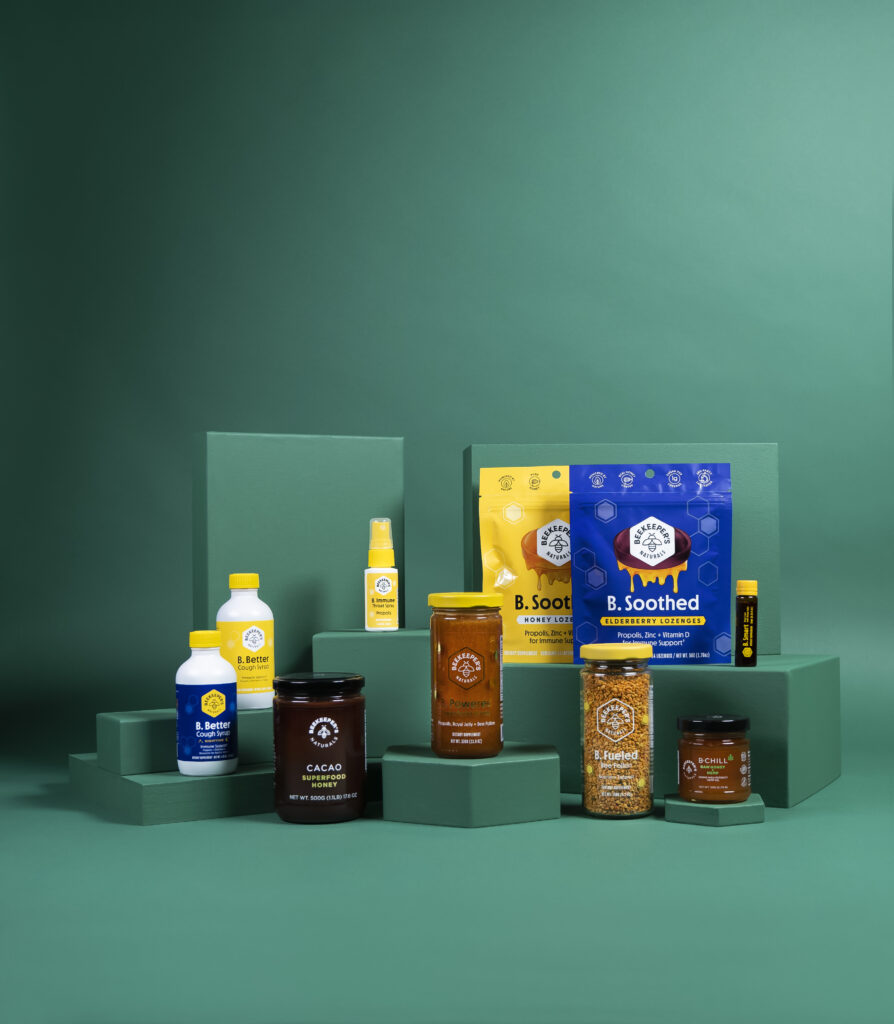 These sweet gifts also offer the benefits of all the immune-boosting components of natural, raw honey, including propolis, royal jelly and bee pollen. (Seriously, look it up!)
The company Beekeeper's Naturals practices sustainable beekeeping and offers a portion of profits to University of California Davis Honey Bee Research Facility. ​
Foria sources all of their CBD from a family-owned, biodynamic hemp farm in Hudson, NY.
Looking for a naughtier gift for a partner? Check out some of their CBD oils for the bedroom.
Imagine serving a charcuterie spread on this stunning teak platter.
The artisan, Dembe Sow, hand carved out this gorgeous piece out of a single piece of teak wood from the Casamance region of Senegal.
While prAna has an excellent selection of clothing for the outdoor or yoga enthusiast in your life, these recycled polyester leggings really take the cake for comfort and fit.
PrAna also happens to make their leggings in a fairtrade certified factory. Win-win!
This wine decanter doubles as a stunning piece of art that your gift recipient could proudly display on their mantle!
It happens to be made with 100% recycled glass by artisans in the small country of Eswatini (formerly Swaziland) in southern Africa.
This is the perfect starter kid for the sustainability-curious person in your life. The kit includes a 3-in-1 stainless steel lunchbox, on-the-go bamboo utensil set, reusable bees wax food wraps, stainless steel straw and brush set, and more.
Did you know that most yoga mats are made with the plastic polymer polyvinyl chloride?
Why go with a plastic yoga mat when you can opt for a beautiful cloth made like this ony by Ritual Rug. Each mat is lovingly and ethically handwoven in Northern India.
This quilted organic cotton robe will make for one cozy holiday season and beyond.
This robe is handmade in northern India using traditional quilting techniques. Each robe comes with a signature stitch from the artisan! The company, Anchal, is fair-trade certified and founded with the mission to help lift up women in the region.
Give the gift of a cozy cocktail hour with this stunning copper set made specifically for the famed Moscow mule. (Yum, this warming cocktail uses ginger beer. So great for the holidays!)
Brand Sertodo Copper and their team of artisans in Mexico make gorgeous handcrafted home goods using 100% recycled copper.
Each of these handwoven blankets is like a work of art. Traditional weavers in Vietnam make these pieces using 100% Turkish cotton, so you know they feel like luxury.
Amante Marketplace is a women-owned company and pays all their artisan partners fair living wages.
Perfect for the person in you life who is always on-the-go, this high-quality canvas dopp kit is also built to last.
The artisans that work in the ethical factory in León, Mexico that produces these bags receive beyond fair trade wages, healthcare, and a healthy working environment.
This post was all about ethical Christmas gifts.
Other posts you may like: