This post may contain affiliate links, which means that I may receive a commission if you make a purchase using these links.
Looking for backyard living ideas? This list of backyard living spaces is sure to make room for your creativity!
It is a wonderful time to invest in your backyard living space.
I don't know about you, but after spending what feels like eternity inside (and after a particularly long, cold winter) I am fantasizing about creating my own backyard oasis.
Picture lingering around the fire or outdoor dining table on a deck (or patio!) with a glass of wine with your friends, or snuggling with your sweetie under the stars.
These are the memories we deserve to be making, and moving your gatherings (or just regular meals) to your backyard space is a great way to get outside – especially if you live in an urban area (like me!) and really want to be outside more.
We've rounded up the best backyard living space inspiration no matter what your style (boho, rustic, modern, etc.)
Get inspired to make some special memories around in your stunning backyard oasis.
This post is all about backyard living spaces
Hi, I'm Leslie, the founder of PunkMed
Hello backyard living friend! I'm so glad that you stopped by my blog today. I had a blast sharing 9 backyard living ideas with you, from backyard entertainers around the world. If you're into vegetable gardening, urban homesteading, or living a more sustainable life–stick around! Be sure to join my email list, or come hang out on Instagram!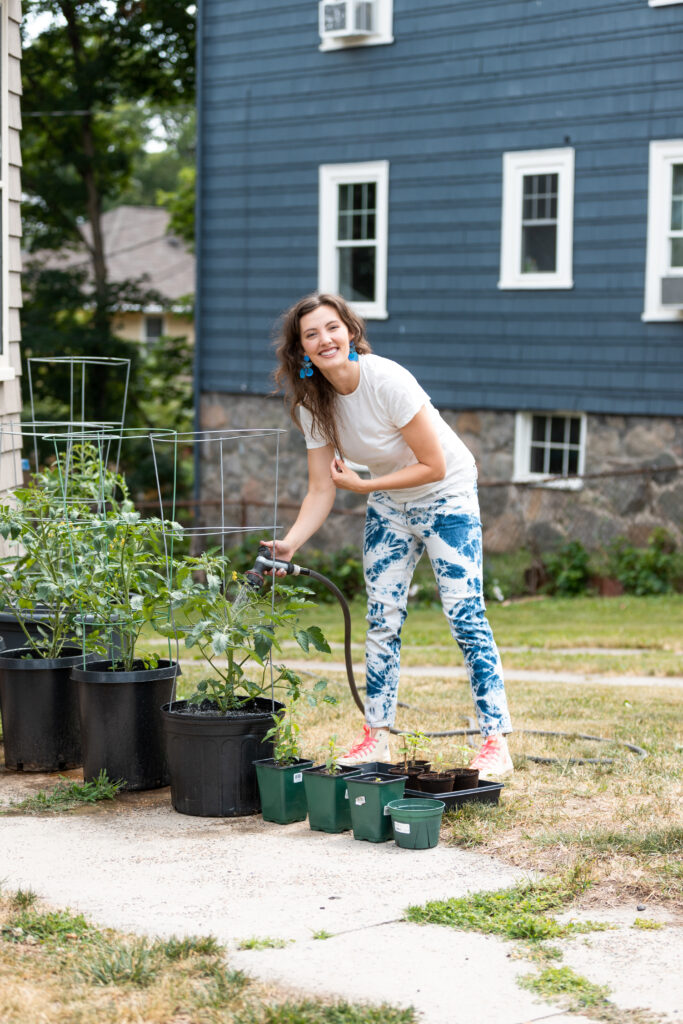 How to Choose the Right Type of Backyard Living Space for YOU!
Before we get into the cute backyard dining area and patio decoration inspo pics, we'll need to cover the different types of backyard spaces and which one may be best for your and your outdoor space.
Now, of course you are constrained by your actual space! But before we get to ideating, it's helpful to do some prep work first, and ask yourself some specific questions about your goals!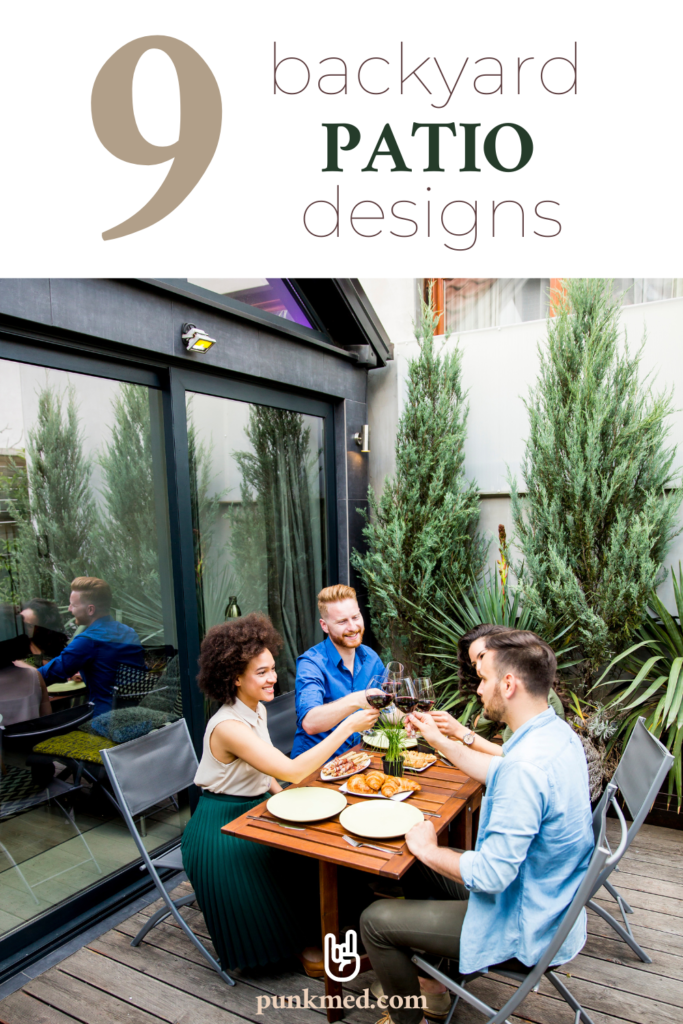 Number of People in Your Backyard Space (Regularly)?
I love a backyard oasis, and the first question we need to ask ourselves is: How many people do you plan on hosting in your backyard living space?
Is it just going to be you and your honey, plus a few houseguests here and there?
Do you want to be the life of the party (and neighborhood) and host regular, large get-togethers?
Are you looking to create an outdoor dining space, or are you more interested in garden patio design ideas?
Once you have a pretty solid idea of the number of people that will use the space most, it's time for our next question!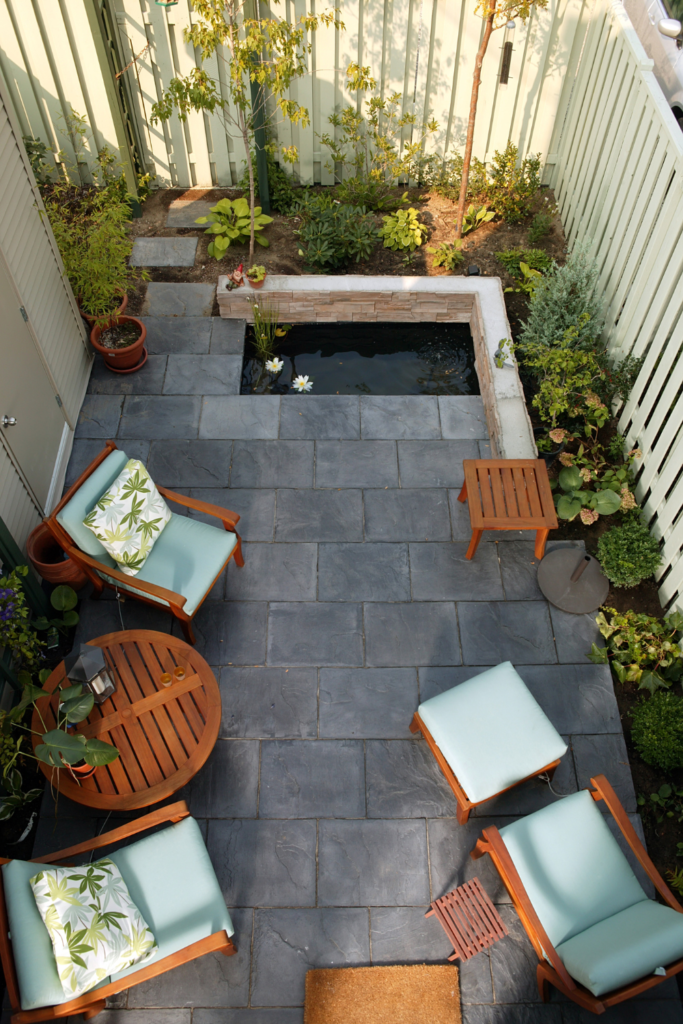 Backyard Space – Seating Area
If you have the space for it, my vote is to have an outdoor couch that's comfy to sit on! After spending more than my fair share of time in the uncomfortable faux-wicker patio sets that are pretty popular, having a cozy couch to sit on is a dream come true!
If you're not looking for an outdoor couch (or loveseat) another option is a hammock!
Backyard Space with Foliage & Greenery (Container Gardening)
No matter what your backyard living space ends up looking like, I definitely think having potted plants intermixed in the seating area is a MUST! You can snag self-watering planters or other large container pots to make it easier to grow vegetables (like tomatoes!) in containers.
With those questions in mind, let's get to talking about backyard living spaces!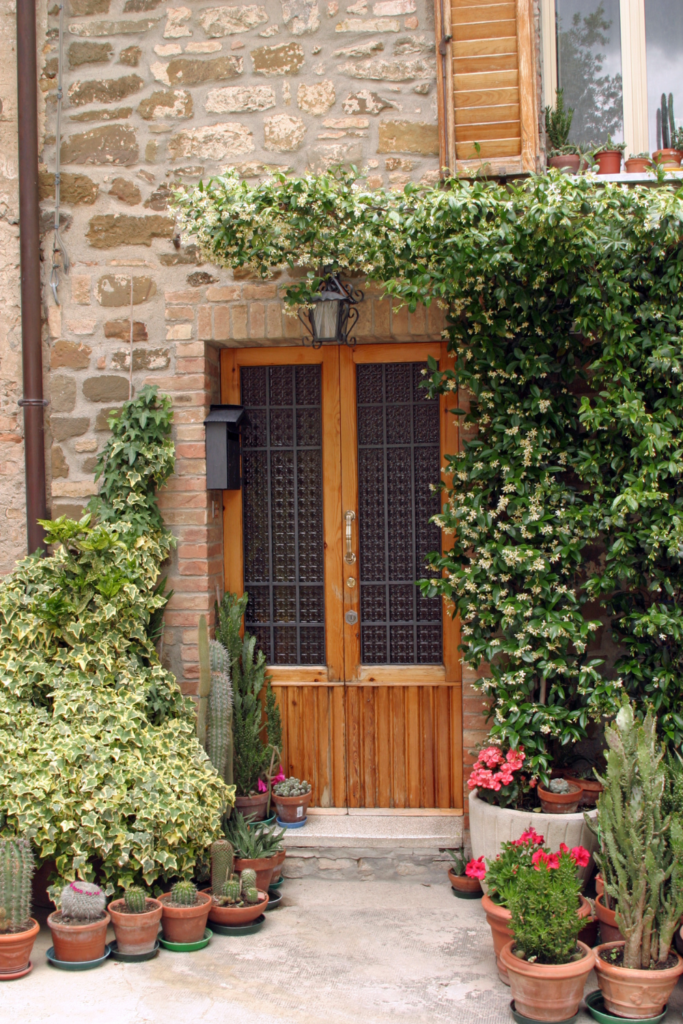 Backyard Deck Design Ideas – Backyard Living
First up on my list of backyard living ideas, we have this GORGEOUS backyard deck by @.marzena.marideko. I love the mix of crisp white linens and throw blankets with the natural wood. The umbrella shade is also a gorgeous touch! I also love the dog bed for the most important member of the family!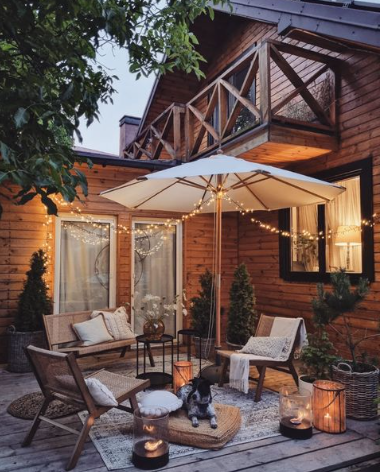 If you decide to recreate this look, be sure to get floor cushions, blankets, and other linens for the outdoors.
To recreate this look, I'd snag:
Outdoor Patio Ideas – Backyard Spaces
I am loving the color palette of this outdoor patio by @.shelley_cottage! It looks so soothing and also very livable (nothing is worse than entering a space and being afraid to sit down)!
I love the addition of the container garden (right side of picture), as I think that it is simply a MUST to have some sort of flowers or vegetables (both, ideally!) in an outdoor patio space.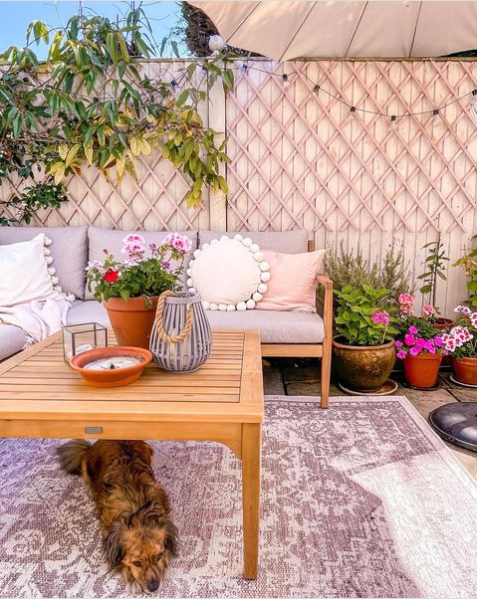 Here's how I'd recreate this space:
Backyard Deck Design & Patio Layout
I love how @.trendenvy has created a beautiful backyard space with a patio AND deck! I love the multiple levels here. She's also been SO smart with her space, using tall and compact heaters for winter (it gets cold at night in San Francisco) keeping the whole space warm, instead of a smaller heat source on the ground.
I also love how she's added planters and hanging baskets! I imagine these can be moved out of the way when entertaining, and they create such a great backyard oasis on the patio! What a lovely outdoor space!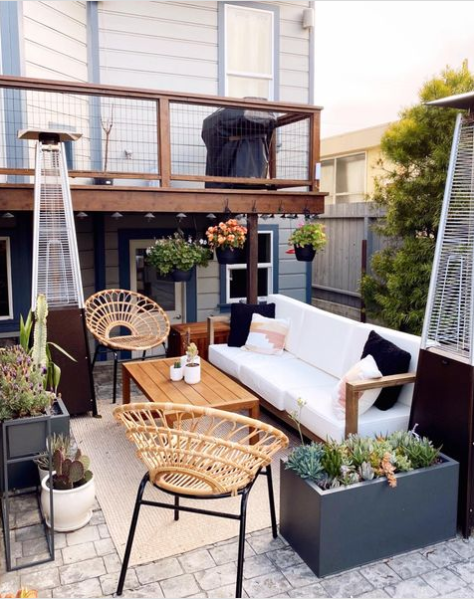 Here's how I'd put this space together:
Backyard Oasis – Firepit Layout Idea
I love a backyard fire pit (my guide to fire pits), and @.happilyeveretter really outdid themselves with theirs! I love the gorgeous garden beds that surround this backyard oasis!
Here's how I'd recreate this look: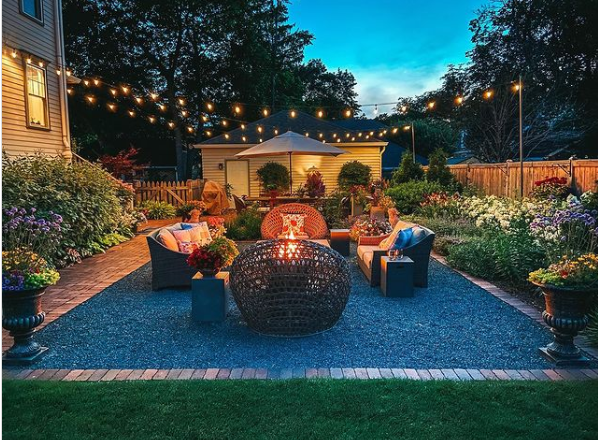 Backyard Oasis – Dome
When I first saw these kinds of backyard structures pop up, I was so intrigued! I love to be outside, and this is almost like a people-sized greenhouse, lol! I'd love to hang out in one of these during the rain or snow in Boston!
Thanks to @.Bacqyard.design for this photo!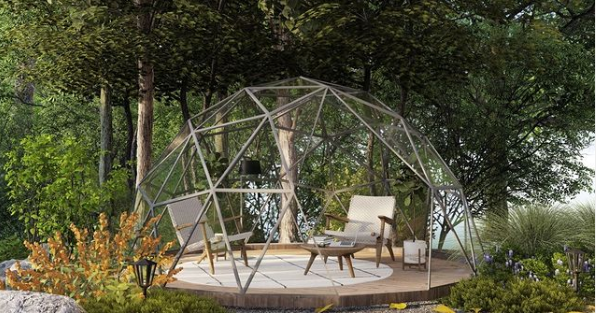 Repurposed Greenhouse
This image from @.ashleyg.studio is seriously so inspiring for my urban gardener heart!
From Ashley: "A little splice of heaven. If I could make my house look like @eastnashgreenhouse I would be a very happy plant parent (my cats probably less so). This plant-house/greenhouse was made completely by hand from repurposed windows and doors. Seriously impressive skills and full of so many amazing plants! One day I'll do something similar in my backyard but for now it's nice to appreciate other garden sanctuaries like this one."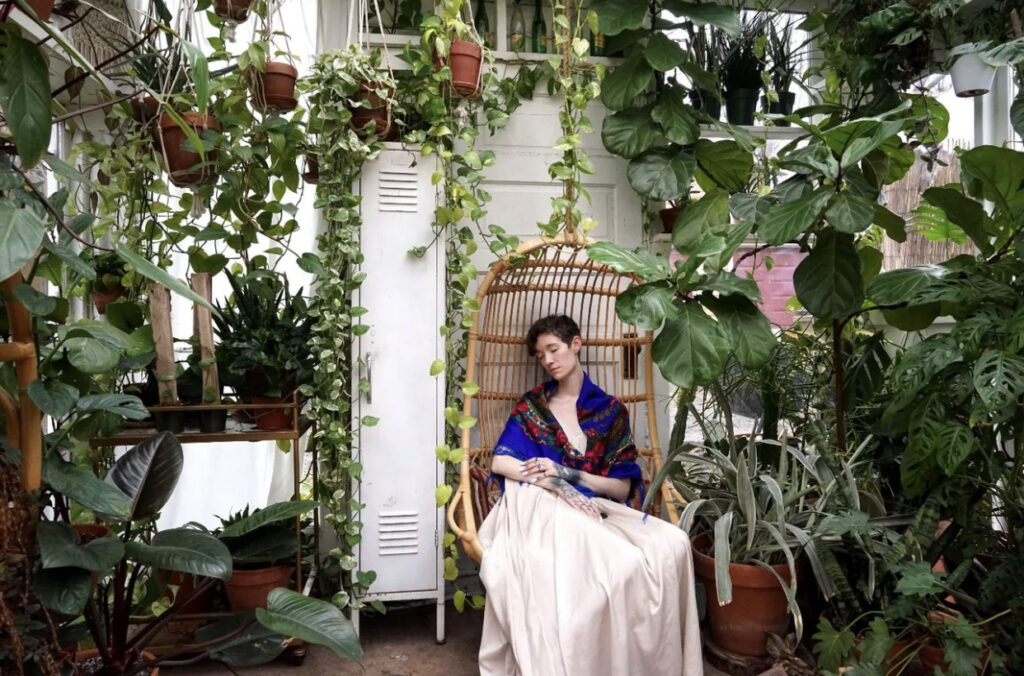 Outdoor Living Space Idea
Finally, I wanted to close out my backyard oasis ideas with these images from Rachel Simon! This is a more traditional style, and I think she did such a great job keeping a design theme throughout. I love the addition of the tabletop fire pit for extra cozy nights!
Rachel was kind enough to send half a dozen photos, and I simply could not pick!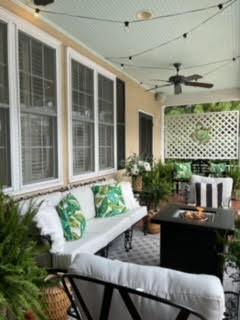 Here's how I would recreate this backyard space:
This post was all about backyard living spaces!
---
What to Read Next —>
Do you love backyard oases? Here are a few other guides I've written that I think you'll love!