This post may contain affiliate links, which means that I may receive a commission if you make a purchase using these links.
Looking for fire pit inspiration? These garden fire pit ideas are sure to spark (pun intended!) your creativity.
There has never been a better time to invest in a fire pit for your outdoor space.
I don't know about you, but after spending what feels like eternity inside (and after a particularly long, cold winter) I am fantasizing about entertaining outdoors.
Picturing lingering around the fire with a glass of wine with your friends, or roasting marshmallows with your family.
These are the memories we deserve to be making, and the perfect outdoor fire pit can make it happen!
We've rounded up the best garden fire pit inspiration no matter what your style (boho, rustic, modern, etc.)
Get inspired to make some special memories around stunning garden fire pits.
This post is all about garden fire pit ideas.
How to Choose the Right Type of Fire Pit for You
Before we get into the cute garden fire pit inspo pics, we'll need to cover the different types of fire pits and which one may be best for your and your outdoor space.
Wood Burning Fire Pit
Wood burning fire pits are classic and add a rustic, cozy look to any garden space.
Plus, wood burning fire pits tend to be bigger (more people you gather around to make s'mores) and burn hotter (a plus if you want to use when it's actually chilly outside).
On the other hand, wood burning fire pits of course use wood as fuel, which can produce a lot of smoke and leave a lingering scent on your clothes and hair. (Although, I personally like that smell.)
Luckily, many modern wood burning fire pit models are designed so that the airflow minimizes smoke.
To combat the smoke, make sure you use dry firewood.
Seasoned wood bundles can be purchased at most hardware stores. However, because firewood burns so quickly, it can be expensive, even compared to refilling a propane tank for a propane fire pit.
For these reasons, you may want to look into sourcing your own firewood.
Propane Fire Pit
Propane fire pits tend to be lighter, and add a sleek modern feel to your outdoor space.
A propane fire pit may be a good option for you if you want to be able to transport your fire pit easily, perhaps to another backyard party or tailgating event.
Propane fire pits are also easier to start, maintain and extinguish. Simply turn a knob to get it started, and turn it off when you're done.
Propane fire pits also don't put off any smoke.
However, the down side is that they also don't put off as much heat. Propane fire pits rely on lava rocks to cover the heating element and distribute heat. To give your propane fire a little extra oomph, you can buy extra lava rocks to help disperse the heat.
Wood Burning Fire Pits
Boho Garden Fire Pits
All you need to recreate this magical hideaway is some white landscaping rock, a few Adirondack or rattan chairs, and a rustic steel fire pit.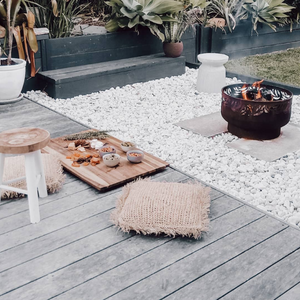 Why not enjoy a little charcuterie board by the fire with some woven floor pillows and stools?
The twinkly string lights in combination with the overflowing blankets and pillows make this outdoor space insanely cozy.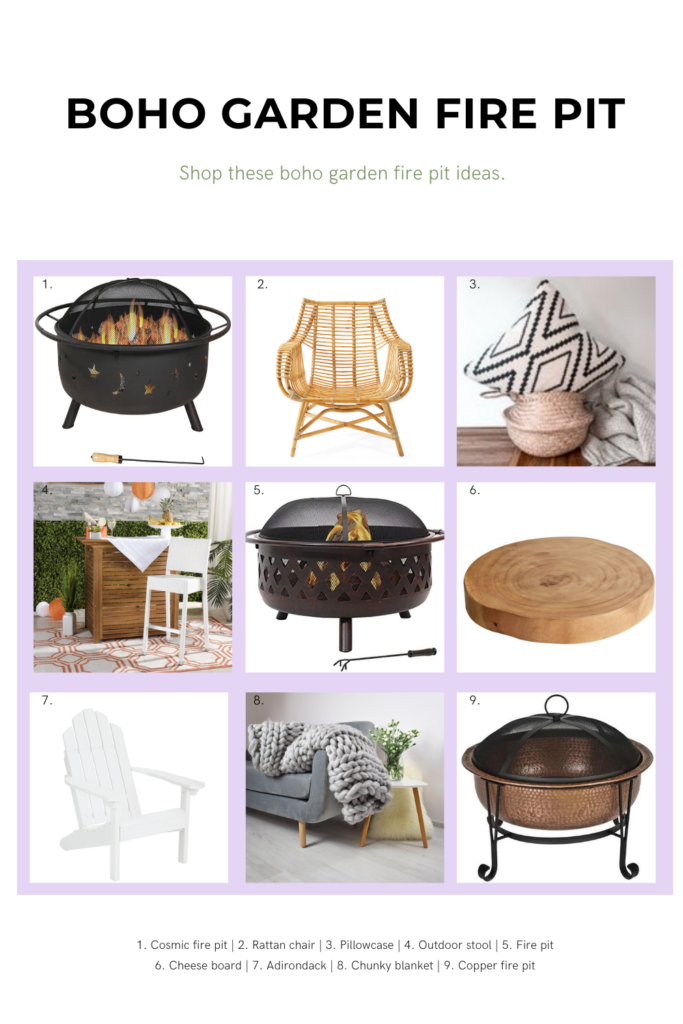 Best Finds for a Boho Garden Fire Pit
Rustic Modern Fire Pits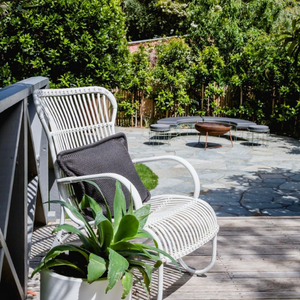 The statement patio lounge chair and curved bench around the fire pit add interesting shapes to this backyard.
You've heard of an in-ground pool, now why not try an in-ground fire pit? This sunken fit pit with built-in seating is the perfect balance between rustic and modern.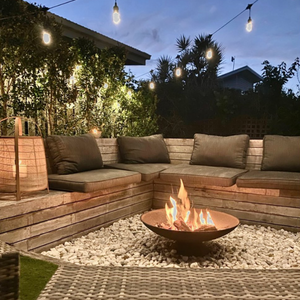 These shallow steel fire pits with rusty patina are stunning and will last a lifetime.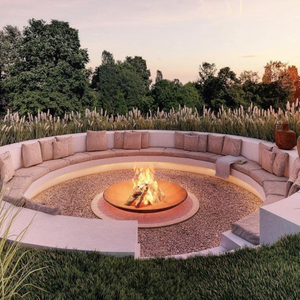 This gorgeous meadow fire pit features a built-in circular seating area with enough room to fit more than a few friends!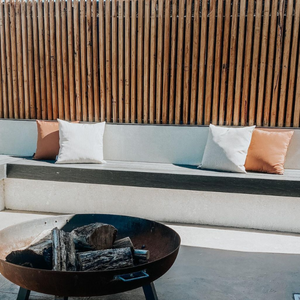 The simplicity of this fire pit reminds you that you don't need much more than a steel bowl, some logs, and some seating (with some colorful pillows!) to make a beautiful set up.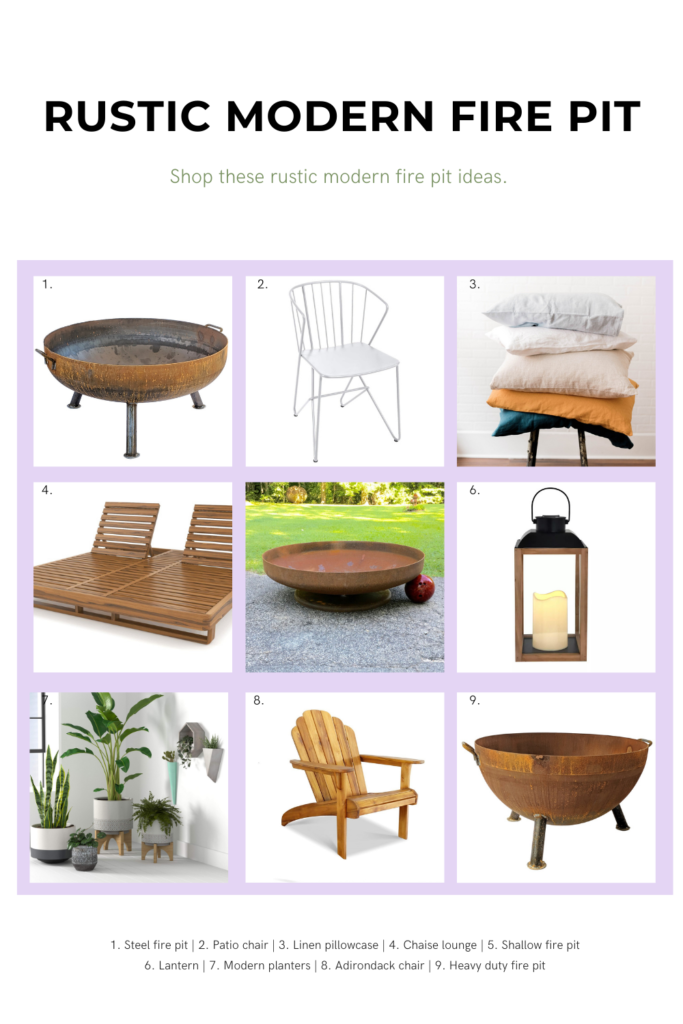 Best Finds for a Modern Garden Fire Pit
Farmhouse Brick Fire Pits
Simply sticking a few poles in the ground to run some string lights elevates this fire pit to a cozy backyard hideaway.
Making your own fire pit can actually be quite easy with a fire ring and a few concrete blocks. A circle Adirondack chairs give this fire pit a chic farmhouse look.
The fire doesn't have to be the focal point of your fire pit hangout. Let the fire keep you warm for your next outdoor movie night with a projector! (Plus, check out the added coziness of the lanterns!)
Get a little extra greenery in your garden fire pit with these wooden planters serving as the base for poles holding the string lights.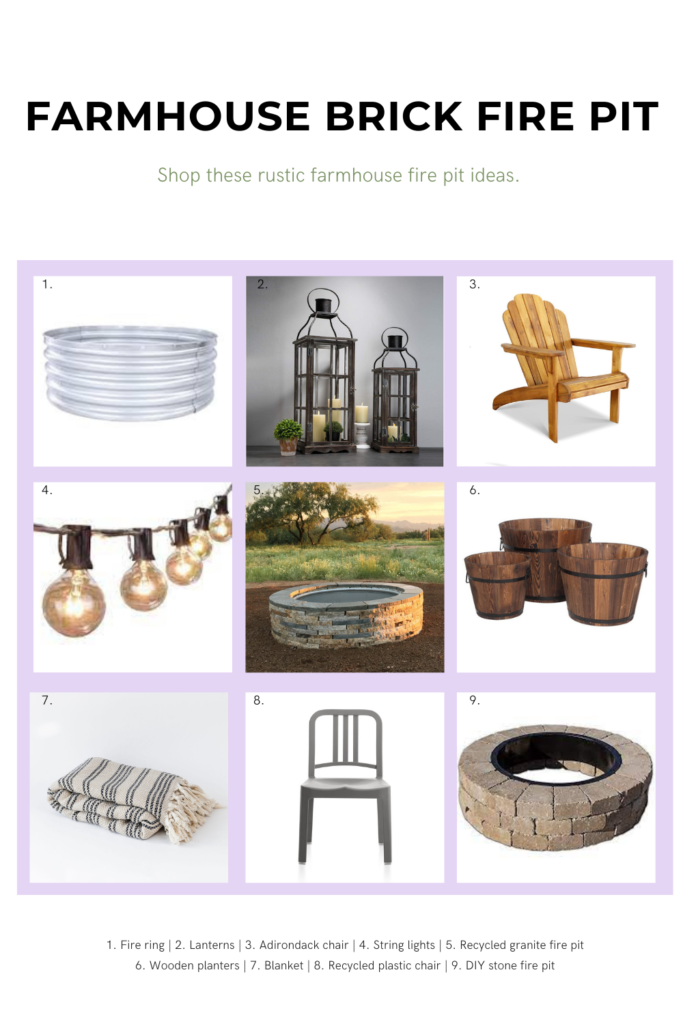 Best Finds for a Farmhouse Garden Fire Pit
Propane Fire Pits
Modern Cement Fire Pit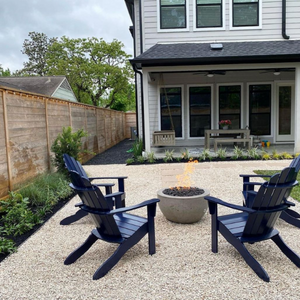 These navy Adirondack chairs add a home-y vibe to an otherwise modern propane fire pit setup.
The fire pit doesn't have to be the focal point of your garden. This tucked away seating area adds a secret garden vibe to your outdoor space.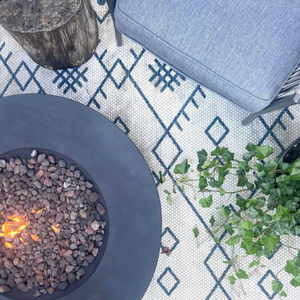 Don't forget a bold, patterned rug to bring some intrigue to a cement propane fire pit.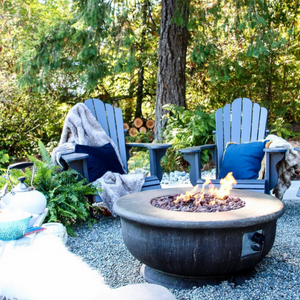 Colorful chairs and a few throw blankets make this woodsy space ultra cozy.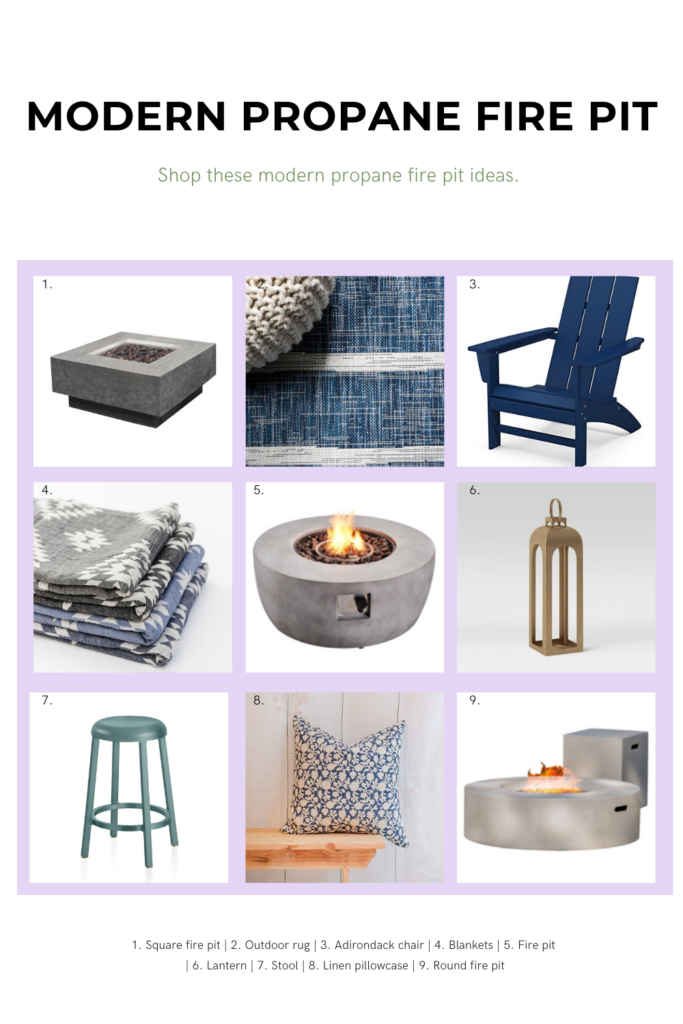 Best Finds for a Modern Cement Fire Pit
Tabletop Fire Pit
This stone fire pit and seating area is a beautiful piece of masonry. You can recreate this look with a faux stone tabletop fire pit for less!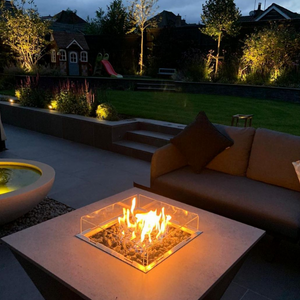 A simple table fire pit will keep you warm on chilly nights out on the deck.
This cement tabletop fire pit adds a modern touch to the lush green scenery behind it.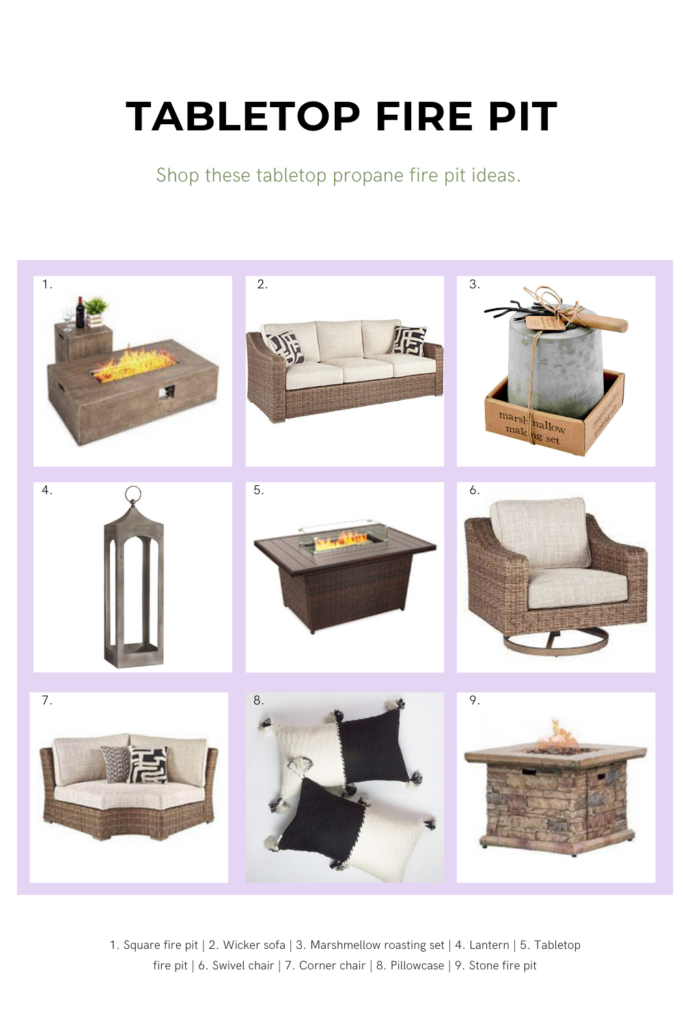 Best Finds for a Tabletop Firepit
Boho Modern Propane Fire Pit
This boho bungalow adds whimsical charm to their in-ground fire pit with string lights and a chair swing.
This deck space pairs a few classics: wood, brick, and black and white accents. We love the white wicker sofa set with the graphic pillows and white propane fire pit.
Enjoy a glass of wine by this boho modern fire pit. Sit back and relax with a lumbar pillow against teak wooden benches.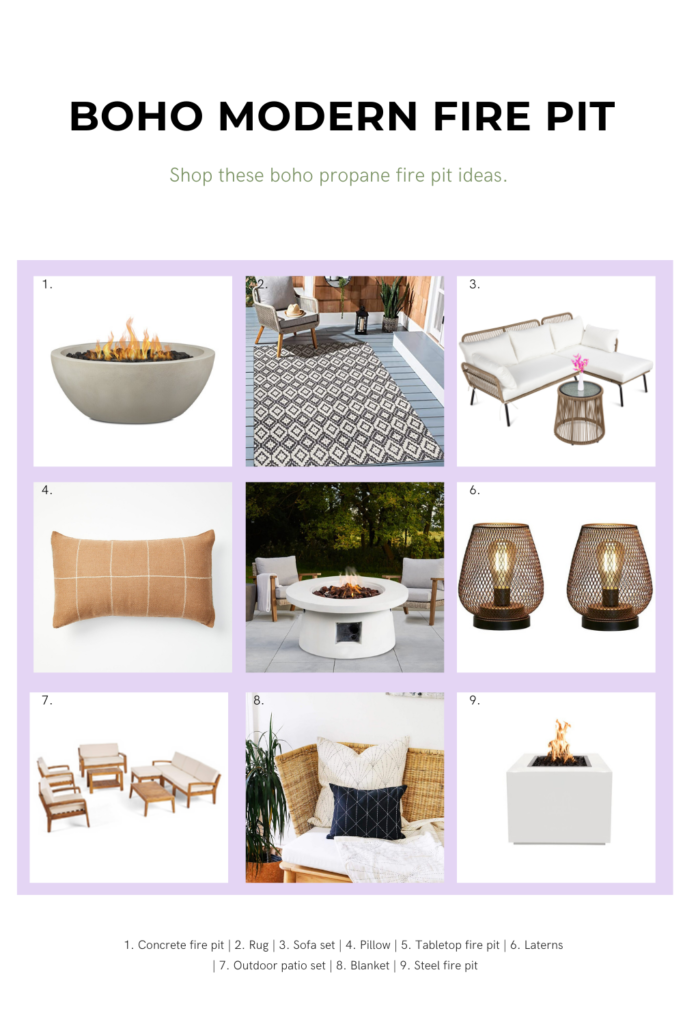 Best Finds for a Boho Modern Propane Fire Pit
This post was all about garden fire pit inspiration.
---
Other posts you may like: