This post may contain affiliate links, which means that I may receive a commission if you make a purchase using these links.
Today on my blog, I've sharing the best DIY Christmas ornaments, with lots of images and inspiration. As an eco-friendly blogger, I find that DIY Christmas decor can be more meaningful and impactful, because of all of the memories one makes.
This blog post is all about DIY Christmas ornaments.
Easy DIY Christmas Ornaments
Before we get started, I'd like to share some of my best tips for DIY Christmas ornaments, as follows:
Tip #1: DIY projects are similar to making pancakes. Very often when making pancakes, you may find that the first pancake, well, doesn't turn out very well. Same goes here! And this is totally ok!
Tip #2: Thrift stores FTW! Stay on the lookout for craft supplies at your local thrift stores and donation shops.
Tip #3: Keep a holiday craft bin! I find it's often not very appealing to clean up after a DIY Christmas ornament making session. Make it as easy as possible to clean up, keeping a handy storage bin onhand for leftover supplies. Resist the urge to throw things out!
And with that, it's time to share my list of DIY Christmas ornaments.
#1 DIY Christmas Ornaments: Colorful Easy Trees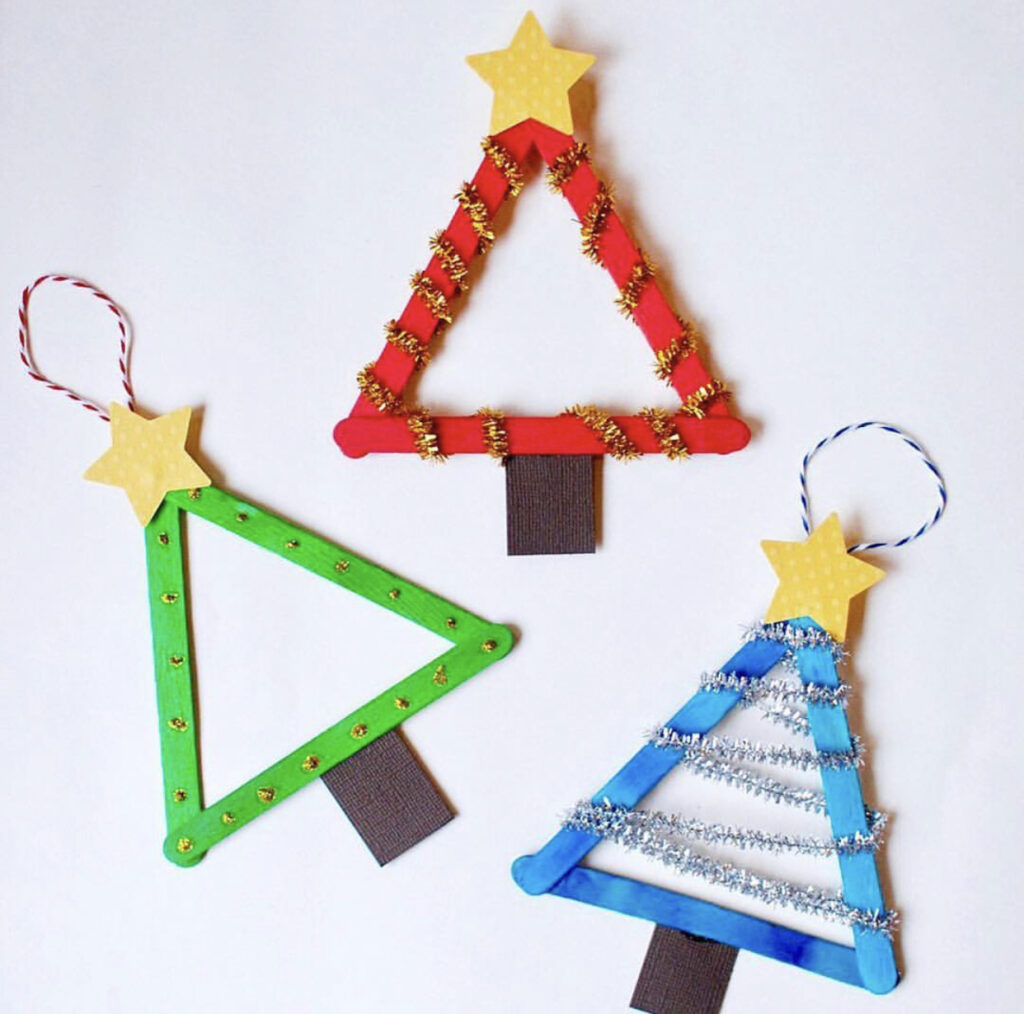 These DIY Christmas ornaments from @.CraftAndBoogie are so fun and colorful! I love how you can "decorate" each tree differently!
From the makers:
"Make these at home with rainbow craft sticks, pom-poms, shiny pipe cleaners, glitter glue, and card stock. 😉 We love the idea of sticking a photo inside, too!"
#2 DIY Christmas Ornaments: Reusing Pistachio Shells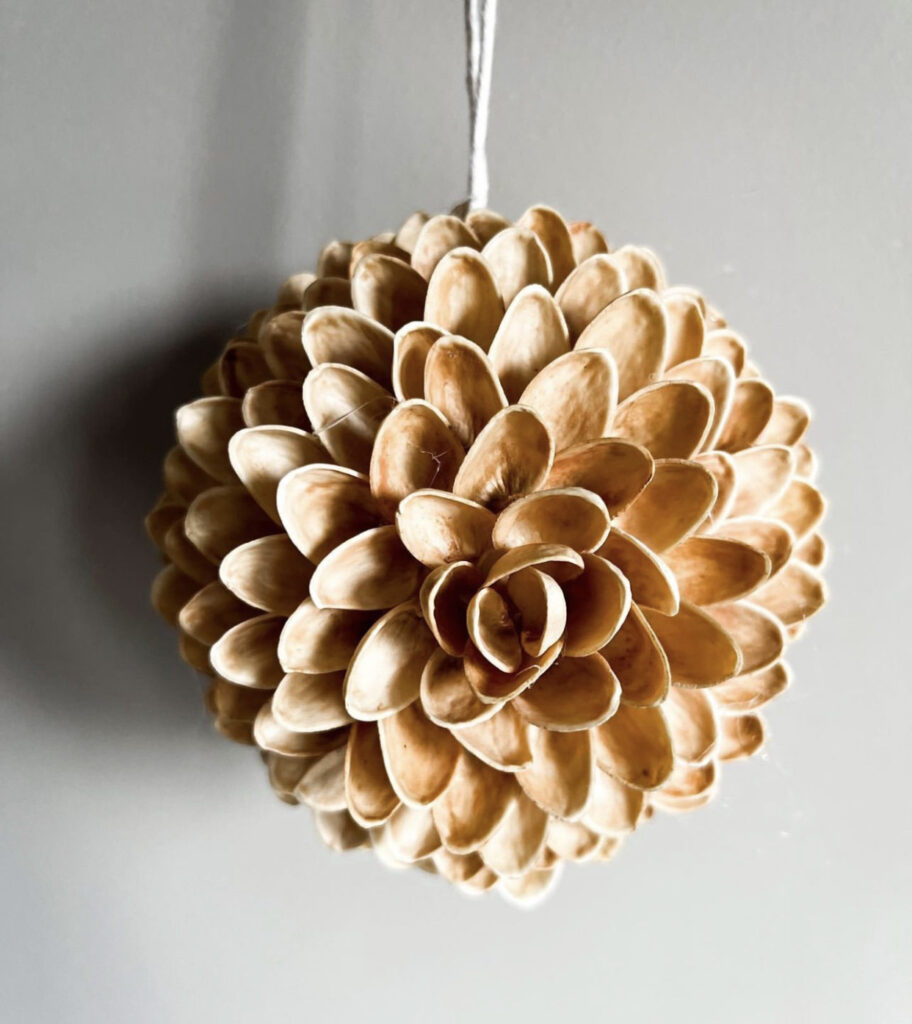 This DIY Christmas ornament from @.LifeofThusNelda is so smart — and eco-friendly! She took pistachio shells to make this gorgeous design!
From Thusnelda:
"Pistachio shells are so pretty I couldn't throw them out. Now I found a use for them."
#3 DIY Christmas Ornaments: Mini Coat Ornament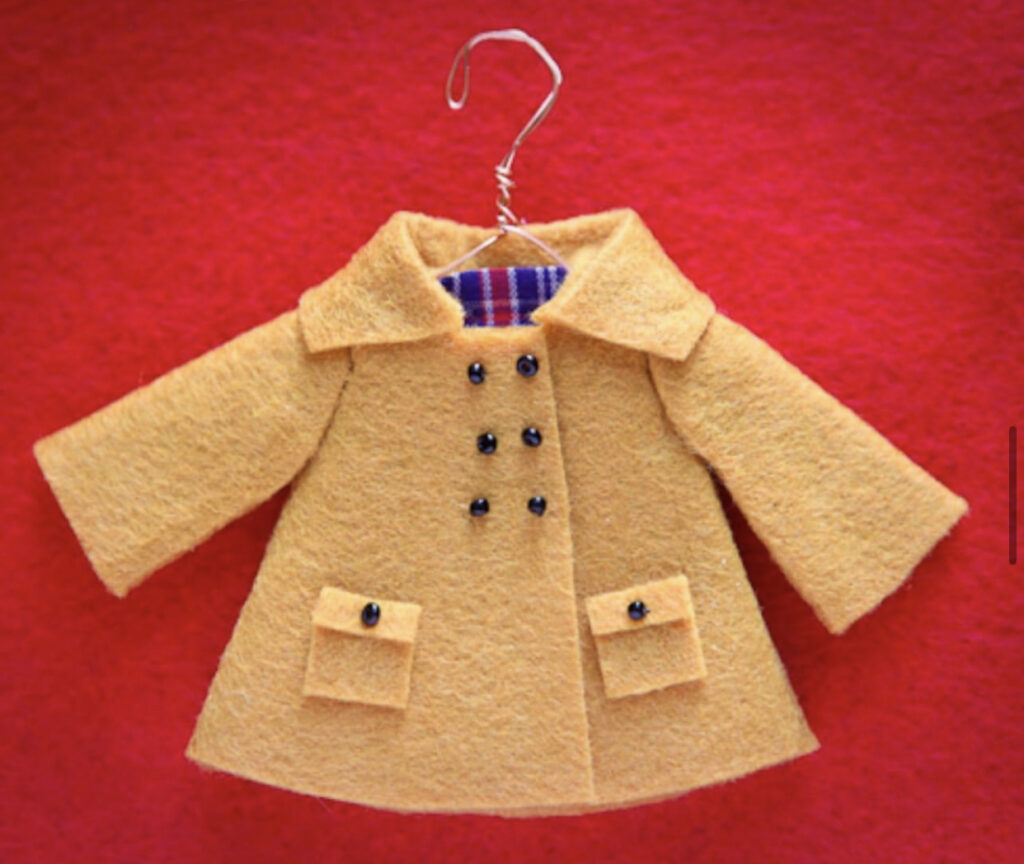 This DIY Christmas ornament from @.TrueBias i so cute! It's a little coat!
From True Bias:
"I created this tutorial for a handmade ornament 8 years ago, but it is still one of the favorite things on my tree. You can still access the step by step instructions to make your own thru [this link]. Please tag me if you do make one so I can see it.⁠"
#4 DIY Christmas Ornaments: Sewing Machine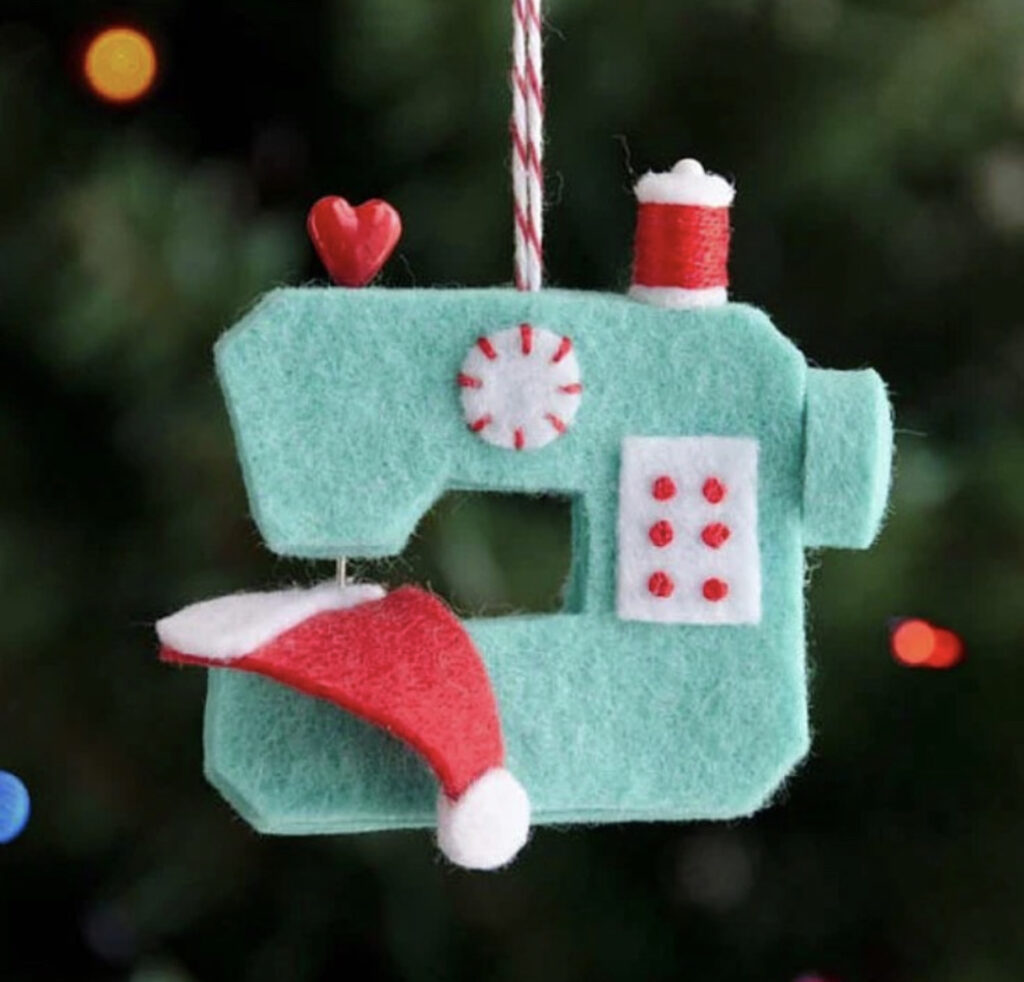 This DIY Christmas ornament from @.Betz_White is so cute! I love the little Santa Hat being sewn!
From Betz:
"If you've followed me for awhile you'll remember this classic from 2015! Folks often make this Sewing Machine ornament in batches to give to friends, quilting guild members etc. I've seen it made with the Santa hat swapped out for a tiny quilt block, such a cute idea! (I've also seen this image used without permission over the years. Grinches!) Believe it or not, this ornament requires no sewing! Just a touch of embroidery that you could leave off or mark with a pen if you're afraid of needles🪡"
#5 DIY Christmas Ornaments: Mid-Century Modern Paper Ornaments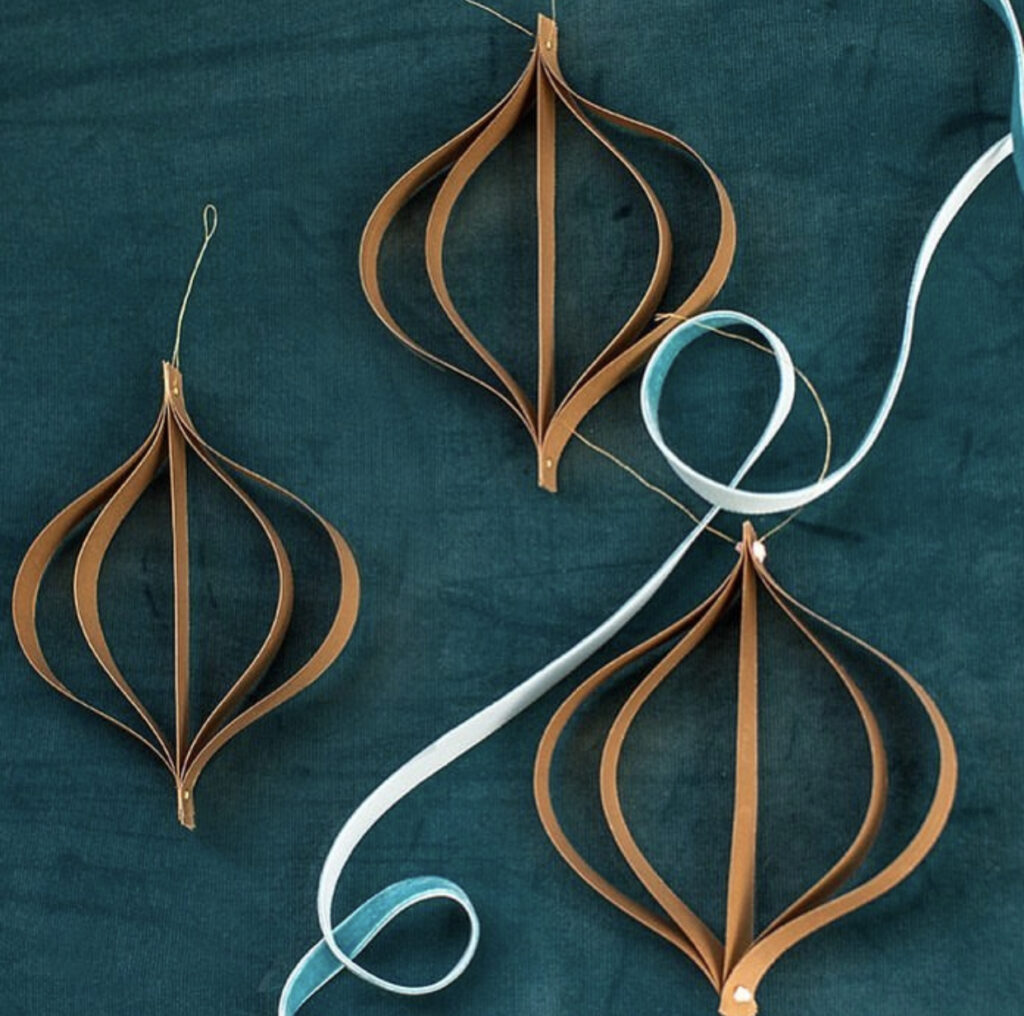 This DIY Christmas ornament from @.LiaGriffith is lovely. It's so beautiful what you can do with paper! Tutorial here!
#6 DIY Christmas Ornaments: Constellation Ornaments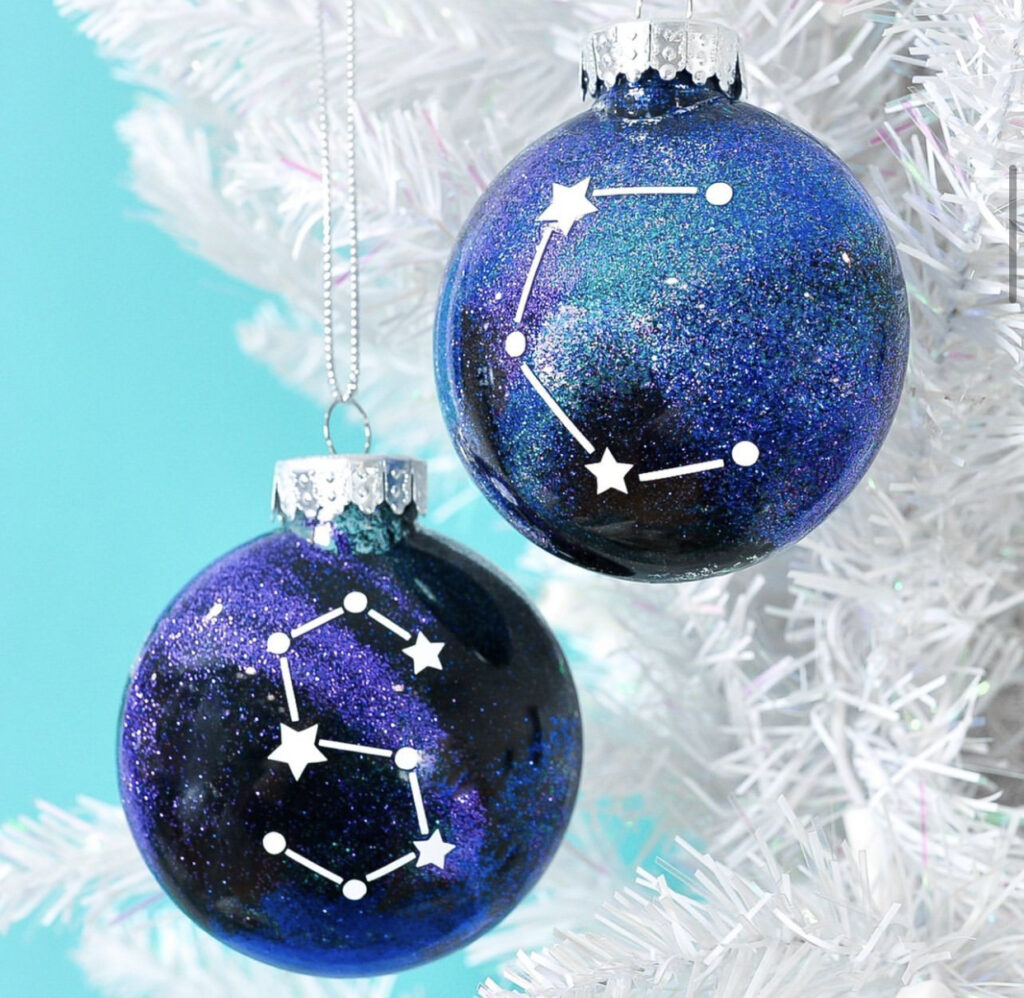 This DIY Christmas ornament from @.HeyLetsMakeStuff is so fun! These are perfect for both astrology AND astronomy lovers!
From Cori:
"We are just about halfway through the 25 Days of Cricut Christmas! I am not going to lie—I am obsessed with these ornaments I made for Day 12. I've had galaxy ornaments on my "to make" list for ages, and I am absolutely thrilled with how they turned out—especially with the adhesive vinyl constellations! Head to my blog to learn which glittering method worked best for me, and grab the whole alphabet of constellations!"
#7 DIY Christmas Ornaments: 2D Ball Ornaments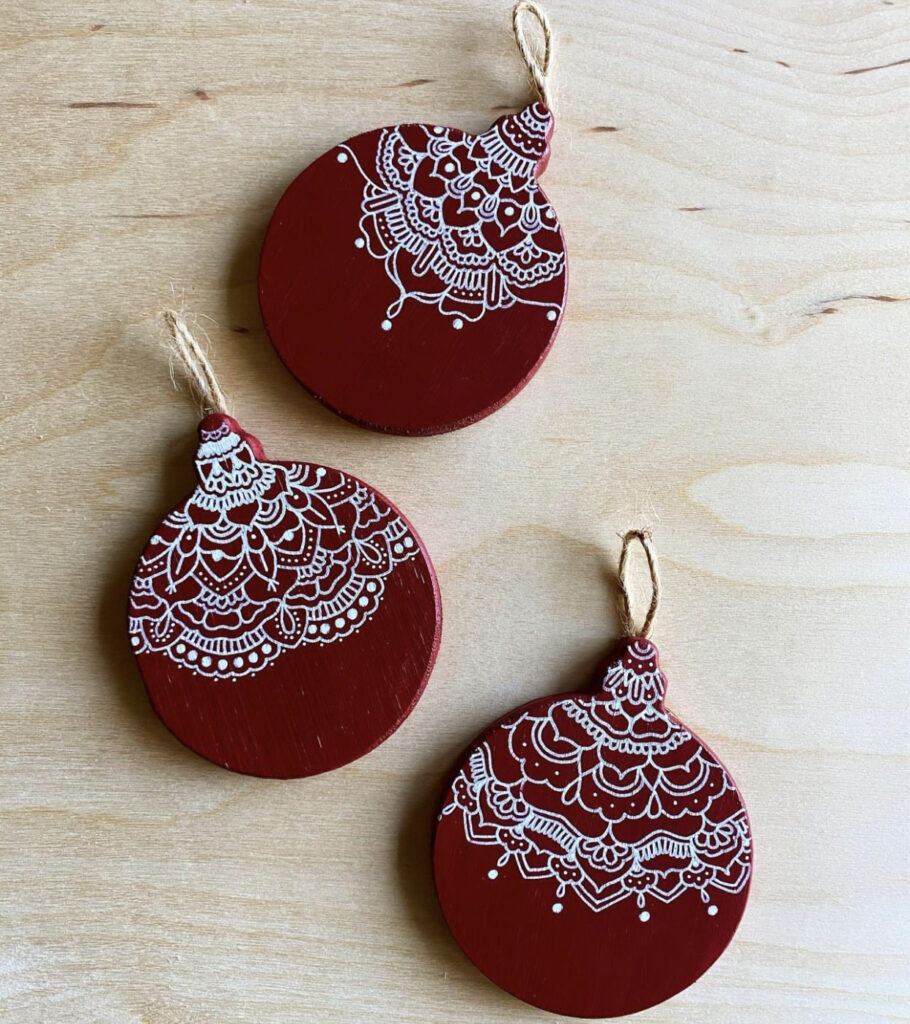 This DIY Christmas ornament from @.ArrowArtStudio really has the Christmas spirit! I love how lovely nd intricate these are.
#8 DIY Christmas Ornaments: Silhouette Portraits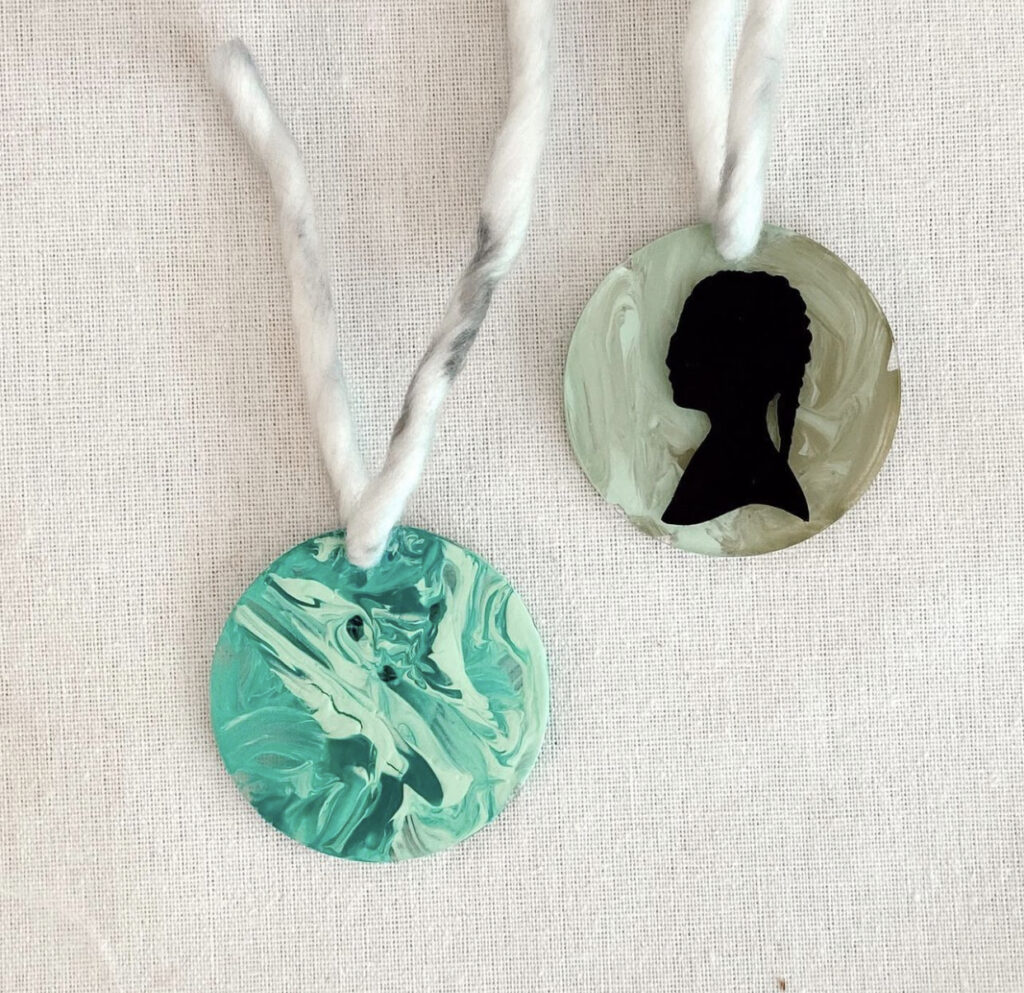 These DIY Christmas ornaments from @.BeKindAndMakeArt are so fun! These are so perfect for Bridgerton and Pride & Prejudice fans.
From Ms. Katie:
"Our GORGEOUS Christmas ornaments that we did this year! Our kiddos (ages 2-5) painted the back of these acrylic ornaments. I put a matte modge podge coat over it. On the other side, I put the child's silhouette. 😍 ALWAYS a favorite to create these silhouettes! I take a photo of each child (their side profile) against a plain colored wall, put the photo into photoshop, select the child only & convert it to black. Next, I take them, import it into my @silhouette.inc machine, convert to a cut file, and cut them out. It's a PROCESS, but I know these items are so so cherished."
#9 DIY Christmas Ornaments: Dried Fruit Ornaments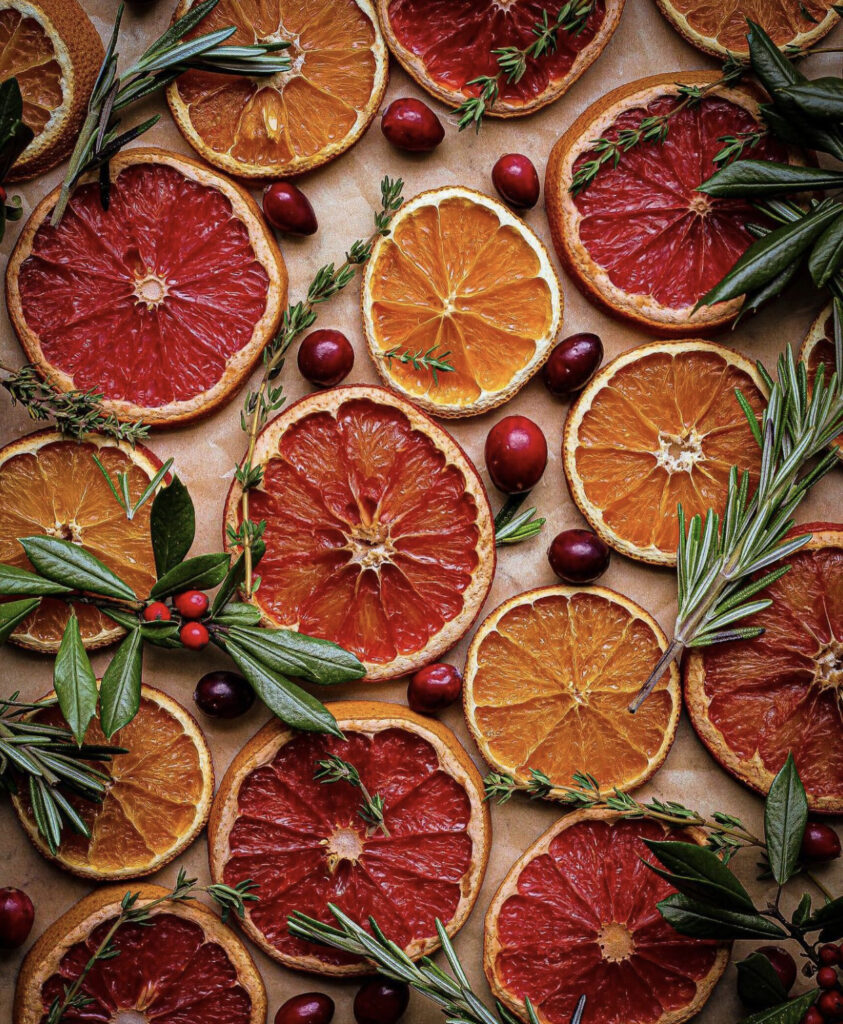 How gorgeous are these DIY Christmas ornament from @.MustLoveHerbs?
Here are the instructions from Lauren May:
"Dried citrus. It not only looks beautiful but smells amazing, too! They're easy to make.
Simply bake them (on a baking rack) 3-4 hours at 200°.
Once they have dried almost completely take them out and allow them to finish drying a few days on a rack.
You can string them up, store them in an air tight jar to use in soups/stews, or even as a decoration for gifts!
This holiday season I am trying in every way to embrace traditions and simplicities. I hope to find happiness and sparkle in even the little things like a pinecone found or a perfect little orange slice. However, I also understand the want to go OVER THE TOP. Which is why I am debating yet another Christmas tree. We have 4 right now! 😂 so tell me… are you simple is better or over the top when it comes to the holidays? Maybe you're like me and a little of both!"
#10 DIY Christmas Ornaments: Santa Hands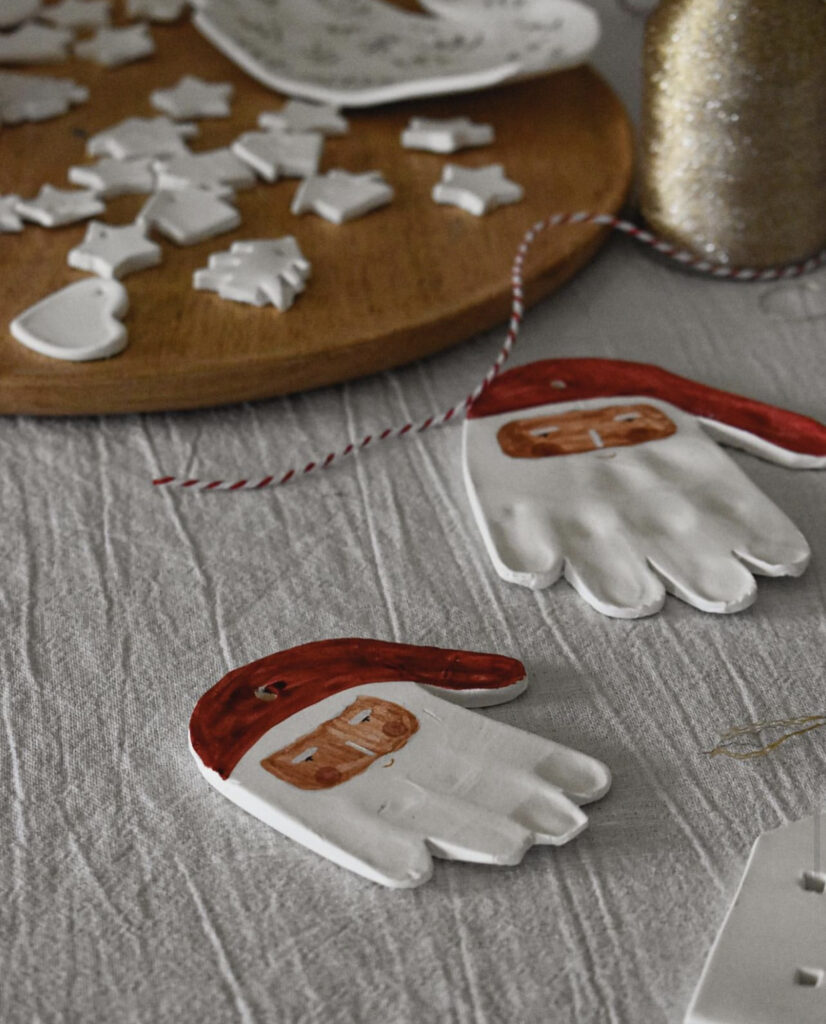 This DIY Christmas ornament idea from @.mywarmnest is so sweet! I love that a family can do this every year to track the growth of their kiddos!
#11 DIY Christmas Ornaments: Mr. & Mrs. Clause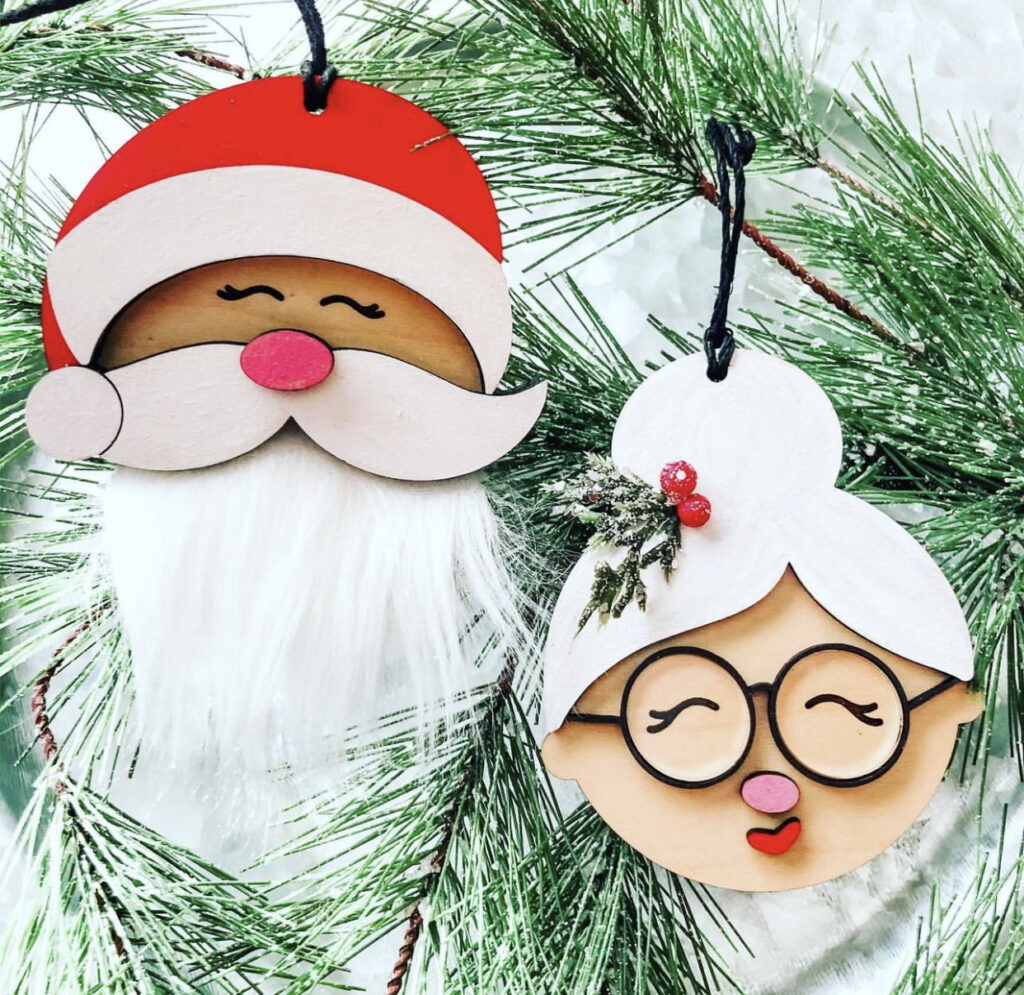 These DIY Christmas ornaments from @.KittaLeigh.Made really have the Christmas spirit!
#12 DIY Christmas Ornaments: Snowflakes from Scrap Wood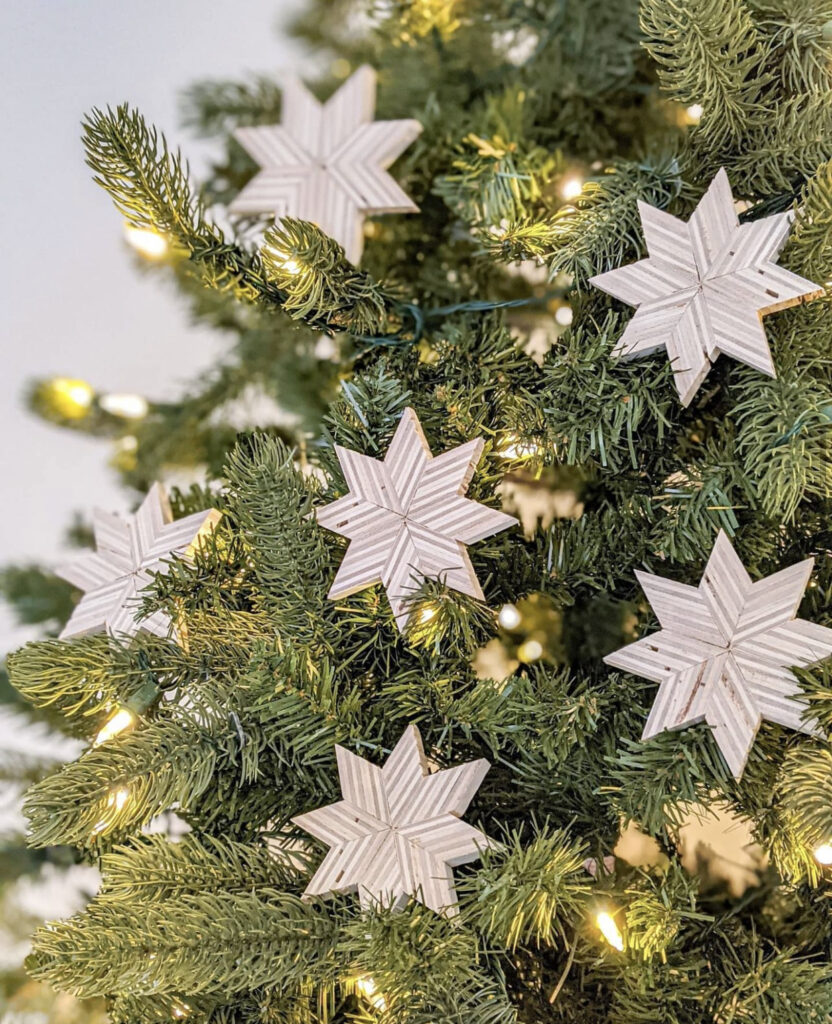 These DIY Christmas ornament from @.UglyDucklingDIY are so clever! I love that she made them from scrap materials!
From Sarah:
"Christmastime always makes me feel crafty, so I started a tradition of making a set of ornaments each year. These scrap plywood "snowflakes" (or so I'm calling them) were fun to experiment with and make a fine garland, too! I'm definitely making #patternedplywood a thing I give more thought to in the new year. I already have a few spots in the house that would be perfect for it. Have you ever tried it? I've got these saved in my highlights if you're looking for the how-to!"
#13 DIY Christmas Ornaments: 3 Wise Men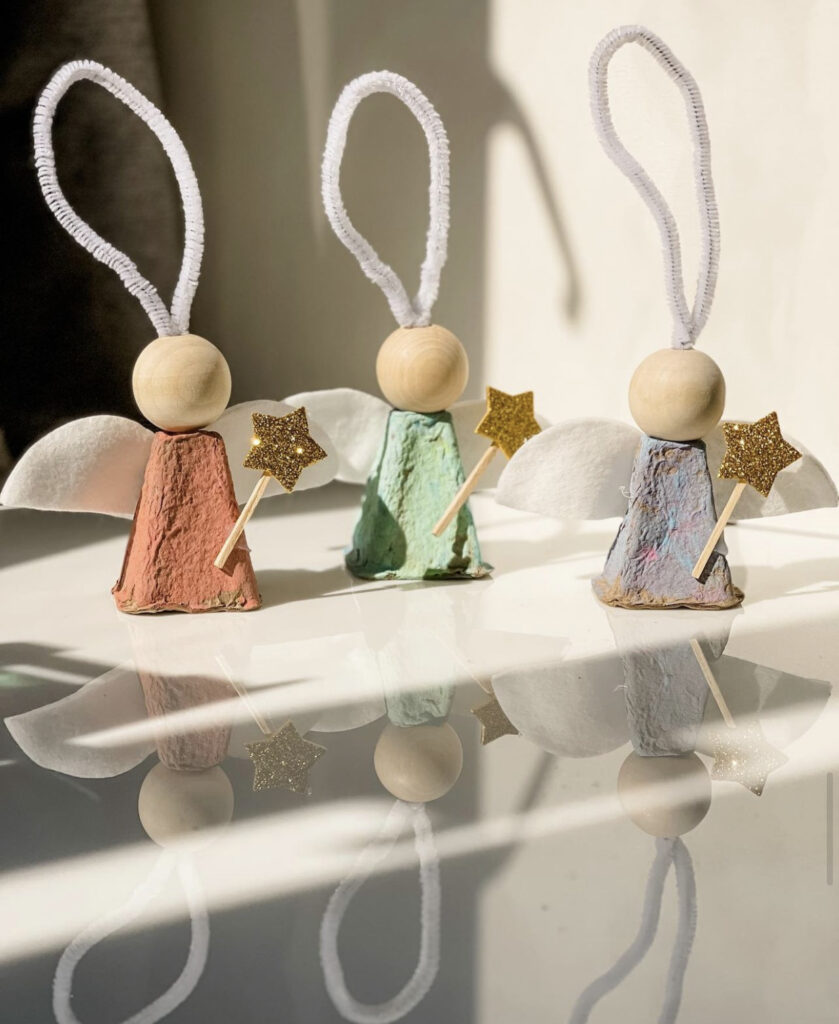 These DIY Christmas ornaments from @.Learning_In_D are charming. The 3 wise men!
From Vivian:
"Last year, I have done some Christmas ornaments with D. We love creating them together and full of beautiful memories. We are still so excited to see them hanging on our Xmas tree after one year.
So why don't we do some this year too ? Little d is joining us this year, as well. She is approaching 3, she can master more skills, like cutting, beading and glueing.
Little d 's likes angel ( I just newly discovered it). So maybe it would be a good idea to make a
simple angel ornament with her. And turn out, she loves them so much 💕
Materials used:
– Biodegradable plant pots
– Circle cotton pad
– Pipe cleaners
– Wooden beads
– Wooden sticks
– Star stickers
– Hot glue
My kids always love mixing color. This time I let them mix their own pastel tone ( paint from @ikeahingkong).
After painting, cutting, beading and gluing, the angels are ready to be on our Xmas tree."
#14 DIY Christmas Ornaments: Square Ornaments & Gift Card Holders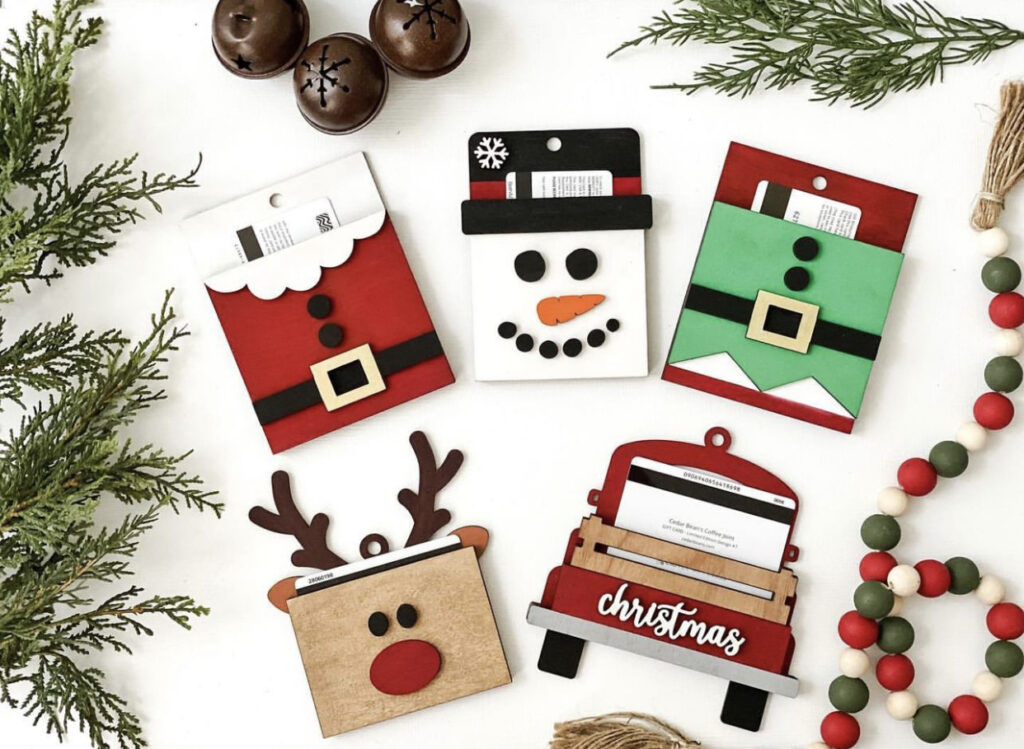 These DIY Christmas ornament from @.My.Simple.Little.Home are so smart!
#15 DIY Christmas Ornaments: Rudolph from Walnuts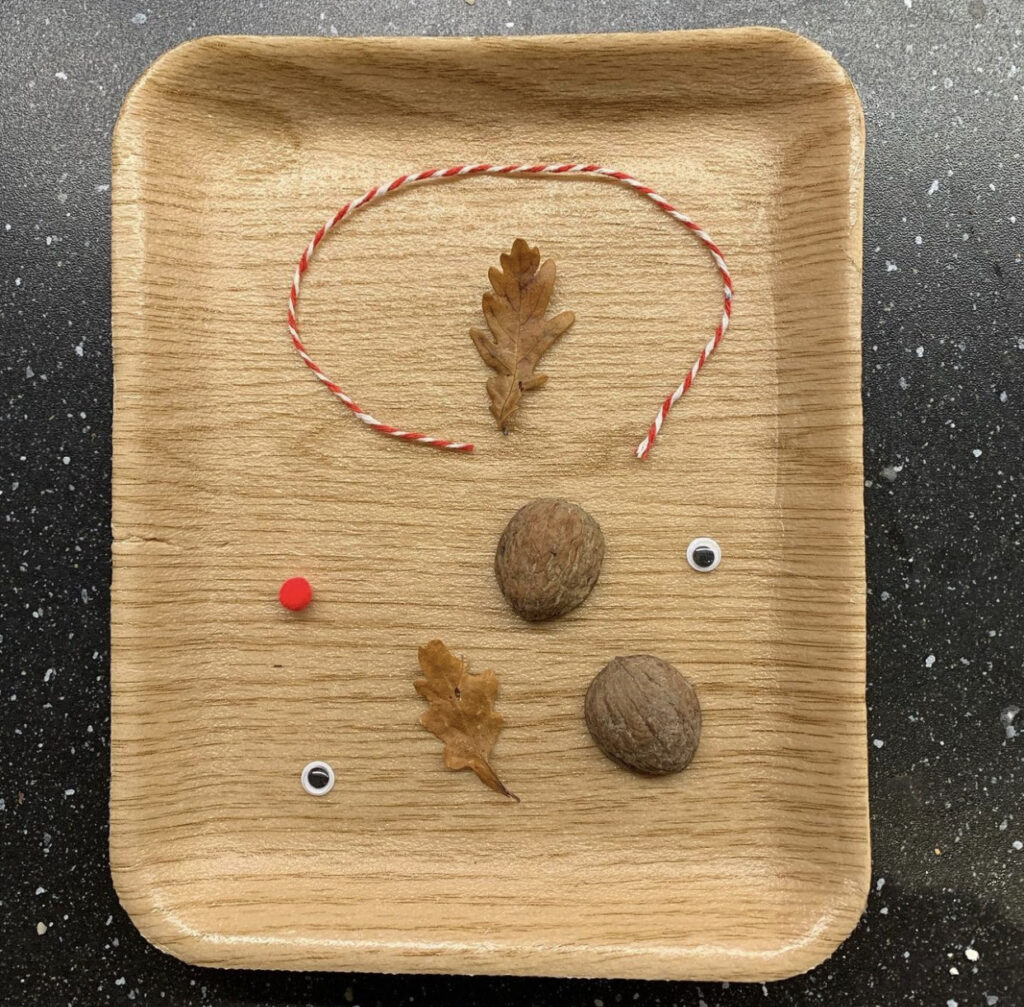 This DIY Christmas ornament from @.Mae.Vabien really has the Christmas spirit! I love the googley eyes!
From Mae:
"My daughter and I made this cute little Rudolph ornement! How cute is it?! We used a walnut, 2 oak leaves, a mini pompom and goggly eyes! Slide to see how we made it!"
#16 DIY Christmas Ornaments: Macrame Ornaments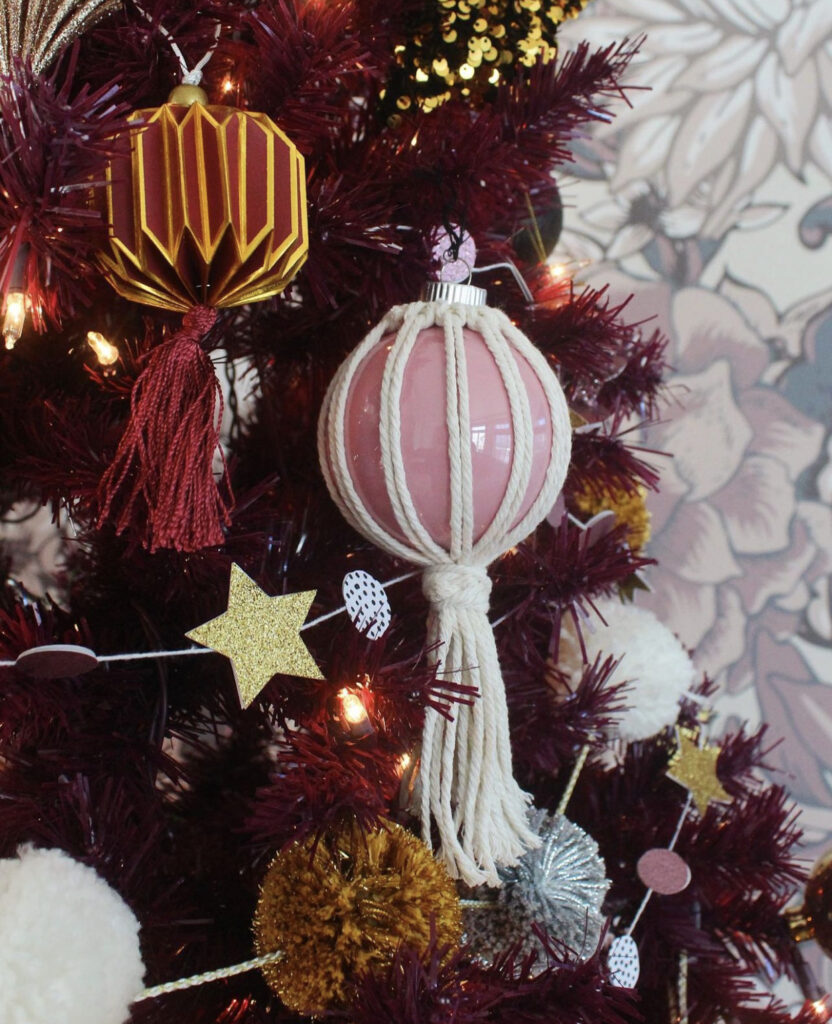 This DIY Christmas ornament from @.PrettyLifeGirls is so cute! They remind me of hot air balloons!
From Liz & Sam:
"We're sharing two easy DIY macramé ornaments made with supplies you can grab in a snap from @MichaelsStores! If you've never worked with macramé, this is a great beginner project that will to add a fun boho-twist to any Christmas decor!"
#17 DIY Christmas Ornaments: Embroidery Hoop Ornaments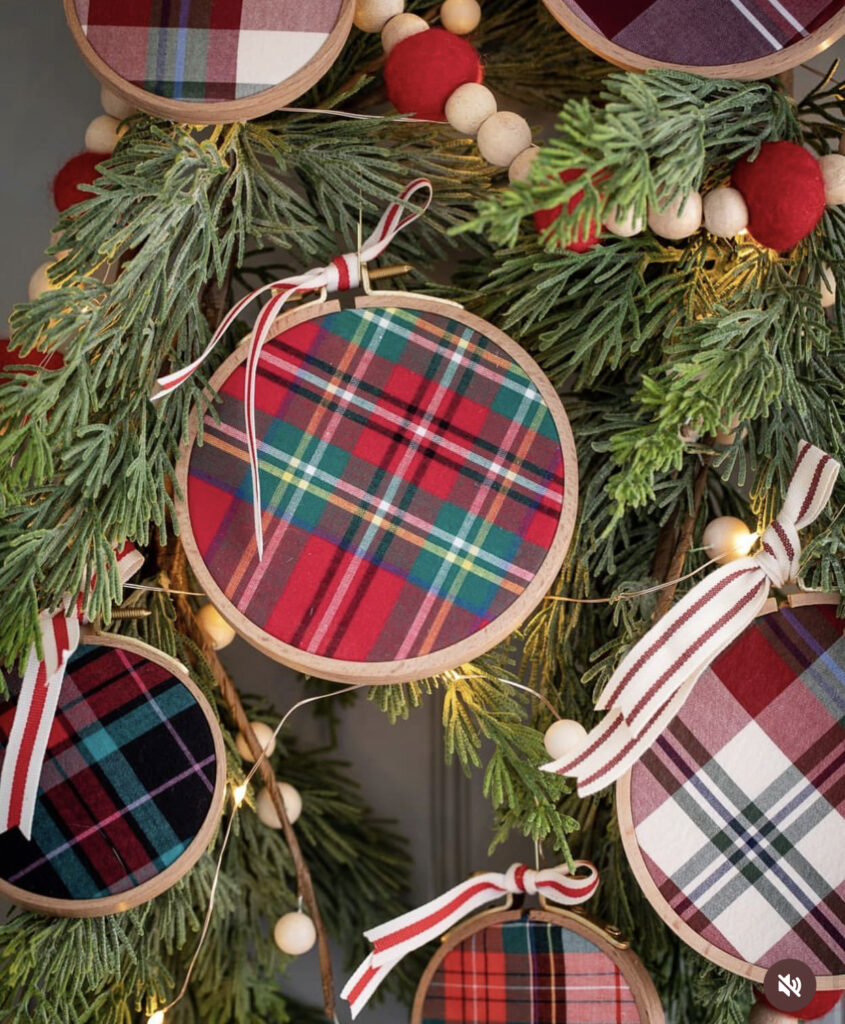 This DIY Christmas ornament from @.InspiredByCharm is lovely.
From Michael:
"I have a beautiful new project on the blog for you today! Use old plaid shirts and embroidery hoops to craft these DIY embroidery hoop Christmas ornaments.
This is an easy and budget-friendly craft with stunning results to use in decorating your Christmas tree and home for the holidays.
You can use any fabric in any color or pattern to match your decor. You could even use clothing from a loved one to create a memorial ornament to give as a gift.
You can get the tutorial on the blog. There's is a link in my profile or head directly to inspiredbycharm.com. I shared the full process including product links. (I especially love these embroidery hoops. They are a step up from the traditional with brass screws and beech wood frames.)"
#18 DIY Christmas Ornaments: Rose Petal Christmas Trees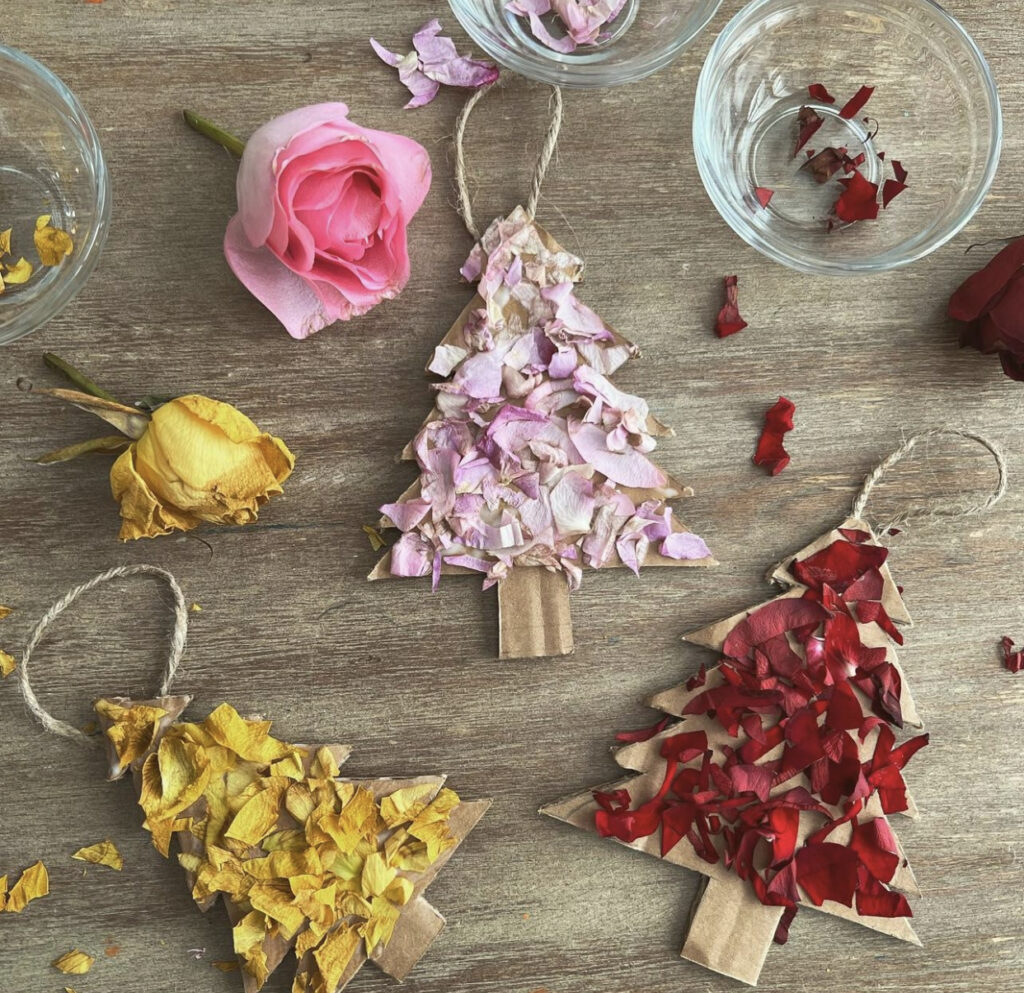 How ingenious are these DIY Christmas ornaments from @.PreschoolForYou? I love how they're reusing materials!
From Elizabeth:
"What to do with dying flowers? Let me count the ways…
This one was inspired by my littlest when he began tearing a fallen rose petal to pieces at the dinner table… next thing you know I'm cutting cardboard trees and he's cutting rose petals✨
By the way… the rest of the bouquet is drying… more flower play to come!"
This blog post was all about DIY Christmas ornaments.
---
Hi, I'm Leslie!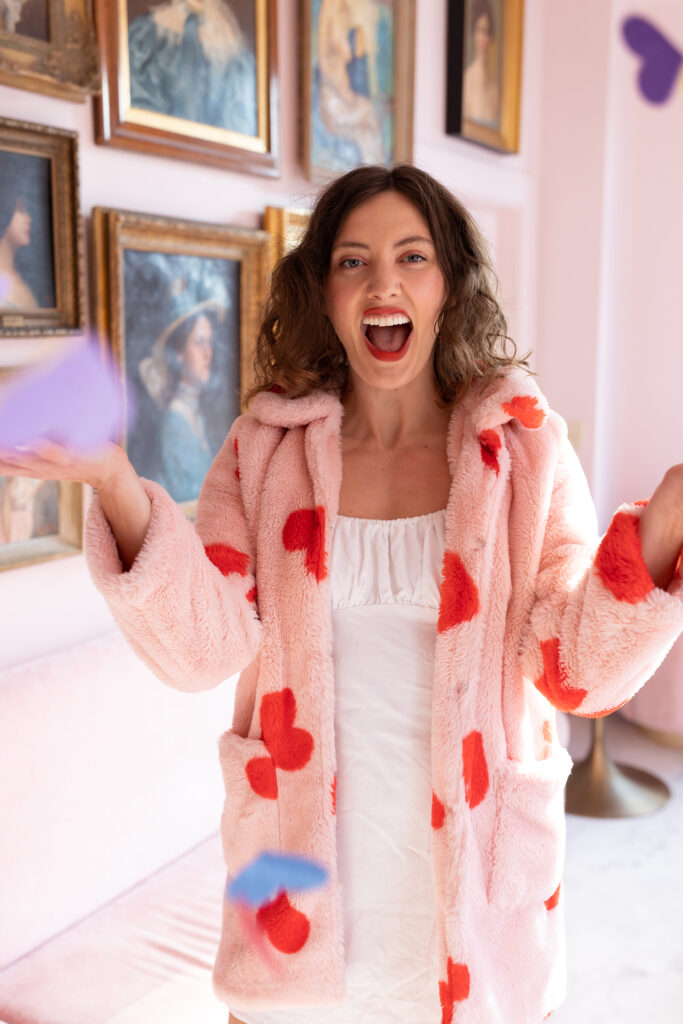 Hello there! My name is Leslie, and I'm the founder of PunkMed. I regularly share my best info on how to have eco-friendly holiday celebrations, urban homesteading, gardening, and, of course, very thoughtful and helpful gift guides for the holidays.
What to Read Next —>