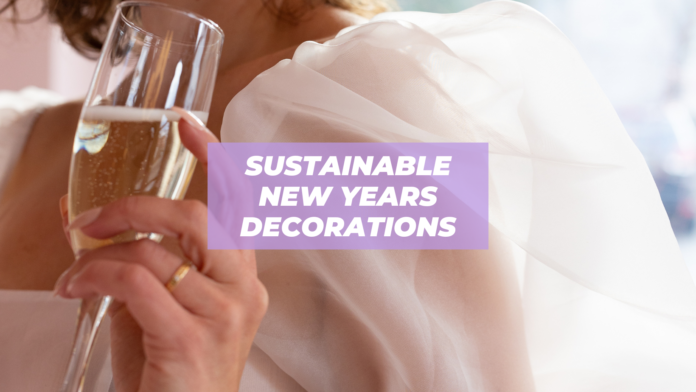 This post may contain affiliate links, which means that I may receive a commission if you make a purchase using these links.
Today on my blog, I'm sharing my 12 best ideas for sustainable New Years decorations for people who are excited to throw a New Years Eve party, but don't know where to start! Here at PunkMed, I try to share my real world approaches to being more eco-friendly and sustainable, while also avoiding over-complicating things.
This blog post is all about sustainable New Years decorations.
I'm Your Eco-Friendly BFF, Leslie
My name is Leslie, and I'm the founder of PunkMed! From my homebase in Boston, Massachusetts, my team and I share my best tips, tutorials and recommendations in the areas of sustainability (including eco-friendly decoration ideas!), urban homesteading, and outdoor living. Think of me as your eco-friendly BFF, someone who shares helpful and actionable tips and advice–all while remaining non judgemental and supportive. I get that trying to incorporate more sustainable practices in your life can be overwhelming, and I'm here to help you along.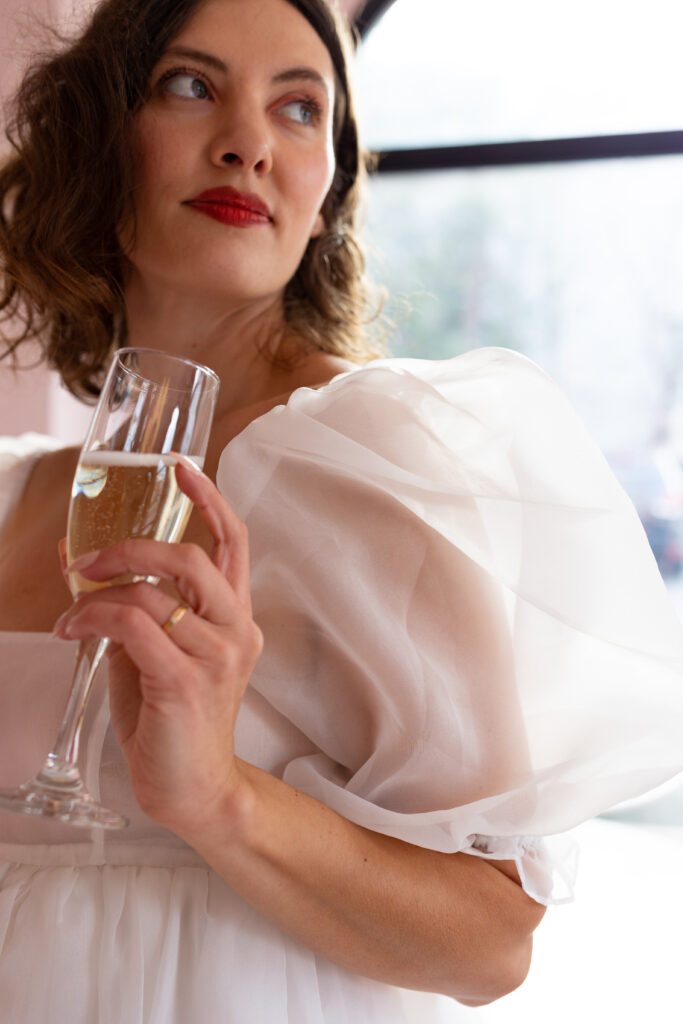 Sustainable New Years Decorations
When we talk about sustainability, people often have this idea that you can only be a "sustainable person" if you only eat granola, sew your own clothes (and dye them using vegetable dyes), and avoid buying anything.
And, while watching out for over-consumption is important, I want you to know that there are other ways to be more sustainable in your life that don't require that you live a monastic life. One of the things you can watch out for is being able to REUSE items more than once, and avoid buying items that are single use.
This can be a bit more difficult when it comes to New Years decorations, which is why I've written this post!
Alright, let's get to it!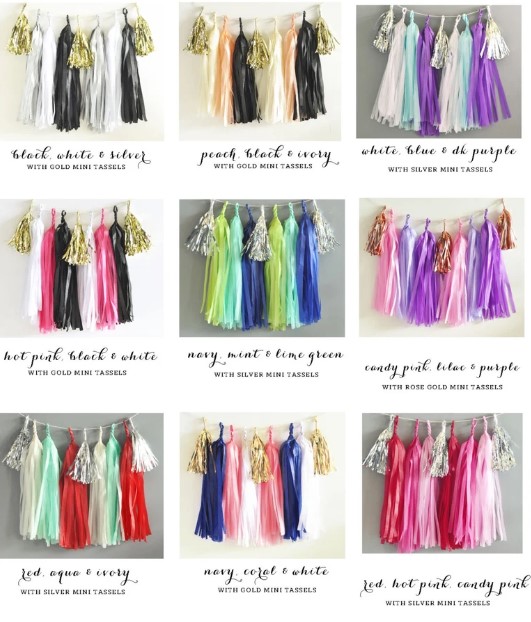 Looking at various options for New Years decorations, the pickings are not sustainable–latex and shiny plastic abound!
So, if you know that you want to host New Years Eve parties (and other celebrations!) for years to come, then I recommend investing in a higher end tassel garland that's ethically made! We don't want to lose the pizzazz and sparkle of NYE, but we can be a bit more thoughtful as we go about it.
I love that MementosEvents can make a NYE garland in whatever colors you choose (including gold!), that can be used for years to come (as long as it's stored properly).
Snag this sustainable New Years decor here!
#2 Sustainable New Years Decorations: Reuse Christmas Wrapping & Decor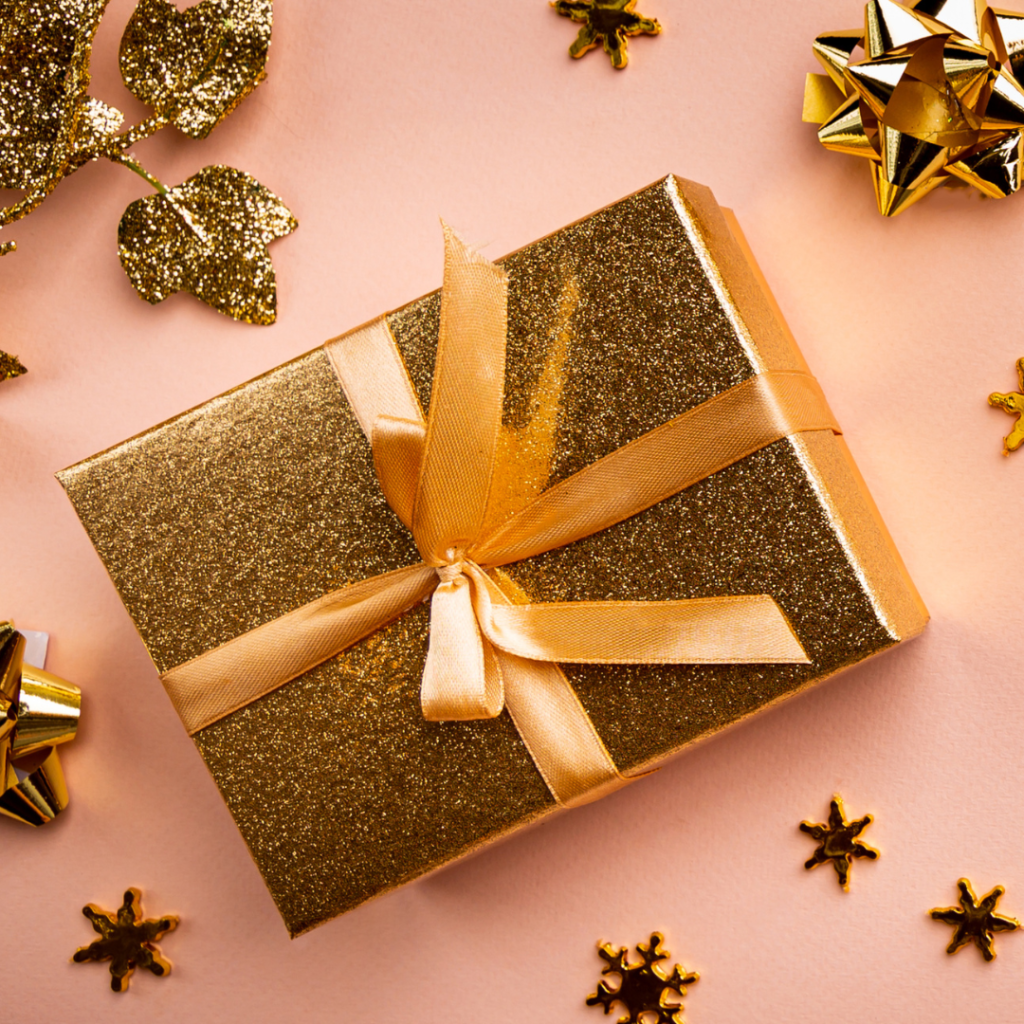 This second sustainable New Year's decor idea may raise some eyebrows, but hear me out!
While I love using eco-friendly Christmas wrapping paper, I know it wouldn't be very kind of me to stipulate that people only give ME gifts using it. (Will I strategically give out rolls of recycled Christmas wrapping paper in the future? Perhaps!)
If you celebrate Christmas, you can strategically snag various wrapping paper bits (especially bows and ribbons!) and get creative with them for NYE decorations!
From cutting out your own tassel garland to your own pennant flags, there are a lot of DIY party decor ideas out there!
Another (related!) option is to poll your besties and see what New Years decor they've already purchased. Many people find themselves hosting or have a box of party decor ready to go! Getting creative with your decor–and co-planning decor with your friends–can be fun!
I know I keep harping on one-use New Years Decor–sorry not sorry! Thinking over different options for New Years decor, I realized that one could easily buy a New Years celebratory sign like this one. You could use it as both home decor and party decor (love that), and then store it knowing it will look great in the years to come–unlike plastic decorations that can get awkwardly crumpled!
Check out this sustainable New Years decoration here!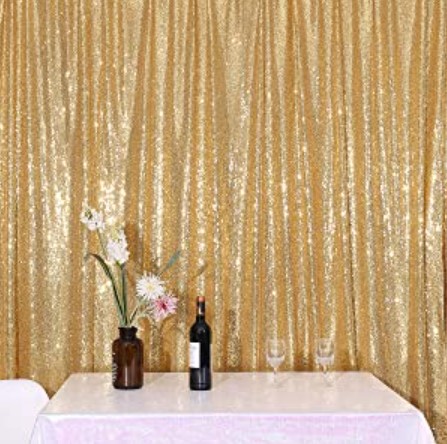 For my next sustainable New Years decorations idea, I'd like to suggest getting a photo backdrop (we love NYE selfies), but, instead of getting a backdrop with the year (ex: 2023), I recommend that you get a backdrop you can use for the next few years!
Even better if the backdrop can be used for other get-togethers during the year!
I avoid getting New Years Eve party favors that have the year on them, because they're single use! With this simple change, you can have a more sustainable New Years Eve celebration.
Check out this sustainable New Years decoration here!
#5 Sustainable New Years Decorations: Break Out the Fancy Dinnerware & Flatware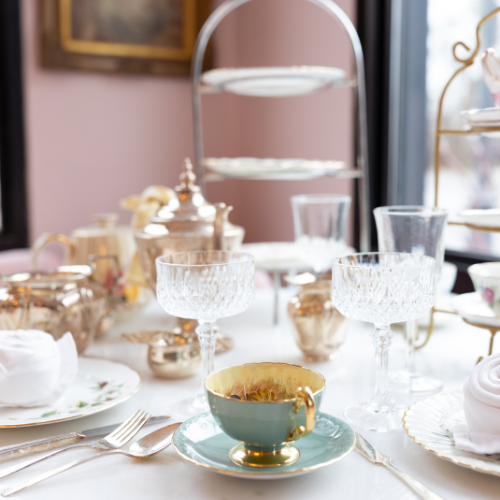 Most New Years Eve celebrations that I've attended have had plastic flatware. There's something about throwing a party in the USA that makes people think you have to break out the plastic.
It's so ingrained in us!
Instead of doing that, I encourage you to get out regular silverware for people to use (place settings can also help) to avoid using plastic forks, knives, spoons, etc.
And, if you received fancy dinnerware for your wedding (my sustainable wedding tips here!), then I encourage you to actually break out the fine china and use it! Life is short, friend!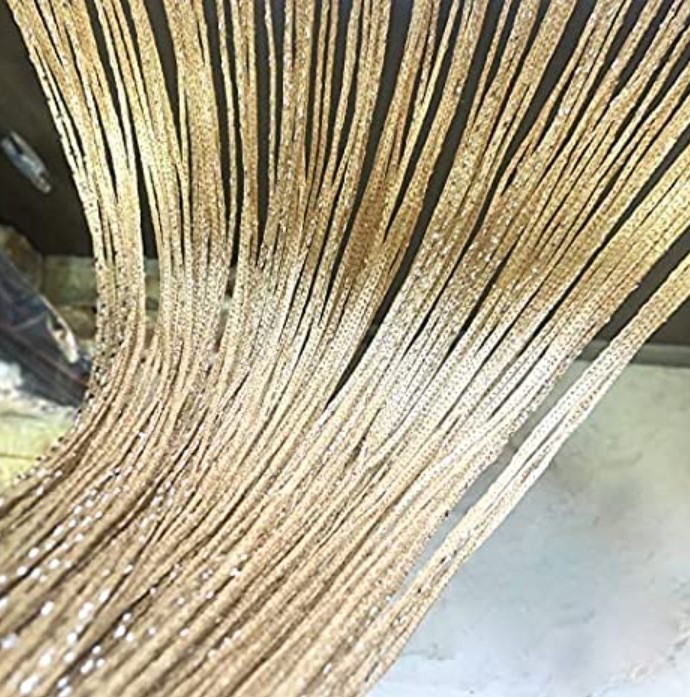 We all love the bright tinsel that is used during the holiday season, but this type of New Years party decor really only lasts for one night!
It tears so easily!
Instead of buying a tinsel curtain, I recommend finding a beaded curtain. It's the same aesthetic (and fun to walk through!) and can be used for years to come.
Get this sustainable New Years decoration here!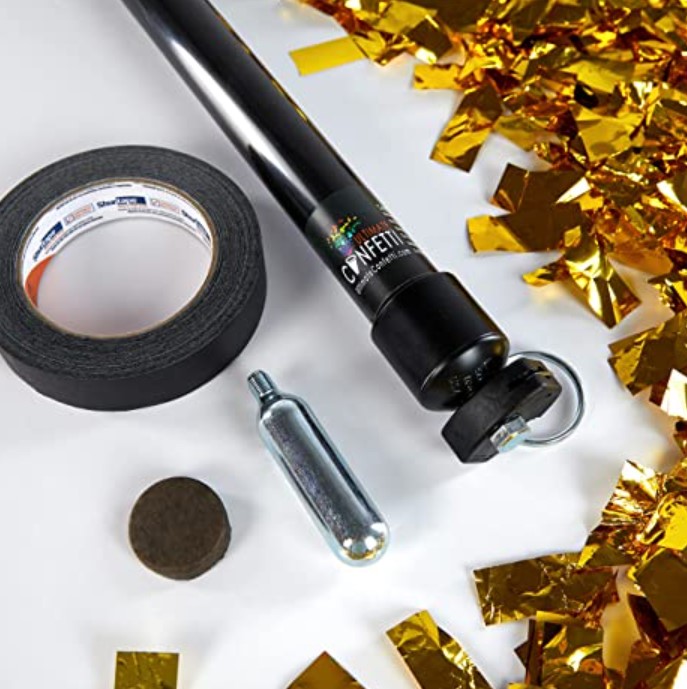 Ok, I'll be honest–before writing this blog post, I didn't realize that one could buy a confetti cannon?!
The things you learn on the internet!
And, not only can you buy a confetti cannon, you can get a confetti cannon that is reusable! With a reusable confetti cannon, you can celebrate midnight on NYE for years to come!
And if you're looking for more sustainable confetti ideas, have your guests throw wildflower seeds or lavender confetti, or even shake eco-friendly streamers.
Get this sustainable New Years decoration here!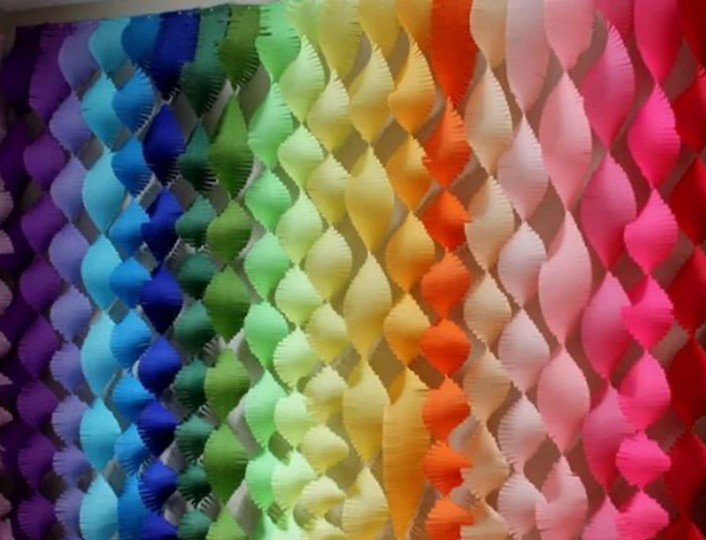 Ok, not everyone loves to twirl streamers for a New Years Eve celebration, but I think they're fun!
What I don't love is seeing crepe paper all crumpled up the next day and thrown in the trash, knowing it's filling our landfills.
Luckily, for those who MUST have crepe paper at their NYE party, there's a biodegradable option from Party Connoisseur!
Shop this sustainable New Years decoration here!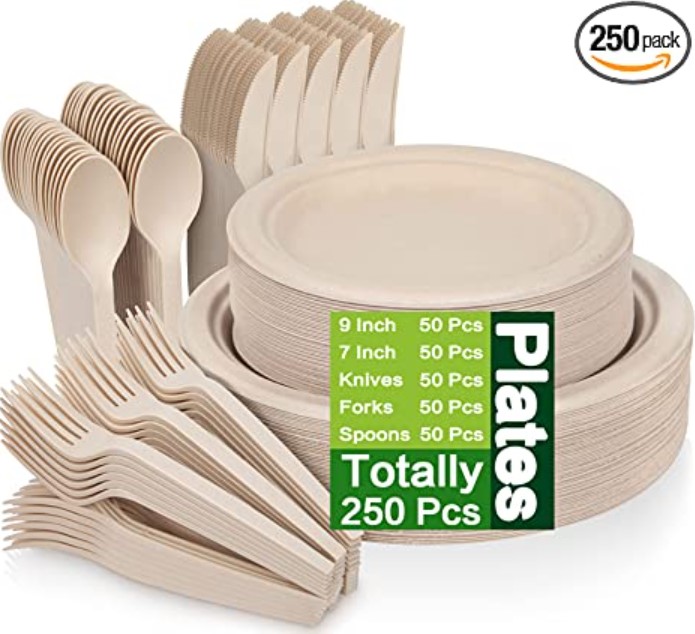 Ok, sometimes you're the well-meaning guest at a New Years Eve party, and because you're not hosting – you can't really demand that the host use actual dishes and flatware.
In these situations, I go for a "more green" choice, which means choosing something that isn't optimal, but is better than what we've been doing.
In this case, choosing biodegradable paper dinnerware, over heavily bleached options!
Shop this sustainable New Years idea here!
#10 Sustainable New Years Decorations: Thrift Champagne Glasses
My next sustainable New Years idea was inspired by photos I saw of a sustainable wedding (I wish I had saved that link!).
For the champagne toast, the sustainability-minded couple thrifted champagne glasses – and each guest had a unique champagne glass! Guests loved this idea, and it made for some pretty lovely pictures!
This is a great option instead of using disposable plastic champagne flutes or cups!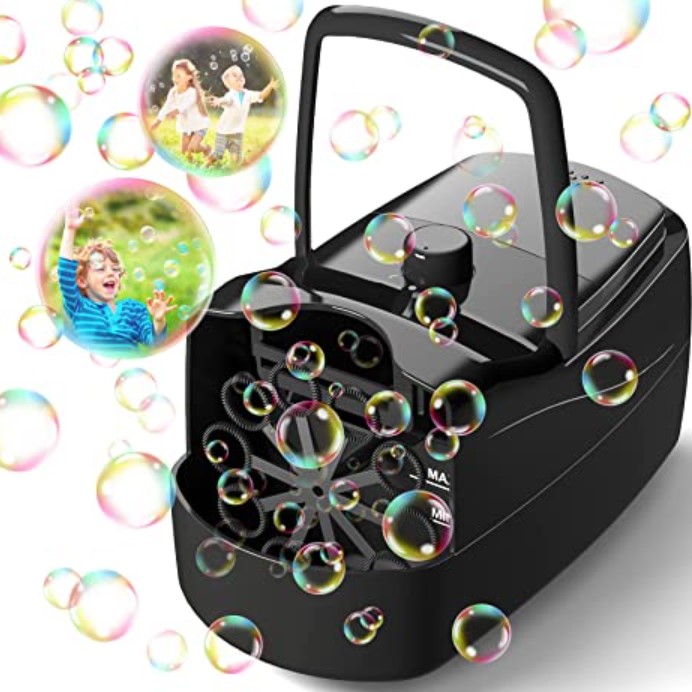 It's a bummer that there aren't really truly eco-friendly balloon options! Don't believe the marketing behind balloons – after doing a bit of online research, you'll also likely realize that balloons just aren't good for the environment.
But, in the spirit of creative solutions, what if we replaced balloons with a bubble machine?
A bubble machine (or even bubble wands made out of dry cleaner hangers!) will provide much more joy and fun at your sustainable New Years Eve party than latex balloons!
Check out this sustainable New Years Eve decoration idea here!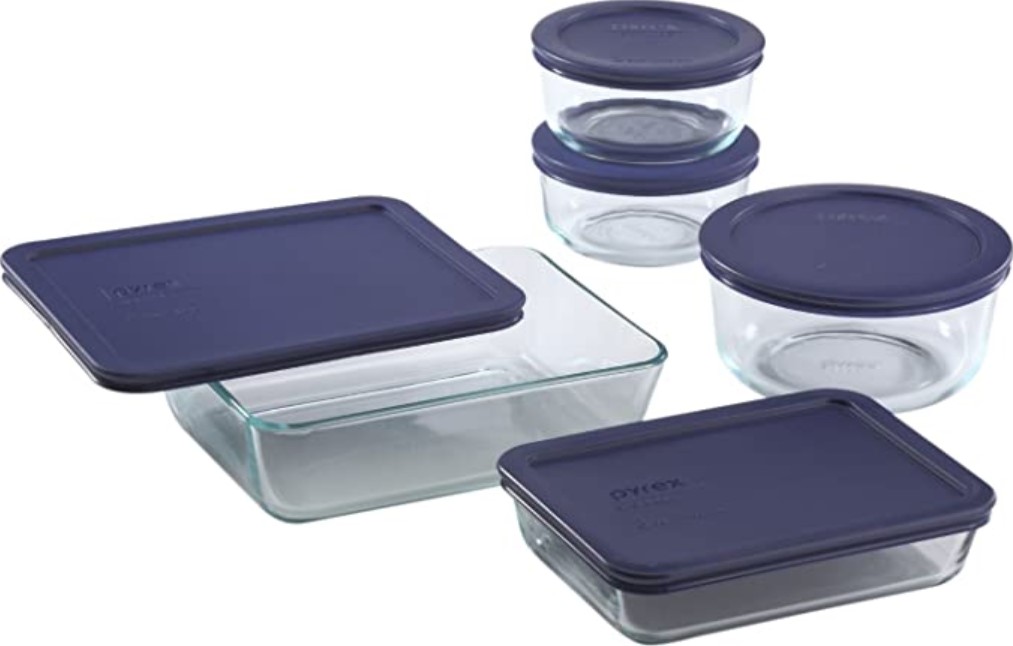 One of the toughest parts about planning a sustainable New Years Eve celebration is figuring out how much food to order.
And, while you know I love my counter compost caddy, I'd much rather folks eat the food!
For this reason, I recommend inviting and reminding guests to bring their own (reusable!) food container, so they can take a few goodies home with them to enjoy!
My favorite reusable food containers are here!
---
This blog post was all about sustainable New Years decorations.
Check out these helpful sustainability guides next:
Looking for more helpful sustainable living tips? Below, I've shared a number of posts that are packed with the very eco-friendly ideas:
Join me on Pinterest
Pinterest is a great platform for learning how to be more eco-friendly in the new year! Join me on Pinterest here, to get all of my gift guides and tips for sustainable living.