This post may contain affiliate links, which means that I may receive a commission if you make a purchase using these links.
Looking to plan your big day in alignment with your values? These sustainable wedding ideas will save you money and save the planet!
Eventually, the excitement of the engagement wanes and the realities of planning one of the most important days of your life sets in.
The next months are filled with spreadsheets, logistics, and strained bank accounts. (Oof, I know–I've been there!)
To to add to the stress, environmentally-minded brides understand the burden most modern weddings can have on the planet. In fact, according to Zero Waste, the average US wedding produces 400 pounds of garbage and 63 tons of CO2.
Luckily, there are small choices the eco-friendly wedding planner can make to reduce waste on their special day. Not to mention, many of these tweaks will also save you money! (Remember, sustainability is also about what you can sustain financially!)
This post is all about sustainable wedding ideas.
Hello, I'm Leslie
My name is Leslie, and I'm the founder of PunkMed! On my blog, I and my team share my info, experiences, and recommendations in the area of sustainability, urban homesteading, and outdoor living. Our goal is to make it less overwhelming for you to live a fun and sustainable life!
In today's post, I'm sharing my favorite sustainable wedding ideas. These ideas come from the process of planning my own wedding in September 2022. I knew I wanted to have an eco-friendly and unconventional wedding, but quickly learned the standard wedding advice did not have the environment in mind. In fact, there is so much noise out there in the wedding industry, that is can be difficult to wade through the opinions to plan a day that is really true to your values.
I wrote this post to empower other eco-friendly brides plan the sustainable wedding of their dreams.
Let's get into it!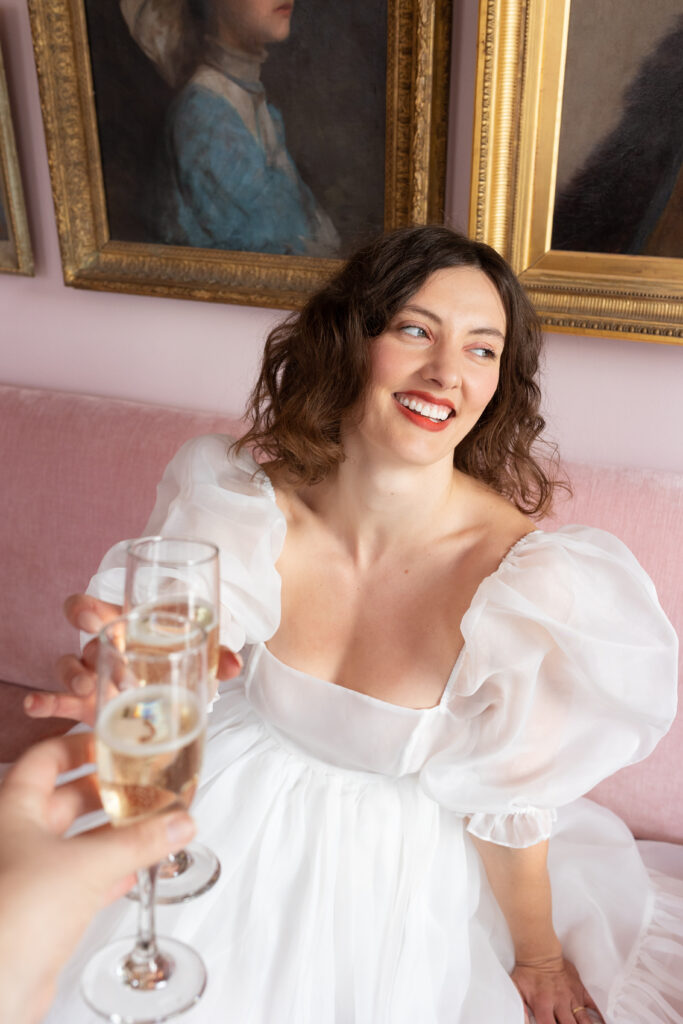 #1 Sustainable Wedding Idea – Limit your guest list
This first sustainable wedding tip can be a hard pill to swallow. However, the old adage "reduce, reuse, recycle" is in that order for a reason. Reducing consumption by limiting guests is the sharpest blade we have in making a wedding more sustainable.
Of course, there's no magic number, but the recycling company Zero Waste notes that a guest list over 100 people will increase the garbage exponentially.
No pressure if you have a big family, or just aren't interested in having a smaller wedding.
If a small wedding appeals to you, brainstorm ways you can limit your quest with intention and compassion.
There are a lot of way you can narrow down your list: I've heard of couples that cut people that didn't check in for a big life event, or folks hadn't talked to in the last three months (or six, etc.).
Personally, we didn't invite people to the wedding that didn't know us both as a couple.
#2 Eco-friendly wedding dress
There are a lot of outdated assumptions about wedding dresses still kicking around. First, many people in the industry assume you'll want to keep your dress forever as a keepsake to pass on to your own children one day.
Absolutely no shade if that's you–let's just be honest about what often happens: these dresses end up sitting in the attic untouched.
The other assumption is that you'll want to spend thousands of dollars on a brand-new dress you'll probably only wear once in your life.
The advent of rental and secondhand wedding dress retailers offer alternatives to the unconventional bride.
Rental Wedding Dress
Wedding dress-specific rental services are slowly catching on in the U.S. There are a few companies like The Dress Outlet and Poshare that offer the service. In addition, some major bridal companies David's have a section dedicated to rental wedding dresses.
You can also check your local listings for rental companies where you can try-on before you rent.
Alternatively, you could rent a white dress that is not necessarily billed as a wedding dress from a rental service like Rent the Runway. (If you do, use my my link right here!)
Thrifted Wedding Dress
My favorite secondhand wedding dress companies are Still White and Borrowing Magnolia.
The more adventurous may try searching sites like Facebook Marketplace, Poshmark and Ebay. Believe it or not, I know brides who found their dream dress on each of these sites.
Note, it can be helpful to have a specific dress or designer in mind when scouring secondhand sites.
#3 Sustainable Wedding Invitations
Digital Wedding Invites
Obviously, paper invites are traditional, and many couples enjoy the process of designing them.
But, for us, email invitations were the obvious choice. They are cheaper (maybe even free, depending on what platform you use) and they allow to to manage your RVSPs digitally (less clutter!)
The one downside that came up for us is that you may need to help your less tech-savvy guests respond to your invite.
We used The Knot for our wedding website and used the "message guests" feature to direct them to our RVSP page. From there, they would enter their names, accept or decline, select meals, etc. It was all seamless and FREE 99!
Alternatively, if you want a more formal digital invite that gives your guests the ~experience~ of opening real mail, try Greenvelope. This digital platform offers a simulated snail mail experience via email, but with extras you can only get digitally–like Google maps directions, calendar invites, and links to the gift registry.
Recycled Paper Invites
If you aren't into digital invites, opt for recycled paper. The Knot and Paper Culture offer recycled options.
#5 Eco Friendly Wedding Idea – Sustainable Registry
Actually, the most sustainable option here would be to set up a cash fund in lieu of a registry. This cash fund could be put toward anything: your honeymoon, a home, etc. It's helpful to define for your guests exactly what you're saving for!
This is exactly what my fiancé and I did. We didn't see a need for anymore stuff, as we have lived together for the past six years and had accumulated all the things we need.
If you are looking to put together a more eco-friendly registry, try Everylastly. This platform allows you to search for products based on your values including, durability, circularity, and sustainability.
#6 Eco-Friendly Decor
Thrift!
If you weren't having fun already, here comes the really fun part–shopping for wedding decor!
The problem with most traditional wedding decor is that it only get used once and either sits in the attic or gets thrown out. The eco-friendly bride knows better than to create more waste for landfills!
Instead, try thrifting your wedding decor. There are plenty of former brides selling their used decorations on resale sites like Ebay, Poshmark, and even Facebook marketplace. These are great places to find wedding-specific items like card boxes, welcome signs, and guest books.
Of course, you can also hit up your local brick-and-mortar thrift shops. These can be great place to find everyday items like frames, vases, etc.
My biggest tip for thrifting your wedding decor would be to give yourself plenty of time to browse. You don't want to be caught a couple weeks before your wedding looking to thrift a very specific item (this usually means you're going to have to panic-buy something new instead!)
Buy Handmade Decorations on Etsy
If you can't find a thrifted version of the decor you're looking for, my next best recommendation is to find it handmade on Etsy.
There are plenty of amazing artisans and craftspeople to support on Etsy! To me, sustainability also means supporting small businesses.
Some of my favorite Etsy picks for wedding decor include:
For the minimalist:
For the unconventional:
#7 Sustainable Wedding Idea – Rented Flowers
Now I love flowers as much as the next girls, but I DON'T love how unsustainable the fresh floral industry can be. Plus, flowers only last so long before they get thrown in the trash. (At least they're compostable!)
If you're an eco-friendly bride looking for a more sustainable alternative to fresh florals, check out Something Borrowed Blooms.
Something Borrowed Blooms offers rentable and on-trend floral designs and decor to couples from coast to coast. Their offerings include bouquets, boutonnieres, garlands, flower combs and crowns, centerpieces, aisle markers, and so much more for your special day.
The flowers are made from premium silk, so they never go bad!
#8 More Eco Friendly Wedding Flowers
If silk flowers aren't your jam, there are plenty of ways to make your fresh florals more sustainable.
First, always look for flowers that are in season. My wedding is in September, and that means plenty of dahlias!
Second, choose locally sourced flowers if you can. Is there a farm near your reception venue that does wildflowers?!
For example, one of my friend made an afternoon of flower-picking at a local with her bridesmaids the day before her wedding. They made simple centerpieces to be displayed the next day!
#9 Sustainable Wedding Ideas – Reuse and Repurpose
So you thrifted most of your wedding decor and opted for more sustainable florals, now it's time to consider what happens to those decorations after the big day!
For this reason, I recommend shopping for your wedding decor with your real life in mind. Will you use that vase in your house after the wedding? What about those candlestick holders? Can you give your centerpieces away to your bridesmaids that night?
A wedding is only one day out of your life, and ideally the items you purchase for the event have a life beyond that.
Plus, you want your wedding to be a reflection of you. The true test of whether something fits your style and your values is whether you see yourself using it after your special day!
#10 Eco Friendly Wedding Favors
The most eco-friendly wedding favors are going to be those that are consumable, i.e. they're going to get eaten or used up–like chocolates, soap, lip balm, or even wildflower seeds.
For contrast, I can't tell you how many wedding beer koozies I have laying around that are not getting used!
Of course, favors are totally optional. I know more and more couples that are forgoing favors altogether and replacing that money they would have spent with a charitable donation.
#11 Eco Friendly Wedding Idea – Grand Exit
Honestly, the grand exit tradition of throwing rice isn't that terrible sustainability-wise. I mean, it's wasted food but at least it's biodegradable.
If you're looking for something a little more creative, have your guests throw wildflower seeds or lavender confetti, or even shake eco-friendly streamers.
Definitely skip the balloons and glitter, as the material will NOT biodegrade!
---
This post was all about sustainable wedding ideas.
Read these next for more sustainable wedding ideas:
Looking for more eco friendly wedding tips? Below, I've shared a number of posts I've written on how to make this super exciting time more eco-friendly!
Join Me on Pinterest
Pinterest is a great platform for planning your wedding and finding new eco-friendly products! Join me on Pinterest here, to get all of my sustainable wedding tips.