This post may contain affiliate links, which means that I may receive a commission if you make a purchase using these links.
Looking for gifts for your sustainability-obsessed friends when you barely know how to sort your own recycling? Read on for the best sustainable gifts for granola friends.
Shopping for picky people can be a minefield. Throw sustainability considerations into the mix and it's enough for a full-blown anxiety attack.
You want to show your hippy-dippy, crunchy-granola friends you love them, but you don't want to offend them with a less-than-perfectly-sustainable gift!
Who This Gift Guide Is For — Gifts for Granola Friends
First, there are plenty of ways you can show love to your people that prioritize quality time over things. That's great, but we are talking about those high maintenance granola people here.
You know who I'm talking about. They know how to treat themselves, and it probably involves some expensive natural skincare and Fair Trade chocolate.
They try to reduce, reuse, recycle, but they can't help themselves–physical gifts are their love language!
Sound familiar? Read on for the best gifts for your high maintenance granola friends.
This post is all about the best gifts for granola friends.
Table of Contents – Gifts for Granola Friends
Gifts for Granola Friends Under $25
This body brush is an amazing sustainable Christmas gift for that high maintenance granola person in your life.
It can be used for dry brushing, which is said to stimulate blood circulation and promote lymphatic drainage in the tissue. It also helps deep clean, exfoliate, and smooth away rough patches, while delivering an invigorating effect on the body.
This is a great gift because it is reusable, durable and encourages self-care and personal wellness for your sustainably-minded friends. This is a great gift for a friend who enjoys self-care rituals and spending time unwinding from the day.
This body brush may not be an ideal gift for your sustainable friends who have sensitive or delicate skin and may be easily irritated by the brush texture.
These reusable rounds make amazing eco-friendly Christmas gifts for granola friends who may be looking for ways to minimize the waste from their makeup routine.
They are made with 70% bamboo and 30% organic cotton—so you can care for your skin while caring for the planet. Labeled for each day of the week, they're an ideal swap for single-use cotton pads.
These rounds are a great, small, sustainable gift for any granola friend since they're safe to use with sensitive skin, nail polish remover and any combination of oil –based or water-based makeup remover.
The rounds serve as a great replacement for single-use cotton pads, so this won't be a great gift for anyone who may not have a use for them on a daily basis.
A scalp massager is an amazing sustainable Christmas gift for the earthy-crunchy friends who may forget to treat themselves to some regular me-time.
This hand-held massager helps to increase scalp circulation and stimulation, supporting a healthy scalp. The Briogeo scalp massager can be used alone on a dry scalp or paired with shampoo, oil, or treatment for a massage therapy experience in or out of the shower.
This scalp massager may take a few tries to get the hang of, and isn't recommended for friends with sensitive skin or who may be prone to sensory overload since it is a pretty stimulating tool to use directly on their skin.
Curly haired friends and friends with textured hair may want to use extra caution to avoid creating tangles in their hair while showering.
Superfood bee pollen makes an easy sustainable Christmas gifts for granola friends! 
Friends can use this to support energy with this medicinal-grade, immune-supporting bee pollen. Plus, bee pollen is PACKED with energy-boosting vitamin B12. This is a great gift for granola friends who enjoy adding a nutrient-rich boost to their smoothies, acai bowls and beyond! 
Please note, bee pollen won't be a good gift if you have a friend with sensitivities or allergies to pollen or bee products (always a good idea to check with a doctor if you're not sure!)
This is THE eco-friendly Christmas gift for any granola friends, high-maintenance or not.
These unique sandwich bags are a perfect replacement for aluminum foil, plastic wrap or ziplock. Aplat reusable pouches are the best solution for keeping sandwiches, crackers, nuts, small fruits, vegetables, grains, garlic, herbs and other small fresh produce. We love them to transport everyday lunches and snacks. No plastic or toxic elastic in Aplat.
The best part? Care for these is super SIMPLE – simply machine wash on hot or cold and toss to dry in your dryer or let air dry. So simple and perfect for any high maintenance granola friends in search of sustainable alternatives to use in the kitchen.
A pill? For your face? This chill pill is a fabulous sustainable gift for that eco-minded pal with a flair for new and exciting tools for self-care.
This pill is actually a silicone ice mold – that you can use on your face.
Why is this such a great gift? The chill facial pill helps depuff, refresh, and invigorate skin for a calm, glowing complexion. This is a great reusable Christmas gift for high maintenance granola friends who may be experiencing dull, puffy, stressed-out skin, or looking for a re-fresh. If your friend has mentioned a gua-sha or rejuvenating facial oil, this is sure to be a hit.
Again, super simple to use and easy to store: simply fill it with either plain filtered water or filtered water spiked with your favorite floral essence, and pop it in the freezer.
Your favorite granola friends will most likely already KNOW what is up with Shea Butter and how refreshing it can be to dry skin – especially in the winter time.
This 100% Pure Shea Butter can be used for intensely dry or rough-textured skin looking for some relief. Eu'Genia is a sponsor of the National Psoriasis Foundation, so they mean business.
Grab this long-lasting sustainable Christmas gift for your high maintenance granola friend with dry or cracking hands, feet, or beyond. Be sure to double check for allergies – this may not be a good gift for anyone with sensitivities to shea butter as an ingredient, since it is, 100% shea butter!
Gifts for Granola Friends Under $50
With coriander and geranium as the main ingredients, this sustainable hand soap smells AMAZING.
A natural hand and body wash inside a refillable glass bottle, this soap features a base of coconut derivatives for a gentle lather. The mild formula is infused with a full-bodied blend of essential oils including coriander seed, geranium, and vetiver to invigorate the senses.
Once it's empty, simply rinse out the bottle and top it off with the 100% compostable refill pouch. That's right, refillable, re-usable and compostable refills from The Handmade Soap company. Gift this eco-friendly hand soap to any sustainably-minded friends this Christmas season.
Trying to find the perfect oil diffuser for that high maintenance granola friend this Christmas?
Try this gorgeous stone diffuser from Kumi. With 100ml capacity, this diffuser can run as an oil diffuser or optional humidifier (simply don't add essential oils if you have pets or plants to be concerned about side-effects) and it will run for 3 hours continuously or at intervals over seven hours.
Most oil diffusers are flimsy and plastic based – a sustainability nightmare because they often get moldy or break easily. This stone alternative is gorgeous, and when it's run its course, could be repurposed to a vase or planter depending on your needs.
Listen, we all have to start somewhere. Maybe you're the clueless friend trying to be supportive of your newly granola high maintenance best friend, or maybe you're trying to help them transition to using more sustainable products–but feel overwhelmed with where to start.
This set is a great gift for that best friend who is trying to be more eco-friendly in their everyday life. The kit encourages it's owners to reduce, reuse, recycle. To replace your everyday single-use plastics with these earth-friendly essentials.
The best part? For every purchase of this kit, the Detox Market will plant a tree!
For the candle lover in your life looking for sustainable alternatives these Brennan Candle Co candles are a MUST this Christmas season.
What makes Brennan Candle co the best alternative for sustainable candles? To start, Brennan Candle Co. is a hand poured candle company – their clean-burning products are made with 100% soy wax, and are vegan and cruelty free.
And going above and beyond: their candles are all hand-made, phthalate-free, use lead & zinc free wicks, are made with USA grown, all natural, non toxic soy wax, are petroleum/paraffin free and the company is woman owned.
Yes, for real. Run, don't walk to check out their Signature Collection.
Candles may not be a great gift for friends with sensitivities to smell or smoke – always double check that your friends enjoy candles before gifting them one to avoid any scent triggers.
If you're Christmas shopping for a sustainably-minded friend, chances are you know the beach can be one of the places most impacted by neglectful waste and pollution.
One way to combat this is to choose sustainable, reusable products to bring with you to prevent impacting the environment any further.
This Visera sun visor is handmade in Mexico from natural woven palm and features an adjustable velcro closure to fit almost everyone and every hairstyle. This visor provides ample sun protection while keeping you looking stylish. The velcro opening in the back allows you to put it on whether your hair is up or down.
Lightweight and super versatile – you can shade your eyes while reading a book lying down or protect your face while shopping at the farmer's market, this visor is an easy-to-wear, everyday staple for that high maintenance granola friend this Christmas.
Housewares is a hot spot for sustainability because so many alternatives exist for that high maintenance friend looking to make a swap for more sustainable kitchenwares. Especially when they're as cute as these ceramic tumblers from the Anne Gates Studio!
Featuring a hand painted daisy or checkered pattern, these tumblers will brighten up your morning routine.
Made with a buff clay and finished with a white, shiny clear glaze, these are reeusable for any purpose you may need a mug or plastic tumbler, and these tumblers have a long life-span as a stunning piece of hand made pottery.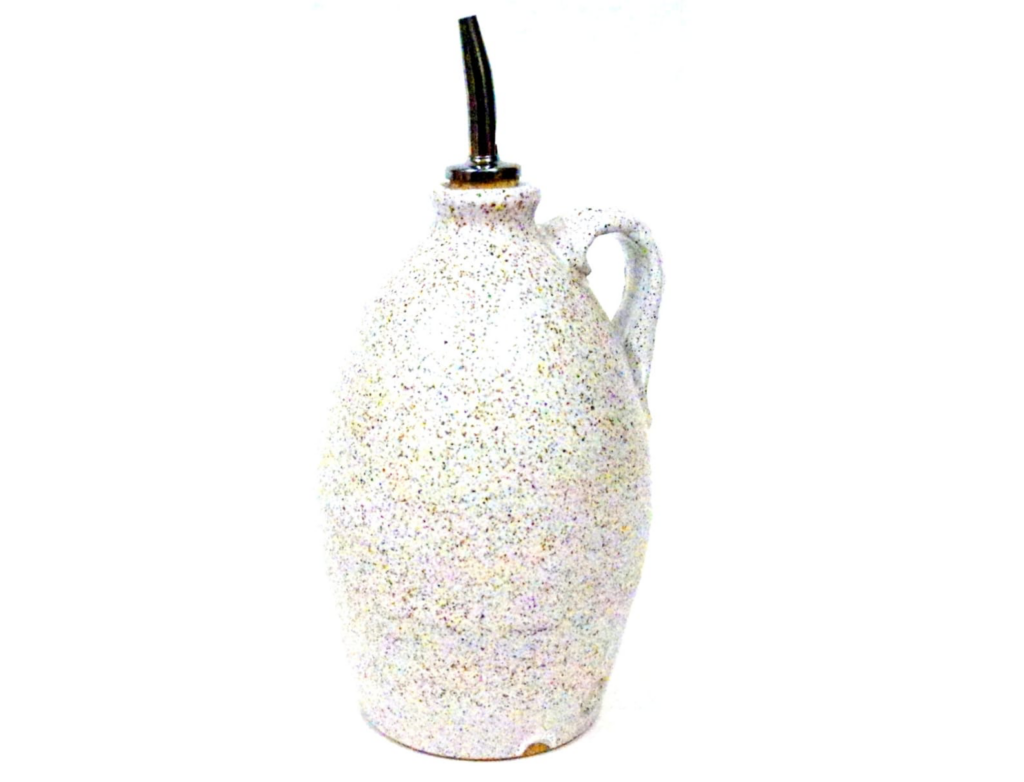 If your sustainable granola pal is a lover of all things pottery, this handcrafted decanter is the perfect Christmas gift – it works for olive oil, vinegar, or even soy sauce. It includes a cork pourer that fits snugly in the top. It works especially well for olive oil by keeping it fresh — it keeps out sunlight and keeps oil cool.
This gorgeous piece of pottery is sure to be an eye-catching kitchen tool for any granola friends.
This is not a great Christmas gift for that high maintenance friend who maybe does not cook with olive oil or vinegar, or may not be in need of a large decanter – never hurts to double check!
Gifts for Granola Friends Under $100
Is your high maintenance friend looking extra sleep deprived this Christmas season?
With this eye-care bundle, they'll be able to wave goodbye to tired, dull eyes and hello to looking radiant and well-rested with this must-have sustainability set. Featuring a cooling, de-puffing rollerball serum, quenching under-eye gels, and a silk sleep mask, it's all they'll need to look bright eyed and bushy tailed.
Grab this as part of your self-care package gift to your high maintenance friend, it's a gorgeous alternative to disposable under-eye masks and single-use gels if they love sustainable skin care.
This luxurious robe is a wonderful sustainable Christmas gift to treat your granola friend to this holiday season.
This classic spa bathrobe is made from organic cotton in an airy, drapey waffle weave, and it's prewashed to be soft from day one and gets more so with every wash.
Styled for anyone with a streamlined fit that keeps it comfortable and flattering with double belt-loops, this robe goes up to a size extra large.
All of Coyuchi's organic cotton products are machine washable. Coyuchi designs for comfort and rejuvenation—body, mind and spirit—to help you turn your home into a unique and personal sanctuary – which is why this cotton robe is an amazing gift for high maintenance granola friends this holiday season.
This stunning blanket made from upcycled yarn from the garment industry is a wonderful sustainable Christmas gift for any high maintenance granola friends who enjoy hanging out outdoors.
The blue tones in the blanket along with a sunny golden band recall warm days spent at the seaside. They are big enough for a 2 – 4 person picnic and roll up in thirds for easy transport.
These vibrant, modern blankets are handwoven in Mexico and help increase the life of yarn leftovers rather than being discarded in landfills.
Grab this blanket for your granola friends who love a picnic but may be a bit high maintenance when it comes to finding the perfect sustainable gift.
This teapot is a beautiful alternative for any granola friends looking to make the switch from an electric kettle or plastic water heating contraptions.
KINTO established the Hasami Center in 2000, where they employ local craftspeople born and raised in the village to craft stunning items like this leaves to tea porcelain teapot. This teapot is not microwave safe and should be washed carefully in a dishwasher without using abrasive tools to scrub it clean.
Gift your high maintenance granola friend this teapot this Christmas as a delicate yet sustainable tool to add to their kitchen appliances.
We don't recommend this gift for high maintenance granola friends who enjoy pouring over coffee since that requires a swan necked kettle – be sure to check if a teapot is something your friend would enjoy to use or decorate their kitchen before gifting it to them.
Is your high maintenance granola friend an aspiring mixologist? Or maybe they simply enjoy a beautiful beverage cup to drink out of.
Whatever their reasoning, these shakers are made to be used, made to last, made to look good. The Boston Maraka Shaker Set is for the professional bartender and serious connoisseur.
One 18 ounce and one 30 ounce solid copper cups designed and tested for a solid positive seal. The elegance, durability and function of this copper shaker set will elevate even your most esoteric cocktail.
This may not be a great gift for some friends, especially those who are sober; be sure to check if this is something your friend would enjoy and use before gifting them since it is often associated with alcohol.
If your high maintenance friend is an authentic granola buddy, odds are they'll never have enough rad water bottles.
However, this leak-proof, insulated and stainless steel water bottle (and thermos) that holds a GALLON of liquid goes above and beyond your average water bottle.
From the simple Modern store, this water bottle/thermos is entirely customizable with more than 18 colors and designs to choose from.
If you've got a granola family, you can easily grab one for every person without duplicating colors! Breath a sigh of relief that you've found the best gift for a group of high maintenance granola pals and snag this before Christmas!
For the high maintenance granola friend, a luxurious bath experience may be exactly what they need this holiday season.
This calming CBD bath salt blend delivers a symphony of botanicals to nourish the skin, encourage circulation, relieve discomfort, and leave your friend feeling revitalized. The mineral-rich Epsom salts are infused with the tension-relieving benefits of organically-grown kava, lavender, calendula, ginger, and hemp.
If that ingredient list didn't instantly inspire you to action, the beautiful recyclable and reusable glass container is sure to.
Bath salts may not be a great gift for friends with scent sensitivities or who are prone to migraines since certain smells may be a trigger – check before you buy! This is a great gift to give these heavenly bath salts to a high maintenance granola friend this holiday season to inspire them to take some time for self-care.
Gifts for Granola Friends Over $100
Plastic and synthetic based slippers can get gross, fast.
These Bamboo wool slippers from Kingdom of Wow are an eco-friendly cozy gift for your high maintenance granola friend in need of something to keep their toes warm when it gets cold out.
The High Top Bamboo Wool Slippers are lushly crocheted and handmade from a rich blend of wool and bamboo yarn.
They are super easy to take care of, you can machine wash your Kingdom of Wow slippers occasionally using a cool wool program, then dry flat. But because of the wool's breathability, the slippers will remain odor-free and shouldn't need washing often.
Basically, give a high maintenance friend a low maintenance pair of slippers, and count that as a granola win this holiday season.
Your high maintenance granola friend may be inspired to create a meditative environment as part of ringing in the new year.
There are many benefits to daily meditation – and this cushion set is the perfect gift to help set the mood for deep relaxation and mindfulness self-care.
The Meditation Cushion Set is a great combo for long periods of comfortable meditation or cozy home gatherings. The plush floor cushion gives you a soft landing pad while the round meditation cushion provides a firm supportive seat which conforms to the shape of the body. Both covers are removable for easy cleaning.
This may not be a great gift for friends who need specific lumbar support cushions or may have back pain since these cushions are not made of memory foam or recommended as back support for floor sitting.
For that high maintenance friend looking for ways to reduce the waste in their own kitchen, these reusable and re-sealable tubs of salt flakes are a great investment!
Maldon salt is a prestigious and unique product known for its flavor and quality and sought after by the health-conscious and gourmet chefs alike. This salt has been made with the same traditional artisan methods since 1882.
These soft crunchy sea salt flakes have a fresh intensity and clean taste containing the perfect balance of natural minerals to enhance any dish your high maintenance granola friend may be looking to attempt.
You should definitely give these gorgeous and delicious salt flakes if your friend likes to cook., and then they'll have a 570 gram reusable tub and plenty of salt for the year!
High maintenance granola friends want sustainable clothes for lounging around in–just like everybody else!
The René Jogger Set is a wardrobe must-have for work-from-home friends who may need to leave in a dash to run those essential errands–a whole uniform ready to wear.
This style is 100% GOTS Certified Organic Cotton French Terry fabric at the perfect weight (300 gsm) for days requiring a little extra comfort without compromising on style or aesthetic.
This may not be the ideal gift for a friend who enjoys bright and bold patterns since it is only available in neutral tones. Gift this jogger set to that high maintenance granola friend who loves sleek and simple loungewear this holiday season!
This quilted sweatshirt is the perfect fit for any high maintenance granola friend this Christmas looking for some new loungewear or camping clothes.
Useful for hiking, relaxing at home or a night out. This jogger outfit was inspired by the unmistakable outdoorsy, East Coast aesthetic and crafted out of a textured blend of soft organic cotton and recycled polyester, the Quilted Timber Sweatshirt is an "eco-take" on an old-school summer camp classic.
Pair with the matching joggers for a laid back, yet polished look. This may not be a great gift for a high maintenance friend who does not enjoy heavy clothing or has very specific texture preferences. Gift this to your high maintenance camping or hiking granola friend for Christmas to keep them warm and toasty!
This recycled wine decanter is a perfect eco-friendly Christmas gift for the high maintenance granola friend in your life who may be a professional or amateur wine connoisseur.
This wine cooler decanter is available in two sizes and features an internal ice pocket to chill any favorite wine right at the table.
Based in the small country of Eswatini (formerly Swaziland) in southern Africa, Ngwenya Glass uses recycled glass to create new and functional designs. Choosing this recycled glass gift helps repurpose glass that would have been otherwise discarded in a landfill, and ensures your high maintenance granola friends have a beautiful and sustainable wine decanter for their dinner parties.
This may not be a great gift for friends who do not enjoy drinking wine, or may not personally use a decanter–in other words, you may need to teach them what it is for if you give it to them!
It can be tough to find ways to travel sustainably in this day and age.
For that high maintenance granola friend who may have to travel frequently, either by plane, backpacking or hiking – this large cork duffel bag (18″ Length x 10.5″ Width x 10″ Height) is the perfect sustainable Christmas gift.
Everyone needs a great duffle bag and this weekender bag is it. This sturdy bag is perfect for a weekend getaway or a trip to the gym. It can be used as a handheld or crossbody bag. Inside there is plenty of room to fit all of the essentials and then some more.
Cork is vegan, hypoallergenic, antimicrobial, waterproof, lightweight, durable, biodegradable and recyclable. Yes, totally recyclable and with a gorgeous aesthetic perfect for that high maintenance granola best friend in your life.
This post was all about the best gifts for granola friends.
---
Other posts you may like: