This post may contain affiliate links, which means that I may receive a commission if you make a purchase using these links.
Today on my blog, I'm sharing seven eco-friendly activewear brands that make stylish and sustainable workout clothes. Eco-friendly fashion has become a lot more popular in the last few years, and I'm so excited to see people begin to look for more sustainable workout clothes.The trouble is figuring out just how eco-friendly an activewear brand is, seeing as there's a lot of vague marketing terms that are thrown around to promote a brand!
This blog post is all about eco-friendly activewear brands.
Hello, I'm Leslie
My name is Leslie, and I'm the founder of PunkMed! On my blog, I and my team share my info, experiences, and recommendations in the area of sustainability (like sustainable fashion), urban homesteading, and outdoor living. Our goal is to make it less overwhelming for you to live a fun and sustainable life!
In today's post, I'm sharing sustainable workout brands. To be 100% upfront, I have not personally tried all of the products on this list. I've noted which products I've tried and loved, and which products are next on my "To Try" list.
Let's get into it!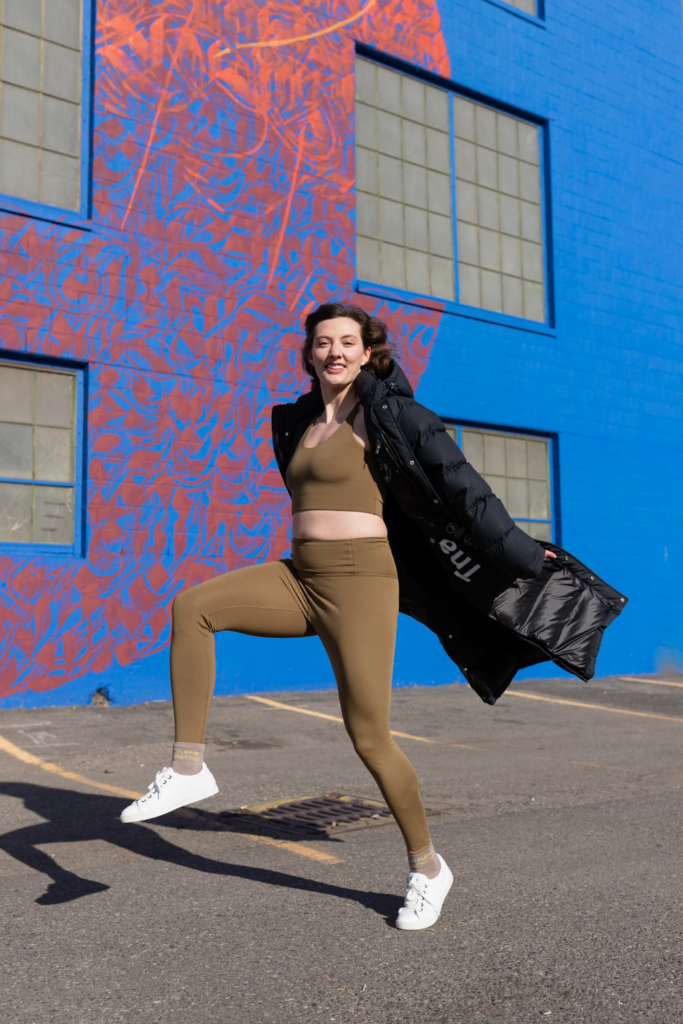 Eco-Friendly Activewear Brands
Below, I have shared seven eco-friendly activewear brands for you to check out. for you. From yoga outfits to running shorts to matching workout sets for lifting weights, I've done my best to include a variety of options.
Want more sustainability shortcuts? Join my email list here.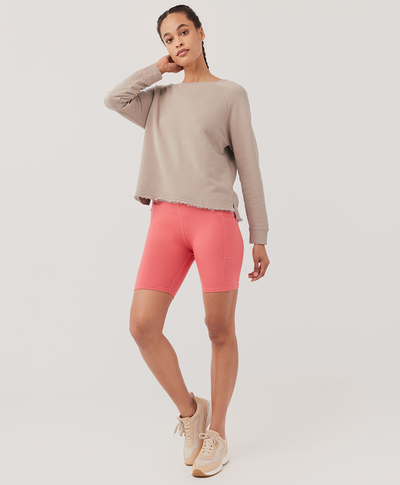 First up on my list, I wanted to share an eco-friendly activewear brand that makes sustainable workout clothing in fun prints and colors.I wish the size range was more inclusive (PACT goes from an XS to XXL), as people of all sizes want to shop sustainably.
Sustainability Info:
PACT is GOTS (Global Organic Textile Standard) Certified, meaning that the fabrics are produced with the planet in mind.
Snag eco-friendly activewear here!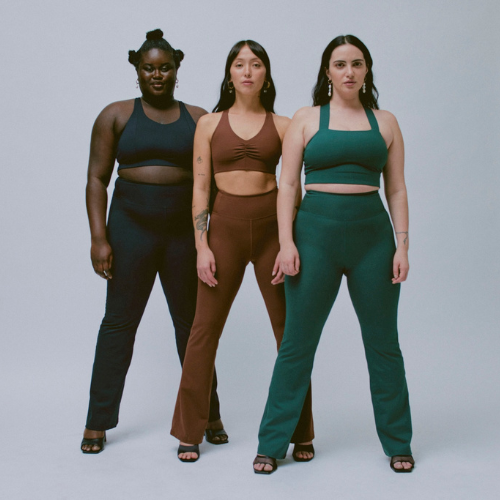 Next up on my guide to eco-friendly activewear brands, I have to talk about Girlfriend Collective! This Seattle-based brand is a favorite of many sustainable fashion and eco-bloggers, as the brand hits several sustainability points.
Sustainability Info:
Pieces Made with Recycled Materials
Ethically Made
Recycling Program
I also appreciate how size inclusive the brand is, going from an XXS-6XL. This is a great brand for general workout clothes for someone who loves doing a variety of workouts. Girlfriend Collective also has a pretty fun Facebook group for customers to share reviews and info! I really love Girlfriend Collective, and as someone who is at the smaller end of the size range, I think it's important to shop at brands that are size inclusive. I want all of my friends to be able to shop at the same places I do!
Shop eco-friendly activewear here!
Following those two fun activewear brands, I wanted to talk about eco-friendly wetsuits! Not all sustainable activewear is worn on land, and we want to be sure to be as responsible as possible when enjoying outdoor fitness activities in the ocean!
Patagonia is my go-to spot for all things eco-friendly in the water, with wetsuits for men, women and all genders.
Sustainability Info:
Patagonia carries the world's only Fair Trade Certified wetsuits
Wetsuits are "made with 85% Yulex® natural rubber/15% synthetic rubber by polymer content; the natural rubber is FSC® certified by the Rainforest Alliance"
If you're looking to surf, paddleboard, or scuba dive then you need to check out these wetsuits!
See all options for eco-friendly activewear here.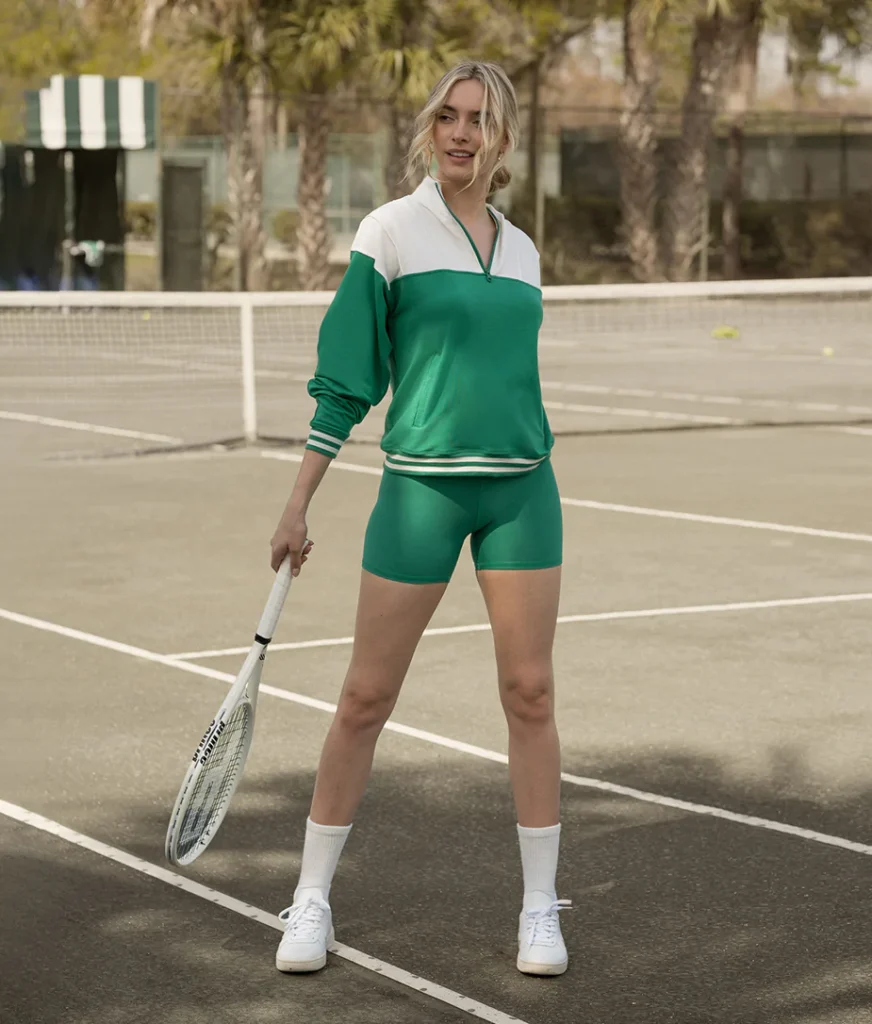 A lot of people think Summersalt only makes swimsuits, but they also make eco-friendly workout clothes!
Sustainability Info:
On the eco-friendly scale, Summersalt focuses more on ethical manufacturing and labor. Their workout clothing is made in WRAP certified factories.
I've had my eye on this eco-friendly activewear brand for a while, as I love the color palettes that they use. Summersalt goes from a size XS to 2XL, making it more inclusive than other brands. I love their workout sets (BRB going to go dust off my tennis racket for their fun tennis looks!), and I love how they carry both loose fit and body hugging options.
Shop this eco-friendly workout brand here!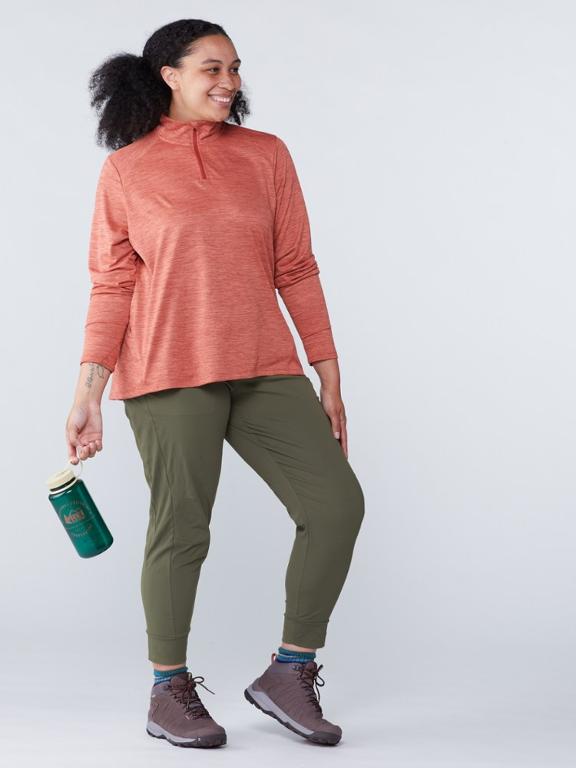 REI is a well-known activewear retailer and brand, and I shop there all of the time! I find that certain sizes and sections can be picked over in Boston, because there's so many outdoor enthusiasts in my city! When this happens, I head over to REI.com to find what I'm looking for.
REI is my go-to for outdoor clothing, such as hiking outfits, backpacking, rock climbing, etc. REI sustainable workout clothes typically go from an XS to 3X.
Sustainability Info:
Sustainability varies by the brand you're looking at, so I shop using their main sustainability page, titled "Clothing with Sustainable Features" here.
Shop a myriad of eco-friendly activewear at REI here!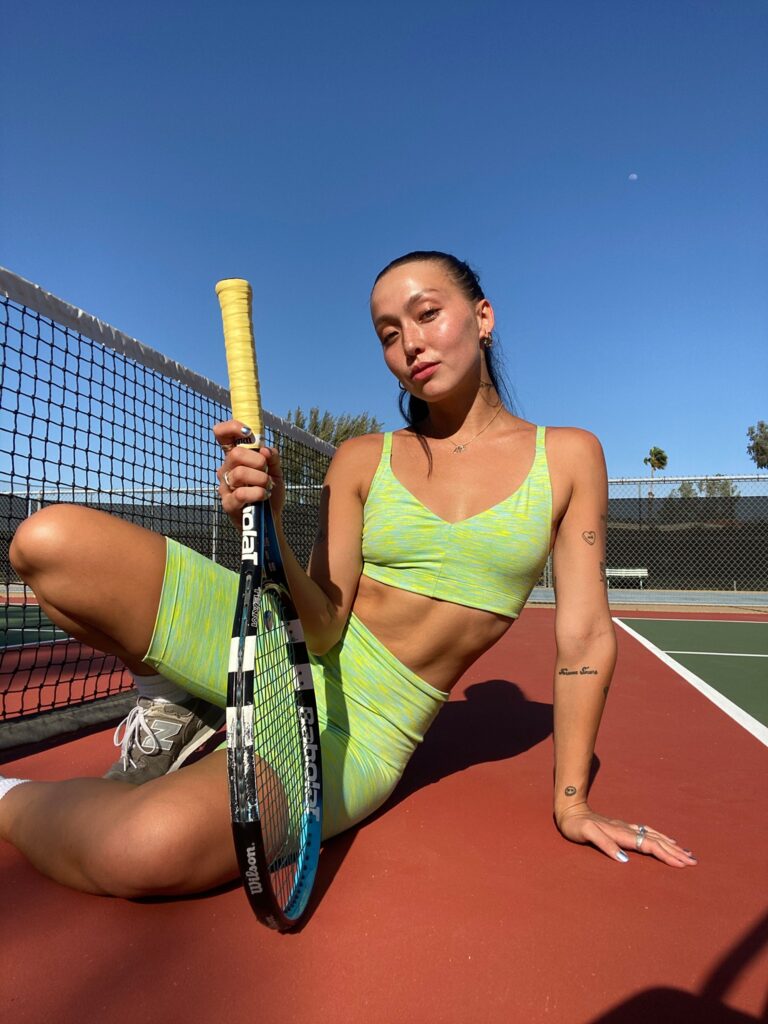 Now it's time to talk about Outdoor Voices, an eco-friendly workout clothing brand with a cult-like online following! This eco-friendly brand starts at a size XXS and goes up to an XXL. This is a great brand for someone who wants to look cute at the gym, while also keeping the planet in mind.
Sustainability Info:
I appreciate the brand's emphasis on transparency with their production and manufacturing processes. The brand has detailed information on their materials and plans for the future here.
Shop sustainable workout clothing here!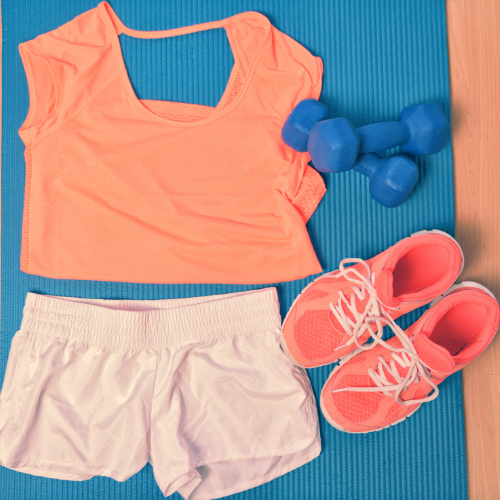 Rounding out my list of my favorite eco-friendly activewear brands, we're going to switch things up a bit! Part of sustainable shopping includes seeking out gently used clothing items, and I love to use Poshmark to find specific pieces. You can find more sustainable clothing for kickboxing, Zumba, and a host of other types of workouts by shopping secondhand!
If you love a particular brand, but don't love their sustainability practices, you can shop secondhand and help keep clothing out of landfills!
Shop secondhand and sustainable clothing here.
Final Thoughts – Sustainable & Eco-Friendly Activewear
Finally, an additional thing you can do to shop for sustainable and eco-friendly brands is to ask your favorite brands to be eco-friendly. Companies track what customers say about them online, and a great way to make fashion more eco-friendly is by publicly commenting on a brand's Instagram or Facebook post (or TikTok video!) asking them, "Where is info on your sustainability practices and commitment?"
I know it seems silly and maybe feels like virtue-signaling, but I used to work in digital marketing, and I know that companies pay attention to these comments! They even go so far as to hire data analysts to determine what their customer base wants.
As more consumers ask brands these tough questions, it makes it easier for changemakers inside of a fashion company to get support for our joint cause to help the planet! And all of this thanks to a quick comment on social media! "Armchair activism" really does work!
---
This blog post was all about eco-friendly activewear brands.
Read these sustainability guides next:
Looking for more helpful eco-friendly and sustainable clothing? Below, I've shared a number of posts I've written on sustainable fashion and eco-friendly clothing brands.
Join Me on Pinterest
Pinterest is a great platform for putting together sustainable outfits! Join me on Pinterest here, to get all of my brand guides and sustainable style tips.