This post may contain affiliate links, which means that I may receive a commission if you make a purchase using these links.
Is there such a thing as an eco friendly Christmas tree? A Christmas tree is a holiday staple for those that celebrate, but the thought of cutting an innocent evergreen down may be enough to make the tree-huggers among us shudder.
There are 25 to 30 million Christmas trees sold each year in the U.S. That certainly seems like a lot of timber for a mere decoration that sits in our home for a few weeks out of the year and then is burned in a bonfire or hauled off on trash day.
But, what is the alternative? A plastic artificial tree that will end up in a landfill someday?
(If you're new to sustainability, spoiler alert: plastics are almost never the answer.)
Add to this the tacky ornaments, plastic tinsel, and faulty light bulbs and the traditional Christmas tree suddenly appears the opposite of sustainable.
But, there is another way! While nothing we consume for just the holiday season can ever be fully sustainable, there are greener options we can consider when choosing and decorating a Christmas tree.
I will concede there's nothing like bringing fresh greenery into your home in the dead of winter to raise the cozy vibes. I love snuggling up with a cup of hot chocolate and admiring the twinkling lights on a winter night.
Read on for some eco friendly Christmas tree ideas for your coziest (and greenest!) holiday season yet.
This post is all about eco friendly Christmas tree ideas and inspiration.
Are Real Christmas Trees Sustainable?
A common question from the eco-curious around the holidays is whether a real or artificial tree is more sustainable. It can seem so cruel to cut down a tree! Aren't we against cutting down forest?
The truth is that most Christmas trees are grown on relatively small family farms.
Moreover, the types of trees that fall into the Christmas tree category often grow in rocky, poor soil that is otherwise inhospitable for agriculture.
They tend to be similar enough to what would naturally grow in their areas and provide habitat while they are growing up to become marketable Christmas trees.
It takes 6-8 years to grow a tree to market size. And, after a tree is cut, most tree farms will just replace it with a new planting. The cycle continues.
All this to say that cutting down a real tree to put in your home is not the most unsustainable practice, especially if you are choosing one from your local family-run farm. Otherwise, you need to factor in the miles that tree may have traveled to get to your door, and at what cost.
Overall, I'm team real Christmas tree. It sure beats a plastic tree that will end up in a landfill one day.
Potted Live Christmas Tree – Eco Friendly Christmas Tree Alternatives
Decorate Your Indoor Plants Instead – Sustainable Christmas Tree Alternatives
If the thought of cutting down a tree makes you cringe, consider bringing a live tree into your home this holiday season.
You can water and care for in it while it's potted indoors for a few weeks, and then give it a second life and plant outdoors after Christmas.
You can definitely decorate your living tree, just be sure to use smaller bulbs if using Christmas lights, as too much heat can hurt a younger tree.
If you don't have the green thumb or space to plant a tree outdoors, you can rent a Christmas tree!
Seriously, there are several companies that will lend you an evergreen for the holiday season and take it back to the nursery when you're done. You can also check with your local nursery to see if they offer this service.
Recreate this eco friendly Christmas tree idea: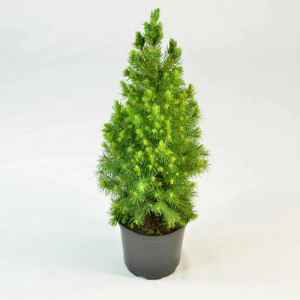 Thrift or Vintage Christmas Tree – Eco Friendly Christmas Tree Alternatives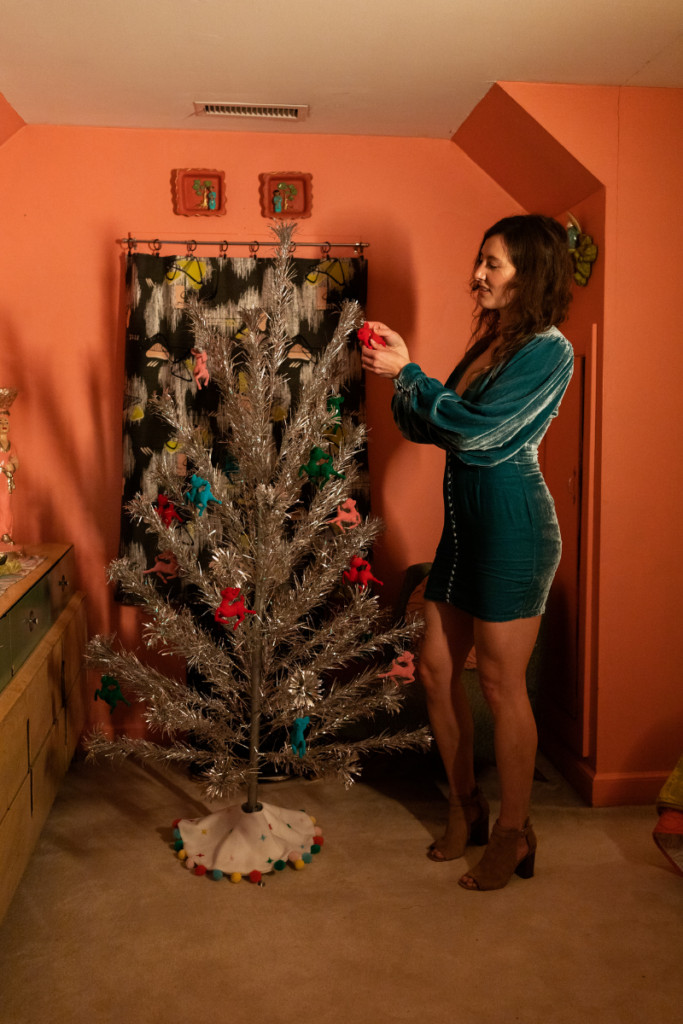 If there are no local tree farms near you, or greenery just isn't your thing, the next most sustainable option is to thrift an artificial tree.
I have to admit, some vintage artificial trees are really cool. I feel like, if you're going artificial, really lean into it and go with a zany color, like this aluminum silver tree.
Recreate this eco friendly Christmas tree idea: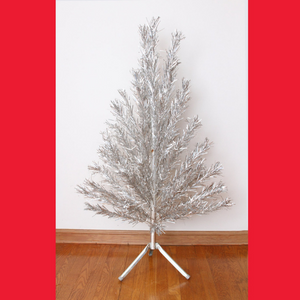 Dried Fruit Garlands – Eco Friendly Christmas Decorations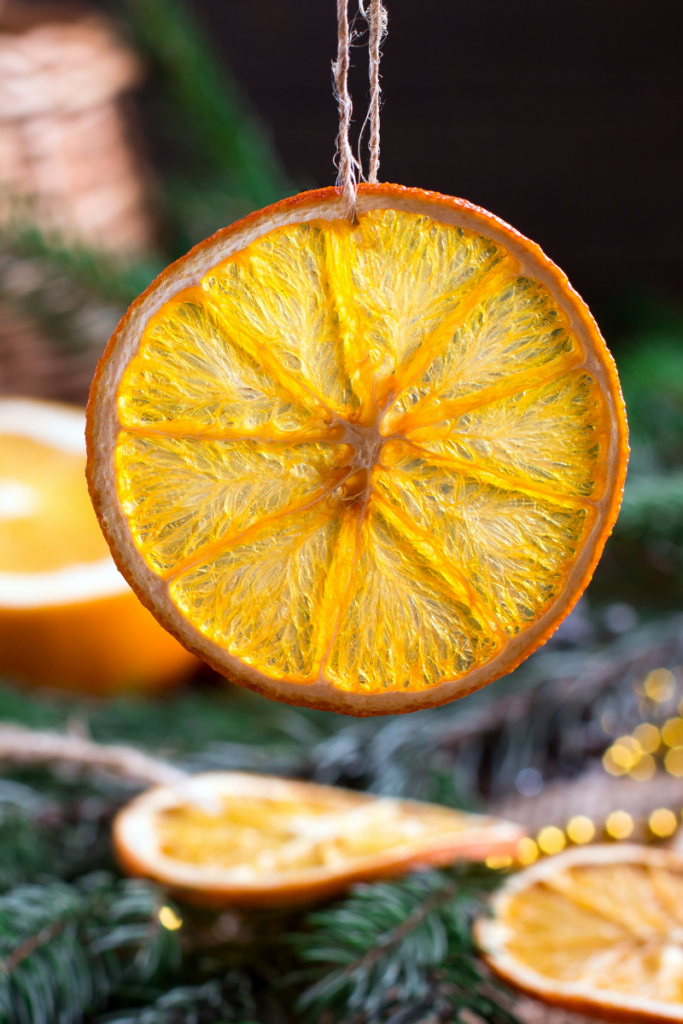 Sustainable tree decorations and garlands are easy and fun to make at home.
There are several decorations you can make with food items you probably have in the fridge or pantry!
For example, try drying thinly-sliced citrus fruit (orange, lemon, graprefuit) or apple slices in a dehydrator or oven.
How To Dry Citrus Fruits
Preheat oven to 200° F.
Cut orange (or other citrus) slices 1/4-1/8″ thick.
Place on a baking tray. I like to place an over-safe cooling rack on the baking tray to allow for the best airflow.
Allow oranges (or other citrus) to dry in the oven for 2-3 hours.
String slices along twine to make a garland, or hook with wire/string to make each slice an individual ornament!
If you're not feeling too crafty you can always just buy the materials, like dehydrated orange slices, to create a cozy Christmas garland that is completely biodegradable.
Recreate this sustainable Christmas decorations idea: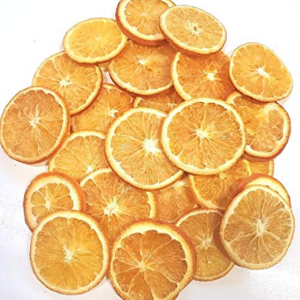 Cinnamon Stick Ornaments – Eco Friendly Christmas Tree Decorations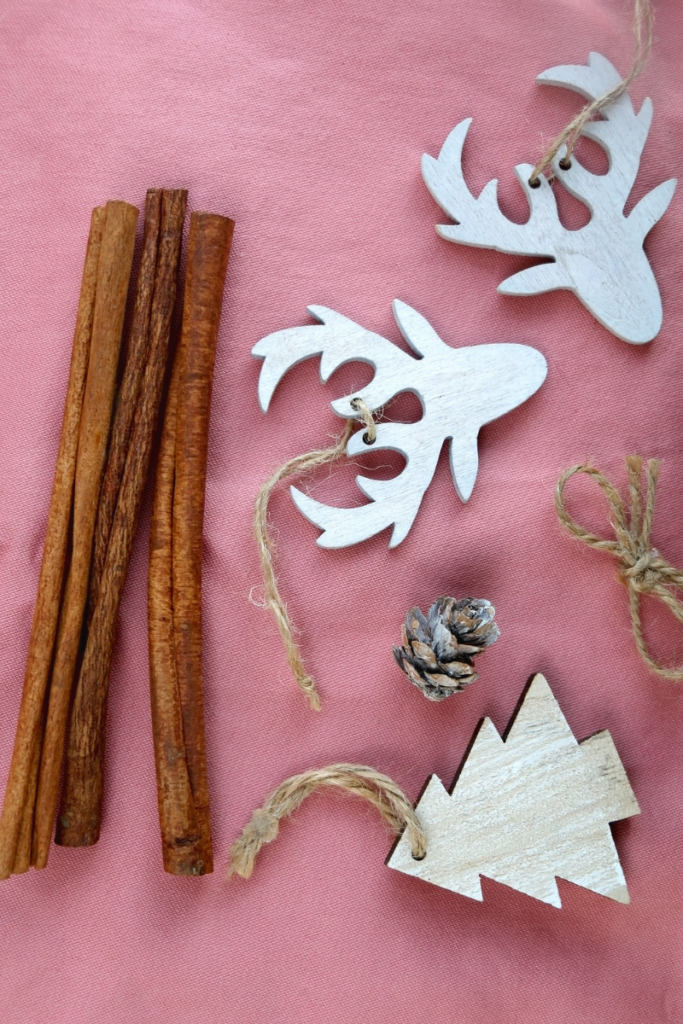 Ornaments are often made from materials that can't be recycled, and will therefore probably end up in a landfill one day.
Opt for more sustainable Christmas tree ornaments made from natural materials, like cinnamon stick bundles instead!
Just try up five cinnamon sticks with some rustic twine (and maybe some greenery or wooden bauble) and hang on your tree with care!
After you use the cinnamon sticks as decoration, you can repurpose them in your tea or simmer them on the stovetop and allow the cozy scent of cinnamon to fill your home.
Recreate this sustainable Christmas decorations idea: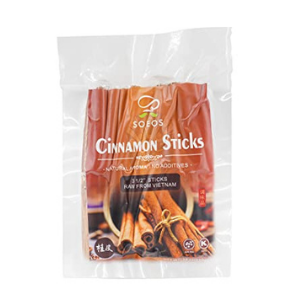 This post is was all about eco friendly Christmas tree ideas and inspiration.
Recycled Christmas Tree Cuttings – Eco Friendly Christmas Tree
Maybe crafting isn't your *thing* but you still want to bling out your Christmas tree with some ornaments that won't hurt the Earth.
I love these ornaments that are actually made on a family-run Christmas tree farm in Georgia using the tree trunk cuttings.
You can even request a custom ornament with a hand painted message or design!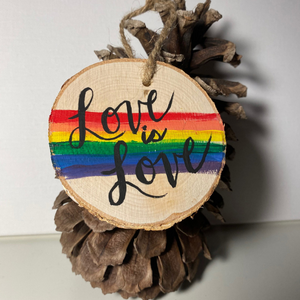 Other posts you may like: