This post may contain affiliate links, which means that I may receive a commission if you make a purchase using these links.
Are you frustrated when another holiday ends with a pile of greeting cards end up in the trash? These eco friendly Valentine's Day cards offer some creative solutions to all that waste.
According to Waste360, an education platform serving the recycling industry, Valentine's Day has a major waste problem.
Every year, Americans exchange 36 million heart-shaped boxes, 198 million roses, and 180 greeting cards on February 14.
This, according to the Greeting Card Association (who knew there was one!), makes Valentine's Day the second most popular days for exchanging greetings cards after Christmas.
Now, where do all these cards (not to mention the trinkets, toys, stickers, etc.) end up? Eventually, in the trash.
That's why I'm here to encourage you to rethink the traditional Valentine's Day card and get creative.
Below are some fun Valentine's Day card ideas you can make with kids for their classroom Valentine's Day celebration, and some options for adults as well.
The ideas range from creating DIY cards to skipping the paper altogether and going digital.
No matter which eco friendly Valentine's Day card idea you choose, know that you are doing your part to make this traditionally red-and-pink holiday more green.
This post is all about eco friendly Valentine's Day cards.
Eco Friendly Valentine's Day Cards
1) DIY Painted Leaf Valentine
This sustainable Valentine's Day card project is an excellent one for kids especially.
First, begin by getting outside and collecting heart-shaped leaves. (It might be a good idea to think ahead for this one and start collecting leaves in the autumn for use when February 14 rolls around.)
Common tree with heart-shaped leaves to look out for include linden, redbud and foxglove trees. Research which trees are grown in your area!
After you have collected your heart-shaped leaves, you can either press and dry them, or paint them as-is.
A fresh leaf will be slightly heartier, making it a good option if you want to get toddlers involved in the painting process. Dried leaves will last longer, but are more fragile!
Second, paint the leaves in your favorite Valentine's Day color. Red or pink would be the traditional choice here, but don't let tradition hold you back!
Finally, paint a message, or write one in magic marker after the paint has dried.
You can also cut your leaf into a more traditional heart shape with scissors or an x-acto knife (adults only for this part!), but I tend to prefer the organic shape of the leaf.
What you'll need for this project:
---
2) Seed Paper Valentines
Another eco friendly Valentine's Day card idea is to use seed paper as your card material.
What is seed paper? Basically, what it sounds like. It's a biodegradable paper that contains seeds that grow when planted in soil, watered, and cared for appropriately.
While still using paper, at least your Valentine's Day card will have another life after its exchange. Plus, the recipient will enjoy your thoughtful Valentine all over again when a bed of flowers (or vegetables, or whatever seeds you use) bloom where the card was planted.
You can make you own seed paper with plants of your choice. This would be the most sustainable option, but I definitely don't have the time!
Instead, I like this pack of heart-shaped seed paper from Bloomin.
You can either write your Valentine's message directly on the seed paper heart, or attached the seed paper heart to another small card with tape or glue.
What you'll need for this project:
---

3) Upcycled Crayon Hearts
This sustainable Valentine's Day project is another great one to do with kids.
It's fun, and it teaches kids the concept of upcycling, which is a sustainability skiil they will use for the rest of their lives!
For those wondering, upcycling basically the process of transforming what would otherwise be waste into something new.
Steps
Source used crayon stubs from around your house, friends, family, the rec center, or school. I'm sure they will be happy to get them off their hands.
Peel the paper from the crayons. This can be easier if you start the process by cutting open the paper using a sharp craft knife. (This is an adults-only step!)
Sort crayons by color. This step is optional, but will give you a better sense of the color range you are working with, and give you an idea of how you want to pair colors–if at all.
Fill oven-safe silicone molds with pieces of the crayon stubs. For this Valentine's Day project, a heart-shaped mold is an obvious choice. But, feel free to get creative with different molds, and mix-and-match colors. Kids love this step!
Place silicone molds into a preheated oven until the crayons melt. About 20 minutes at 250 degress.
Remove the molds from the oven and let cool completely. This step can be sped up by putting the molds in the freezer.
Pop out your upcycled crayons. Attach them to another small card with a message and give out as a Valentine.
What you'll need for this project:
---
4) Get Creative With Materials You Already Have (Like Paper!)
Okay, real talk. We can recommend eco friendly Valentine's Day card ideas all day, but the most sustainable option is going to always be to use what you already have!
The tenets of sustainability are reduce, reuse, recycle. Reduce is the first and most important, and asks us to reduce the amount of stuff we buy.
So, if none of the above projects appeal to you, or it's getting close to Valentine's Day and you simply don't have the time to embark on a big project with your kids, resist the urge to go out and buy Valentine's Day cards!
You can easily get by with what you have in your house, so long as you have some paper, scissors and a pencil.
Using some paper in your house, try making these simple heart envelope Valentine's Day cards or heart origami. This would be a great use of leftover wrapping paper, scrap paper, or even bygone greeting cards.
(This is why I always recommend saving wrapping paper and old greeting cards!)
---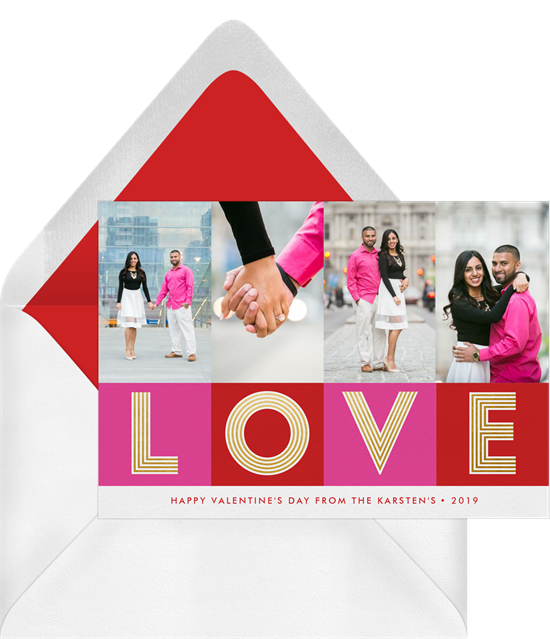 5) Send a Digital Valentine's Day Card with Greenvelope
This one is more for the adults that wants to share eco friendly Valentine's Day cards with their friends, family, and loved ones but don't want to waste the paper.
Greenvelope is a digital card company that is committed to preserving the experience of opening a handwritten card.
Aside from saving paper, they donate a percentage of every sale to Mountains to Sound, a non-profit organization that maintains forests in the pacific Northwest.
They specialize in invitations, but also offer holiday cards for celebrations throughout the year, including Valentine's Day.
Greenvelope has family Valentine's Day cards, and cards meant only for that special person in your life.
If you forgot your annual family Christmas card, why not send a Valentine's Day card instead with some cute family pics and a life update?
How it works:
Choose from one of Greenvelope's many digital designs.
Personalize your greeting card with a message.
Enter in recipients' email addresses and the date you would like the card to send.
When your recipients click on your message, the email will open like an envelope, displaying your chosen design and message!
---
This post was all about eco friendly Valentine's Day cards.
Other posts you may like: