This post may contain affiliate links, which means that I may receive a commission if you make a purchase using these links.
A bit of a misnomer, the 'upper Cape' actually refers to the towns closest to the mainland of Massachusetts (and not the most northern regions). If Cape Cod were an arm, the upper Cape would be the shoulder and bicep.
While the rugged coastline of the outer Cape might get much of the attention, the upper Cape offers marine wildlife, stretches of coastal flats, amazing food and some quintessential Cape Cod experiences.
What is Slow Travel?
The slow travel movement eschews the modern travel industry's skew toward what is fast and convenient (often at the detriment to local business and ecology) in favor of what is sustainable for the traveler, the land and the community.
Cape Cod's nearly 600 miles of coastline are uniquely threatened by climate change. Rising waters threaten to wipe out swaths of land, communities and integral species.
Luckily, through sustainable agriculture and aquaculture, eateries that feature local fare, and eco-friendly tourist attractions, the upper Cape offers many experiences that are good for the precarious ecology of Cape Cod and will make memories that last a lifetime.
Food on Upper Cape Cod
From the farming communities of Falmouth to the thriving aquaculture industry in Barnstable, there are some remarkable foodie experiences to be had in the upper Cape.
Of course, the Cape specializes in seafood. The Cape Cod Bay in particular makes a perfect habitat for shellfish, and is now home to several oyster farms.
There are delicacies you will find on the Cape that you will not find anywhere else. Take stuffed quahog (pronounced 'co-hog') for example, which is made from the eponymous large, hard-shelled clam. The quahog is baked and stuffed back in its shell with breadcrumbs and herbs.
The upper Cape is the land of foodies. There is a high-quality farmers market nearly every night of the week and many trained chefs have put down roots here.
As the last fertile land before a long stretch of sandy dunes, the upper Cape is also home to plenty of inland organic farms. Many of them supply fresh produce to surrounding restaurants. Some of our favorites have eateries on-site.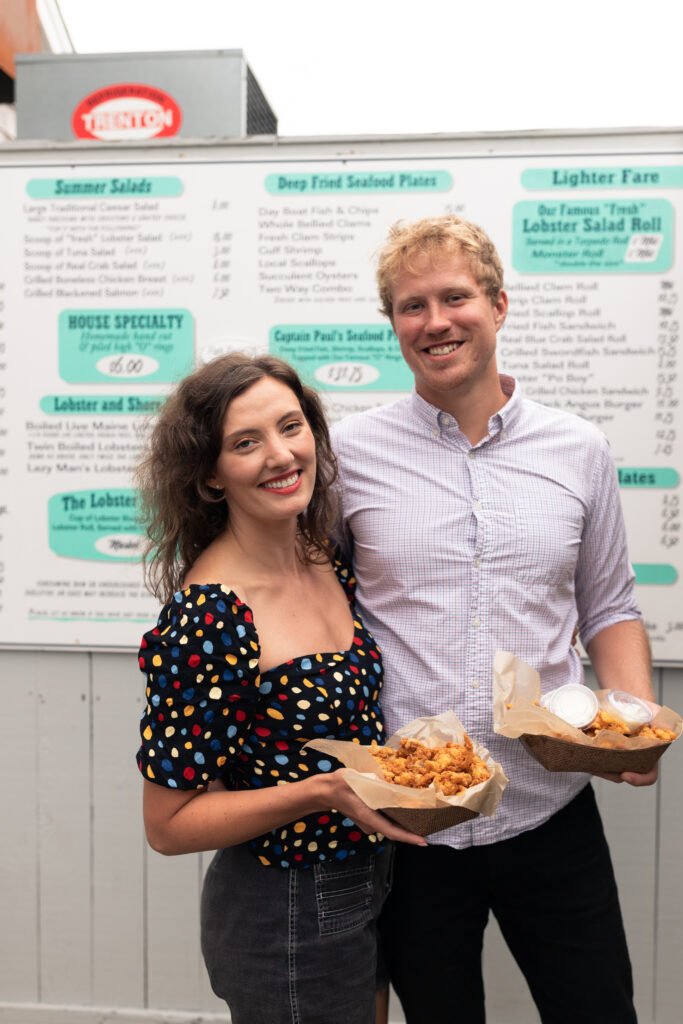 Explore the Outdoors of Upper Cape Cod
When you think of Cape Cod, you think of the beaches. The beaches of the Upper Cape are unique stretches of coastline. This is especially so bay-side, where low tide reveals miles of flats that offer close encounters with Cape Cod's marine life.
The upper Cape is also home to miles of bike paths, inland ponds, and wildlife sanctuaries. Calm interior waters invite paddleboarders, kayakers, and other low-impact watercraft.
Combine the food with plenty of opportunities to get out in the outdoors and learn about local ecology, and the upper Cape may be one of our favorite places to escape to in the summer months.
Read more about our favorite upper Cape destinations.
Falmouth
Shining Sea Bikeway
Falmouth
The Shining Sea Bikeway is the 10-mile bike path from North Falmouth to the quaint village of Wood's Hole. True to its name, the bikeway runs parallel to the ocean for much of the trip. Should you get too sweaty, you could stop for a dip at Falmouth Beach. Don't have a bike? There are plenty of rental options along the trail.
Coffee Obsession
Falmouth
Anyone with a coffee obsession will feel at home at this cozy cafe. A rotating seasonal offerings including creative beverages such as 'cowboy coffee' and lavender Italian soda. With plenty of gluten free and vegetarian options on their humble, counter-style breakfast and lunch menu, folks with dietary restrictions will also feel welcome.
The Buffalo Jump
Falmouth
Founded by star chefs Brandon Baltzley (whose previous stints include Copenhagen's Noma, no big deal) and wife Laura Higgins-Baltzley, The Buffalo Jump restaurant offers modern Cape Cod fare in the most rustic of settings. Located on Coonamessett Farm, The Buffalo Jump highlights native plants plucked fresh from the property. A favorite is chef Laura's stuffed quahog benedict with bloody mary hollandaise and farm greens.
Coonamessett Farm
Falmouth
This 20-acre farm in the heart of Falmouth is committed to community through locally-sourced food and it shows. Browse the quintessential country market for local honey and homemade soaps, get a quick breakfast or lunch at the on-site restaurant The Buffalo Jump (see above), or get to work at the 'pick-your-own' section of the farm. There are plenty of adorable farm animals around, including baby goats in the early summer months.
Falmouth Farmers Market
Falmouth
The Falmouth Farmers Market conveniently brings together local farmers and vendors from the field and sea every Thursday in Marine Park, Falmouth from 12 to 5 p.m. You'll find your typical farmers market fare as well as foods unique to Cape Cod including oysters from the sustainable Monks Cove Sea Farm.
Pie in the Sky
Falmouth
Pie in the Sky has been serving up organic coffee and homemade pastries and pies in the charming village of Wood's Hole since 1982. Perfect for a fuel-up after a day on the Shining Sea Bikeway or before heading out on the ferry to Martha's Vineyard.
Mashpee
White Lion Baking Company
Mashpee
Gluten-free eaters in the Boston area may recognize White Lion Baking Company products on the shelves of regional Whole Foods stores. Taken over by prominent Boston pastry chef Elizabeth Miles in 2021, the White Lion Baking Company has catered to a number of diets–paleo, keto, and gluten and dairy free–without sacrificing flavor. Stop by the store in Mashpee or order a custom celebration cake for your next soiree.
Rory's Market + Kitchen
Mashpee
Skip the big box grocery stores and shop Rory's Market + Kitchen, Cape Cod's local organic and specialty food market. Conveniently stop by the Mashpee location for groceries and a healthy smoothie (the flagship store is in Dennis) while you're perusing the Mashpee Commons.
Barnstable
Mass Audubon Long Pasture Wildlife Sanctuary
Barnstable
Gentle trails through wildflower fields and wooded thickets lead to a breathtaking view of Barnstable Harbor (particularly if you visit around sunset!) Across the harbor you'll see the precariously placed Sandy Neck lighthouse on a barrier beach that protects the bay. Mass Audubon offers a variety of programming out of the Long Pasture Sanctuary, including kayak tours, boat cruises, and educational family experiences.
Barnstable Harbor Ecotours
Barnstable
Join Captain Joe and his team of naturalists on their 25-person pontoon boat, aptly named 'the Horseshoe Crab,' for an educational and entertaining ride around Barnstable Harbor. You'll learn about the marine wildlife you see as you visit landmarks like Sandy Neck and the Great Marsh. Check out their sunset cruise offering for an extra special evening.
Cape Cod Organic Farm
Barnstable
If you're staying in the Barnstable village area or coming home from Millway beach, stop by this farm located conveniently on 6A for organic veggies for the night's dinner. Beyond using certified organic farming practices, Cape Cod Organic Farm is committed to the restoration of local habitat through growing and supplying the native grasses that uphold sand dunes and protect from storms and rising waters.
Nirvana Coffee
Barnstable
Nirvana Coffee slings organic and certified fair trade coffee out of their cozy space in Barnstable village. Grab a coffee and a breakfast sandwich and enjoy outside in one of their signature white adirondack chairs while you chat with the locals.
Spoon and Seed
Barnstable
This farm-to-table spot in Hyannis offers vegan options, like vegan burritos and eggplant meatballs, alongside more traditional breakfast and lunch fare. A prominently placed chalkboard lists the local farms where each ingredient of your meal was sourced.