This post may contain affiliate links, which means that I may receive a commission if you make a purchase using these links.
Today on PunkMed, I'm sharing ethical gifts for your girlfriend who loves to travel. I'm pretty qualified to write this post, as I'm a girlfriend who loves to travel, give (and receive!) gifts – and I am always on the lookout for ethical products that hit both categories.
This blog post is all about travel gifts for her.
Hello, I'm Leslie
My name is Leslie, and I'm the founder of PunkMed! On my blog, I and my team share my info, experiences, and recommendations in the area of sustainability, urban homesteading, and outdoor living.
In today's post, I'm sharing travel gifts for her – "her" being the lady in your life. Now, as a blogger who focuses on ethical and sustainable practices, I wanted to be sure to clearly communicate that I haven't personally purchased (or received!) each of these travel gifts. I've put together this roundup so you can find what you need, and my intention is to save ​​you from hours of Googling. No one likes to have 19 tabs open at once.
Let's get into it!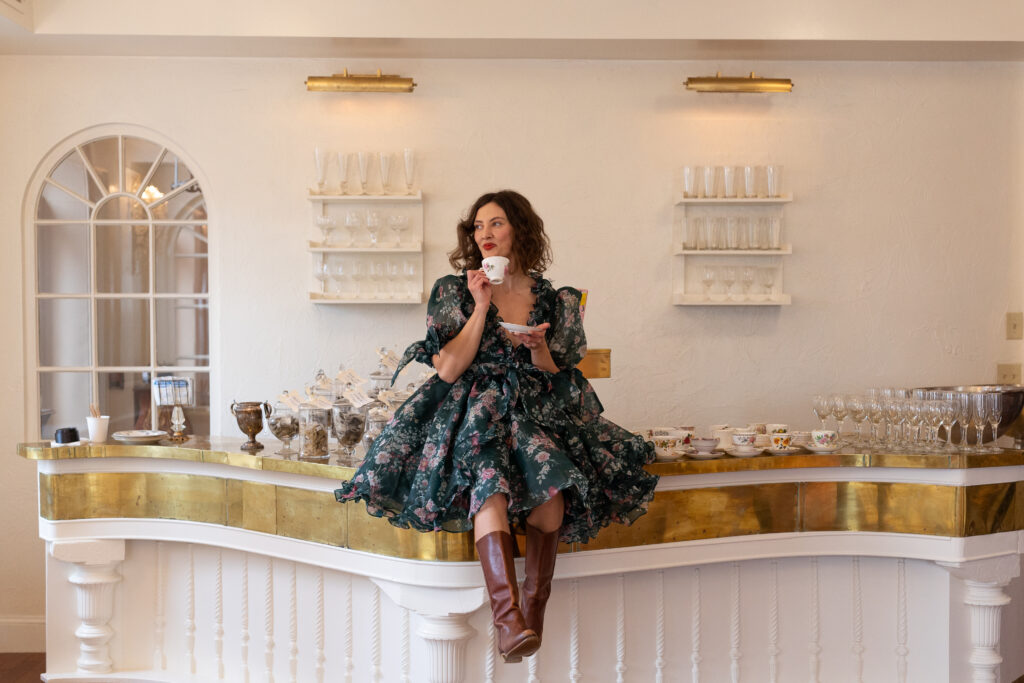 Travel Gifts for Her
Shopping for gifts for your girlfriend can be HARD. If you're reading my guide, you're likely looking for a super thoughtful gift that your girlfriend will actually use. And it wouldn't hurt if she loved it so much she bragged about it to all of her friends, right?
I'm here for you! Below, I've shared my guide to ethical gifts for your girlfriend. For each gift, I've also gone the extra step to note the type of woman traveler I think would love to receive that particular ethical gift. From luxury travel lovers to solo women travelers to the girlfriend who always seems to be planning a new "Girl's Trip," I have recommendations!
This post is all about ethical gifts for her.
Note: Defining what I mean by "ethical" could be a whole blog post on its own, so I've also included info on what practices make each gift ethical!
First up on my guide to ethical gifts for her, I wanted to keep it simple with a staple almost everyone uses. These biodegradable makeup wipes from Bambootfiul are a great gift for someone traveling. They can be used while out on an excursion or hike, or used to take off your makeup after a night of dancing.
Overall, I try to use reusable makeup remover cloths, but sometimes one does need a makeup wipe!
Get this ethical travel gift for her here.
#2 Travel Gifts for Her: Ethically Made Swimsuits & Pool Cover Ups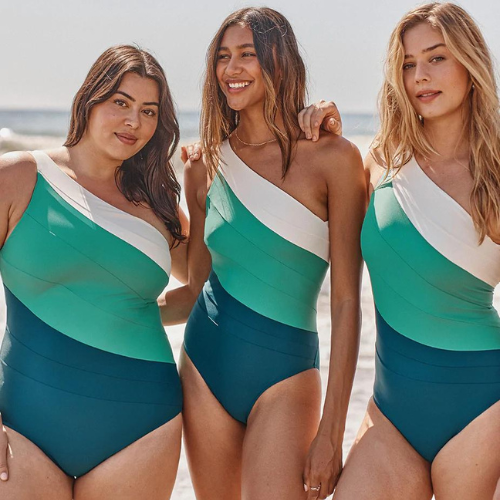 This next ethical travel gift for her is a great eco-friendly gift. When I pack for a trip, I like to take multiple swimsuits so I always have a fresh one ready to go. No one likes to put on a wet swimsuit!
Summersalt is a brand that makes sustainable swimwear and swim coverups, in up to a size 24. When shopping for a gift like this, I recommend looking at her current swimwear collection to see what she'd like. You can check social media or, if you live with the lady you're shopping for, you can check her closet!
Shop this sustainable travel gift for her here.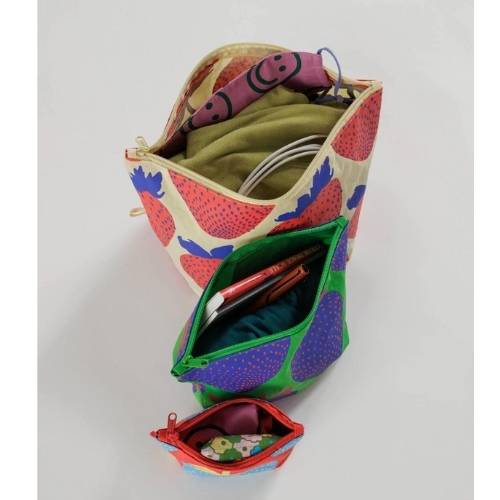 When packing for a trip, trying to organize cosmetics and skincare items can be a time-consuming task. This set of pouches from Baggu comes in a variety of bold prints and colors, perfect for a traveling fashionista.
Baggu goes in-depth on their website on their eco and sustainability practices, discussing fabric composition, manufacturing and packaging materials.
See all of the available prints this ethical travel gift set comes in here.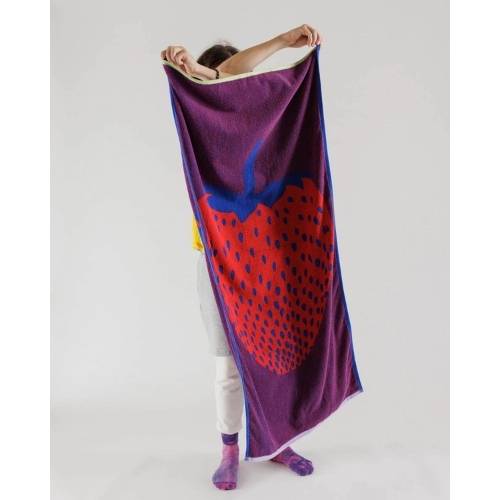 Next up on my travel gifts for her, a sustainable and ethically made towel for a woman going on a tropical vacation. I like to pack my own towel when going on a trip to hang in the sun, because hotel towels are often too short to lie on. (Plus, they're not as cute as this one!)
This ethical gift comes in over eight prints, making it much easier to find the perfect gift!
Get this ethical travel gift for her here.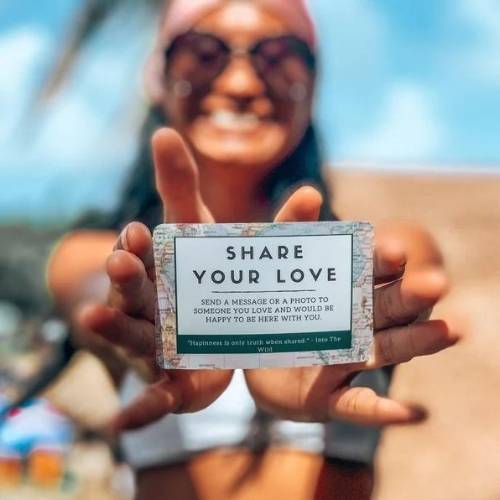 This next travel gift isn't branded as ethical or sustainable, but I wanted to include it – because it emphasizes being present and more mindful while traveling. This deck features 50 travel challenges, designed to help travelers get out of their comfort zone and try new things.
Get this travel gift for mindful travelers here.
#6 Travel Gifts for Her: Seaside Tote Bag
This next travel gift is so fun! This is a sustainably made tote bag with horizontal stripes, perfect for a day on a chartered boat or by the seaside. From the maker, Anchal, "Constructed with a durable duck cotton canvas lining, this striped tote bag features both interior and exterior slip pockets to help better organize your most used items."
Snag this sustainably made tote bag here.
Next, this gift is perfect for a woman who loves fashion and travel. This palm leaf sun visor comes in a variety of colors, and is ethically made by Ceremonia in Southeast Asia. This hat can be clipped onto a bag (note it doesn't have its own buckle or closure, so your bag will need to have a closure.)
Gift this ethical travel gift for her here.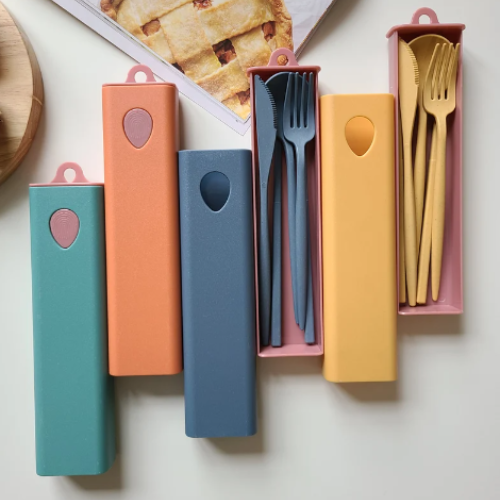 This next gift is not a fit for every traveling woman. An eco-friendly cutlery set is great for a traveler who will be outdoors a lot or is going on an extended journey. (I probably wouldn't get this gift for someone going to Western Europe, for example.) This cutlery set is perfect for an adventurer, who might find herself in situations where cutlery aren't handy.
Get this eco-friendly travel gift for her here.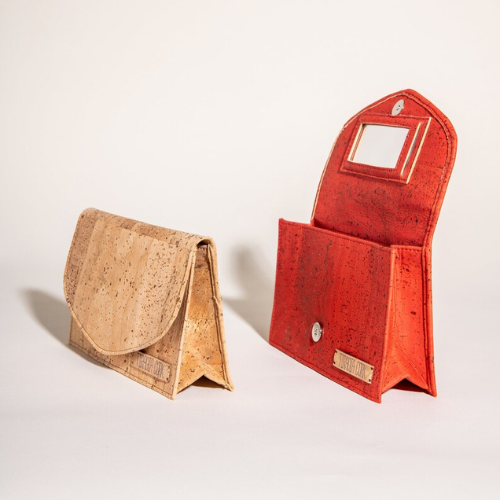 This natural cork glam bag is so versatile. Made out of stiff cork, this could be a clutch for a night out on the town in more casual settings, as well as a makeup bag that goes inside of a backpack or larger bag.
This gift comes in natural cork and red. More simple or minimalist women may prefer the natural cork, and those ladies who enjoy making a splash would likely enjoy the red.
See more images of this ethical travel gift for her here.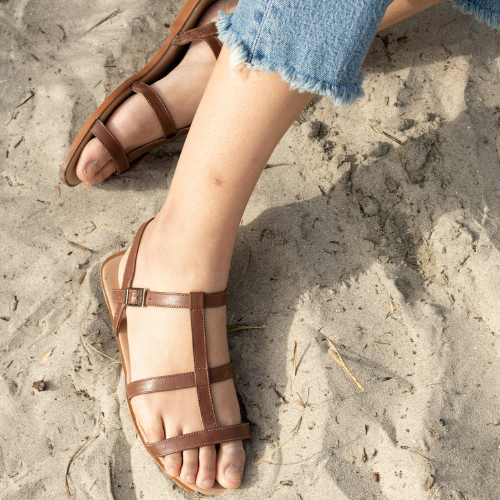 Usually, I would not recommend buying shoes for a woman, as you won't always know the correct size. But these ethically made "Cassie Sandals" from ABLE are so great, I just had to include them. These sandals can be worn with shorts and a t-shirt, or worn out to dinner.
These padded sandals are made in Brazil, and are available in up to a size 11.
Get this ethical gift for a woman who loves to travel here.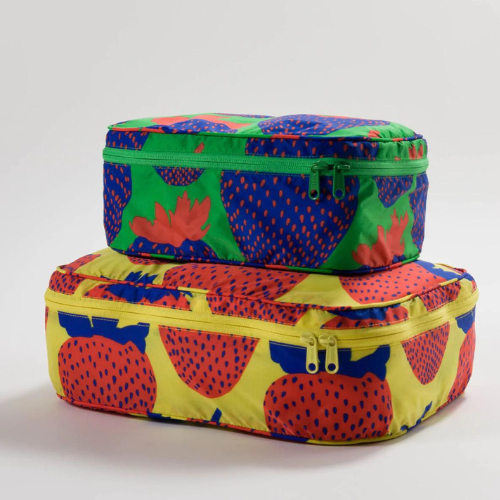 For a long time, I didn't quite understand everyone else's obsession with packing cubes. But, I decided to give some a try (borrowing my boyfriend's set of cubes), and now I get it!
Finding ethically made packing cubes was a challenge, as many "packing cubes" were really just larger toiletry bags. Luckily, Baggu came through for us! The brand carries packing cubes in a variety of patterns.
Snag this perfect gift for a lady who loves to travel here.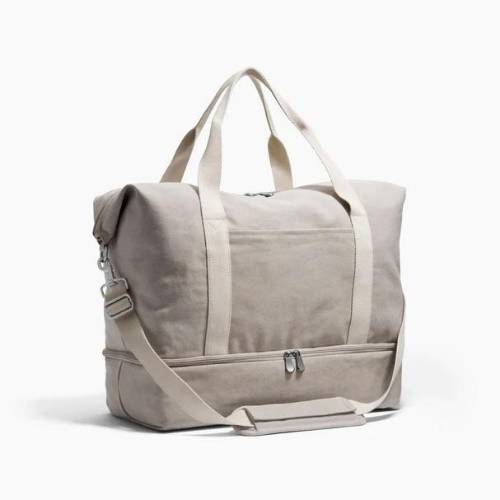 Getting closer to the bottom of my guide to travel gifts for her, I wanted to be sure to include this eco-friendly weekend bag from Lo & Sons. While I don't own anything from Lo & Sons myself, I have had friends tell me how much they adore their products.
This bag is made out of toxin-free material and no pesticides.
Buy this travel gift for her here.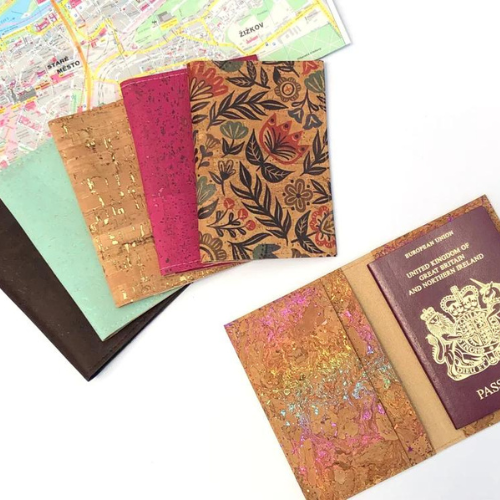 Finally, the last gift on the guide is for women who love to travel internationally. This passport cover is made out of cork, a more sustainable material, by Ginger and Joy. I love the passport cover that is in a trendy mint green, plus there are other colors available in their Etsy store.
Ginger and Juniper is a star seller on the Etsy platform, with over 3,000 sales at time of publishing.
Procure this ethical travel gift for her here.
---
This blog post was all about ethical travel gifts for her.
Read these ethical gift guides next:
Looking for more gift ideas for her? Below, I've shared a number of posts I've written on sustainable gifts for her:
Join Me on Pinterest
Pinterest is a great platform for planning gifts and travel! Join me on Pinterest here, to get all of my gift guides and sustainable travel tips.