This post may contain affiliate links, which means that I may receive a commission if you make a purchase using these links.
Candied edible flowers are such a simple way to bring the beauty of common flowers from your garden into the kitchen and elevate any dessert.
When we think of home gardening, we tend to think of vegetables and herbs as utilitarian (they feed us after all) and flowers as strictly ornamental.
This couldn't be further from the truth! There are many edible flowers that can offer us a wide ranges from flavors, from sweet to spicy.
As such, edible flowers can be incorporated into all types of meals, but I think their beauty and delicacy most naturally lend themselves to dessert.
Of course, you could slap a fresh flower onto a cake and call it a day (that could be lovely) but the candying process allows you to preserve and store the flowers for months. Plus the coating of sugar gives the flower a stunning frosted effect!
I definitely want to live in a world where I casually have candied flowers in the fridge for whenever the mood to make a cake that looks like it might have been made by fairies may strike.
This post is all about candied edible flowers.
Types of Edible Flowers
There are many types of edible flowers that would be perfect to use here for your candied edible flowers.
Some common edible flowers you make have in your garden right now that are beautiful candied include rose, marigold, nasturtium, cornflower, and violet or viola
Materials You Need for Candied Edible Flowers
Before you get started, you're going to need a few materials:
Small paintbrush
Drying rack
Bowls
Whisk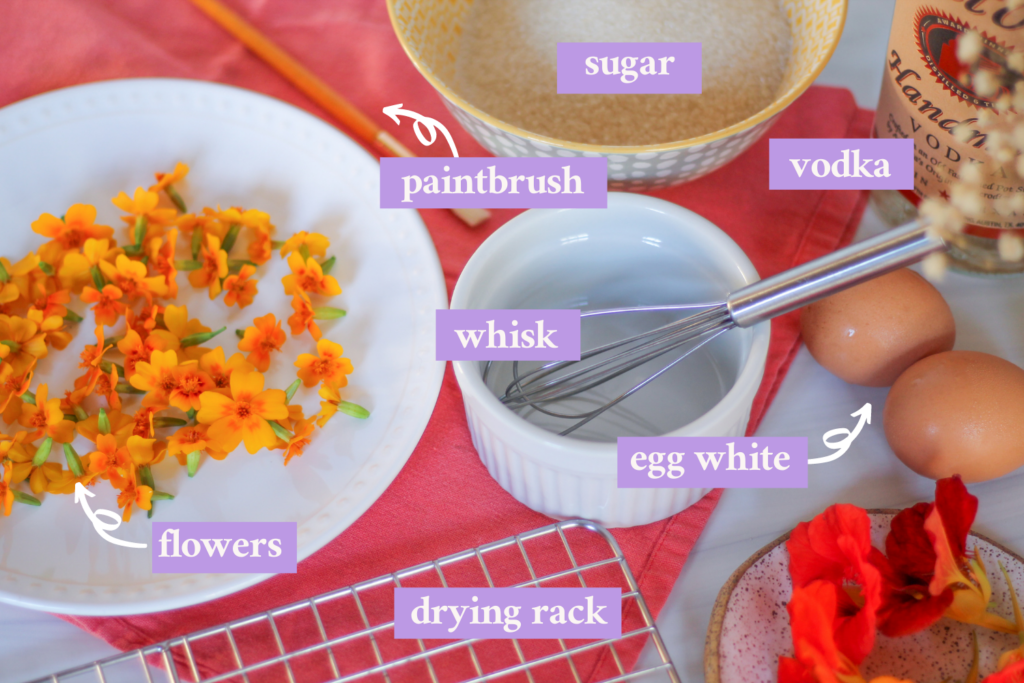 Ingredients
1 Egg White
Vodka
1/2 cup fine white sugar
75-100 flowers depending on size, stems and leaves removed
How to Make Candied Edible Flowers – Step-By-Step
1. In a small bowl or ramekin, whisk the egg white with about 1 teaspoon of vodka until some bubbles form and the mixture becomes somewhat frothy. Note: You can use water in place of vodka, but I like vodka because it evaporates faster.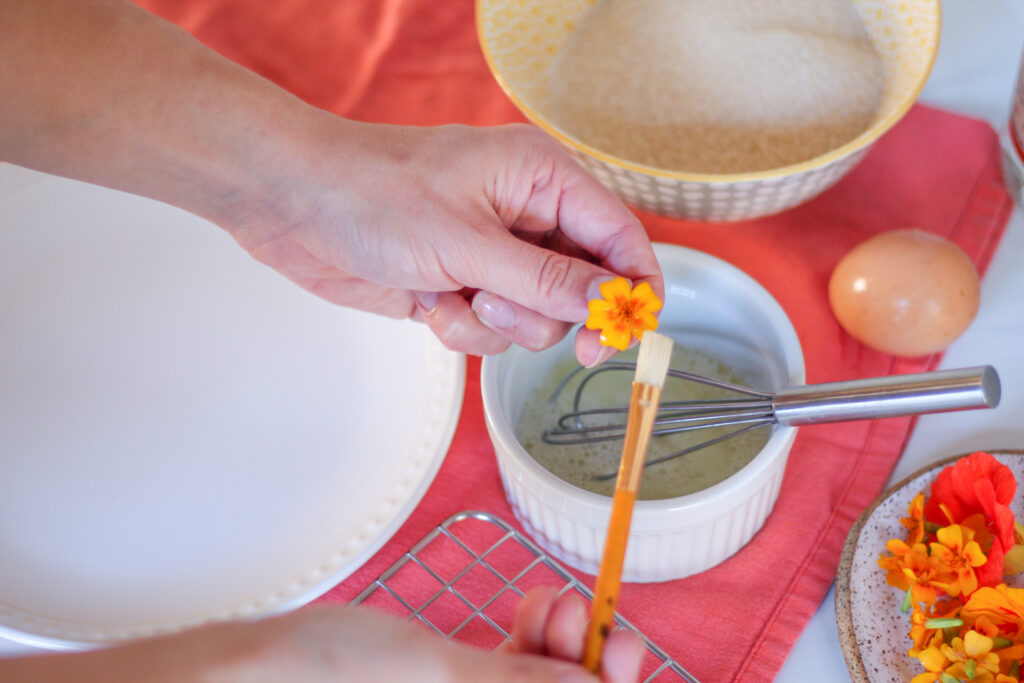 2. Pick up a flower by the small stalk that would connect the flower to the rest of the plant. Alternatively, you can candy individual petals. This works especially well for bigger flowers like rose and nasturtium.
3. Dip the paintbrush into the egg white mixture and paint onto the petals, coating the entire flower, front and back.
4. Coat the flower in sugar. There are a few ways you can do this. You can either pour sugar from a bowl on top of the flower, with a plate or something beneath to catch the excess. The easier way I have found is to simply dunk the flower into the bowl of sugar to coat. Again, make sure the flower is entirely coated in sugar–front and back.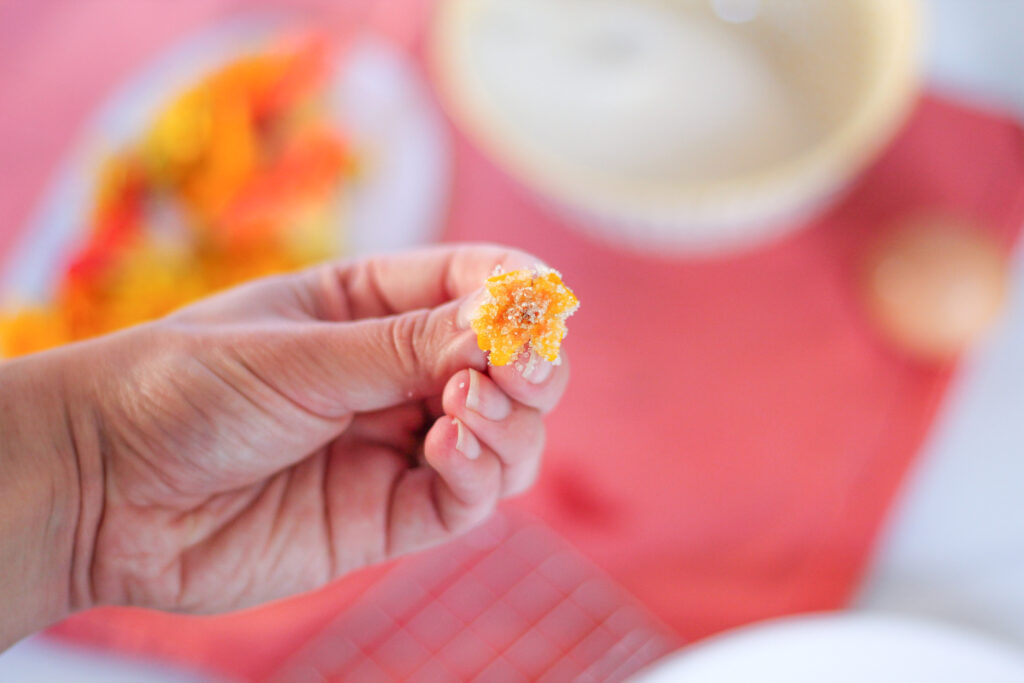 5. Lay your coated flower onto a drying rack (I use a cooling rack I would normally use for cookies, etc.)
6. Repeat this process until you use all your picked flowers or you become bored.
7. Let flowers sit a few hours or overnight to dry.
8. Top your favorite dessert with your beautiful candied edible flowers!
Candied flowers can store up to three months in an airtight container in the fridge.
This post was all about candied edible flowers.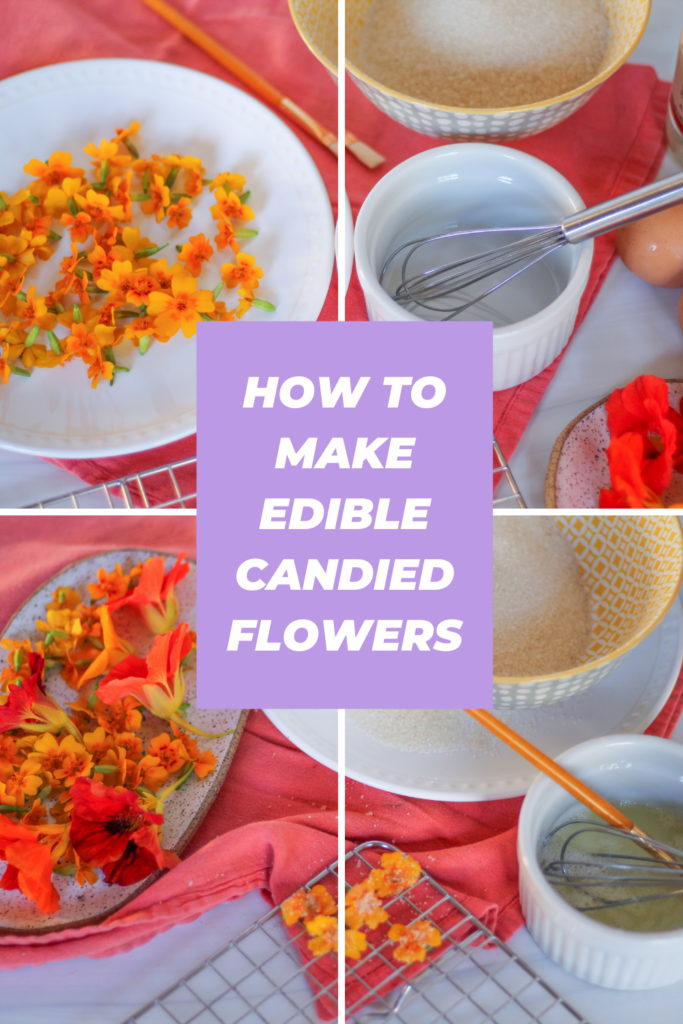 Other posts you may like: