This post may contain affiliate links, which means that I may receive a commission if you make a purchase using these links.
Sunscreen is trending. In response, it seems beauty brands are continually finding new ways to add SPF to every makeup product these days.
Before high-performance SPF makeup, a day in the sun usually meant hiding under a baseball cap and pasty white sunscreen. A futile attempt at makeup in the summer heat typically ended up in a melted mess.
Now, makeup with SPF means you can stay safe and still turn a look–even at the beach or pool.
Why Wear SPF?
Gone are the days of tanning booths and sun bathing in baby oil (shout out to my millennials–WHY did we do this?!)
Personally, I'm here for it. Sunscreen protects the skin from harmful UV rays that can accelerate aging and cause skin cancer.
This is important in an age where it is expected that one in five Americans will develop skin cancer by the age of 70, according to the Skin Cancer Foundation.
If you're going to wear makeup while out in the sun, why not get some extra sun protection out of your products?
Makeup with SPF also offers protection in areas that your may typically miss with sunscreen, like the lips and eyelids.
Just a reminder: wearing makeup with SPF does not negate the need for a good base layer of sunscreen underneath your makeup!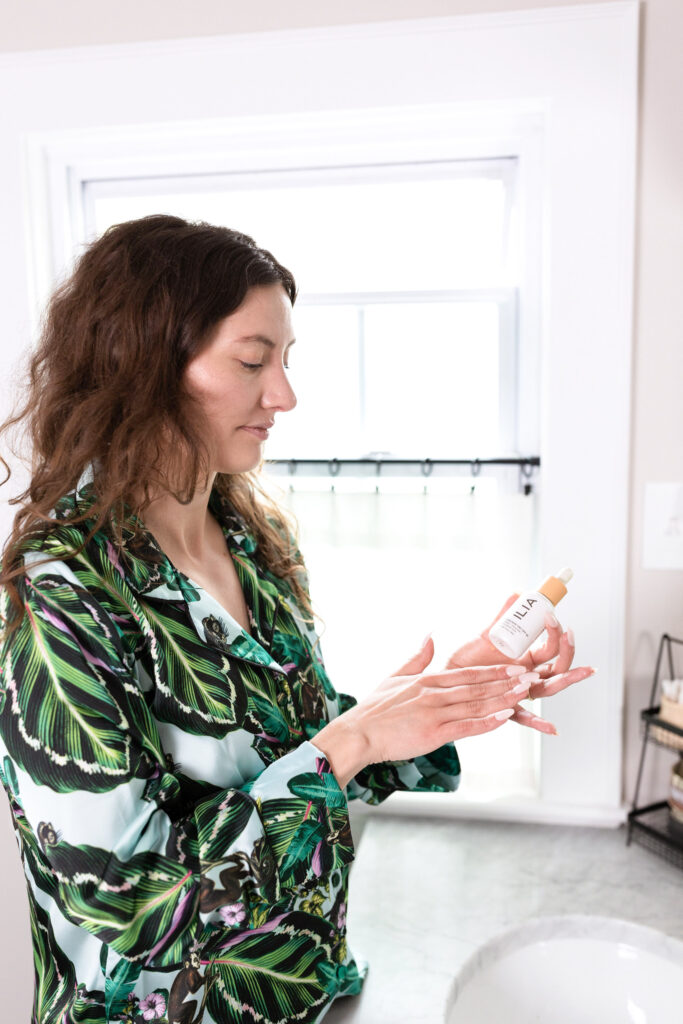 In addition to SPF, this skin tint contains other skin-healthy ingredients like niacinamide and hyaluronic acid. Coverage is light and dewy, but can be built up for a flawless base.
Spending time in the sun usually means an oilier face. Mattify your face with this translucent powder that happens to contain SPF. The convenient packaging makes this powder perfect for on-the-go reapplication throughout the day. (And you should be reapplying your sunscreen!)
Get a naturally bronzed look without the sun damage with this SPF 30 face cream. Contains moisturizing ingredients and mica for a subtle glow.
This mineral cheek color comes in five shades that are meant to mimic the natural color of a real human blush. The shade 'Alabaster' is unique and perfect for those with particularly fair skin.
This lip and cheek tint comes in fun summer colors that are perfect for adding a pop of color to any poolside look.
The first highlighter with SPF on the market comes with a great deal of sun protection. Add to areas that catch the light, like your cheekbones, brow bone and cupid's bow.
A must have for your beach bag, this every day balm is ultra-moisturizing and will protect your lips from harmful rays.
This lip balm comes in four summery shades. Get the one that speak to you, or cover your bases with the variety pack.
This innovative product protects the delicate skin of the eyelid while providing a wash of sultry color.
There's nothing worse than melting makeup. Make sure your makeup stays put even in the sun with this setting spray that also had the added benefit of SPF.
Want more clean makeup goodness?
Check out this blog post ranking the best berry lip shades.