Looking for eco friendly bridal shower gifts for the newly engaged cutie in your life? Or perhaps you're putting together your own registry right now and you're looking for a little inspiration? Read on for our favorite eco friendly bridal shower gifts!
As someone who got married last year–and is around the age where all my friends are getting married–I know a thing or two about bridal showers.
But to be honest, as a sustainable blogger (and for a few other reasons), the thought of a bridal shower stressed me out so much I just didn't have one! Having a bridal shower felt like asking for a lot of stuff we didn't need (my husband and I had lived together for 7 years at that point). Plus, I cringe at all that wrapping paper that just goes to waste!
That being said, I love supporting the people I love as they transition into this new phase of life. I totally think there are ways to host an eco friendly bridal shower and give sustainable bridal shower gifts.
A few tips before we get into the actual bridal shower gift ideas:
Prioritize buying gifts from the gift registry. A good way to ensure that a gift gets used is that the couple wanted it in the first place! This list of eco friendly bridal shower gifts is meant to offer ideas in lieu of or to supplement a registry. If you're unsure as to whether a certain gift might be appreciated, it's a good practice to ask the couple or someone close to them whether they are in the market for what you are about to buy.
Avoid anything that says "bride." Look, this may be just me, but I have so much "bride" merch left over from my wedding festivities that I just no longer have use for. (Like, it's weird to wear white pajamas that say "bride" all over them after the wedding, right?!) If you're going for kitschy wedding stuff like this, try to get it thrifted. I'm sure there are plenty of former brides like me dropping this stuff off at the thrift store.
Opt for gifts that will last a lifetime. When shopping for bridal shower gifts or scanning the registry, I'm often looking for items that I know will last forever–dutch ovens, stainless steel cookware, cast iron pans, etc. OR items that have a really great lifetime warranty, e.g. Vitamix blenders.
Eco Friendly Bridal Shower Idea – Sustainable Registry
Just quickly adding here, if you're the bride looking for registry inspiration, I would highly recommend you check out Everlastly to host your gift registry. This platform allows you to search for products based on your values including durability, circularity, and sustainability.
Hello, I'm Leslie
My name is Leslie, and I'm the founder of PunkMed! On my blog, I and my team share my info, experiences, and recommendations in the area of sustainability, urban homesteading, and outdoor living. Our goal is to make it less overwhelming for you to live a fun and sustainable life!
In today's post, I'm sharing my favorite eco friendly bridal shower gift ideas These ideas come from the process of planning my own wedding in September 2022 and from hearing from many other brides about what they wished they would have put on their registry!
Let's get into it!
This post is all about eco friendly bridal shower gifts.
Eco Friendly Bridal Shower Gifts
A toast to the newlyweds! These recycled glass champagne flutes have a funky silhouette and wavy detailing to keep the party going long after the wedding.
Due to the handmade quality no two glasses are the same, and can vary in detailing, color, and size up to two inches. These flutes come in a set of four, and are hand-crafted in Bogota, Columbia.
We recommend you remind the bride to hand wash these glasses to maintain their quality over time. These flutes should be handled and gift-wrapped carefully!
These modern handmade porcelain olive oil bottles from the Bright Angle make for a versatile sustainable wedding gift. Use them for olive oil, dish soap, syrups, and more.
The Bright Angle specializes in modern home decor and dishware made with stunning, translucent porcelain intended to last several lifetimes.
This brand makes all their porcelain mugs, planters, vases, and pots in Asheville, NC with raw, natural materials from the nearby mountains.
Often a wedding means moving in together, buying a home, or upgrading to a new space. This can be a great time to make sure the newlyweds are fully stocked with kitchen essentials like this beautiful towel set!
The first time you wash these towels, something magical happens: the smooth basket weave puckers into a waffle texture that offers more surface area per square inch, drinking in water like no regular woven towel can.
Loomed from organic cotton, these towels have a beautiful soft color that endures through hard work and frequent laundering.
Shopping for a bride that loves to entertain and enjoys a good tablescape? Gift premium quality and timeless designs with this upcycled tablecloth and napkin set from Hilana.
Made in Denizli, Turkey and handwoven by a collective of weavers, each piece features heritage textile techniques and is composed of 50% regenerated cotton upcycled from clothing manufacturing waste and 50% virgin cotton.
Hilana's innovative production process is zero-waste and chemical-free, making their products the perfect eco friendly wedding gift. They also produce long-staple Turkish cotton fibers without water waste, and use less electricity than creating a new garment.
One of our favorite sustainable bridal shower gifts is this recycled glass carafe and tumbler set.
This tumbler set is made with sustainable glass that's been repurposed, helping to reduce the number of single-use plastics and glass sent to landfills.
This set includes one carafe and two tumblers which are dishwasher safe and made from recycled, hand-blown glass. The new couple will definitely have something to cheers to!
If the couple likes to entertain, they may appreciate these chic, recycled placemats.
These recycled placemats are eco-friendly, heat resistant, and made in the United States.
Designed to last, use these mats to provide extra grip to dishes and utensils at the table or protect from crafts or projects. This set is a multipurpose tool that will last a lifetime!
Another beautiful bridal shower gift for the entertainer!
These beautiful and durable recycled copper mixologist set will elevate any bar cart, whether at home for fun or entertaining house guests.
Plus, this set guarantees the cleanest tasting cocktails, as copper is a naturally antimicrobial material. This is truly the perfect gift for the amateur mixologist.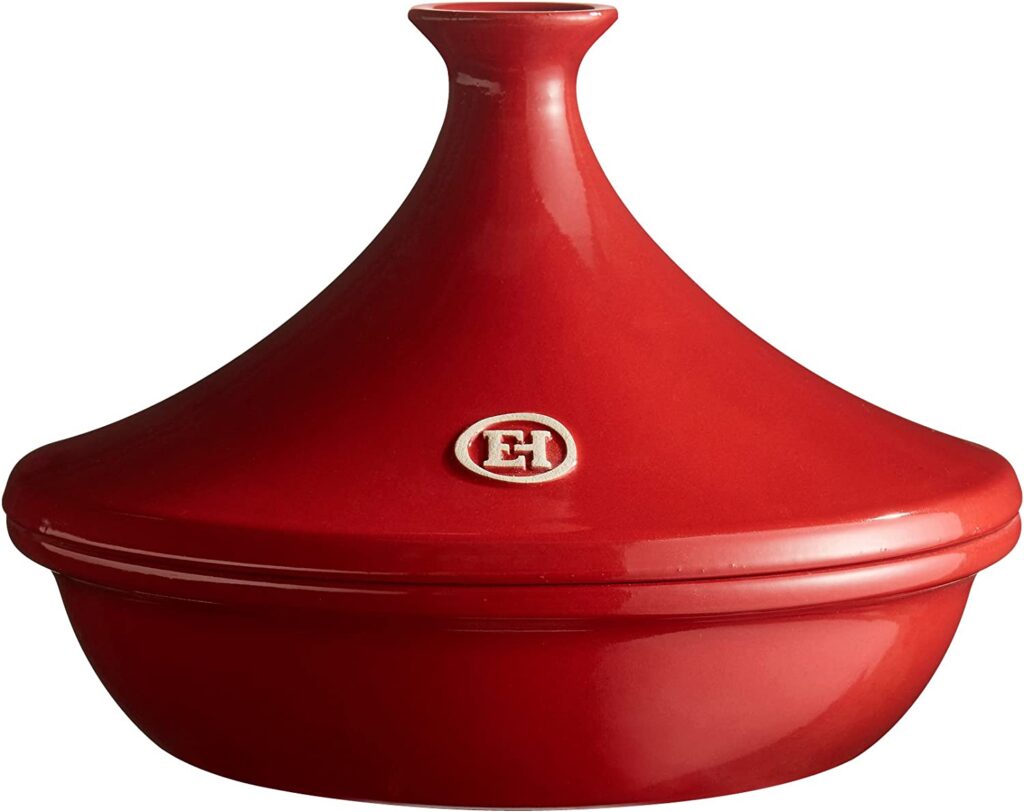 A tagine can be such a fun gift for the foodie bride in your life!
This eco friendly bridal gift can be used on all direct heat sources: gas, electric, or halogen, and in the oven.
The ceramic material has been designed specifically for slow simmering, which brings out the flavors in the recipe, and is guaranteed to last for years.
If the bride is a big salad™ kind of girl, she'll love this one-of-a kind salad bowl.
Finished with all-natural lacquers and varnishes, this handcrafted wooden bowl is made to last.
The size is ideal for serving family-size portions of their favorite dishes, from leafy green salads and pasta dishes to soups or punch.
A serving tray set is an item you don't think you'll ever need until suddenly your married and tasked with hosting Thanksgiving. (Am I speaking from experience?! Maybe.) Help a bride out with this eco friendly wedding gift.
Each tray set is designed as a statement piece for serving bread, cheese and charcuterie. Each piece is made by hand with Convivial's proprietary sand clay and finished in their signature ivory glaze. The glaze on the rim of each piece has been removed to allow the warmth of the sand clay to be highlighted.
Founded with sustainable ideals in mind, Convivial strives to create locally made, environmentally friendly, and socially responsible ceramics.
These live edge charcuterie boards make such special wedding gifts.
With a live edge, black walnut wood is exquisitely shaped to focus on the unique grain and natural edge of the board. Finished with mineral oil and a beeswax buff for superior shine, these boards can be used to prepare the spread and to serve your guests.
As an extra touch, you can personalize your charcuterie board with the recipient's name to memorialize this next step in their relationship!
Everyone loves a cozy blanket, and this recycled one from Circo Massimo makes for an extra special bridal shower gift!
This super soft throw is made in the USA from 100% recycled materials.
The beautiful neutral colors invert on either side and stay cozy no matter what. Choose sustainability with this beautiful recycled throw blanket.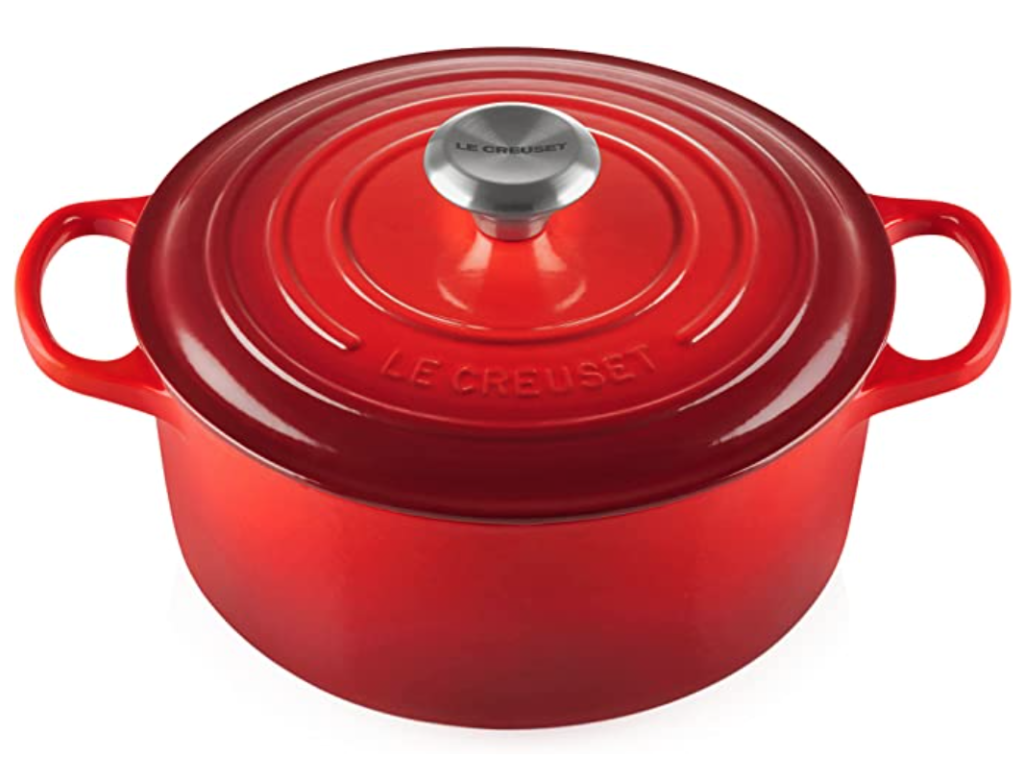 No kitchen is complete without a dutch oven, designed for long and slow roasts.
This sustainable Le Creuset Enameled cast iron dutch oven is a perfect bridal shower gift as they are truly built to last!
These dutch ovens are hardy and heat resistant, meaning they will outlast many of your other pots and pans through the years. The enamel protection allows for even heat distribution.
Is your bride preparing for a honeymoon? Check chic new luggage off the list with this recycled carry-on from Samsonite.
It's made with a durable polypropylene shell and Recyclex® interior liner fabric made from 100% recycled plastic bottles.
Plus this carry-on comes with convenient extras like a built-in TSA lock with an integrated USB port and internal battery pocket.
Cast iron makes the perfect sustainable wedding gift because it's pretty much indestructible, just like the marriage (we hope!)
This cast iron grill pan allows you to achieve BBQ-level flavor inside the kitchen or out. The ribs on this pan give you the best cross-hatch grill marks whether on the stove, grill or over the coals.
Great for steaks, chops and salmon—it was made for the reverse seared steak technique.
If you really love your bride, you'll show it with this iconic Vitamix blender!
Sure, it's pricey, but it's absolutely worth it (I've had one myself for almost 10 years now!) I consider it one of the most sustainable kitchen appliance gifts you can give because they are engineered to last forever, and they come with a lifetime warranty!
This Vitamix has a variety of speed controls and can make up to 64-ounce batches.
The Solo Stove Bonfire makes for a really unique wedding gift, especially for couples that love to spend time outdoors!
Backyard entertaining has never been more accessible with this minimal smoke and ash output portable fire pit.
Plus, the Solo Stove is easy to clean up and won't leave everyone smelling like a campfire.
---
This post was all about eco friendly bridal shower gifts.
Read these next for more sustainable wedding ideas:
Looking for more eco friendly wedding tips? Below, I've shared a number of posts I've written on how to make this super exciting time more eco-friendly!
Join Me on Pinterest
Pinterest is a great platform for planning your wedding and finding new eco-friendly products! Join me on Pinterest here, to get all of my sustainable wedding tips.