This post may contain affiliate links, which means that I may receive a commission if you make a purchase using these links.
If you're reading this blog post, it's likely the end of the growing season and you're wondering how to save tomato seeds so you can plant them again next year. Read on for step-by-step instructions on how to save tomato seeds.
What is seed saving?
Saving seeds is one of my favorite gardening practices.
It is simply the practice of collecting seeds from the plants in your garden and storing them, so that you may start grow those plants again from seed the next growing season.
Why save seeds?
It's immensely gratifying to witness the entire lifecycle of a plant, from seed to pollination, to fruit and then seed again.
Saving seeds from your favorite plants means you get to carry on the genetics of particularly tasty or disease resistant plants.
Plus, seed saving is the ultimate money saver! No need to buy seeds from the local hardware store when mother nature produces them for you for free each year at the end of the growing season.
Finally, seed saving is the ultimate sustainable gardening practice. If you have fruits and vegetables growing in your garden, you already have everything you need to start saving seeds–no equipment, middle men, and fossil fuels necessary!
This post is all about how to save tomato seeds.
Hello there! I'm Leslie, Head Honcho at PunkMed
My name is Leslie, and I'm the founder of PunkMed! On my blog, I and my team share my info, experiences, and recommendations in the area of sustainability, urban homesteading (including gardening!), and outdoor living. Our goal is to make it less overwhelming for readers to live an adventurous and sustainable life!
And, as someone who is a sustainability content creator (my Tiktok is HERE), I love merging the worlds of sustainability and gardening. Seed saving is one of the most sustainable gardening practices, but I realize many home gardeners have either neither heard of it or find it too intimidating. In this post, I'm here to show you just how easy seed saving can be!
Let's get into it!
How to save tomato seeds
Saving the seeds of some plants is as simple as letting the fruit or seed pod dry out at the end of the season and collecting the dried seeds.
Unfortunately, saving tomato seeds requires some extra steps.
Namely, tomato seeds will require a fermentation step before drying and storing for planting next year.
If that sounds intimidating, don't worry–we'll walk you through it step-by-step.
Materials
Ripe tomatoes from the garden
Mason jar
Paper towel, cheesecloth, or other breathable fabric
Elastic band
#1 Choose your tomatoes. At the end of the growing season, select a few ripe tomatoes (depending on how many seeds you want!) from which to collect your seeds.

Choose tomatoes whose genetics you will want to carry on to the next year. Does the fruit look ripe and tasty? Was the plant disease-free? These will make excellent tomatoes to plant again next year.
#2 Cut tomato in quarters lengthwise. You'll want to expose the pockets of seeds.
#3 Scoop out the seeds. Using a spoon, scoop out the tomato seeds (with the surrounding tomato liquid) into a mason jar. You'll want enough tomato flesh and liquid to cover the seeds. If you have a particularly dry tomato and there isn't enough liquid, you can add just enough water to cover the seeds.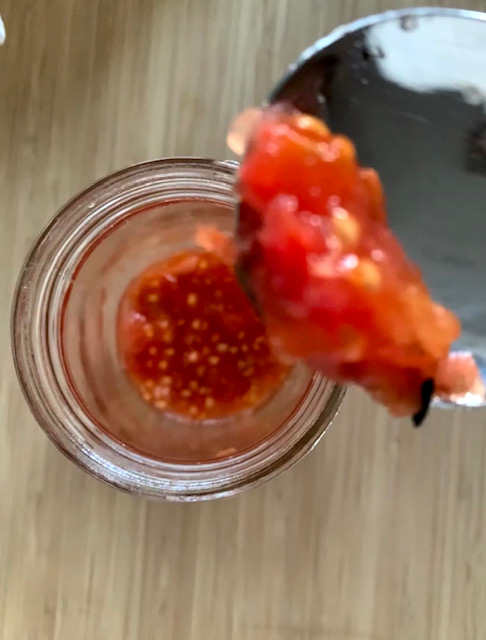 #4 Cover the mason jar. Cover the mason jar with a paper towel, cheesecloth, or other breathable fabric to keep bugs out. Secure the cover with an elastic band.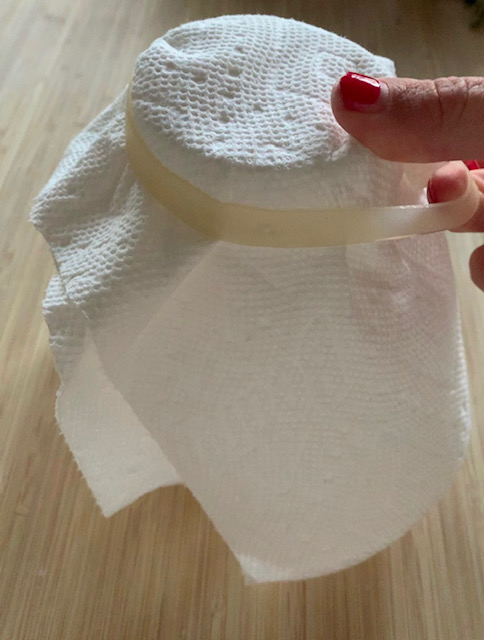 #5 Let ferment. This part is easy! Place your mason jar of tomato seeds and liquid sit for 2-6 days to ferment. You may want to place this concoction in a pantry or some other place that's out of the way because it's going to stink! (This is normal!)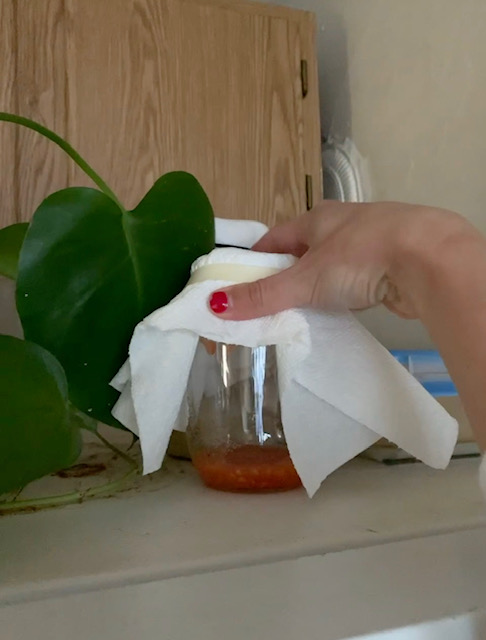 #6 Watch and wait for a mold to form a layer on top of the liquid. Yep, this part is kind of gross. You'll know the fermentation process is complete when a layer of mold has formed on top of the tomato seed mixture. Again, this will stink!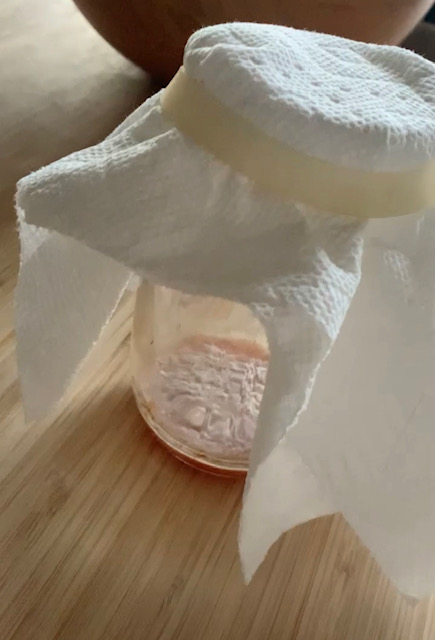 #7 Rinse seeds. Place the seeds in a fine mesh sieve and rinse with water in the sink. You'll want to completely rinse the seeds so they are clear from their flesh or other tomato-y bits that may be hanging around.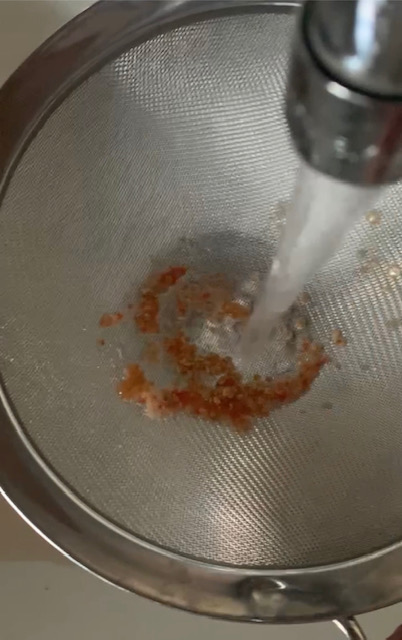 #8 Dry seeds. Blot and dry seeds on a paper towel. Let the seeds air dry on the paper towel in a sunny, dry place for a few days.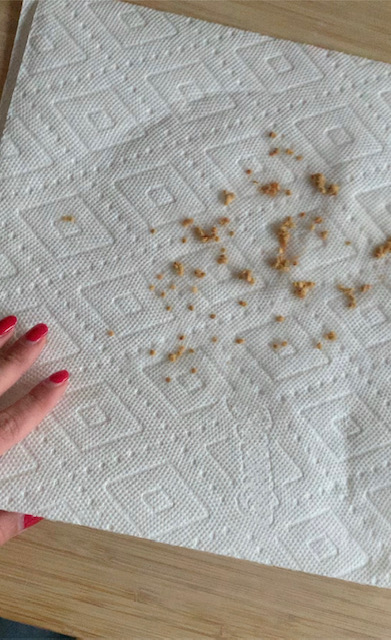 #9 Store seeds. Only when the seeds are completely dry can you think about storing them. I like to place my seeds in paper baggies and place them in my favorite seed storage container. Make sure you label your seeds with the plant and the year (so you aren't completely lost next year!)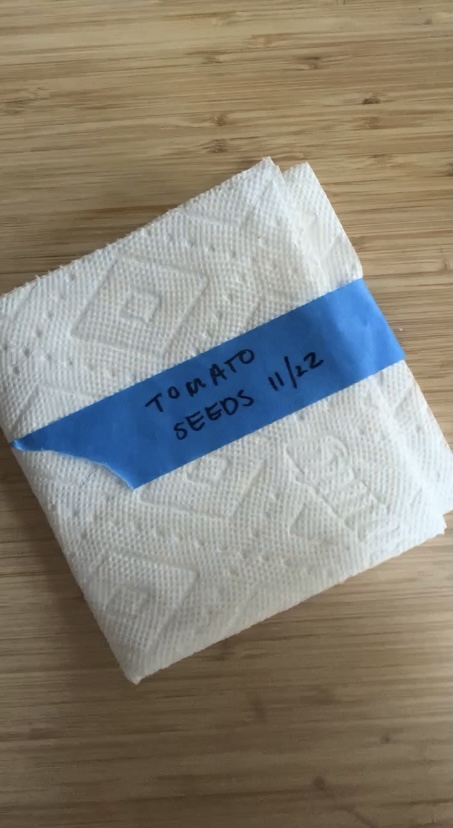 Next Steps: How to start seeds
That's it! Now your seeds are dry and ready to grow next year.
I wrote a whole blog post on my favorite seed starting tips, if you need help with the next leg of your journey. Make sure you bookmark this post for the next growing season when you're ready to plant your tomato seeds!
I'm confident seed saving and starting will become one of your favorite annual gardening practices.
This post was all about how to save tomato seeds.
Read these gardening tips next:
Looking for more helpful gardening how-to posts? Below, I've shared a number of gardening and urban homesteading hacks.
Join me on Pinterest
Pinterest is a great platform for planning your garden! Join me on Pinterest here, to get all of my urban homesteading and sustainable living tips.