This post may contain affiliate links, which means that I may receive a commission if you make a purchase using these links.
Looking for the ultimate 7-day itinerary for your south of France road trip with an eye toward sustainable travel? Follow along for an action-packed adventure taking you from opulence of Nice, to the foothills of the Alps, and back to the sparkling blue waters of Côte d'Azur.
When planning our honeymoon in France, my husband and I knew we wanted a mix of good food, outdoor adventures, and relaxing beach time. After some research, we discovered the south of France, or more specifically, the Provence-Alpes-Côte d'Azur had everything we were looking for.
I'm sharing our exact itinerary and recommendations because honestly it was the trip of a lifetime! I want others who enjoy local food, hiking, and natural beauty to experience all that this region has to offer.
I'll also offer some tips and tricks, as well as potential "side quests" if you want to extend your trip.
Where Is the South of France?
While technically the South of France covers a much larger area, this itinerary is specific to the Provence-Alpes-Côte d'Azur region.
The Provence-Alpes-Côte d'Azur region is an area in southeastern France bordering Italy and the Mediterranean Sea, known for its dramatic landscapes.
This region seriously has it all: turquoise waters, dizzying mountains, and rolling hills of lavender and olive.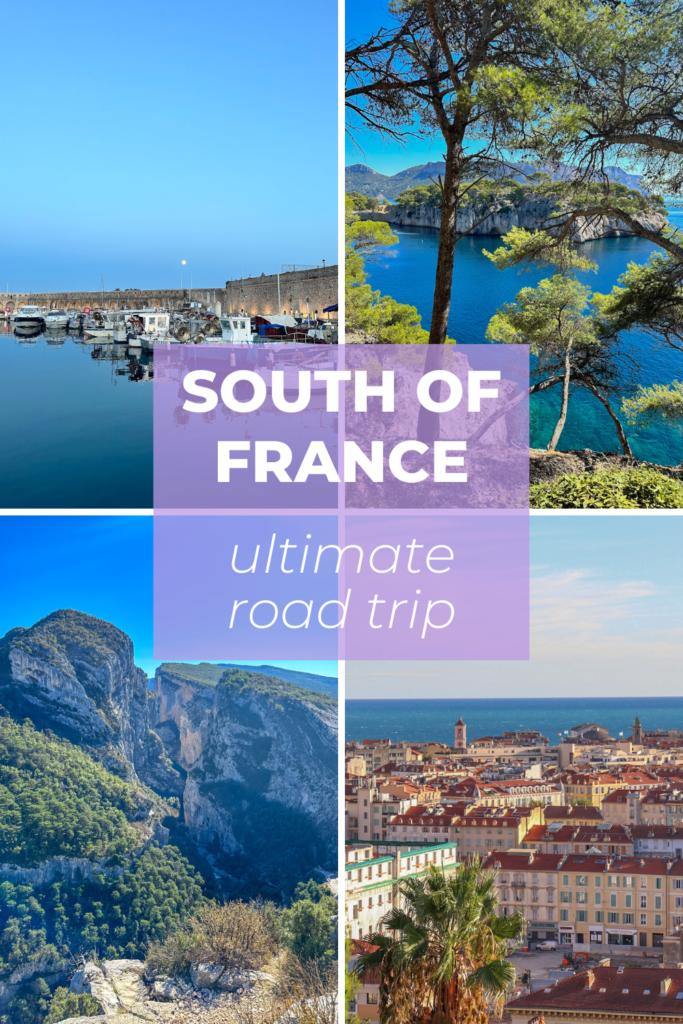 What is Slow Travel?
Slow travel is ultimately about traveling with care, curiosity, and respect for the culture and the environment.
As a blogger who talks about sustainability for a living, I try to make sure my ethics apply to my travels as well! Of course, none of us are perfect! I did get to France on a big airliner propelled by jet fuel after all.
Here, I use slow travel to mean taking the time to really get to know the place and people that you encounter on your travels. I'm always looking for ways to support small businesses, invest my money in the local economy, and learn more about the culture.
Who This Itinerary Is NOT For
One thing about us is we are not really resort people–so if you're looking to plop on a beach for a week with a drink in hand (respect!) this itinerary probably is not for you!
This itinerary also includes multiple long hikes (up to 10 miles long). If that isn't your thing, I'll offer some ways alternative ways to enjoy the natural beauty of the area.
Hi, I'm Leslie!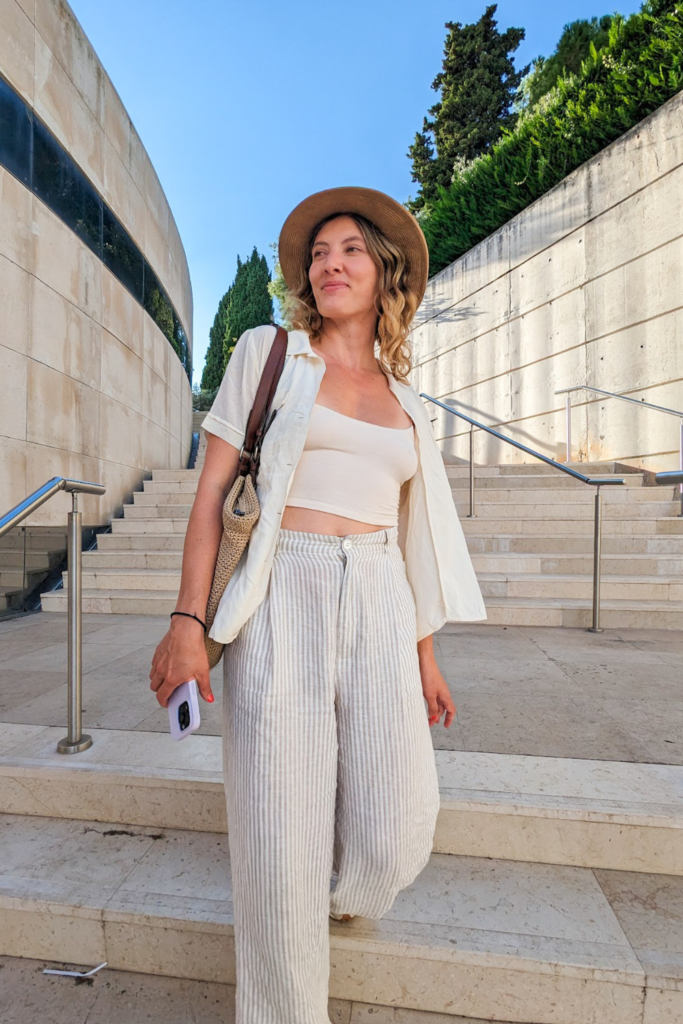 My name is Leslie, and I'm the founder of PunkMed! On my blog, I and my team share my info, experiences, and recommendations in the area of sustainability, urban homesteading, and natural living. Our goal is to make it less overwhelming for you to live a fun and sustainable life!
In today's post, I'm sharing my ultimate slow travel guide to the South of France. These ideas come from my years of experience in sustainable travel, and more recently, my honeymoon in the Provence-Alpes-Côte d'Azur region.
Alright, let's get into it!
This post is all about the ultimate south of France road trip.
South of France Road Trip 7-Day Itinerary
---
Days 1-3 South of France Road Trip: Nice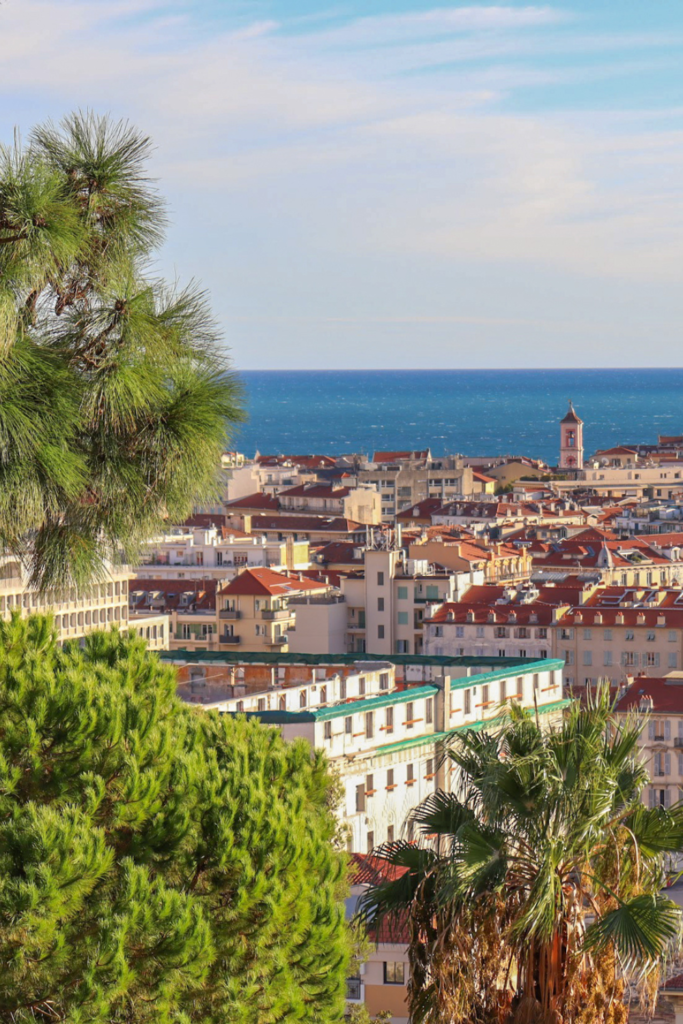 Nice is the largest city in this itinerary and the second largest city in the the Provence-Alpes-Côte d'Azur region after Marseilles. The Nice Côte d'Azur International Airport makes it the major travel hub of the region.
Like many cities in the Western world, there are levels of wealth on display here that don't always seem to match with its otherwise real-city grit. After all, Nice is the gateway to some of the most famously posh locales in the world, like Saint-Tropez.
Still, there is a lot to experience (and eat!) in Nice for the average traveler. However, I would recommend setting aside a significant portion of your budget for this city!
Where to Stay in Nice
Hôtel Petit Palais
After your flight into Nice, you'll need a comfortable place to relax before your whirlwind trip around Southern France begins! Look no further than the 4-star luxury Hôtel Petit Palais. With 25 unique Victorian-inspired rooms (some with views of the Mediterranean), a pool, and delicious breakfast buffet–this is the perfect spot to escape while still being within walking distance of the old town.
Things to Do in Nice
Cours Saleya Market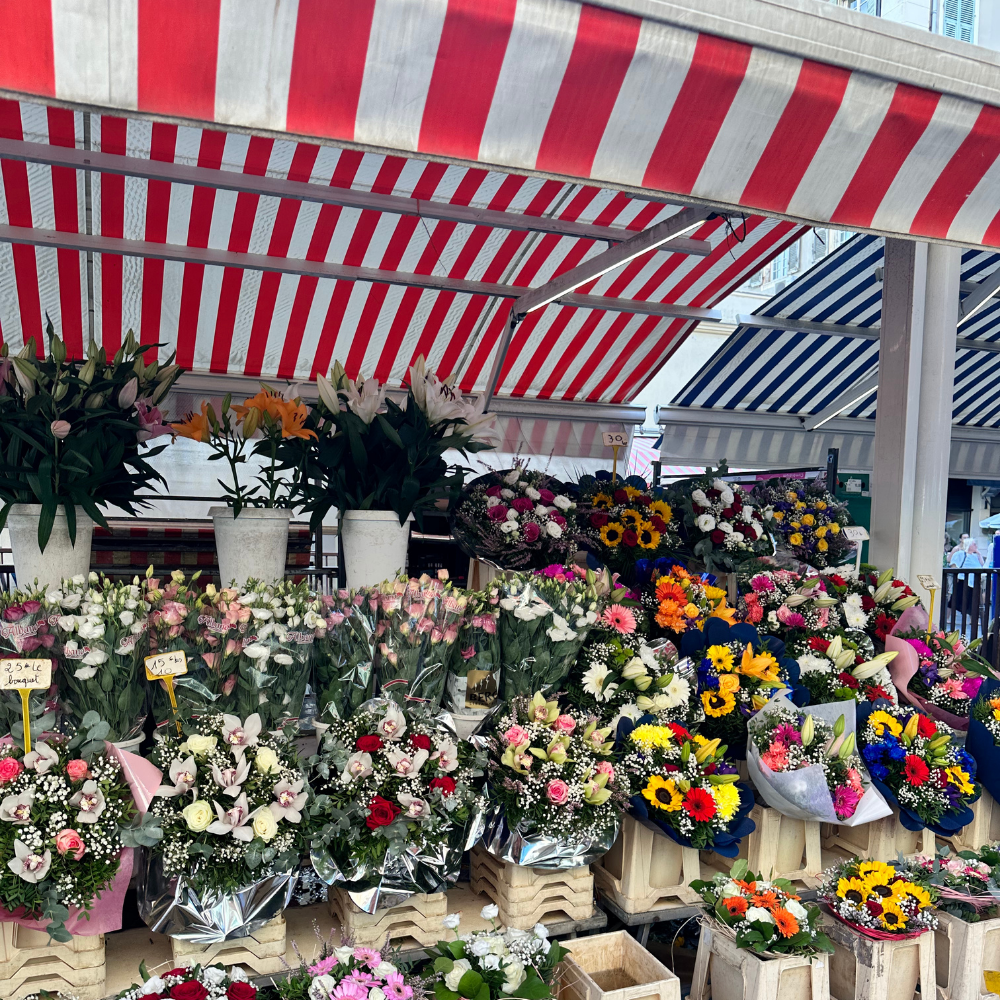 The Cours Saleya Market is a daily open-air market in Old Nice featuring the freshest fruits, vegetables and flowers from the surrounding region. The market is open daily except Mondays from 9 a.m. – 1 p.m.
Promenade des Anglais
The Promenade des Anglais is a paved, walkable 7-kilometer stretch of the Mediterranean coastline, from Old Nice to essentially the airport. Rent a bike (or better yet rollerblades!) to explore this stretch, which is named after the many English ex-pats who have taken up residence here over the years. Be on the lookout for the landmark hotel Le Negresco with its iconic pink dome.
Best Restaurants Nice
Jan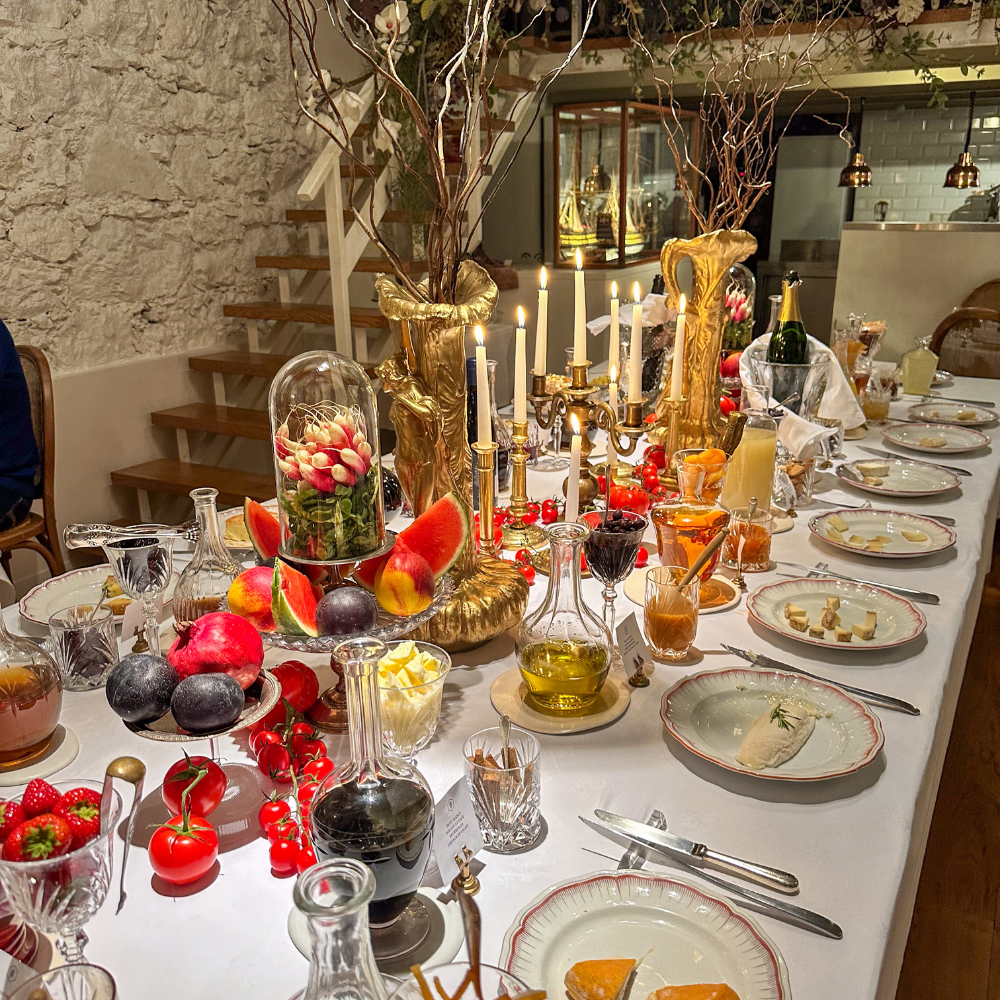 Remember when I told you to set aside some serious coin for Nice? Well, be prepared to spend it at this haute French-South African fusion restaurant! It's all worth it though–the 9-course tasting menu with paired wines was seriously one of the best eating experiences I've ever had.
Olive&Artichaut
On any given day you'll find head chef Thomas Hubert serving up Mediterranean cuisine in this hole-in-the-wall spot in the heart of Old Nice. As the name suggests, dishes highlight Provençal flavors and local produce.
---
Days 3-5 South of France Road Trip: Moustiers-Sainte-Marie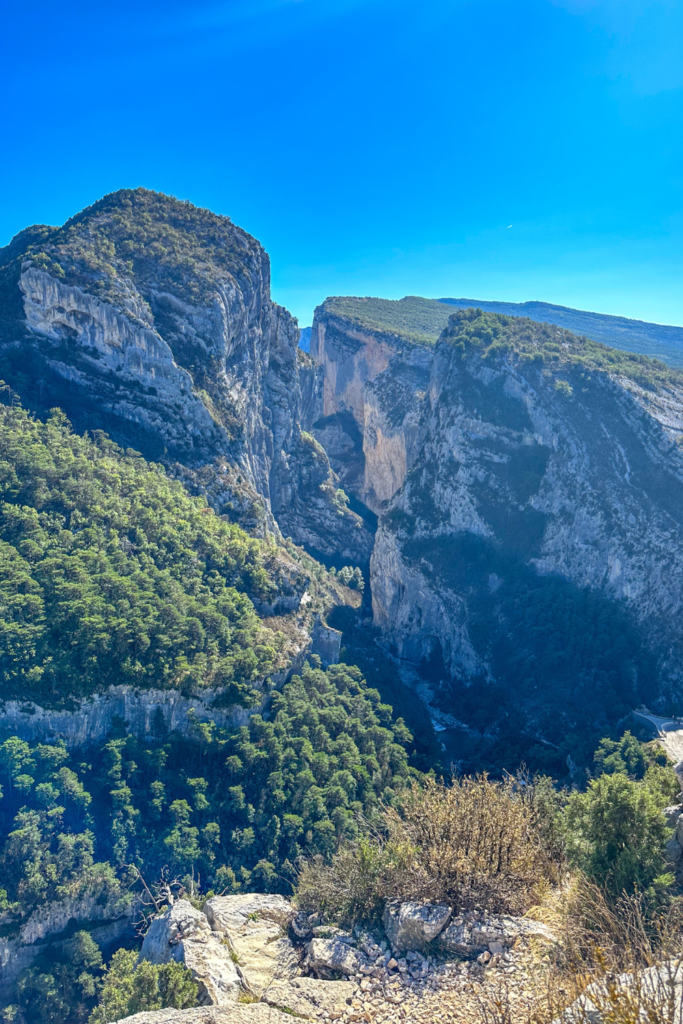 Two hours inland from Nice is the tiny village of Moustiers-Sainte-Marie, which sits almost precariously at the foothills of the French Alps. It's the prettiest of only a couple of villages that cater to tourists looking to visit the Verdon Gorge, which is an absolute must-see.
Where to Stay in Moustiers-Sainte-Marie
Hôtel de la Ferme Rose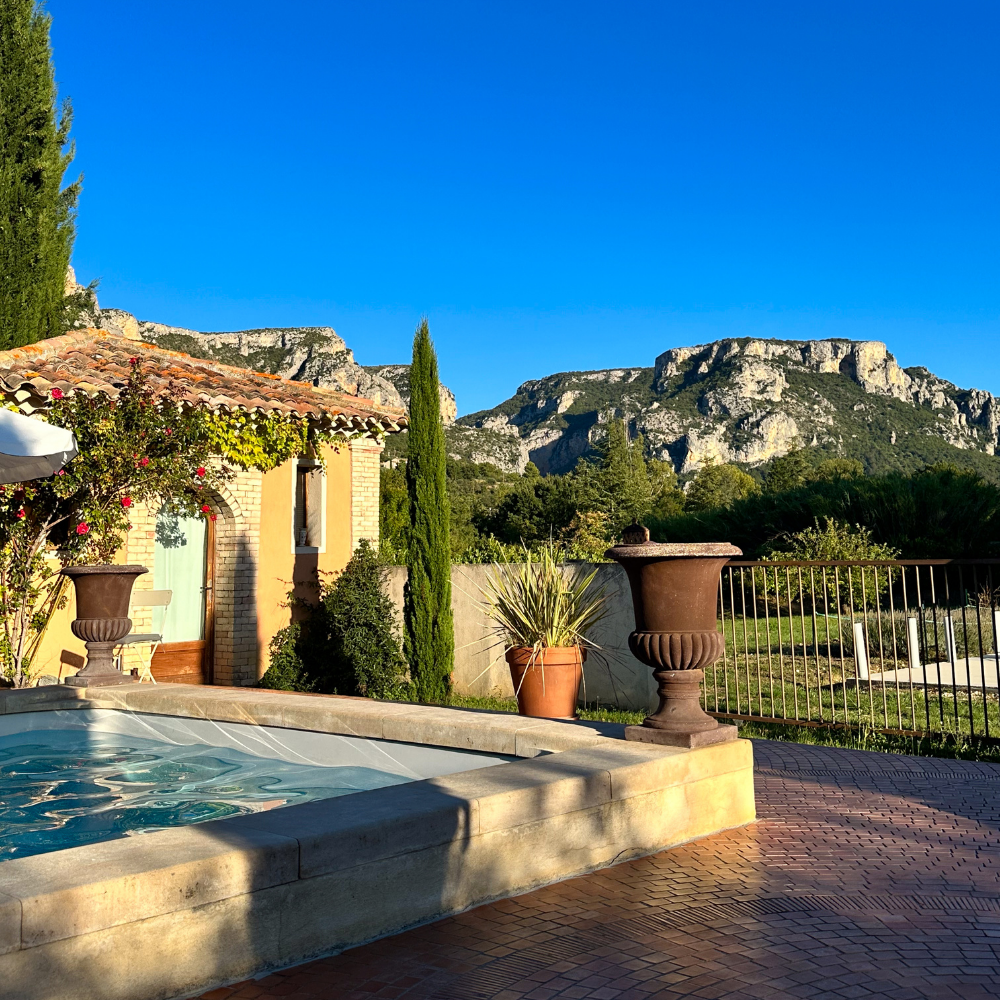 If you're looking for French countryside charm complete with a luxury poolside view, but without the big price tag, check out Hôtel de la Ferme Rose. Each of the 11 rooms has lofty wooden beams, terracotta floors and colorful bathroom tile work (we stayed in the stunning Almond room). The hotel is not without its quirks–check out the owner's extensive collection of 1950's gadgets and decor.
Things to Do in Moustiers-Sainte-Marie
Verdon Gorge
In my opinion, the so-called "Grand Canyon of Europe" should be on everyone's bucket list. Drive along the switchback roads that hug the gorge as it plunges a dizzying 1,000+ feet at some of its highest points to Point Sublime (perhaps the best viewing point).
At the bottom of the gorge runs the Verdon River, which is famous for its impossibly turquoise waters. After your thrilling drive atop the gorge, enjoy some outdoors time closer to sea level by renting a paddle boat or kayak where the river drains into Lake of Sainte-Croix.
Blanc-Martel Trail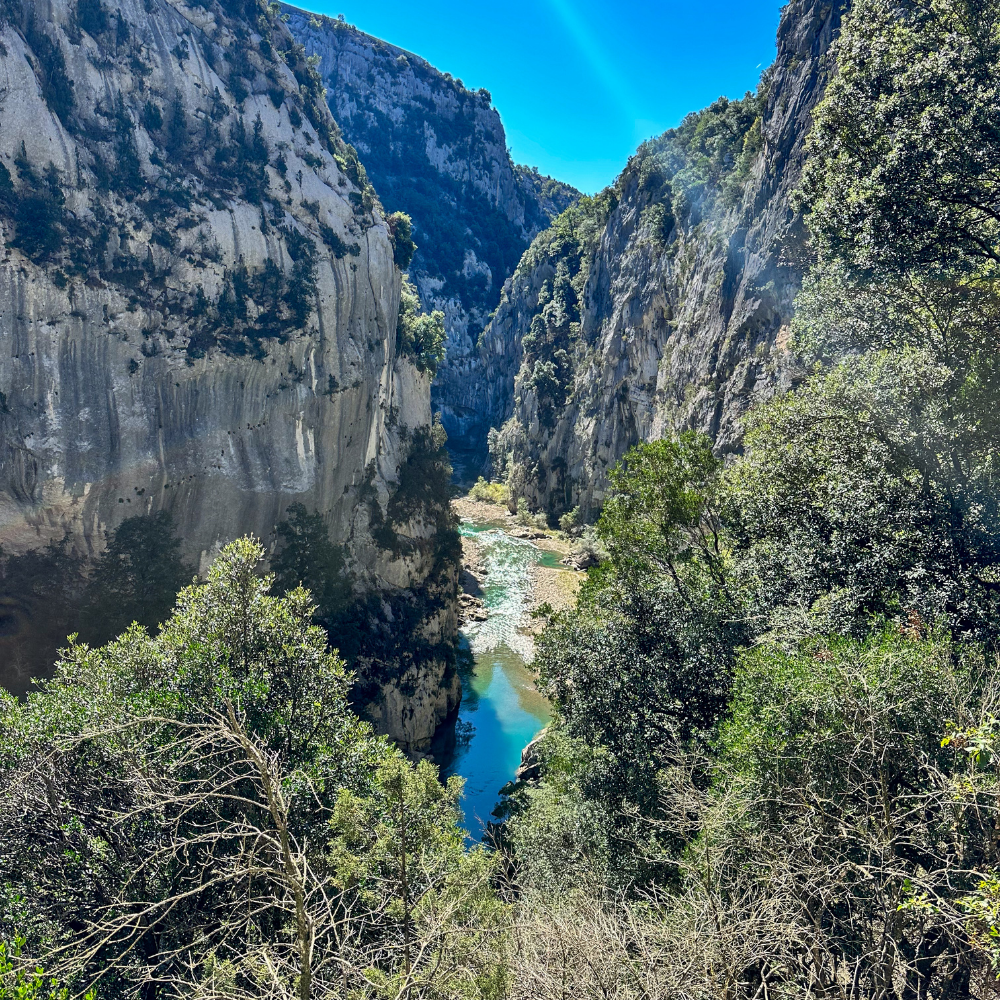 The Blanc-Martel trail is a spectacular 10-mile, one-way hike into the Verdon Gorge. You'll walk along the crystalline waters of the Verdon River for the majority of the hike until you climb out again to the resplendent views of Point Sublime.
There's no parking at the trailhead at Chalet Maline, so you'll need to either take a taxi or book a spot on the Blanc-Martel shuttle. I recommend the shuttle; in the morning, park in the village of La Palud-sur-Verdon and take the shuttle to the trailhead. The shuttle will then pick you up at Point Sublime at your reserved time in the afternoon and take you back to your car.
Best Restaurants Moustiers-Sainte-Marie
La Bastide de Moustiers
This Michelin-starred restaurant is the brainchild of famed chef Alain Ducasse, but don't let the luxury cars in the driveway fool you: La Bastide is serving up pretty traditional Provençal flavors in this charming country manor. Many of the dishes highlight vegetables and herbs plucked from the gardens on the grounds. Stop by for lunch for the best value.
Ferme Sainte-Cécile
If you want to experience some true Provençal home-cooking, look no further than Ferme Sainte-Cécile. Eating at this restaurant feels like being invited over for dinner by the chef and his wife, who are there to greet you and walk you through the menu of the day, which always features local produce and products like goat cheese from La Palud-sur-Verdon.
---
Days 5-7 South of France Road Trip: Cassis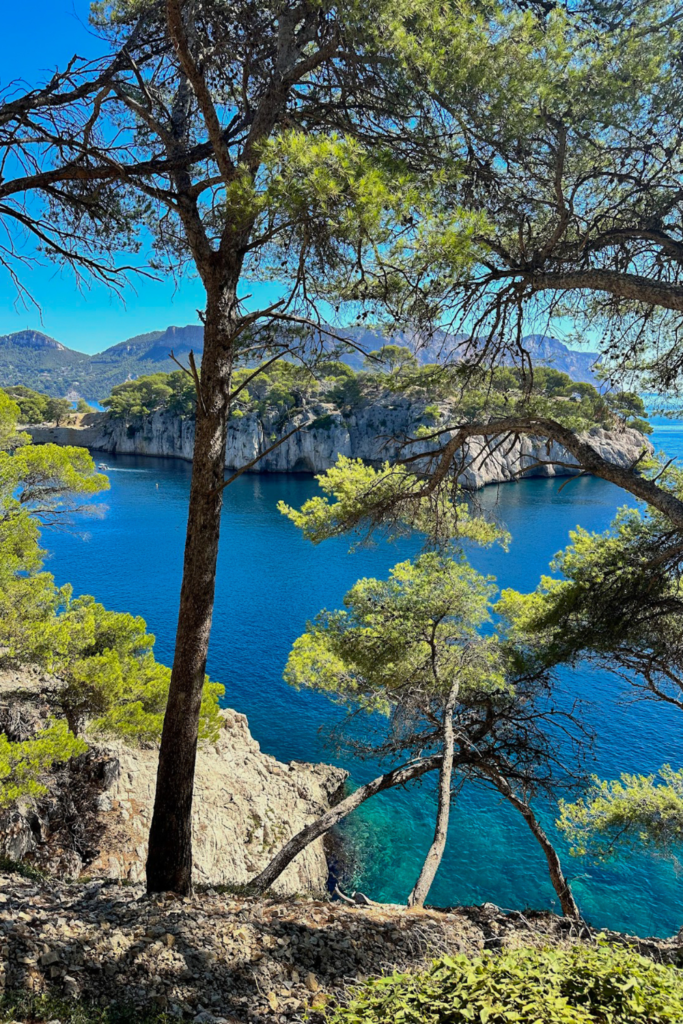 Cassis was described to me as a place where the French go to vacation, and it was definitely the least touristy of all the stops on this trip. Cassis serves as the gateway to the Calanques National Park, but offers a beautiful bay and charming seaside town all on its own.
Where to Stay in Cassis
Chateau de Cassis
If you want to live like a king, this 13th-century hilltop chateau offers jaw-dropping views of the Bay of Cassis, a heated pool, and several rooms with private terraces to take in the scenery. Note that the Chateau de Cassis is technically not a hotel, as it does not have 24/7 service on-site. Think of it as the fanciest airBnB you've ever stayed in.
Things to Do in Cassis
Calanques National Park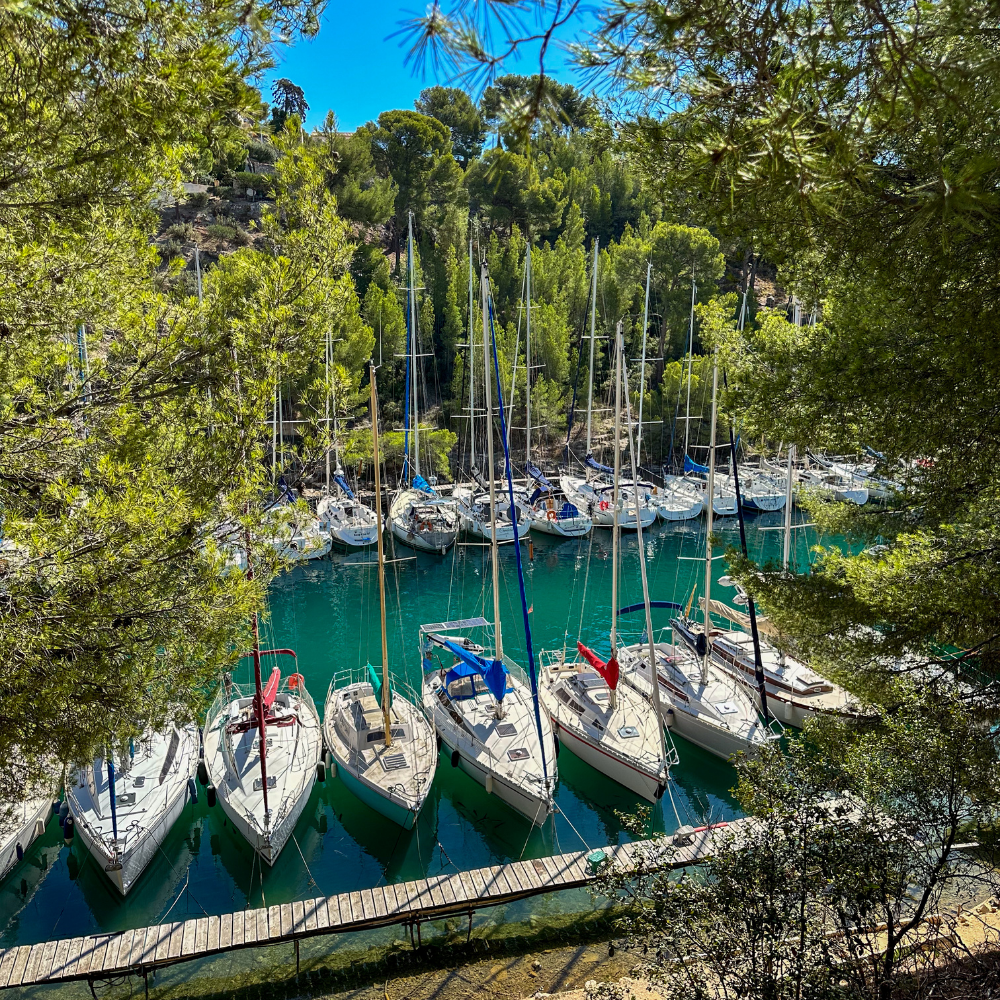 The main attraction of Calanques National Park is its series of seaside "calanques," or inlets featuring beaches that are only accessible by foot or by sea (many rent kayaks).
We opted to hike from the town center to one of the more remote calanques, Calanque d'En-vau, which ended up being about a 6-mile hike roundtrip. The trek is not so bad, considering you can stop and plunge into the azure waters of the Mediterranean along the way! Pack a lunch to enjoy on the beach and bring plenty of water.
Best Restaurants Cassis
O Rev Cassis
The restaurant tucked in an alley a bit away from the tourist trap restaurants along the harbor offers French seafood staples in a laid-back, bohemian setting. The staff are super friendly, and the food and drinks are tasty and well-priced!
---
Days 7-8 South of France Road Trip: Antibes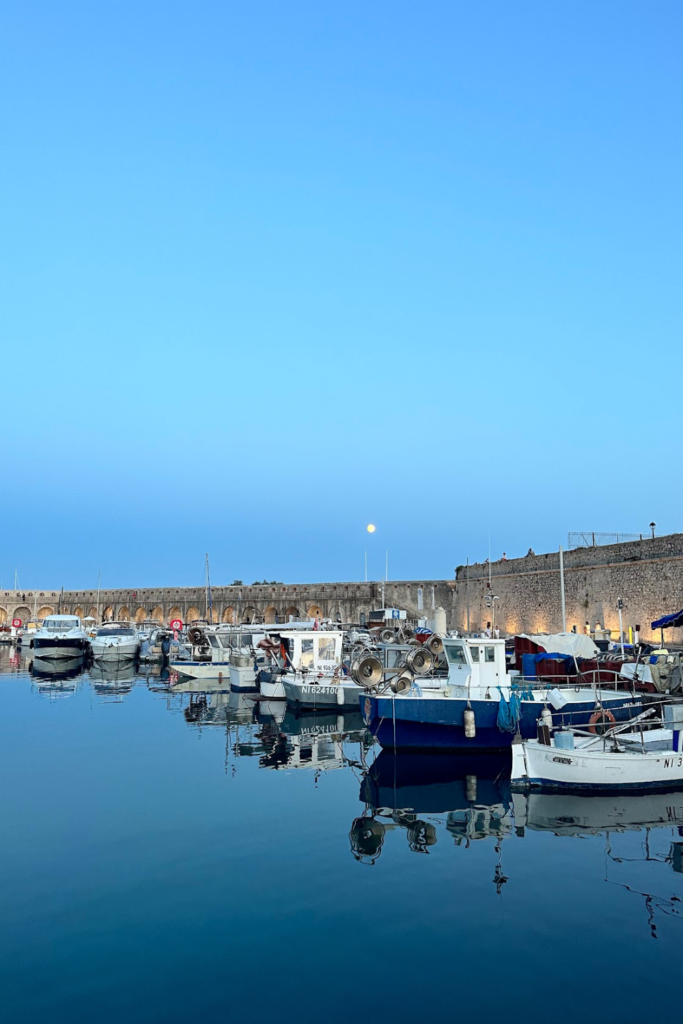 Antibes is so much more than just a resort town. The culture, food, and public white sand beaches with views of the Alps make Antibes worth the stop on the return back to Nice.
Where to Stay in Antibes
Hôtel La Villa Cap d'Antibes
Technically in Juan-les-Pins on Cap d'Antibes (Cape Antibes), Hôtel La Villa Cap d'Antibes offers an upscale bohemian base from which to enjoy both the city and the beach. The Vieil Antibes, or the old town of Antibes, is just a short drive away. The beach is even closer.
Things to Do in Antibes
Cap d'Antibes Beach Hotel
Book a pretty pink sunbed for the day on the private beach of the posh Cap d'Antibes Beach Hotel (you'll be able to walk from Hôtel La Villa Cap d'Antibes!) You can order drinks to your place in the shade and watch the yachts go by.
Marché provençal
This market in the heart of old Antibes has a wide selection of Provençal goodies like cheeses, olives, and local produce. Open daily except Mondays from 7:30 a.m. – 1 p.m.
Best Restaurants Antibes
Restaurant L'Arazur
Chef Lucas Marini brings his years of experience in multiple Michelin-starred restaurants to this cozy restaurant in the old town.
---
Getting to South of France
Fly into Nice Côte d'Azur Airport to begin your journey. Unfortunately, the only direct flights from the US to Nice are out of New York City and Atlanta. You'll likely have a layover in Paris, but hey, maybe make it an extended layover?!
Getting Around South of France
While there is train service from Nice to Antibes (along with other popular cities on the coast like Saint Tropez and Cannes), you generally need a car in this region for maximum mobility and flexibility. I recommend renting a car from one of the vendors at the Nice Côte d'Azur Airport. Pick up your car on day 3 as you're leaving Nice for Moustiers-Sainte-Marie–you won't need it in the city.
French Rules of the Road
The French drive on the right side of the road, so US drivers will feel comfortable. However, be aware of the confounding French rule-of the-road called priorité à droite. This means drivers turning right onto a road have the right of way over the cars already on the road driving straight ahead. There are a number of signs that indicate exceptions to this rule so study the signage before your drive.
France Travel Essentials
This adapter works in most of Europe including France, Germany, Spain, etc. and allows you to charge multiple devices at once with 2 USB Ports and 1 outlet.
This post was all about the ultimate south of France road trip.
---
What to Read Next: