This post may contain affiliate links, which means that I may receive a commission if you make a purchase using these links.
These thrifted Halloween costumes are super cute and don't contribute to the tons of waste generated every October 31st by throwaway clothing.
Literally, tons. One study conducted in the UK estimated that Halloween costumes alone generated about 2,000 tons of plastic waste every year.
Instead, these costumes are easily found at your local thrift store and incorporate styles you'll want to wear throughout the year.
I take Halloween very seriously. In fact, I have a note in my phone where I jot down Halloween costume ideas throughout the year.
For bonus points, I try to incorporate thrifted or vintage clothing and jewelry items I may be shopping for anyway! That way, I know I'll definitely wear the pieces again.
I also use clothing rental subscriptions to like Nuuly and Rent the Runway to source clothing for Halloween without the commitment.
This post is all about thrifted Halloween costumes.
Olivia Rodrigo – Sour Album Cover
Turn the album of the year into the Halloween costume of the year. All you need is a Y2K inspired pink, fuzzy tank top and some fun stickers. Stick out your tongue (in a cheeky way) for photos throughout the night.
Get the look:
Princess Diana
A style icon before her time, Princess Diana is often cited as the inspiration for modern athleisure looks, including the ubiquitous pairing of a crew neck and bike shorts. This one is so easy to recreate, just throw on your alma mater crew neck sweatshirt, bike shorts, and dad sneakers and try to avoid the paparazzi.
Harry Styles in Watermelon Sugar Music Video
All you need to recreate Harry's iconic '70s-inspired look in the Watermelon Sugar music video is a crochet vest and some funky sunglasses. For bonus points, pair with watermelon accessories, or you know, an actual watermelon. We love a Halloween costume that incorporates a snack!
Lady Gaga in House of Gucci
The movie hasn't even come out yet, and images of Lady Gaga and Adam Driver as Patrizia and Maurizio Gucci in the forthcoming House of Gucci have already rocked the internet. The apres-ski scene particularly makes for a great couples costume.
For Lady Gaga's character, you'll need a black turtleneck, white fur hat and layers of gaudy jewelry. Adam Driver's Maurizio Gucci will just need a cream sweater and '80s glasses.
Fran Drescher in The Nanny
The '90s sitcom The Nanny has come back into the cultural zeitgeist for its fashion. Star Fran Drescher is often wearing bold designer suits.
If vintage Moschino is out of your price range (yes, hi, me too) you might be able to approximate the look with some good thrifting skills. Bold prints and skirt suits fit the bill.
Stevie Nicks
You could go as a basic witch for Halloween, or you could go as the real-life badass witch of Fleetmac Mac fame. To become Stevie Nicks, thrift an all-black flowy ensemble and maybe a top hat. Be generous with the jewelry.
Clueless
As if! Recreate Alicia Silverstone's iconic Dolce & Gabbana suit with a yellow plaid blazer and skirt if you can find it. Don't forget the knee socks and attitude!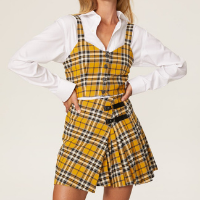 Kacey Musgraves
There are so many iconic looks to choose from the country singer's repertoire, but when I think Kacey I think rhinestone cowboy hat and raven black hair. Pair with anything sparkly, pink or red and pick up a guitar!
Harry Styles at the Grammys
In my humble opinion, Harry Styles is single-handedly bringing the boa from cheap party favor to en-vogue. Recreate his 2021 Grammys look with head-to-toe black leather and a green boa.
Boas are surprising thrift-able, as people typically buy them for parties and never wear them again. I found mine in my local buy-nothing group (another thrifting hack!)
The Love Witch
If you haven't seen the 2016 cult classic, The Love Witch, I recommend adding it to your spooky season watch list. It's a witchy horror movie shot through the female gaze. The looks in this movie alone could kill. A red dress, blue eyeshadow and a tarot deck is all you need to replicate The Love Witch poster look.
This post was all about thrifted Halloween costumes.
Other posts you may like: