This post may contain affiliate links, which means that I may receive a commission if you make a purchase using these links.
Looking for eco friendly ornaments? Today on PunkMed, I'm sharing my best advice and tips for finding really cute, sustainable ornaments.
I am such a fan of Christmas (and all holidays!), but I'm not such a fan of all of the waste that is created to celebrate Christmas.
In today's guide, I'm sharing over 17 gorgeous eco friendly ornaments for Christmas. These ornaments have been made using recycled and found materials, sustainable materials, and other ingenious methods!
This blog post is all about eco friendly ornaments.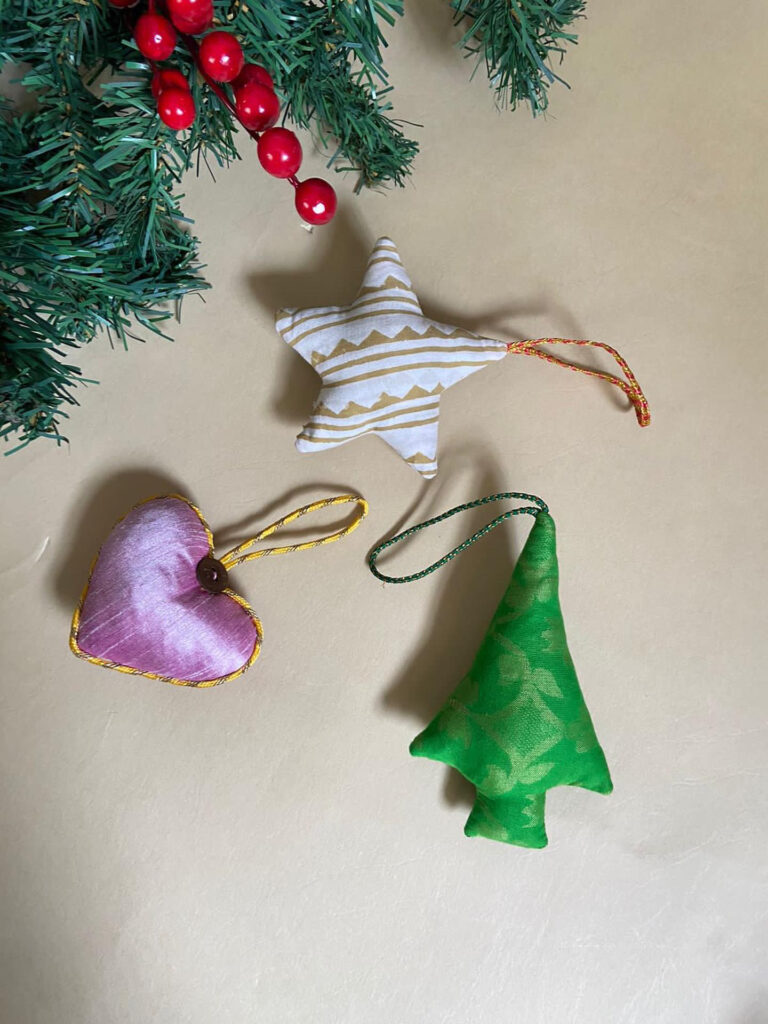 Eco Friendly Ornaments
When it comes to finding eco friendly ornaments as part of your sustainable Christmas decor, there are a few things to keep in mind:
Tip #1: How are we defining "eco-friendly" or "sustainable"? These terms cover a good amount, from ethical labor practices to sustainable sourcing. When you think of your sustainable holiday celebration, what is most important to you?
Tip #2: Remember that number of uses matters as well! If you're buying all new Christmas decor items each year, well, that's not very sustainable or eco-friendly!
Tip #3: Don't forget the sustainability practices around your eco-friendly Christmas tree itself! What are ways to reduce our carbon footprint here, that work for you and your family?
#1 Eco Friendly Ornaments: Cute Snowmen from Wooden Beads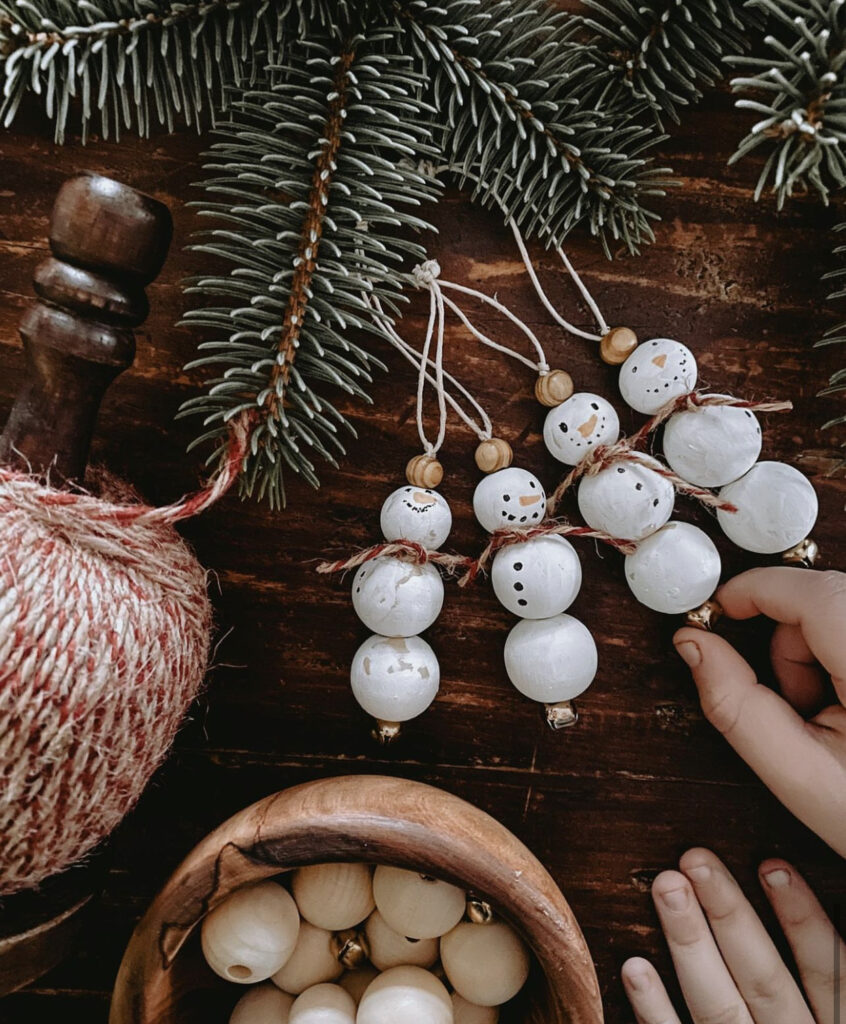 How sweet are this eco friendly ornaments from @.LeahDamon?!
From Leah:
"One of the crafting activities that made it into the line-up this year was the joy of some wee snowmen ornaments made from painted wooden beads! I just love the sweet faces that each boy drew (mine is second from left)!"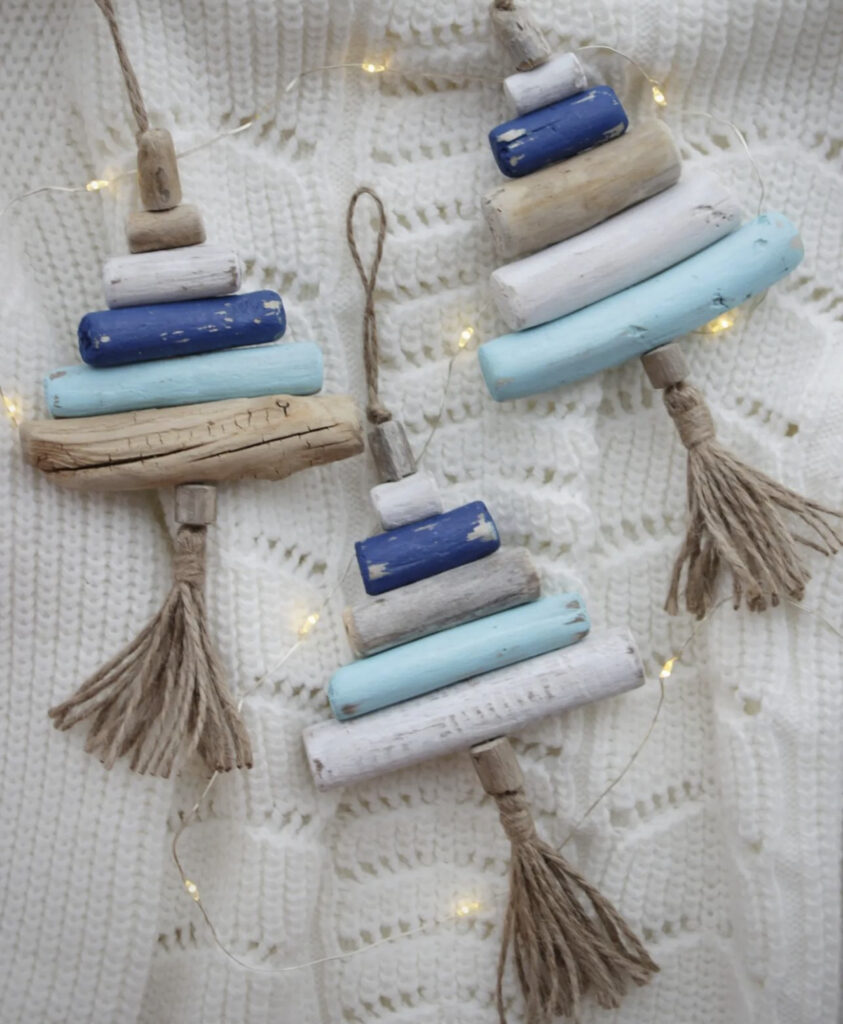 These eco ornaments from @.Eco-Labs are lovely, and they're for sale on Etsy, here! I love the different blues on these ornaments, and I think they're perfect as part of eco Christmas decor!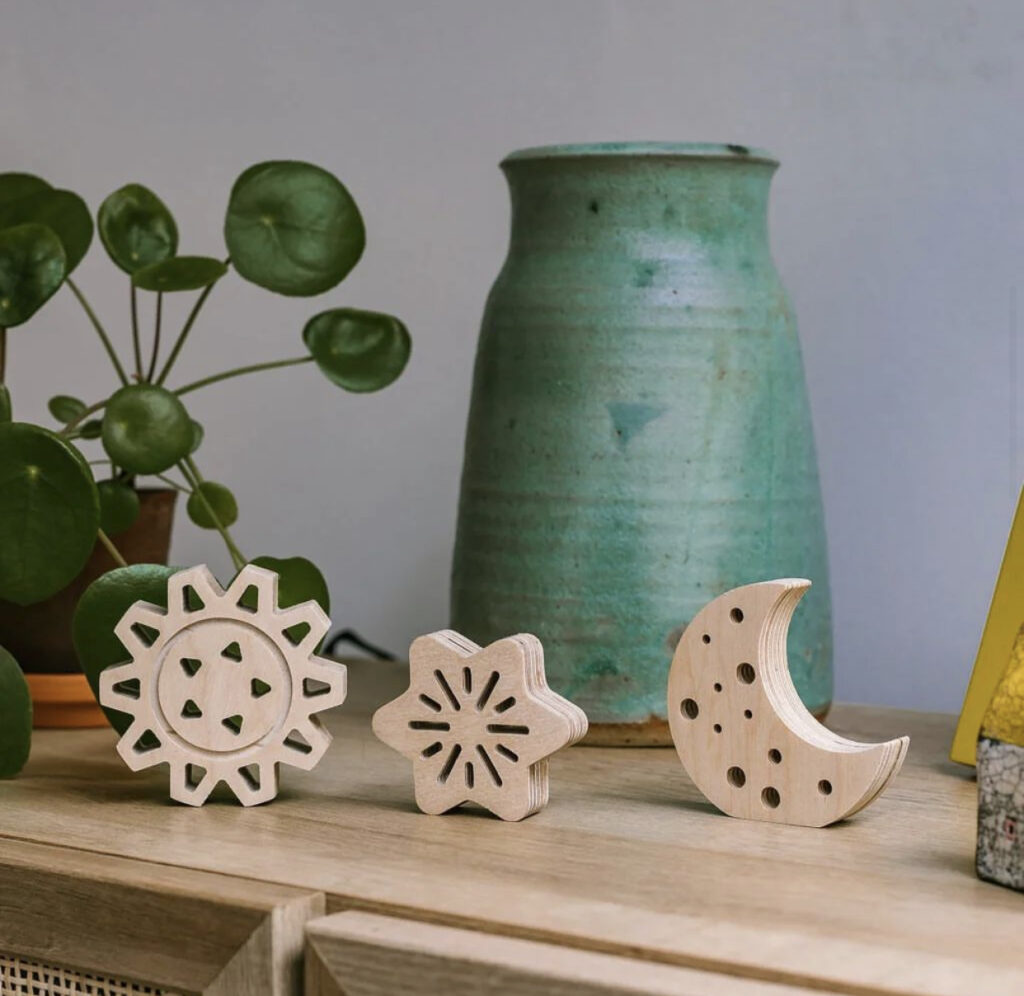 These sustainable Christmas ornament blocks from @BrightCornerShop are beautiful in their simplicity! Simply thread a string through them to turn these toys into ornaments!
#4 Eco Friendly Ornaments: Ornaments from Leftover Clay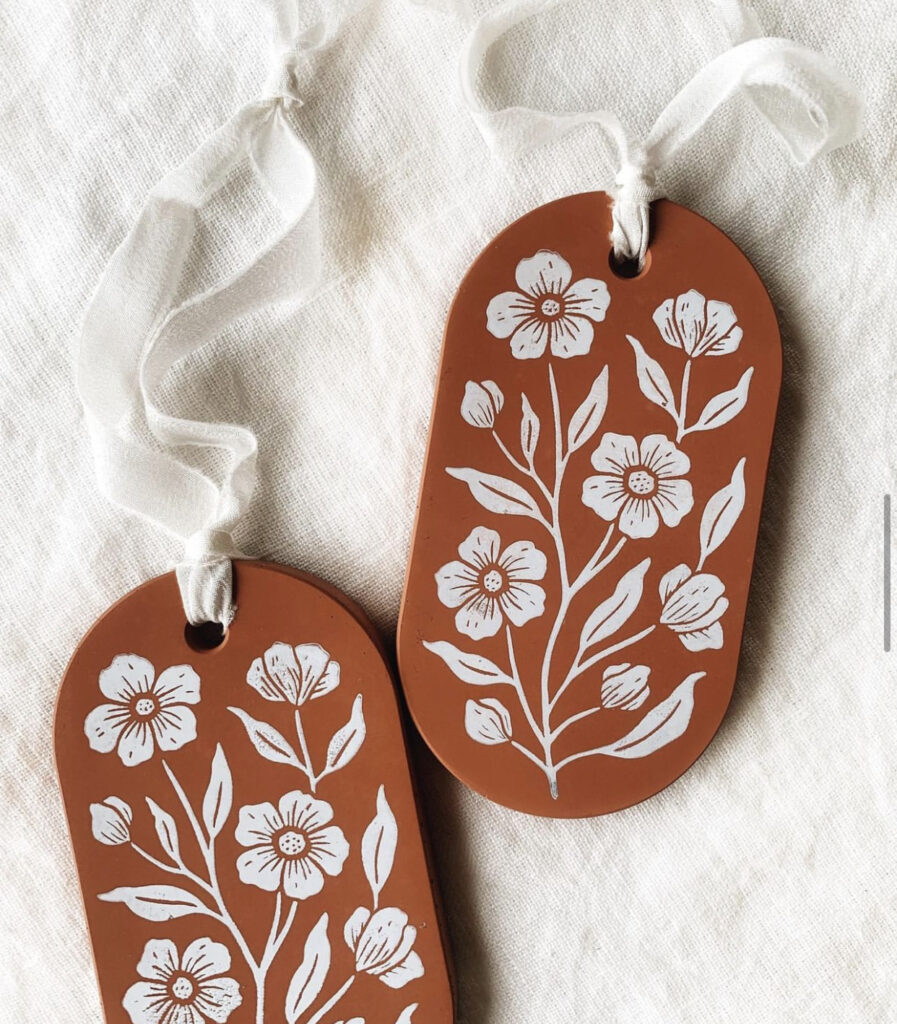 How gorgeous is this eco friendly ornament from @.FloraWestDesign?! I love that she found a way to use waste materials to create something so beautiful and unique!
From Flora: "Every time I made a cement tray this past year, if I had any leftover cement, I would use it up in these little ornament moulds….
Well I finally get to use them! I have over 150 from leftovers that I'm using to make Christmas ornaments! I'm proud of this little zero waste moment, but also that I *actually* premeditated Christmas for myself."
#5 Eco Ornaments: Colorful Macrame Snowflakes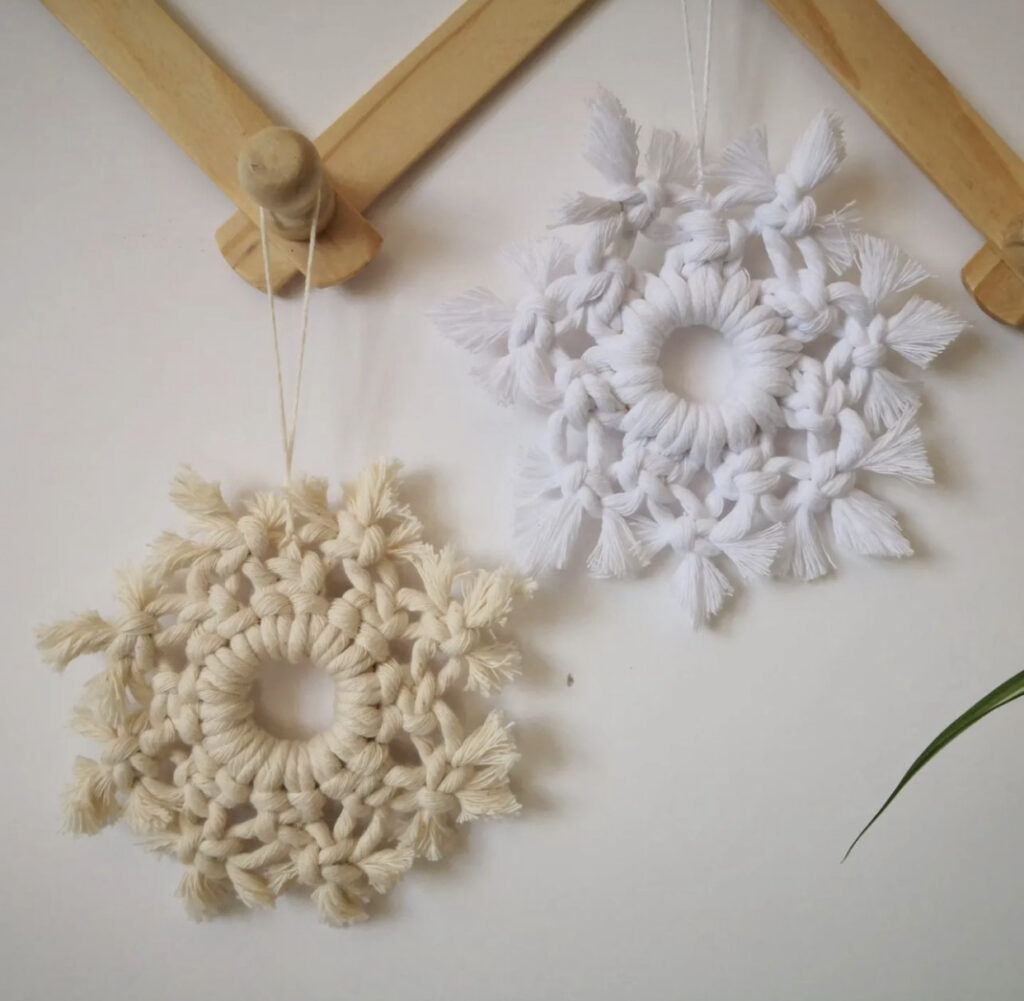 This Christmas tree ornament from @.DianaCrafted are lovely. I love that they work with a variety of Christmas decor color palettes.
From Diana: "Add something eco – friendly to your Christmas tree this year with these beautiful macrame snowflakes made with recycled cotton cord.
They are also great as props for flat lay photography or just for hanging from a door knob, from the mantelpiece, or from a hook on the wall."
#6 Sustainable Christmas Ornaments: Nordic Stars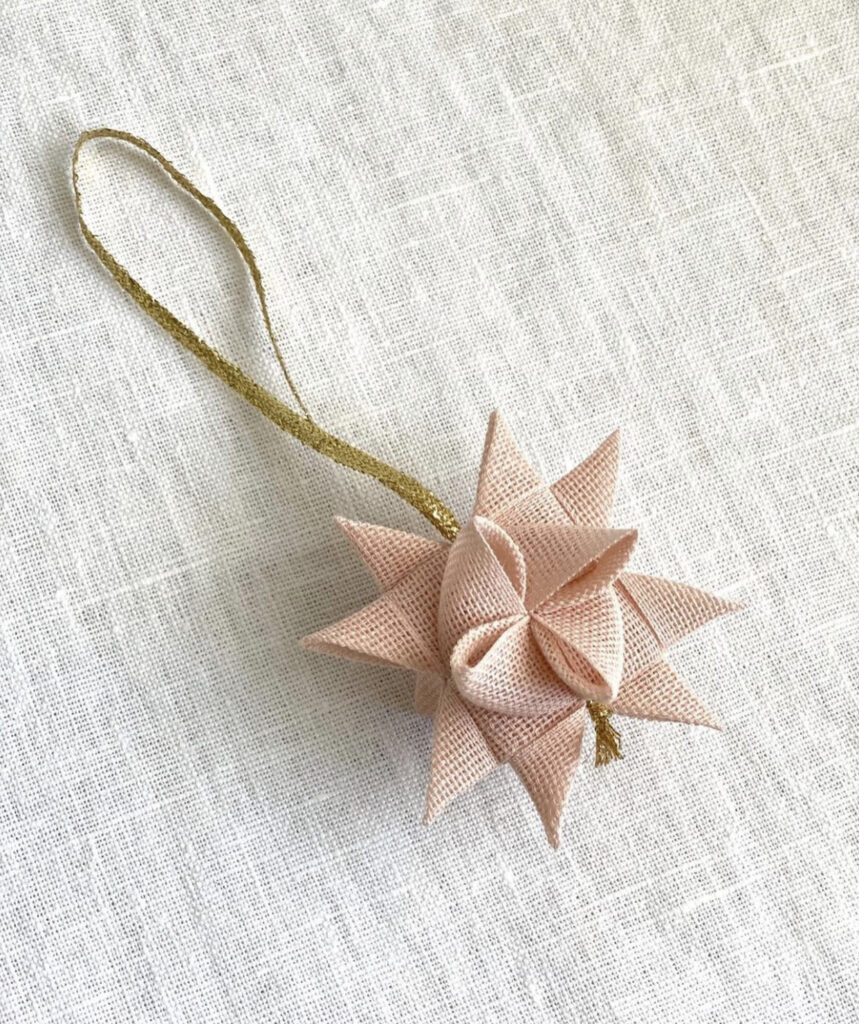 I think that these eco ornaments from @.StudioCartaShop are so chic!
From the shop: "The Nordic stars ornaments are the latest addition and so pretty! These were made with cotton ribbon by Lily Raid of @.ApprenticeStudio in California."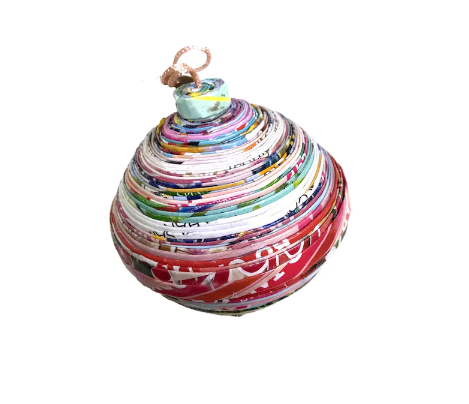 This eco Christmas ornament was made using recycled paper!
From the maker on Etsy: "First, recycled papers are rolled then quilling techniques are used to create a beautiful upcycled ornament. Personality of each artisan is expressed through the color and the quilling style. Each recycled magazine ornament is unique.
Our upcycled craft workshops improve lives for youth with disabilities, and women with disadvantages in Vietnam."
Snag this eco friendly ornament here!
#8 Eco Friendly Ornaments: Cowboy Boots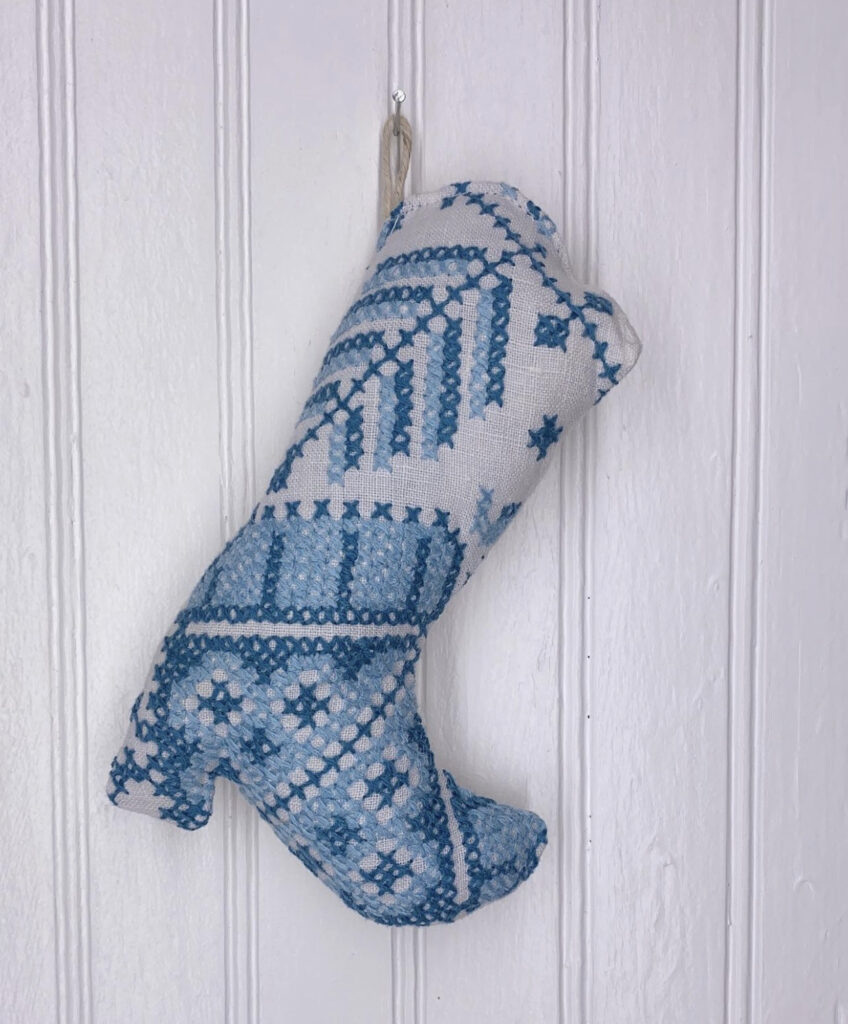 How rad are these eco friendly ornament from @.PsychicOutlaw?! These are giving me Dolly Parton vibes. Psychic Outlaw makes these sustainable ornaments out of upcycled tablecloths.
#9 Eco Ornament: Recycled Dinosaur Ornament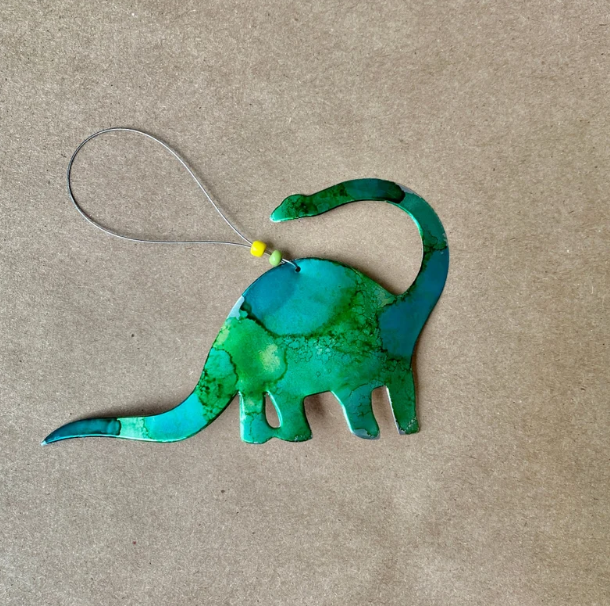 How fun is this cute little dinosaur eco ornament!? This Etsy maker has other animals as well, including goats, foxes, and flamingos (plus many others)!
From the maker: "This DINO will never go extinct due to its recyclable nature! Upcycled and repurposed aluminum can dinosaur ornament. Each item is hand painted in our studio. Due to the uniqueness of each item, there may be slight variation in color."
Snag this eco ornament HERE!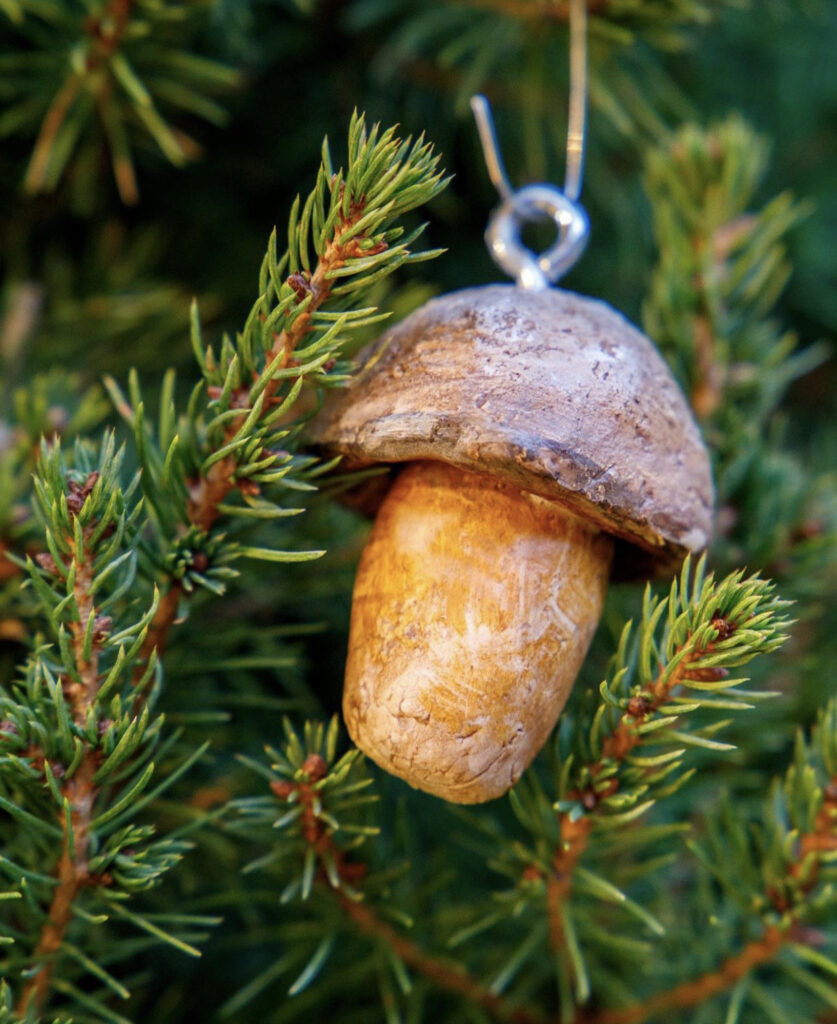 These eco ornaments from @.My_Seasonal_Treasury look like they came straight from a Jim Henson movie!
From the maker: "These sustainable mushroom ornaments are hand painted and each individual ornament has its own unique design. Sold in sets of 5 or 10. Shipped within the US (free shipping on orders over $35) and to Europe."
The tutorial to make these eco ornaments yourself are available HERE on Etsy!
#11 Sustainable Christmas Ornaments: Neutral Minimalist Options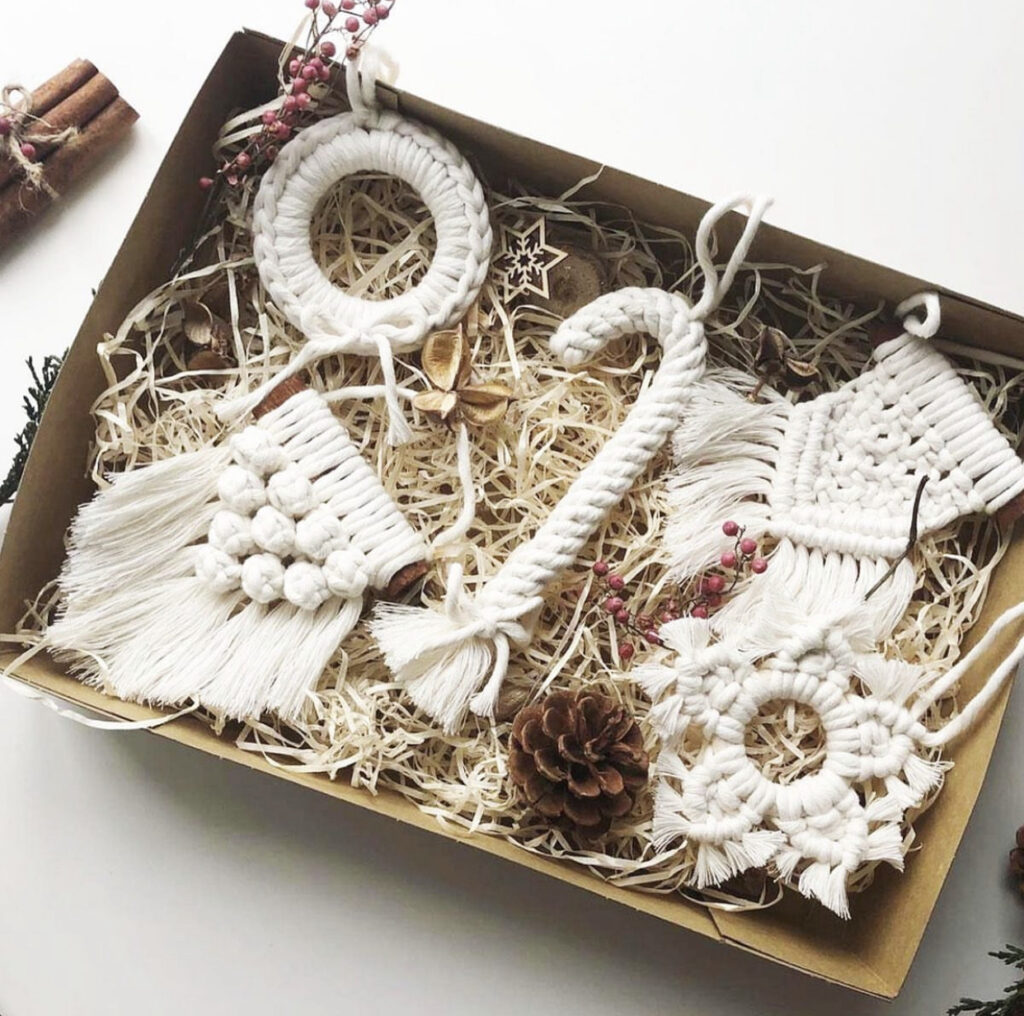 These sustainable Christmas ornaments from @.PeaceWithTheWild are perfect for the macrame lover!
From the brand: "We are so excited to stock these beautiful handmade Macramé Christmas decorations from Boho Eve. Decorate your house with these delightful macramé Christmas ornaments. Made from recycled cotton, this box of handcrafted decorations can be stored away safely and used each Christmas to decoration house plants or indoor festive trees."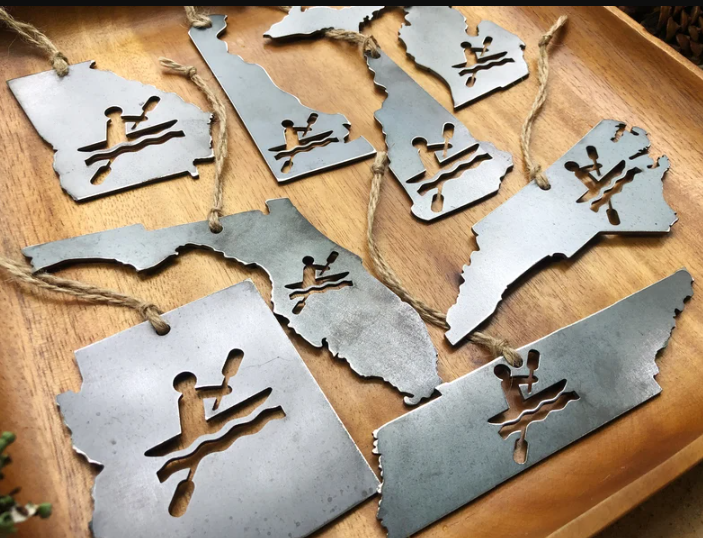 How rad are these steel ornaments?! This is the perfect sustainable Christmas gift to get for the kayaker in your life!
From the Etsy maker: "Each piece is thoughtfully designed and created from scratch by us, Brandon and Erin Spangler, in Northwest Georgia. We use a CNC laser table to cut out our raw steel creations and then run each item through our finishing machine. Afterwards we hand tie a piece twine along with our story / care instructions card to every item."
Snag this eco ornament here!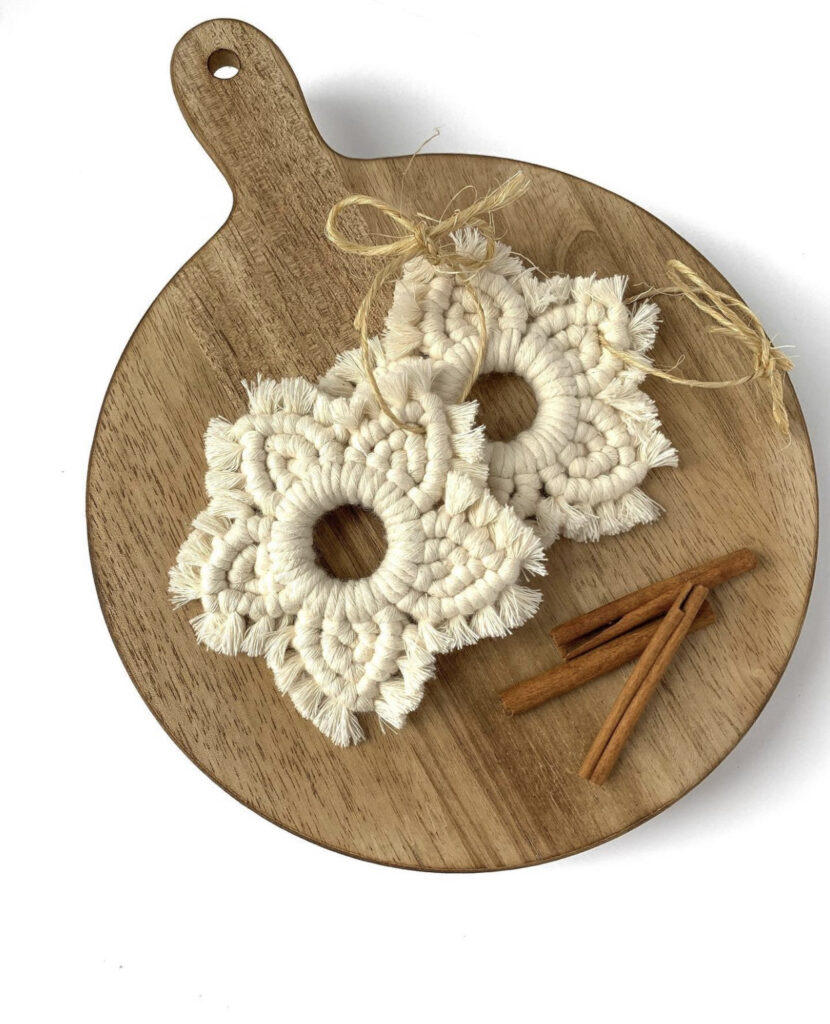 How creative are these eco friendly ornament options from @.MerakitheStudioCo?! I love how they incorporated sticks of cinnamon, as well as photos!
From the maker: "Handmade with 100% recycled, zero-waste, eco-friendly fibers."
#14 Eco Friendly Christmas Ornaments: Yarn Scraps in Round Clear Ornament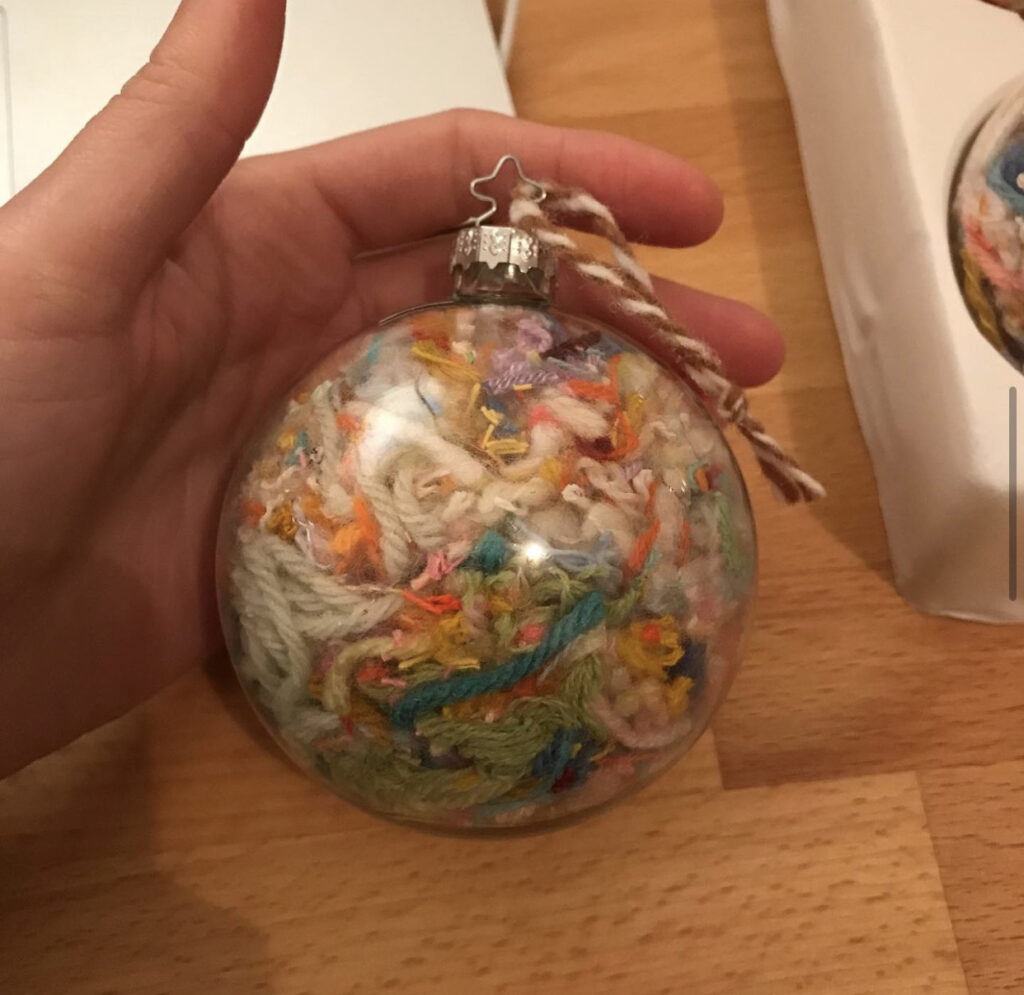 This upcycled Christmas tree ornament from @.AllyRous is so cool!
From Ally: "Glass yarn scrap ornaments! There are so, so many things you can do with these little bits!"
#15 Sustainable Christmas Ornaments: DIY Macrame Ornaments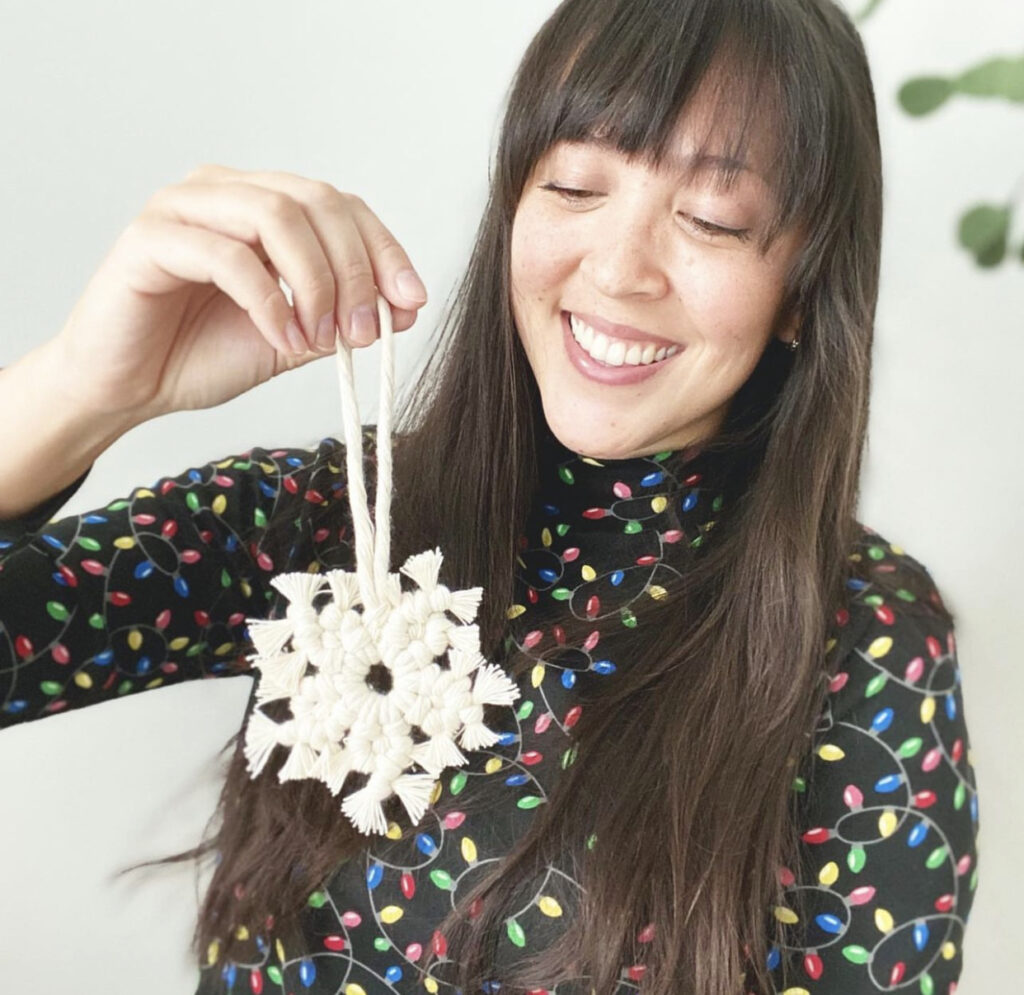 This sustainable Christmas ornament from @.Simpul_Boutique is lovely.
From Amanda: "I made these adorable ornaments using single strand natural soft cotton eco-friendly cording from my amazing cording supplier @.ganxxet! I love this woman-owned business!"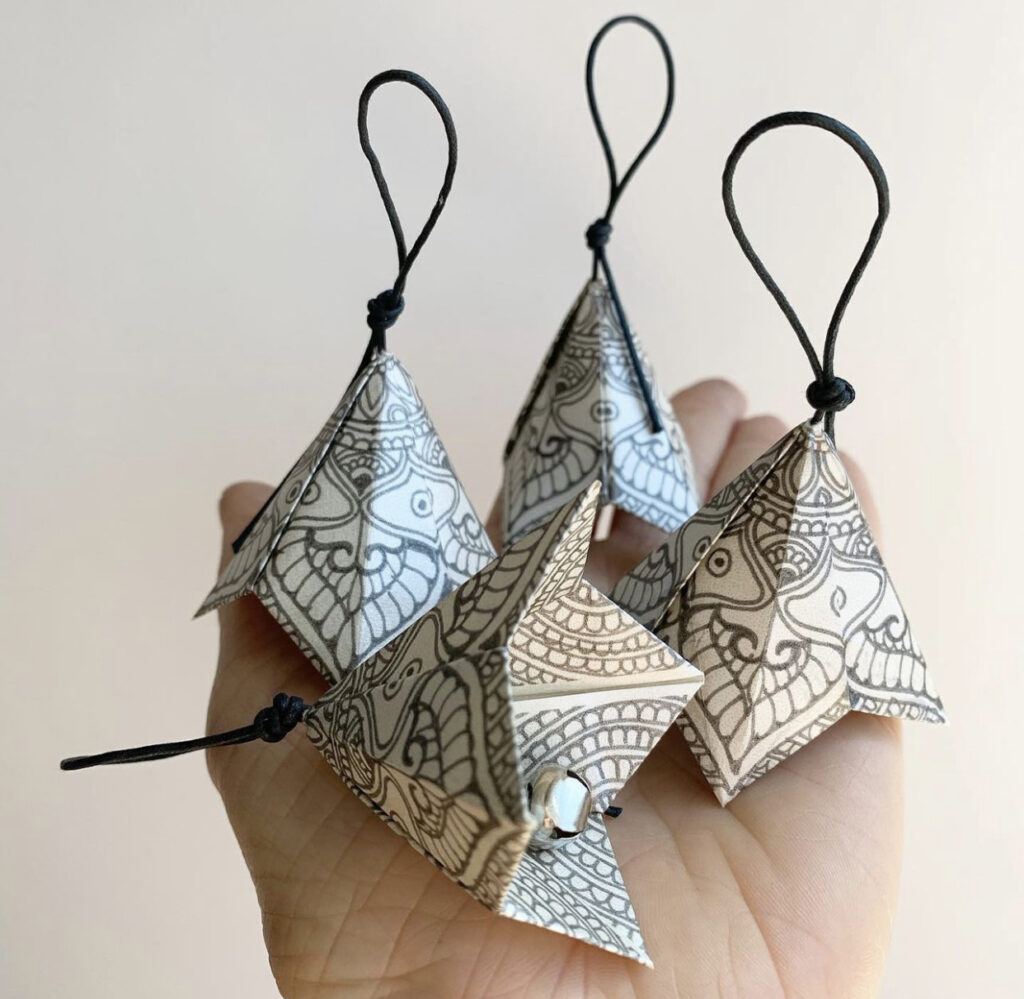 How smart are these ornaments from @.BeemelloFlowers?! They double as gift tags as well as unbreakable ornaments!
From the maker:
"You will be able to say goodbye to old boring plain 'to from' gift tags, adding some shining original pizazz to your gift giving!
Hand crafted with love in silver and metallic champagne premium imported paper, these will be available for a limited time!"
#17 Sustainable Christmas Ornaments: Zero Waste Christmas Decor Using Fabric Scraps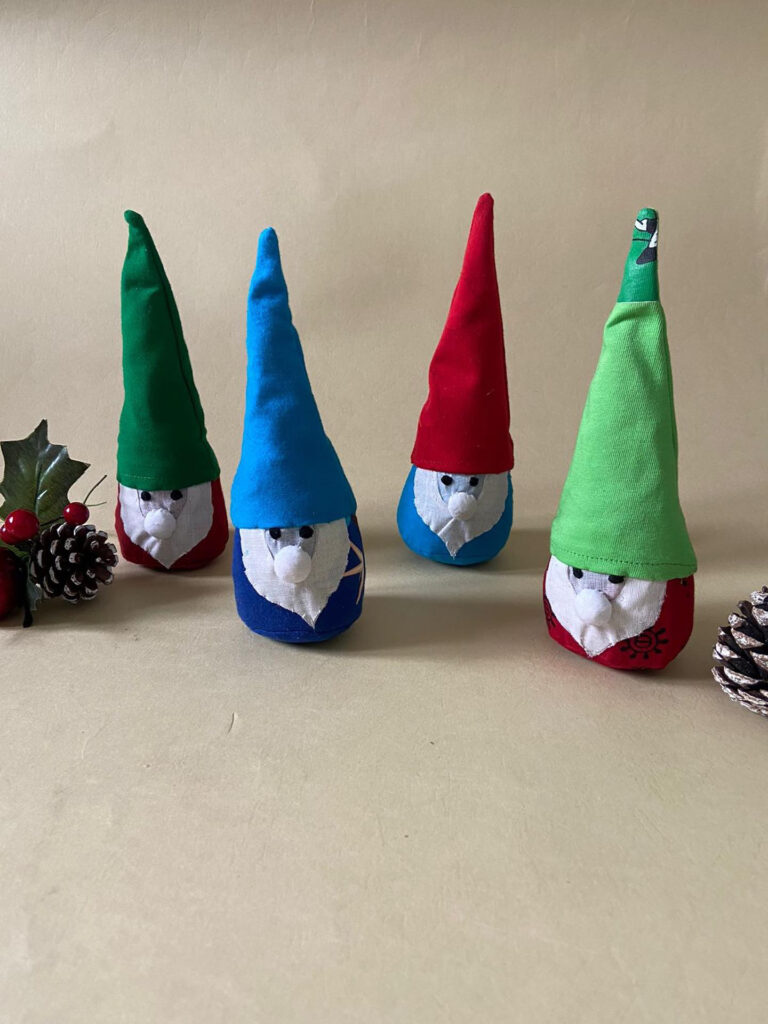 How gorgeous are these individual sustainable Christmas ornaments from @.OhScrapMadras?! These eco ornaments are made using scrap fabric, which is so impressive. I imagine it takes a lot of work to find the right size of fabric scrap for these!
This blog post was all about eco friendly ornaments.
Hi, I'm Leslie, Eco-Friendly Christmas Blogger!
Hello fellow Christmas-lover! My name is Leslie, and I'm the founder and blogger behind PunkMed! On my blog, I share all things sustainable living, from urban homesteading and gardening to DIY Halloween costumes! Thank you for stopping by, and I hope to see you soon!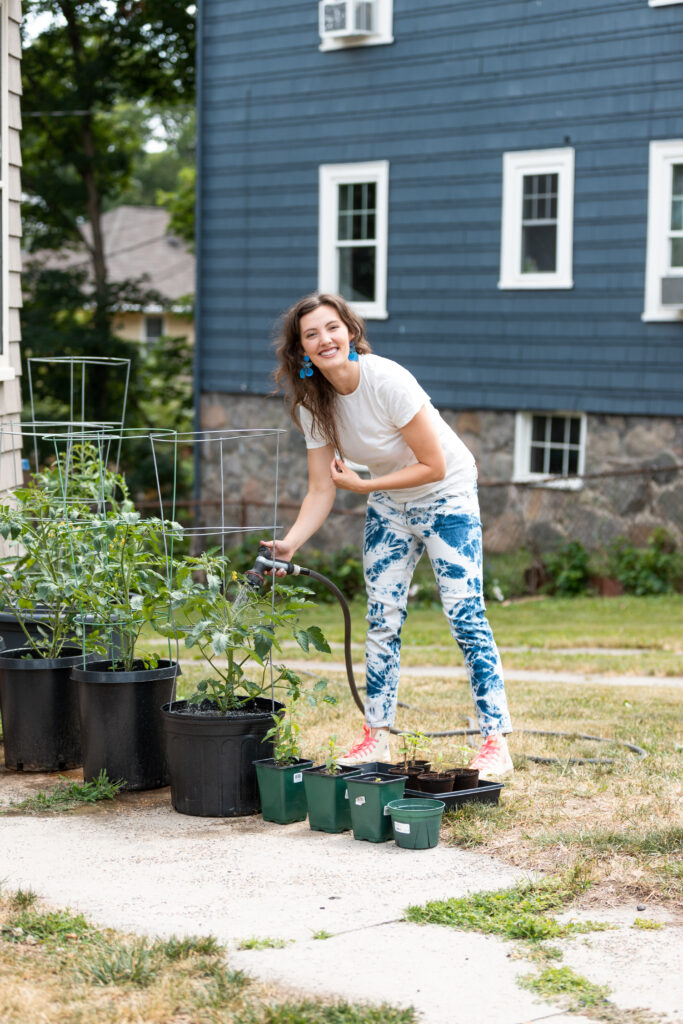 More Sustainable Christmas Decor Guides —>