Hey friend! If you've landed on this blog post, it's probably because you're looking for gifts for food foragers for the aspiring or current food forager in your life.
"Food foraging" as a pastime has really taken off in the last few years, thanks to creators on TikTok and Instagram. This is a fun hobby for folks who love trying new foods, people who are passionate about the environment and those who just wanna get out there and EXPLORE!
This blog post is all about thoughtful gifts for food foragers!
Hello there! I'm Leslie, Head Honcho at PunkMed
My name is Leslie, and I'm the founder of PunkMed! On my blog, I and my team share my info, experiences, and recommendations in the area of sustainability (including sustainable celebrations!), urban homesteading, and outdoor living. Our goal is to make it less overwhelming for readers to live an adventurous and sustainable life!
And, as someone who is a sustainability content creator (my Tiktok is HERE), I love foraging content and creators. I put together this list of thoughtful gifts for foragers, and I based it heavily on what *I* would like to receive as a gift as a foraging nerd! That said, I haven't tried EVERY gift on this list (that would be… a lot of stuff!), so please read all of the info on the product pages before purchasing.
Let's get into it!
I wanted to start off this gift guide for foragers with something a bit unexpected–a customized trowel!
Many food foragers find themselves, well, digging in the earth! A customized trowel is a thoughtful gift that encourages that spirit of adventure!
From the maker, Precision Memory: "The Garden Trowel works quickly and comfortably through both soft soil and rough ground. Ideal for digging, turning, and spreading soil, prepping beds, and planting seedlings.
Constructed with an ergonomic, heat-treated stainless steel blade and comfortable walnut handle: a duo worthy and capable of a lifetime of use."
Get this gift for food foragers here!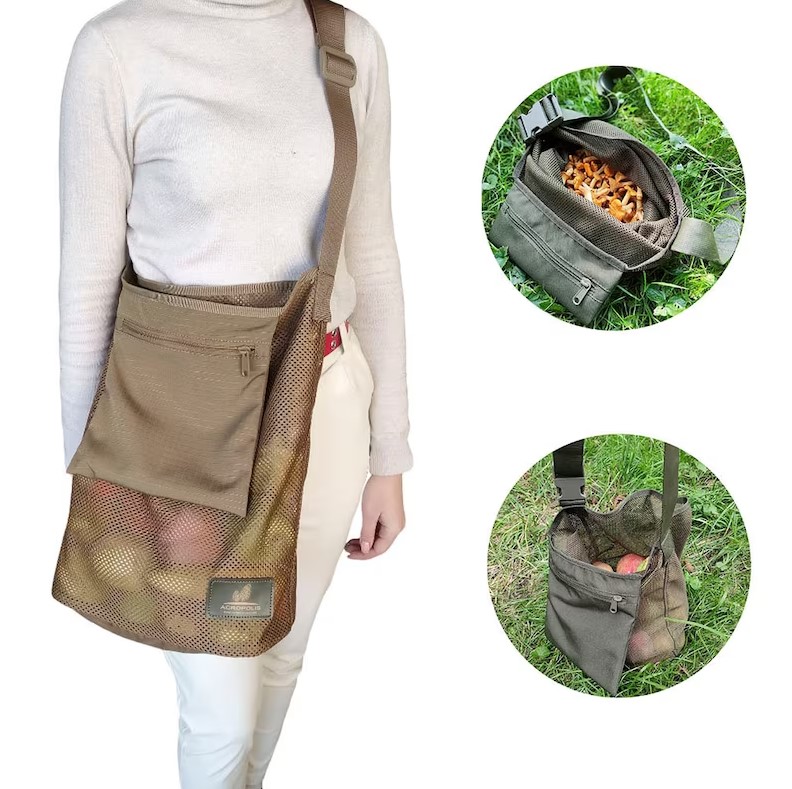 Next up, a gift almost every food forager could use – a foraging mesh bag!
Utilizing a mesh bag for foraging can help keep your forager's finds whole. Shoving them in a bookbag or other bag can result in the find being crushed–and not in a good way!
I found a good number of foraging mesh bags online, and I opted to share this mesh bag from A Fine Company Shop on Etsy. I like that there are two compartments, the strap over the shoulder is adjustable, and that this company is a "star seller"!
From the maker: "An important thing! The shoulder strap has a quick reset system with a large Fastex release buckle. If you carry the bag over your shoulder and you have filled the bag in full, the release buckle allows you to quickly remove the bag from yourself."
Snag this gift for food foragers here!
If your food forager is a bit new to the space, they may not have a foraging knife (usually used for mushroom foraging)! There are many different options when it comes to a foraging knife, and not all foragers are comfortable carrying one.
You may have to do a bit of sleuthing around to figure out if your forager needs one (and, perhaps, what kind of knife they would want). I liked the presentation of this foraging knife with a sheath!
Check out this gift for food foragers here!
When I found this gift for food foragers, I was instantly SO STOKED! As a scientist myself, I love my lab notebooks–and this is such a fun gift for a food forager.
Your food forager can fill it with sketches, recipe reviews, locations of different plants, and more!
From the maker: "This field log is undated, and arranged into 'trips.' Each trip has a section for writing down the location, date, habitat info, specimens found, recipes, and miscellaneous notes." Your forager can take spore prints, press flowers or herbs in the pages, etc.
Check out this gift for food foragers here!
This fun t-shirt for food foragers gave me a little grin, so I had to include it! This t-shirt print is a little sassy, and will delight a mischievous forager! We love the line illustrations of different mushrooms on the front!
This t-shirt goes up to a size 3XL!
Get this gift for food foragers here!
#6 Gifts for Food Foragers: Handmade Acorn Earrings from Silk Purse Sows Ear
Not all foragers will be into jewelry, but this pair of acorn earrings is perfect for the food forager who loves jewelry!
Made by Silk Purse Sows Ear (located in Edinburgh, Scotland), these earrings are gorgeous!
From the maker: "These beautiful green acorn earrings are made from a pearl with an antique copper bead cap. The tones of the tarnished red copper with the warm olive green of the gemstone look great together. I have added some coordinating ear wires in antique copper which match the darkened red of the acorn perfectly."
Snag this gift for food foragers here!
Ok, my friends of foragers! This is probably the most INTENSE foraging situation I've seen. This rucksack kit comes with *three* baskets to make foraging easier, enabling families or groups of friends to go foraging together.
I was really impressed by the customer reviews of this product, so be sure to take a look through those!
Check out this gift for food foragers here!
Next up on our list of gifts for foragers, I found this lovely flower press kit that has everything a forager needs to begin pressing flowers they find on their wanderings.
This kit from Textures Factory includes:
1 Pine-Wood Handmade Flower Press (17x23cm)
1 Silk Printed Herbarium to collect your pressed flowers.
Stickers to identify your plants.
Blotter to dry the plants and keep them in your herbarium
Cardboard sheets for your press
Chrome scissors.
Step-by-step illustrated Handbook
Instructions in English
Screen Printed Organic Cotton bag.
Check out this gift for food foragers here!
In a previous blog post, I put together a gift guide featuring different kinds of gathering baskets for the vegetable farmer or urban homesteader!
As I wrote this gift guide, I kept thinking back to that post, and this specialized basket I included!
This basket is great for a forager who doesn't have a lot of extra space (maybe someone who lives in an apartment and escapes to the wilderness each weekend), and makes it easier to collect flowers, grasses, and the like!
Get this gift for food foragers here!
If your food forager is all stocked up on gathering bags, baskets, t-shirts and books–it may be time to snag a few prints for them!
A set of prints on edible plants is a great gift for a food forager, enabling them to bring the outside into their home! I loved these prints from Daves Office on etsy, a business that's received the "Star Seller" notice from the platform.
Your forager may appreciate something more minimalist (or maximalist), so don't be afraid to poke around etsy and look at prints!
Snag this gift for food foragers here!
Another great gift specifically for mushroom foragers (or mushroom fans) is this lovely necklace from Pieces of KA.
From the brand: "All Pieceofka jewelry is NICKEL FREE as well as being made with high quality materials and plating."
Get this gift for food foragers here!
Your food forager will LOVE this gift if they're a fan of drying herbs and other foraging finds. I selected this drying rack because it's eco-friendly, using natural wood.
Your food forager can easily assemble, use, and then put away these flat stackable drying racks!
Snag this gift for food foragers here!
This next gift for food foragers in the wilderness can be pretty polarizing! Some foragers love a wicker basket backpack, and others… not so much!
This foraging basket from Mother Earth Mushroom is designed for, you guessed it, mushrooms! "These baskets are made of wicker, which can help dispense the mushroom spores through their holes as you walk through the forest. Which makes the mushroom basket very eco-friendly."
Check out this gift for food foragers here!
While many foragers love foraging for food, they may love a shirt with wildflowers on it a bit more than mushrooms!
This black t-shirt from Magpie and Pippy is available in up to a 3XL, in multiple colors! I love the forest green!
Get this gift for food foragers here!
This next gift for food foragers features mushrooms, of course! This retro lamp is so fun, bringing a bit of the wonder of the outdoors into your forager's home.
This gift is perfect for a terrarium lover, as well as those who love a bit of fantasy and whimsy.
Snag this gift for food foragers here!
The mushroom lamp above got me thinking about other kinds of fun terrarium lamps, and I just had to include this Lily of the Valley lamp!
Check out this gift for food foragers here!
Valley Cruise Press was founded in 2014 with the mission to bring the work of some of their favorite illustrators to life. In fact, I heard of the brand when they featured Boston-local artist Krista Perry's designs on some of their throw blankets.
I've followed the brand since then, and have coveted their cozy crew necks for a while now. This one that simply reads "PLANTS" will get the point across!
---
This blog post is all about thoughtful gifts for food foragers!
Read these eco-friendly gift guides next:
Looking for more helpful eco-friendly gift guides? Below, I've shared a number of posts on eco-friendly and sustainable gift ideas:
Join me on Pinterest
Pinterest is a great platform for finding eco-friendly gifts! Join me on Pinterest here, to get all of my gift guides and sustainable living tips.