This post may contain affiliate links, which means that I may receive a commission if you make a purchase using these links.
Looking for the most sustainable gardening tools for your eco-friendly garden? Read on for the essential tools to help you grow more green.
You would think that the hobby that literally teaches people to be stewards of land, plants and soil would lend itself to a marketplace of highly sustainable products and practices.
On the contrary, many of the gardening tools and supplies available are less than sustainable.
I myself had to come clean in a certain point in my gardening journey: my gardening practice was not as sustainable as it could be.
Every year, I was throwing away plastic labels, pots, and seed trays. I had already written on the plastic labels with permanent marker, and the pots and trays cracked after only a season or two.
Unfortunately, those plastic goods are sitting in a landfill somewhere today.
I know you and I can do better, so I researched the most eco-friendly gardening tools to help us grow sustainably.
These products help eliminate plastic, reduce waste, and overall grow healthier organic plants.
This post is all about sustainable gardening tools.
Sustainable Seed Starting Tools
Organic or Heirloom Seeds
Can't have a garden without first starting with seeds! (Well, you can buy seedlings at your local nursery, but I highly encourage starting seeds where you can. It's a very rewarding process.)
There are a few things to look for on the seed packet when seed shopping for your sustainable garden.
I recommend looking for organic, heirloom, or open-pollinated seeds. (Better yet, all three! These categories are not mutually exclusive.)
Open-pollinated means the plants the seeds came from were pollinated using natural means, e.g. via pollinators like bees, birds, bats, etc.
Organic seeds mean the plants the seeds came from were grown without the use of chemical fertilizers, pesticides or other artificial agents.
Finally, heirloom seeds come from plants that have been grown and maintained by local gardeners and farmers for generations. Often these plants do not have characteristics that lend themselves well to mass agricultural practices, but exhibit unique and delicious properties that are well worth the effort.
Read on for some of our favorite fruit, vegetable and flower seed suppliers.
Note About Where to Buy Your Organic Seeds
Please note, while many of these companies sell common cultivars that can grow most anywhere, it is often best practice to shop seed suppliers that grow in your region. That way, you know the plant that you are growing is well acclimated to your area and climate.
I live in New England and some of these sellers are local to me.
Favorite Seeds
Rare Find/Heirloom Seeds
Plantgem (Rare flower varieties.)
Etsy (Etsy can be a great place to buy hard-to-find heirloom varieties. Buyer beware, though. Please read the seller reviews before you buy.)
Best Seeds the Beginner/Super Small Space Urban Gardener
If you're going to be starting seeds inside, you'll need organic seed starter.
Seed starter is actually *not* soil, it's a much cleaner medium that is guaranteed to be free of potential pathogens and pests while your plants are in their most delicate stages of development.
Making sure you start with organic seed starter is important, so you can provide your seedlings the most quality nutrients early, ensuring healthy and vigorous growth and fruiting later on.
This organic seed starter from Coast of Maine is my absolute favorite–it contains sustainably-harvested nutrients from the sea like lobster and kelp meal.
If you're going to be starting seeds indoors , you'll need starter pots for them to live in before they graduate to your outdoor sustainable garden.
Starting seeds indoors is absolutely not essential, depending on what you're growing. However, some vegetables like to be started in a warmer, more controlled environment–like tomatoes.
I like these starter pots because they are biodegradable and big enough for heftier seedlings.
Honestly, this soil block maker is one of my favorite sustainable gardening tools.
It eliminates the need for plant starter pots together, and instead allowing the seed starting medium itself to act as the container for your seeds to germinate and grow in.
To use a soil block maker, generously wet your seed starting medium until it is the consistency of brownie batter.
Then, use the soil block maker to clamp the starting medium into compact blocks. They should hold their shape. Plant your seeds right into this block–no plastic, no waste, no fuss.
Soil blocking is the completely zero-waste method to seed starting.
Labeling your plants is a very important step in the seed starting process.
Even in a small home garden, you're still probably starting a variety of seeds that have a range of different needs.
For the beginner gardener, (even experienced gardener, tbh) labels can be essential to know what the heck you grew. It can be very difficult to identify young plants, as their first leaves are generic-looking (called cotyledons).
Sustainable Gardening Tools
Compost is essential to the sustainable garden.
Add a fresh layer of compost to your garden every year before you plant to replace nutrients lost during the last season. Compost provides your plants with a steady flow of essential nutrients throughout the growing season.
Luckily for us, compost production is inherently sustainable as it is essentially just the end result of the decomposition of organic waste.
Ideally, you would have your own compost pile out back for your food scraps and other waste, but in the meantime you can buy perfectly good compost like this one from Coast of Maine.
One of the most important considerations when starting your gardening journey is where you'll be growing.
If you don't have the luxury of space or workable soil, then growing in 5 gallon grow bags in one of the most efficient options in terms of pounds per square foot.
You can even these grow bags to supplement what you already have growing in raised beds and other areas. They are a great way to keep voracious growers out of precious garden space where they would take over (looking at you squashes, zucchini, and even tomatoes.)
The hori hori AKA the garden knife is the best little-known gardening tool here in the US.
This Japanese gardening tool is the ultimate multi-tasker, simultaneously acting as a trowel, knife or even a measuring stick. That's right, this hori hori comes with depth measurement so you know exactly how deep you're planting your seeds and bulbs.
With the knife edge of this tool, you can easily cut back branches and vines, as well as dig and cut out old roots. A hori hori is especially essential if you want to practice no-dig gardening, as its precision allows you to remove old root systems without distubing the soil.
You can even use the knife to cut open the fruits of your labor (pun intended) after a long day of gardening!
A garden knife like the one talked about above can handle most jobs, but sometimes you want something just a little gentler.
And nothing requires a gentle touch more than transplanting delicate seedlings.
Transplanting simply means moving a plant from one area to another–often from indoors, where it was started from seed, to outdoors, where it will harden off and live out the rest of its days.
Tranplanting seedlings is an especially delicate job, and this handheld transplanter by Burgon & Ball is up to the task.
Simply sink the head of the tool in the soil parallel to and a few inches from your seedling, and push on the handle to lever the seedling from its home. Pop the seedling in it's new home, feed it some fertilizer and watch it grow!
These vintage-inspired pruning shears from Barebones are not only beautiful, but durable.
Made with 100% steel and copper accents, these shears can last a lifetime in your sustainable garden with proper care.
Best of all, Barebones is a certified B Corporation that is committed to sustainability. Their latest mission is to remove all single use plastics from their box packaging and master-packs.
Many gardening gloves are flimsy and require replacing every season (or even more frequently!)
Not the case with these beautiful natural cowhide gloves from Barebones. The thick leather is sure to last many a growing season in your sustainable garden.
These beauties are stunning, but don't let looks fool you–they are designed specifically for outdoor use! More specifically, these gloves will protect your hands while digging, weeding and getting down and dirty.
Plus, these gloves were dyed using certified chemical-free, natural coloring.
Bonus Eco-Friendly Gardening Tools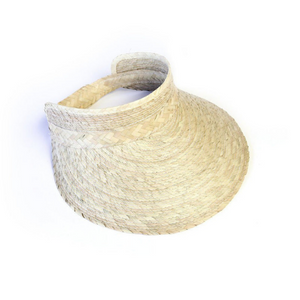 Protect your skin while out in the garden with this sustainably and ethically-made visor.
This Visera sun visor is handmade in Mexico from natural woven palm and features an adjustable velcro closure to fit almost everyone and every hairstyle. This visor provides ample sun protection while keeping you looking stylish. The velcro opening in the back allows you to put it on whether your hair is up or down.
Lightweight and super versatile, shade your eyes while weeding, watering and admiring your sustainable garden.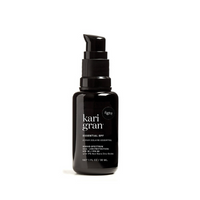 Sunscreen is a necessity every day, but especially when you'll be spending long days in the garden.
The Kari Gran Essential Tinted sunscreen has it all: simple ingredients, light coverage, and SPF 28.
Plus, this is one of the few sunscreens I have been able to find with all-natural ingredients that you can recognize.
From the brand, "Powered by non-nano zinc, it features an antioxidant-rich trio of red raspberry seed, french plum, and macadamia nut oils to moisturize, fortify, and restore radiance."
---
This post was all about sustainable gardening tools.
Other posts you may like: