This post may contain affiliate links, which means that I may receive a commission if you make a purchase using these links.
Looking for that perfect gift for the man in your life but don't know where to start? Check out our favorite sustainable gifts for him this year that are not only on-trend, but better for the planet.
Okay, let's be honest: shopping for men can be difficult.
I don't know about you, but getting the men in my life to tell me what they want for Christmas or their birthdays is like pulling teeth.
Without a clear answer from them, you're left to Google inspiration from the desolate landscape of traditional 'gift guides for men.'
Man, why are these gift guides for men so bad? Not only are they the same beard oil, whiskey stones, and *masculine* soap (whatever that is) over and over again, there are typically mostly less-than-sustainable options.
(Particularly if your gift is some useless piece of garbage he was never going to use anyway! What is less sustainable than a gift someone doesn't use?!)
This list of of eco friendly gifts for him aims to avoid the tropes of most gift guides, all while being better for the planet!
Let us know how we did.
This post is all about sustainable gifts for him.
Table of Contents – Best Sustainable Gifts for Him
Sustainable Gifts for Him Under $25
This is the perfect gift for the home chef, the DIY nerd, or just the aspiring green thumb that can't actually keep anything that photosynthesizes alive.
This mushroom growing kit actually couldn't be any easier, simply spray the substrate daily with the included mister, and within 10 days you'll have up to four servings of harvestable mushrooms!
And these aren't just any mushrooms, these are organic gourmet oyster mushrooms, making this grow kit especially fun for the foodie man in your life.
One taste of Maldon sea salt, and you'll soon learn why it's worth the hype in health-conscious and gourmet circles alike.
Since 1882, Maldon Salt has been made with the same traditional artisan methods for harvesting salt from the sea.
It's signature crunchy flakes lend not only flavor, but texture as a finishing touch to your man's favorite dishes, including steaks, french fries and even chocolate chip cookies. (Seriously, is there anything that can not be improved with a little flakey sea salt?)
There's something eternally cool about a man toying with a toothpick.
These tea tree therapy toothpicks are made from birchwood trees that have been treated with tea tree, peppermint, spearmint and fennel oils. These oils provide long-lasting flavors and promise to keep your man's breath fresh and free from bacteria.
Tea Tree Therapy toothpicks are made in the USA!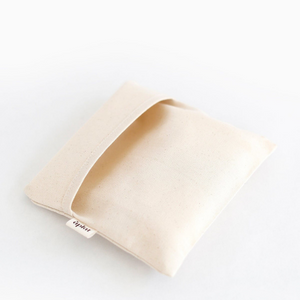 If the man in your life regularly brings a sandwich or other snacks with him on the road, why not nudge him to skip the plastic bags in favor of this zero waste sandwich bag from San Fransisco company Pochette?
Made with 100% organic cotton, this luxe sandwich bag is ideals for the man about town. It can easily store not only sandwiches, but crackers, fruits, herbs and other small, fresh produce. The bag is completely reusable and machine washable.
Beyond reducing plastic waste, this sandwich bag was made with completely zero waste design and manufacturing!
This reusable food storage paper is an easy sustainable swap for plastic wrap. Bee's Wrap is plastic free and made with organic cotton that has been lined with sustainably harvested beeswax, so nothing sticks!
This value pack includes sheets in three different sizes for all your storage needs–anything from a half an avocado, up to covering an entire pie dish in the fridge overnight.
Plus, Bee's Wrap woman owned company in Vermont. We love women supporting women!
A perfect gift for the man in your life that laments having to use the plastic utensils in the cafeteria, this travel utensil set ensures you'll never have to use a single-use fork again.
Alternatively, a good gift for the men in your life who perhaps rely too heavily on the single-use forks in the office. This handy travel set can gently nudge them in a more sustainable direction!
This set is handy for work, picnics, hiking and beyond!
Eco Friendly Gifts for Him Under $50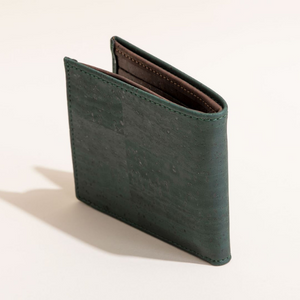 Did you know that cork is a completely sustainable material? Harvesting cork from the cork tree does not kill it, and in fact the tree can regenerate after harvest. Cork is one of our favorite materials here at PunkMed!
This particular wallet is handcrafted in Aveiro, Portugal with all-natural cork and is completely vegan.
It has three compartments for cards, cash and a discreet interior pocket for the smaller items you need to carry.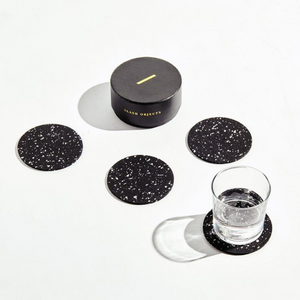 Does the man in your life love to entertain but doesn't have a place for his guests to set their drinks down?
Enter these classy recycled rubber coasters made in Brooklyn, NY by woman-owned company Slash Objects.
Protect your surfaces in style with this eco-friendly coaster set.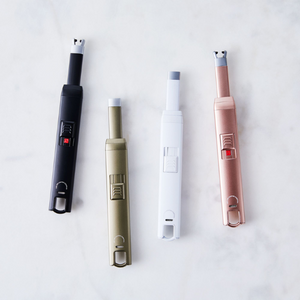 Let's be real, traditional lighters are so wasteful, especially the plastic ones you can get at the convenient store. They last maybe a few months and then you have to throw them out when you're done!
Skip the waste and gift the man in your life this rechargeable lighter from the USB Lighter Company.
A singly charge will give you up to 300 uses and—bonus—it's completely butane-free.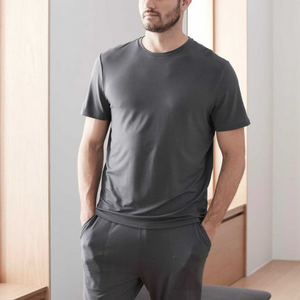 If you man needs basics that are going to last, check out these soft and breathable eucalyptus tees.
Eucalyptus has recently come to the fore as a promising options for sustainable fabrics. Easily regenerated and requiring less water, eucalyptus is much less energy demanding than it's cotton counterpart.
These classic tees are actually quite innovative, made ethically in Shanghai with 95% Eucalyptus Lyocell and 5% Elastane, completely OEKO-TEX certified fabrics.
Does the man in your life complain of sore muscles after a workout, or simply after a long day hunched over a desk?
A foam roller offers relief, but we opted for a cork massage roller in lieu of the standard polypropylene foam.
Cork is a sustainable material, derived from the cork trees of Souther Europe and Northern Africa, whose cultivation provides essential habitat for native birds and other species.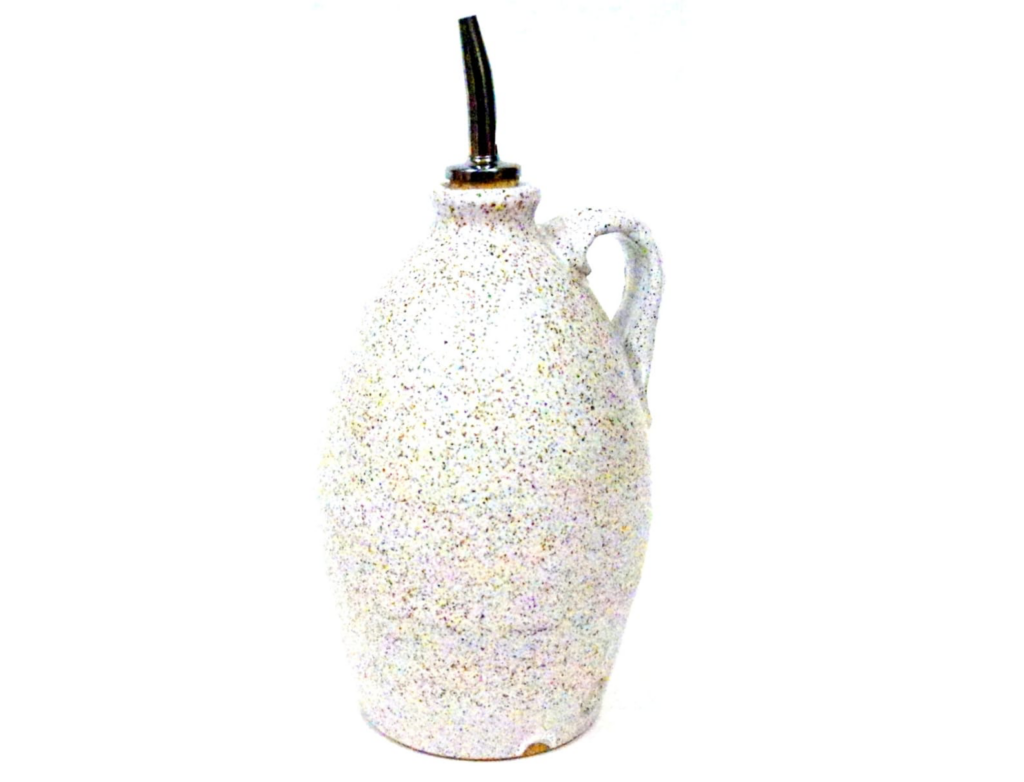 Handmade in Boston, MA, this ceramic olive oil decanter makes the perfect gift for the foodie in your life.
Beyond just olive oil, this decanter can handle salad dressing, vinegar, and even soy sauce. However, it work especially well for olive oil because it can keep out sunlight and keep your man's oil fresh.
This ceramic decanter is as pretty as it is thoughtfully made. All of Ogusky Ceramics wares are made with non-toxic, food safe glazes. Plus, it's dishwasher and microwave safe for complete ease of use!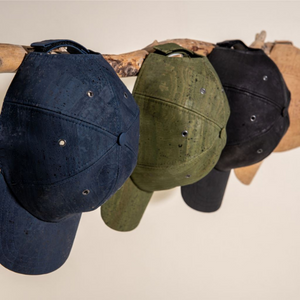 Who knew that cork actually is the perfect material for a hat? It's completely vegan, hypoallergenic, antimicrobial, waterproof, lightweight, durable, biodegradable and recyclable.
Plus, unlike standard fabric hats, your man won't have to worry about it losing its shape over time.
Plus, the best part? Cork is completely sustainable.
Sustainable Gifts for Men Under $100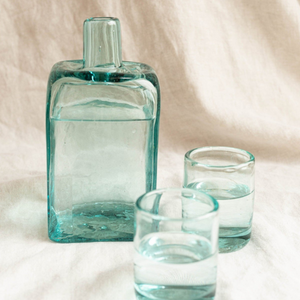 This recycled glass carafe and tumbler set makes for the perfect gift for the man that loves to entertain.
Handmade in Bogotá, Colombia, this carafe set is the perfect accompaniment for an intimate dinner for two. It could be a more permanent staple on the nightstand or in the guest room.
Beyond being sustainable, these recycled glasswares support the local economy through working with individual artisans and artisan's groups, women's cooperatives, and local development organizations.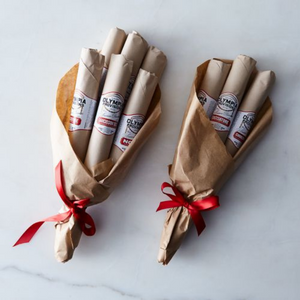 Who needs flowers if you can't eat them? What a waste!
This bouquet of gourmet salami, delivered right to your loved one's door, says "I love you" perhaps just as well. It even comes tied in a pretty red ribbon!
Choose from either a three or six piece arrangement and get the charcuterie board ready!
From the outside, it looks just like a regular backpack. But inside, it carries a full picnic set, complete with an insulated wine holder, mini cheese board and cozy blanket.
The picnic backpack is the perfect gift for the romantic at heart. If you're gifting it to a romantic partner, get ready for some really freakin' cute dates.
Bring this backpack on the trail for an extra special post-hike snack, or just along for a trip to the local park. Wherever you go, this USA-made picnic backpack makes it extra special.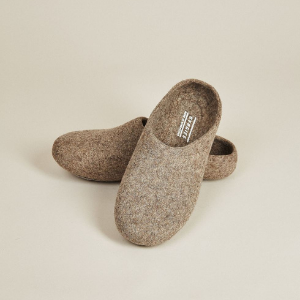 These low back wool slippers are perfect for lounging around the house, the office, or even the home-office.
Made using traditional felted wool techniques by women artisans in Kyrgyzstan, these slippers will stand the test of time. Wool is naturally moisture-wicking and odor resistant so they'll last longer and require less maintenance.
These cozy slippers are the perfect gift for the man who rests as hard as he works!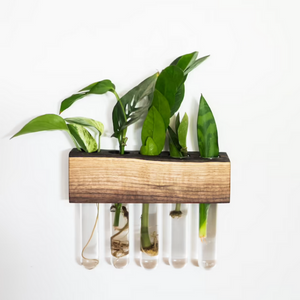 Has the man in your life recently delved into the wonderful world of houseplants? Or, perhaps he already has a mini jungle growing in his home and wants more.
Either way, this beautiful walnut propagation station makes the perfect gift for the green thumb in your life.
Easily multiply grow your plant family by taking small cuttings from your existing plants and starting them with a little water in this propagation station. When a root system starts to grow form the cut, go ahead and plant it in soil for a whole new plant! This is truly the definition of the gift that keeps on giving.
These all-natural incense sticks skip the chemical smell of your standard incense, instead filling your space with the comforting smells of the campfire.
This incense gift set comes with six different woodland scents–desert pinion, douglas fir, white sage, sweetgrass and California Juniper.
This is the perfect gift for the yoga practitioner, meditator, or just the guy who wants to cover up pet smells or other unwanted odors with the calming scents of the forest.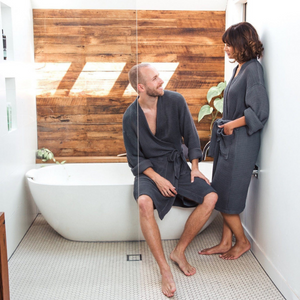 Who doesn't love a good bathrobe?
Even for the man who doesn't love baths, you can't deny the pure pleasure of a day spent in a bathrobe eating snacks.
These robes are Oeko-Tex certified and made with 100% organic bamboo lyocell, which is a fiber made from the pulp of bamboo trees. Dont worry though, the pulp processed to make these robes ultra comfortable. This bathrobe is designed with a honeycomb texture to make it ultra-soft, moisture-wicking and fast-drying.
Eco Friendly Gifts for Men Over $100
This portable fire pit is the perfect gift for the outdoorsman who rather gather around the campfire than around the TV.
Cozy up with some buddies and some brews and watch the good times flow with this wood-heated fire pit that is designed to maximize airflow and minimize smoke.
It's easy to use and completely portable, which means he can take it on his next camping trip or tailgate.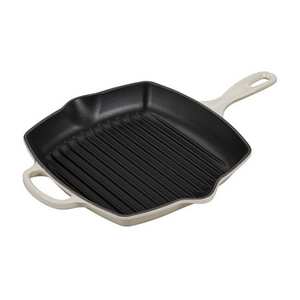 For the grillmaster that wants that charred-to-perfection flavor year-round, this skillet brings the grill indoors.
This Le Creuset skillet is known for getting that perfect sear on the ridges that mimic grill lines.
The black satin enamel requires less conditioning and care than cast iron, while the loop handles and spouts on two sides allow for drip free pours.
This rechargeable LED lantern is the perfect gift for the camper that wants to bring the charm of the campsite wherever he goes.
This lantern is useful in almost any situation, from the outdoors to the kitchen table, with its adjustable brightness and color temperature.
That's right, this lantern can go from a fluctuating candlelight to an amber glow, and then to a warm white light, to match any scenario of your daily routines. Plus, it can last up to 50 hours on one charge!
Basically a full-body deep tissue massage you can carry around in a backpack, the Theragun is the type of gift that your recipient will wonder how he got by without it.
It's simple to use: turn it on and hold the device against sore muscles as it gently pounds tension and pain away.
This is the perfect gift for the athlete, weekend warrior, or anyone who complains of soreness and tension (isn't that all of us?!)
The Vitamix blender has become a cult favorite amongst health food enthusiasts and chefs alike for its power and unparalleled engineering.
Make all your favorite sauces, smoothies and soups like you've never had them before in seconds. It can even handle huge chucks of ice, and blend nuts into nut butter in minutes!
Best of all, Vitamix blenders come with a lifetime warranty so you know you're investing in a quality products you'll have forever (which is always the most sustainable option!)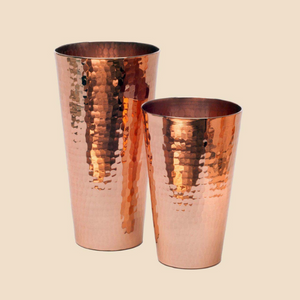 This elevated set of bartools makes for an eco-friendly gift for the aspiring mixologist.
Handmade with recycled materials in partnership with master copper artisans in Mexico and Austin, TX, this unique set is sure to elevate any bar cart.
Plus copper is an inherently clean material with strong natural antimicrobial, antibacterial and antifungal properties so the tools will last a very long time.
The Weber mini propane grill is the perfect gift for the man that wants good food on the go, or simply can't commit to a huge grill setup in his apartment-style living.
Either way, this grill delivers a serious amount of flavor in a tiny package!
Plus, it's easy to use and clean, coming with a built-in lid thermometer, folding side tables, glass-reinforced nylon frame and removable catch pan.
These multi-use blankets make a unique gift for the serial adventurer that wants to take a piece of the outdoors with him wherever he goes.
Great for camping, the beach, or simply lounging in the park, these puffy blankets add a little bit of extra warmth and coziness to whatever you're doing.
Despite the puff, they are lightweight and compact-able (coming in at around 7" x 16" when packed) making them especially great for camping excursions where space is limited.
This post was all about sustainable gifts for him.
---
Other posts you may like: